It is reported that Mojang allows users to change Minecraft username via the Mojang account. Though the process is simple, plenty of people are still confused about it. Here,  MiniTool will introduce you the detailed steps for the Minecraft name change operation.
Minecraft, a sandbox video game, is developed by Mojang Studios. It is beloved by millions of people around the world. You can play games with your friends even in different areas with the help of Hamachi. To learn more information about using Hamachi for Minecraft, you can read this post.
It is very common to change username in the game. When you get tired of the present username in Minecraft, try changing a new one. How to change name in Minecraft? This post will show you the details. However, you need to know something about Minecraft name change before that.
For instance, the frequency to change your username and limits on Minecraft username change. Well, keep reading the following content to obtain the details now!
Something You Need to Know about Minecraft Name Change
In fact, you are not allowed to change Minecraft name too often. If you change the Minecraft username, you need to wait for 30 days before the next change. In addition, you cannot change Minecraft name within 30 days after the creation of account.
If you choose a username that has been selected by other people, you will fail to change the current name. Additionally, the username should be longer than 2 characters and can only utilize underscores, letters, as well as numbers.
Tip: Changing your username in the game will not change your Minecraft website profile name.
Now, we will show you how to change your name in Mojang.
How to Change Minecraft Name
You are not allowed to change Minecraft name. Instead, you need to do that with the help of Mojang. So, make sure that you have a Mojang account before starting the operation.
Step 1: Move to the official website of Mojang, and then type your email address and password and click Log in to launch your account. If you don't have the account, click on the Register a new Mojang Studios account to create one.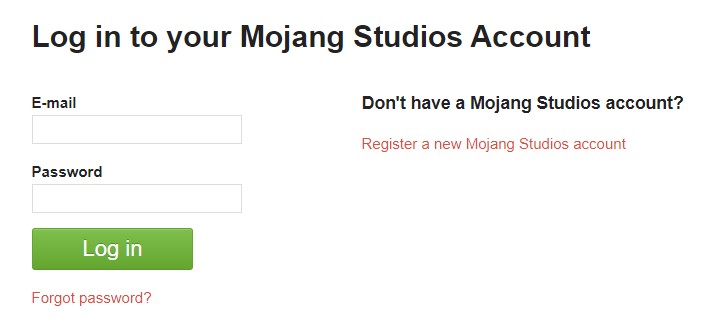 -image from mojang.com
Step 2: In the next page, find Profile Name and click on Change option.
Step 3: Type the new profile name in the prompted window. If the name that you entered in has been used, you will receive the message "username is in use". In this case, you need to enter a new one and click Check availability to see if the name is available.
Step 4: After entering an available username, type the password used to log into Minecraft account. Then, click Change name button to save the change.
After that, your Minecraft username will be changed. And you will see the change when you log in your Minecraft in the next time. You should also note that the old username will be available for 7 days, which indicates that you are permitted to change the username back within a week.
How to change your Minecraft name? Are you still bothered by this question? If so, read this post to change Minecraft name immediately.