Many Lost Ark players started complaining about getting the Lost Ark Server authentication failed 10010 when they are trying to connect to a server or were in a queue. If you are one of them, this article of MiniTool Partition Wizard is worth reading. It provides several ways for this problem.
Just like any other online game, Lost Ark has some bugs. The most reported of all errors is the Lost Ark Server authentication failed 10010 error, but there are other issues like error 20054, 30005, etc.
Well, how to fix the Lost Ark Server authentication failed 10010? Please keep reading.
Before trying the methods below, it is recommended to check the Server Status of Lost Ark. If the server is down, this is the main reason for Lost Ark server authentication failed error 10010 or any other error popping up.
Way 1: Restart the Game & PC
Whenever you encounter server verification failed error 10010 or any game error, you should restart the game. Restarting the game will remove any temporary errors that occur due to old cookies and caches or other software on the system conflicting with your game software.
After simply restarting the PC or any other device you are using, all these errors will be eliminated.
After restarting the game and PC, it is best to update your platform OS for a better gaming experience.
Way 2: Verify Integrity of Steam Files
Sometimes game files get corrupted or deleted, eventually resulting in a Server authentication failed Lost Ark issue. Here is how to do that.
Step 1: Enter your Steam and go to LIBRARY.
Step 2: Among the list of games, right-click Lost Ark and choose Properties.
Step 3: Go to the LOCAL FILES tab and click VERIFY INTEGRITY OF GAME FILES button.
After the process is 100% completed, restart your Steam and check if the Lost Ark Server authentication failed 10010 issue disappears.
Way 3: Disable Internet Protocol Version 6 (TCP/IPv6)
Quite a few games have IPv6 issues. Here's how to disable IPv6.
Step 1: Open Control Panel.
Step 2: Go to Network and Internet > Network and Sharing Center. Then click on Change Adapter Settings from the left side panel.
Step 3: In the Network Connections window, right-click your current network connection and select the Properties option.
Step 4: Uncheck the Internet Protocol Version 6 (TCP/IPv6) box and click on OK.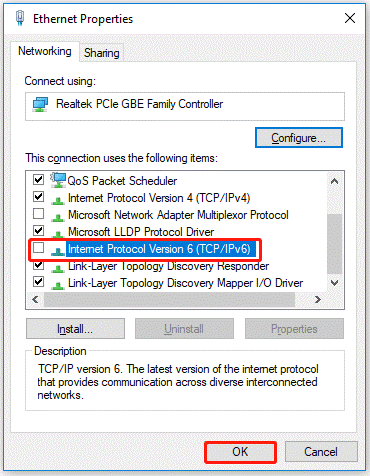 Now launch the game and see if the error persists.
Way 4: Refresh Credentials
Here is another solution recommended on the Lost Ark forum that you should try. Here are the steps to copy repair.
Step 1: In Windows Search, type cmd and right-click Command Prompt, then click Run as administrator.
Step2: In the Command Prompt window, type the following commands and press Enter after each command:
ipconfig /flushdns
ipconfig /registerdns
ipconfig /release
ipconfig /renew
netsh winsock reset
After this, shut down your PC and restart it. Then run Steam as administrator and start Lost Ark.
Way 5: Disable antivirus and firewall
If none of the above methods work, disable your antivirus and firewall. Sometimes, third-party antivirus software you have installed prevents you from playing Lost Ark. Therefore, you need to disable your antivirus software for a few minutes to check if your antivirus software is preventing Lost Ark from loading properly.