Have you heard that Lenovo launched its Yoga C940? This laptop features a premium 2-in-1 with 10th Gen Intel processors. This article aims to show more information about this computer. If you are interested in this computer, please keep reading. By the way, MiniTool Partition Wizard is a great program to help you manage the SSD in your laptop.
Lenovo Yoga C940
Lenovo announced lots at IFA 2019, updating a wide range of Yoga devices, including the Yoga C940 sitting at the top of the line. As the follow-up to last year's Yoga C930, this laptop packs multiple power into a flexible design.
Furthermore, Lenovo has brought Intel's new 10th Generation CPUs to the table with the 14-inch version of the C940 in this year, while the 15-inch Yoga 940 relies on Intel's 9th Gen chips.
Features of Lenovo Yoga C940
Now, let's see more features of these two versions of Lenovo Yoga C940, including price, availability, and so on.
Design
This laptop comes in the same colors as before, like Iron Gray and Mica. However, the lauded speaker hinge returns in a new form. At present, the speaker hinge is one contiguous piece of material that will offer quite more room for wider audio drivers inside.
Besides, Lenovo has added a small lip above the webcam that makes the laptop open with a hand much easily while it is resting on a table or your laptop.
Lenovo also has added two speakers to the bottom of the laptop's base to add audio depth.
The ports for this laptop remain at two Thunderbolt 3 (USB-C) ports, one USB-C 3.1 port and an audio jack in the 14-inch model, with the 15-inch model gaining DC (direct current) power.
Once Opening the Lenovo Yoga C940, you can see its keyboard and tracked remain as luxe and punchy as ever.
Accessories
For the 14-inch Yoga C940, the starting specifications are 8GB of DDR4X memory (RAM) and a 256GB SSD. All of that sites beneath the FUD IPS touchscreen with Dolby Version, 400 nits of brightness and 100% coverage of the sRGB color space.
For the 15-inch Yoga C940, a fully-upgraded one will provide a 9th Gen Intel Core i9 CPU with the same graphics option, 16GB of RAM, and either a 2TB SSD or a 1TB SSD paired with that 32GB Intel Teton Glacier flash memory module. And this version will also come in a UHD touchscreen, but at 500 nits to begin with.
For more information about 14-inch and 15-inch Lenovo Yoga C940 in terms of their design and accessories, you can see the following picture.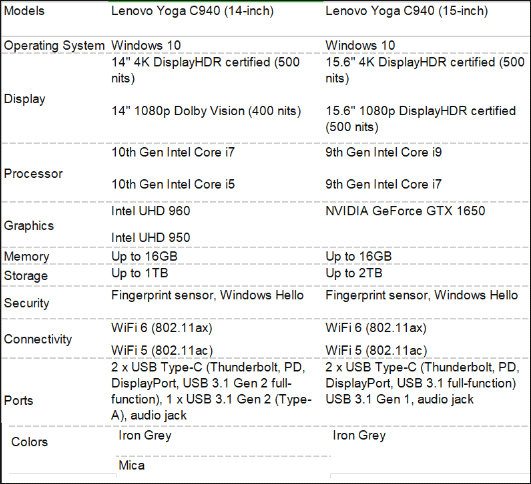 Performance
This feature may be what you most want to learn about. Let's see the performance of Yoga C940.
As we know there are two versions of Lenovo Yoga C940, and they are equipped with different CPU. The 14-inch model is likely to be more efficient than the 15-inch model.
The former model comes with 19nm processing and DDR4X both delivering similar or better performance than their predecessors while consuming less power overall. Both parts cloud theoretically contribute to pushing a system further than before, but Lenovo is focused on well-rounded performance and battery life from the 14-inch Yoga C940.
However, for the 15-inch model, it equips slightly older hardware in more powerful configurations, like Core i9 processing and Nvidia 1650 graphics. Although this model is expected to get stronger high-resolution and 3D rending out, the battery life is shorter.
Furthermore, the two versions can gather up to 2 hours of charge from 15 minutes connected to an outlet with rapid charging USB-C.  
Price and Availability
About a month after, two versions of Lenovo Yoga C940 will show themselves in the market. 
The 14-inch Yoga C940 will start the pricing at $1,249 (about £1,040, AU$1,850). This version equips the 2-in-1 laptop with a 10nm, 10th Gen Intel Core i5 with Intel UHD (Ultra HD) 950 integrated graphics. 
Meanwhile, the 15-inch Yoga C940 starts at $1,709 (about £1,420, AU$2,530) for a 9th Gen Intel Core i7 CPU paired with Nvidia GeForce GTX 1650 graphics.
Final Words
The Yoga C940 marks Lenovo's first laptop with Intel's 10nm, 10th Gen Core Processors inside. Even at UHD resolutions, the battery life is amazing. Altogether, the Lenovo Yoga C940 could be the 2-in-1 laptop to beat for the foreseeable future.