Are you troubled by apex legends lag spikes? How to fix lag spikes on League of Legends? If you are trying to resolve it, you come to the right place. This post of MiniTool explores several effective troubleshooting methods to fix the issue.
League of Legends is a widely popular multiple video game for Windows users. However, this game also receives many negative comments due to various errors such as League of Legends high ping, login unexpected, RADS error, and the one discussed here.
What causes the apex Legends lag spikes issue? According to user reports, this issue often occurs when the network connection is unstable. Besides, the antivirus and Windows Firewall also block this game and its components.
Now, let's see how to fix lag spikes on PC.
Fix 1. Disable the Xbox App
If you have installed the Xbox app on your computer, we recommend disabling it temporarily. This is because many players reported that the Xbox app often starts using bandwidth, which causes League of Legends ping spikes.
To fix this issue, you can try disabling Xbox app through the steps below:
Step 1. Type resource in the Start menu and select Resource Monitor from the best match.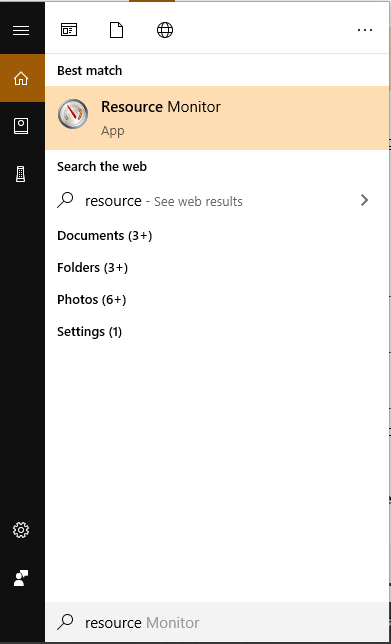 Step 2. Navigate to the Network tab, and then scroll down to reach a process named GameBarPresenceWriter. Right-click this process and select End Process.
Tip: GameBarPresenceWriter is a part of the Xbox app.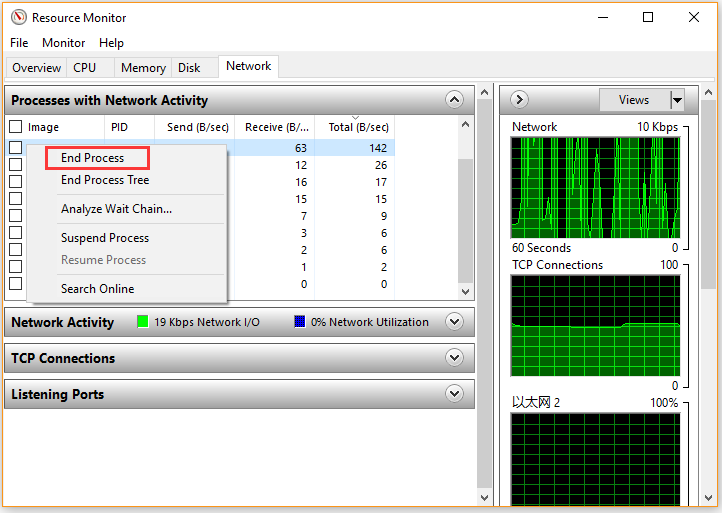 Then you need to continue these steps below to disable this app completely. Here's how:
Step 3. Type Powershell in the Start menu, and then right-click the Windows PowerShell and select Run as administrator.
Step 4. Type the following command in the elevated command prompt and hit Enter.
Get-AppxPackage Microsoft.XboxApp | Remove-AppxPackage
Then wait for a couple of seconds to complete this operation. After that, you can relaunch the game and see if the apex Legends lag spikes issue still persists.
Fix 2. Allow League of Legends Through Windows Defender Firewall
As mentioned above, your antivirus and Windows Defender Firewall may block League of Legends. So, make sure your antivirus program is not the reason for the League of Legends ping spikes. Here you can fix the issue by adding the game and its components to the exceptions list. For that:
Step 1. Type firewall in the search box and then select the Windows Defender Firewall from the context menu.
Step 2. Click on Allow an app or feature through Windows Firewall from the left pane.
Step 3. Click on Change settings at the top, and then tick the checkbox next to League of Legends and all relevant components. Then click OK to save the changes.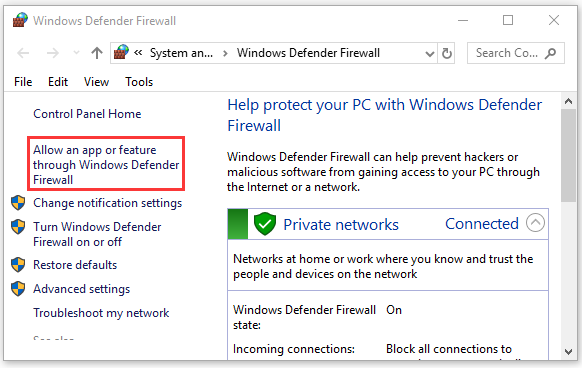 Tip: If this game isn't available here, you can click on Allow another app at the bottom and add it manually.
Now, lol will be added to the firewall's exception list. Relaunch this game and see if the lag spikes League of Legends issue is fixed or not.
Fix 3. Disable Your Antivirus and Firewall Temporarily
If the above method fails to resolve lag spikes League of Legends, you may consider disabling your Firewall completely while playing lol. Probably it isn't a wise choice, but some users proved it's useful. If you are unclear about how to disable Windows Defender Antivirus, this post shares detailed steps.
Fix 4. Disable the Auto Connection for Wi-Fi
Sometimes, your Wi-Fi settings are also responsible for League of Legends ping spikes. To reduce the apex Legends lag spikes, we recommend disabling the automatic connection for Wi-Fi. This method has been proven by some users to be useful. You may have a try.
Step 1. Click the Wi-Fi icon at the bottom of your screen and select the Wi-Fi network that you want to connect to.
Step 2. Untick the checkbox next to Connect automatically.
Now, you can connect to the Wi-Fi network manually and see if apex Legends lag spikes still persists. If possible, we recommend using a wired connection.
Fix 5. Change Your DNS Settings
DNS settings can cause many League of Legends issues such as high ping and RADS. To fix the League of Legends lag spikes issue, you can switch to another DNS. If you don't know how to change DNS on Windows 10, this post provides you with detailed steps. Then you need to set the Preferred DNS server to 8.8.8.8, the Alternative DNS server to 8.8.4.4.