Hulu is a popular platform for TV shows and movies online. However, some users encounter problems while using the service and the Hulu error code 301 is quite common to see. To solve the error, MiniTool Partition Wizard puts together some methods in this post.
Hulu, an American subscription video service founded on October 29, 2007, is quite popular among people. Users need to pay to activate their account and then they can use it to watch TV shows and movies on many devices.
As you know, Hulu error codes are common to see, such as 5003, P-Dev322, 503, 504, etc. Today, I'd like to take about another error de on Hulu, 301. This error code prevents users from watching any video and it is quite annoying. If you are bothered by the same issue, you can try the following solutions one by one to solve the problem.
Method 1: Restart Your PC and the Router
When you receive error code 301 on Hulu, the first thing you can try is to restart your PC and power cycle the router. You need to turn off the PC. Then power off the router and unplug the power cable. Wait for a few minutes and plug the router back in. After that, you can turn on the router and run the computer.
If Hulu error code 301 appears again, move on to the next method.
Method 2: Clear the Cache Data and Cookies
If you are using Hulu service on a browser, it is possible that you encounter the error code 301 due to corrupted browsing data, such as cache data and cookies. To solve the problem, you can try clearing the browsing data. Here I take Google Chrome as an example.
Step 1: In Google Chrome, press Ctrl + Shift + Delete to open the window "Clear browsing data".
Tip: You can also click the three-dot icon and select More tools > Clear browsing data.
Step 2: Select All the time for the Time range. Then check Browsing history, Download history, Cookies and other site data, and Cached images and files.
Step 3: Click Clear data.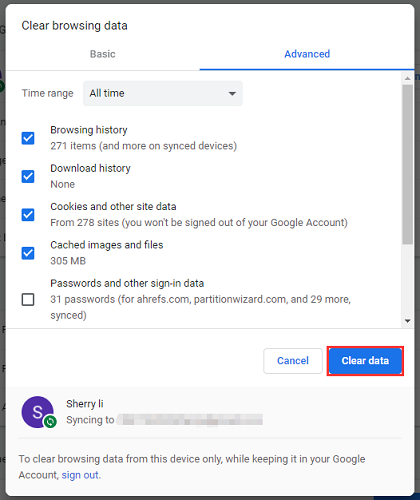 After clearing browsing data, you can restart Chrome and check if Hulu works properly.
Method 3: Reinstall the Hulu App
If you get Hulu error code 301 while using the Hulu app, you can try reinstalling the app to fix it. You just need to open Control Pane and click View by: Category > Uninstall a program. In the list of your installed programs and features, right-click the Hulu app and select Uninstall. Then follow the onscreen instructions to finish the process.
After uninstalling the Hulu app, you can go to Microsoft Store and download and install Hulu again. Then check if the error code has been removed.

Method 4: Change the DNS Settings
Changing the DNS addresses to Google IP addresses has helped some users to fix Hulu error code 301. You can also have a try.
Step 1: Press Win + R to invoke Run window. Then input ncpa.cpl in the box and press Enter to open Network Connections settings quickly.
Step 2: Right-click your network that is currently used and select Properties.
Step 3: In the pop-up window, double-click Internet Protocol Version 4 (TCP/IPv4) to open its Properties. Then select Use the following DNS server addresses and type the following values:
Preferred DNS server: 8.8.8.8
Alternative DNS server: 8.4.4.4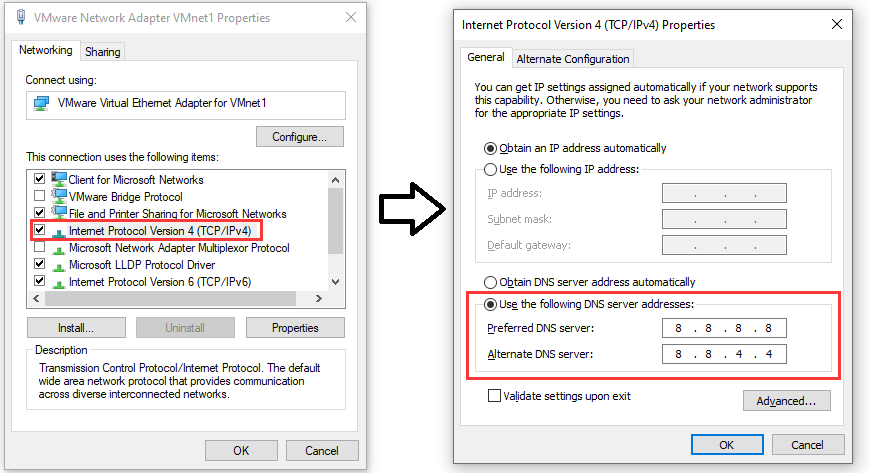 Step 4: Click OK to save the changes.
Now, you can check if the error code 301 on Hulu has been solved. If it appears again, you should check if the date and time settings of your Windows are configured correctly. Hope these solutions can help you.