Clearing cookies from your web browser helps free up space on your hard drive and safeguard your online security. For different browsers, the way to clear cookies may be different. MiniTool will help you know how to clear cookies on some popular web browsers.
What Are Cookies?
Cookies are small packets of information that websites send and store on your computer. They are also called HTTP cookies, browser cookies and web cookies.
As stored cookies enable websites to keep information on your computer, many website features can be implemented. For example, you can log in to a website on one page and stay logged in when you open another page thanks to cookies.
Cookies are often talked about along with the browser cache. However, cookies and the cache serve for different purpose. Cookies are used by websites to track your activity while the cache is created to make loading websites faster.
Cookies will keep being stored on your computer and they may take some space of your disk. So, you can clear your cookies occasionally.
Here are some other reasons why you should clear cookies:
Cookies have become outdated, corrupted, or are storing the wrong information.
Cookies are posing a threat to your online security.
Then let's see how to clear cookies for a browser.
How to Clear Cookies on Chrome
Here is the tutorial on how to clear cookies on Chrome.
Step 1: Open Google Chrome. Click the three-dot icon from the upper-right corner and select More tools > Clear browsing data.
Tip: You can also go to Clear browsing data by pressing Shift + Ctrl + Del in Chrome.
Step 2: Set the Time range as All time and check Cookies and other site data.
Tip: You can also check other options according to your needs.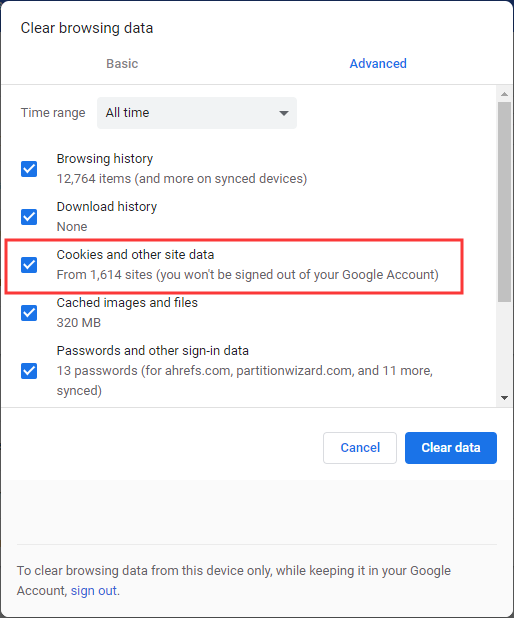 Step 3: Select Clear data.
To manage cookie data, you can go to Settings > Advanced > Site Settings > Cookies and site data. You can make more advanced settings about how cookie data is saved, including making Block and Allow lists for particular sites.
How to Clear Cookies on Firefox
To clear cookies on Mozilla Firefox, you can follow the steps below.
Step 1: Open Mozilla Firefox. Then click the Firefox menu and select Options.
Step 2: Choose Privacy & Security from the left panel.
Step 3: Under Cookies and Site Data section, check the options you want to clear and click Clear Data.
Step 4: Check Cookies and Site Data and click Clear.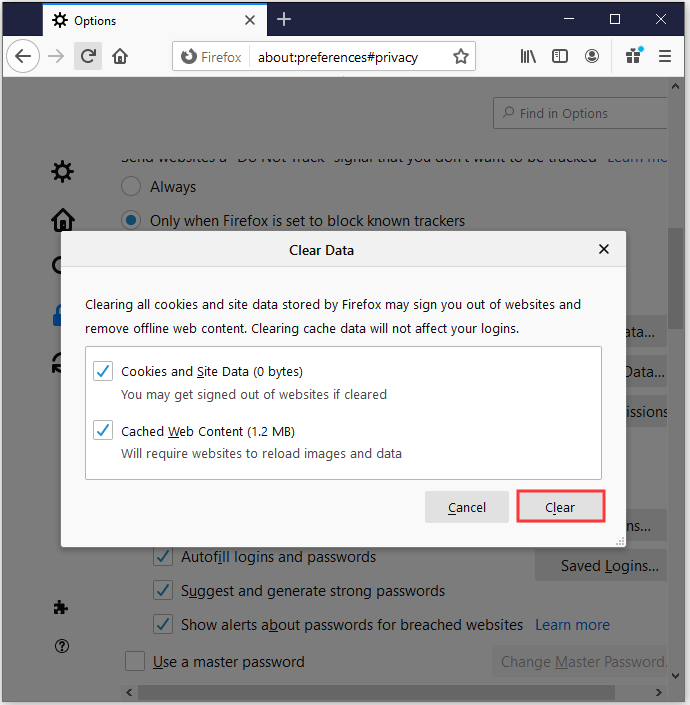 How to Clear Cookies on Microsoft Edge
If you don't know how to clear cookies on Microsoft Edge, you can keep reading and do as the following steps.
Step 1: Open Microsoft Edge and click the three-dot button in the window. Then choose Settings.
Step 2: Select Privacy & security from the left panel. Then in the right panel, click Choose what to clear under Clear browsing data section.
Step 3: Check Cookies and saved website data and other options you want to clear. Then click Clear.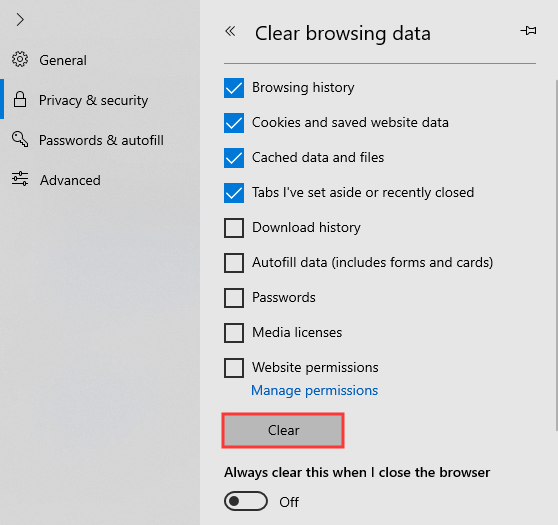 Tip:
You can turn on
Always clear this when I close the browser
 in 
Clear browsing data
window to clear these data automatically.
Some browsers are not mentioned in this post, like Opera which also stores cookies. Usually, they can be cleared with a very similar set of steps. A general rule is to find your browser's security option and look through it until you find something related to cookies.