What are HP Secure Erase and ASUS Secure Erase? This post from MiniTool Partition Wizard shows you how to use the 2 tools to secure erase hard drives. In addition, it also offers an alternative way when the 2 tools don't work.
What Is Secure Erase?
As we all know, deleting files or formatting a drive doesn't remove the data completely. It can be recovered by software or other ways. Fortunately, Secure Erase, a data sanitization method, can help you completely erase data off of a device.
Secure Erase will overwrite the data at its location with new data that's random and useless (usually binary 1's and 0's). Once this overwriting has been accomplished, software-based data recovery methods won't be able to recover the data.
Introduction to HP Secure Erase and ASUS Secure Erase
Some PCs will offer the Secure Erase in their firmware, like HP Secure Erase and ASUS Secure Erase.
HP Secure Erase takes the DoD 5220.22-M standard to secure erase HDDs. This standard erases a hard drive using the following way: overwrite data with zeros and followed by verification; then overwrite data with ones and followed by verification; and then overwrite data with random characters and followed by verification.
On the other hand, HP Secure Erase will take the NIST SP800-88 Rev.1 standard to secure erase SSDs. This standard supports ATA security erasure and cryptographic erasure.
The ATA secure erase will release stored electrons to reset all storage cells as empty. This process will cover all regions, including protected storage service regions such as system area data, metadata, HPA, and DCO. Crypto erase achieves data sanitization by erasing the encryption key of a storage device to make data on it unreadable.
Tips:
The DoD 5220.22-M is not very suitable for SSDs, because this will massively shorten the service life of SSDs. To Secure Erase SSDs, the NIST SP800-88 Rev.1 standard should be used.
I don't find materials describing what data sanitization standard ASUS Secure Erase uses. But generally speaking, ASUS Secure Erase should be similar to HP Secure Erase.
ATA secure erase is only applied on disk with ATA interface. On many laptops, ATA security is integrated into the BIOS. HP Secure Erase and ASUS Secure Erase usually use the ATA secure erase.
How to Use HP Secure Erase and ASUS Secure Erase
When you need to sell, discard, or transfer your old disks, you will need to securely erase the disks. If your PC is an HP or ASUS PC, you can secure erase hard drives using HP Secure Erase or ASUS Secure Erase.
How to Use HP Secure Erase
Power on your HP computer.
Press the BIOS key (F10, Esc, F2, or F6) repeatedly as soon as the HP logo appears on the screen. This will open the HP firmware.
Click Security.
Click Hard Drive Utilities, Utilities, or Hard Drive Tools.
Select Secure Erase or Disk Sanitizer to open the tool.
Choose the drive from the listed storage devices.
You are warned that this operation will erase all data on the hard drive. Confirm the operation and click Continue.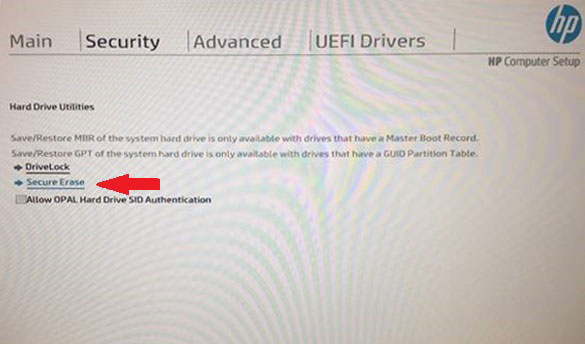 How to Use ASUS Secure Erase
Step 1: Power on your ASUS PC, and then press the BIOS key (F2, Delete, or F9) when you see the ASUS logo appears on the screen. This will open the ASUS firmware.
Step 2: Go to Advanced > SATA Configuration to make sure SATA Mode is set to AHCI. This is because ASUS Secure Erase is only available in AHCI mode. If the SATA Mode is AHCI already, you can skip to Step 3. If not, you need to change SATA Mode to AHCI, save the changes, and exit the firmware. Then, restart the PC and enter the firmware again.
Step 3: On the Advanced Mode menu, go to Tool > ASUS Secure Erase. Then, the installed SSDs (both SATA and NVME SSDs) are displayed in the interface. Select the SSD you want to erase and follow the wizard to secure erase hard drives.
Tips:
It will ask you to select the LBA format size. The default is fine and you can keep it. It will also warn you that the partitions and data will be deleted and become unrecoverable. You need to click OK to agree with the secure erase operation.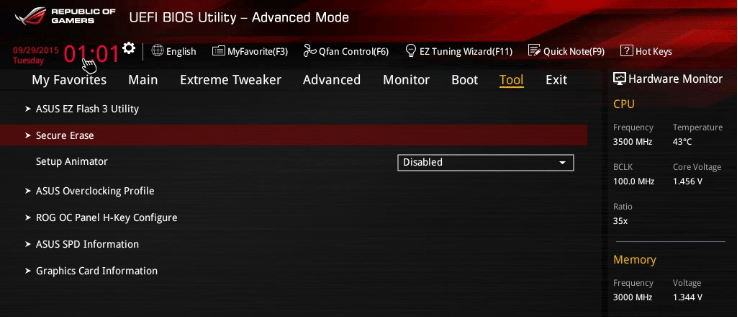 Use MiniTool Partition Wizard to Secure Erase Hard Drives
The HP Secure Erase and ASUS Secure Erase may work on only some hard drives. Here is an ASUS Secure Erase compatible SSDs list. If your hard drive is not on the list, I recommend you use MiniTool Partition Wizard to secure erase it.
Of course, if your PC doesn't come with the Secure Erase feature, MiniTool Partition Wizard can also help you. Here is the guide:
Tips:
If you want to secure erase a system hard drive, you need to make a bootable media first. You can refer to this post: Create Bootable CD/DVD/USB Drive with Bootable Media Builder. Boot into the firmware to make the PC boot from the bootable media. Then, wait until MiniTool Partition Wizard opens automatically.
Step 1: Launch MiniTool Partition Wizard. On its main interface, right-click on a disk and choose Wipe Disk.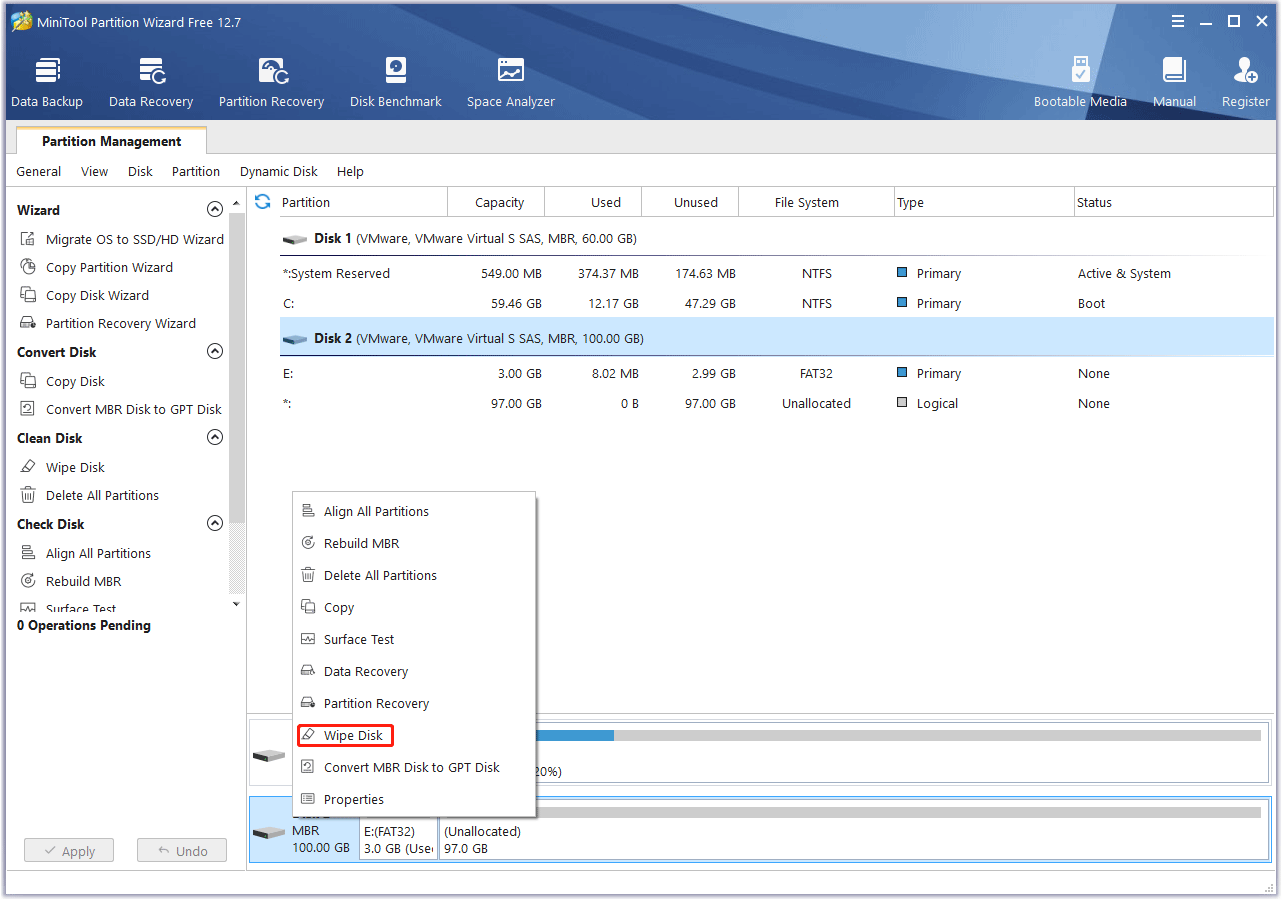 Step 2: On the pop-up window, select a wiping method. Then, click OK. 
Fill sectors with Zero and Fill sectors with One: They just write the same code to the partition, which is similar to the full format in Windows.
Fill sectors with Zero &One: It will randomly write zeros and ones to partition, which makes data more unrecoverable.
DoD 5220.22-M (3 passes): It is recommended if users want to get rid of the data permanently.
DoD 5220.28-STD (7 passes): It provides a higher security level for data because it has more passes than DoD 5220.22-M (3 passes).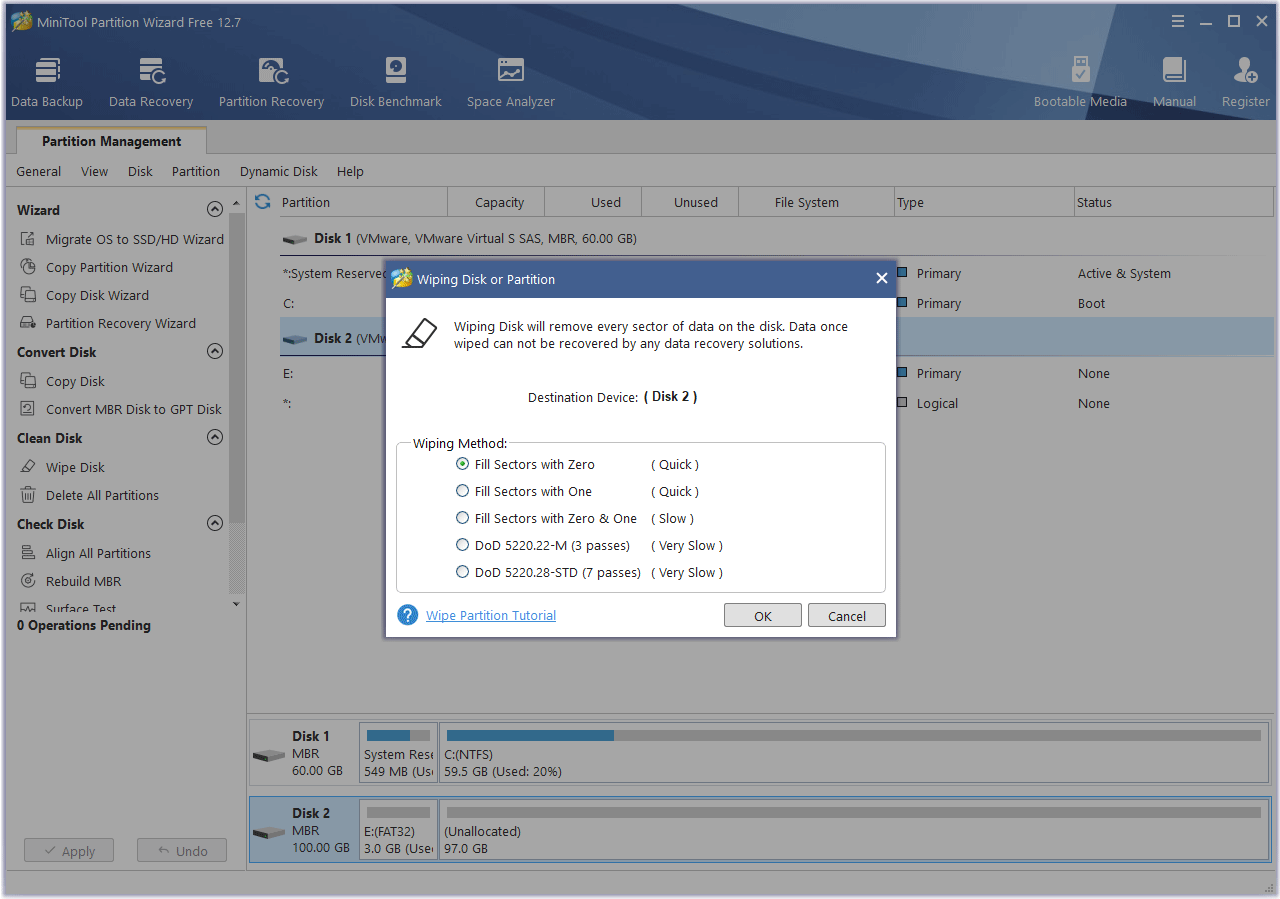 Step 3: Click Apply to execute the pending operation.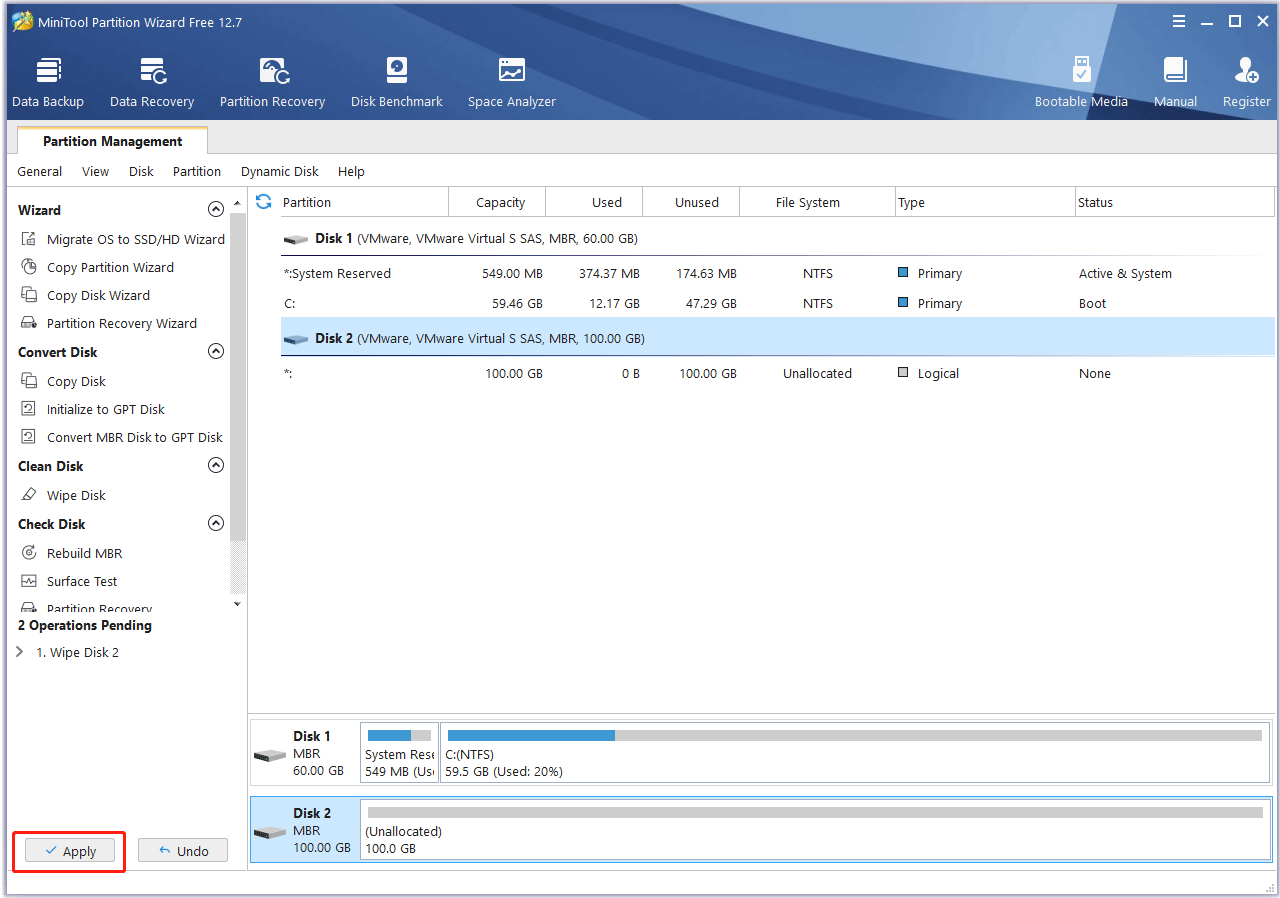 Here is a post showing you how to secure erase a hard drive using HP Secure Erase, ASUS Secure Erase, and MiniTool Partition Wizard. You can choose one way according to your condition.Click to Tweet
Bottom Line
Do you have other ideas about HP Secure Erase and ASUS Secure Erase? Do you know other ways to secure erase a hard drive? Share them with us in the following comment zone.
In addition, if you encounter problems when using MiniTool Partition Wizard, please feel free to contact us via [email protected]. We will get back to you as soon as possible.