Summary :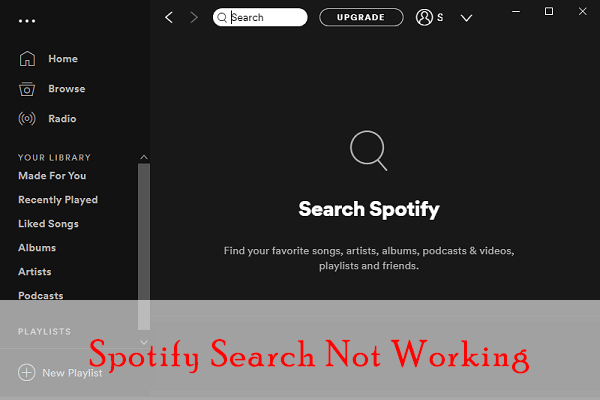 As a digital music service, Spotify gives users access to millions of songs and a huge number of music lovers are using it. However, some of them report the Spotify search not working on Windows. To get further information, you can read this post from MiniTool Partition Wizard.
Spotify is a music streaming service launched 12 years ago. It is available on many platforms, including Microsoft Windows, macOS, Linux, Android, and iOS. In the Spotify application, you can find some recommendations on the home page. If you want to find specific music, you can search for it by using the Search feature.
Unfortunately, some Windows users report that their Spotify Search feature doesn't work. They received varied messages, such as "Oops something went wrong", "Error: please try again", etc. Some of them can write the search area but nothing happens after that.
Why is Spotify search not working? Actually, the problem is usually caused by Spotify app corrupt file or a bug in the app. Here are some solutions to this issue and you can have a try if you need.
Tip: Make sure your network is working properly before you try these solutions.
Solution 1: Reinstall Spotify
If there are any corrupted files in the app, you might encounter the Spotify search not working issue. Therefore, you might need to replace the corrupted file with the correct one to solve the problem. However, it is hard to figure out which is the problematic one. In this case, you should try reinstalling the app to fix it. This works for most users.
Here are the detailed steps.
Step 1: Exit Spotify completely.
Step 2: Press Win + S to open Search. Then search for Control Panel and open it.
Step 3: At the upper right corner, select View by: Category. Then click Uninstall a program.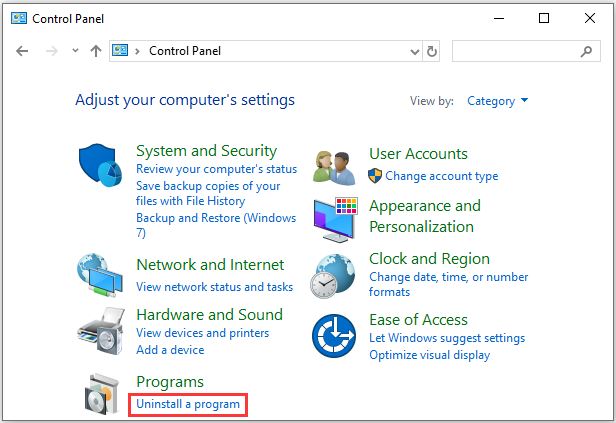 Step 4: Now you can see the installed programs and features on your PC. Scroll down to locate the Spotify app and right-click it.
Step 5: In the pop-up menu, select Uninstall. Then follow the onscreen instructions to finish the process.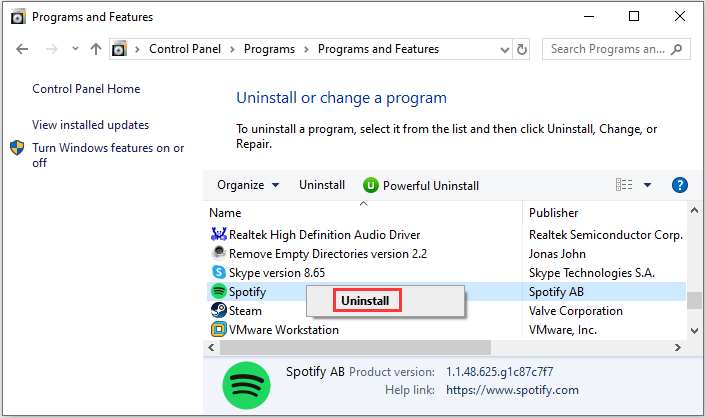 Step 6: Press Windows key and E key at the same time to open File Explorer.
Step 7: Input %AppData% in the address bar and press Enter to navigate to the program files related to installed apps.
Step 8: Select the Spotify folder and delete it. If the User Account Control window pops up, just click Yes to continue.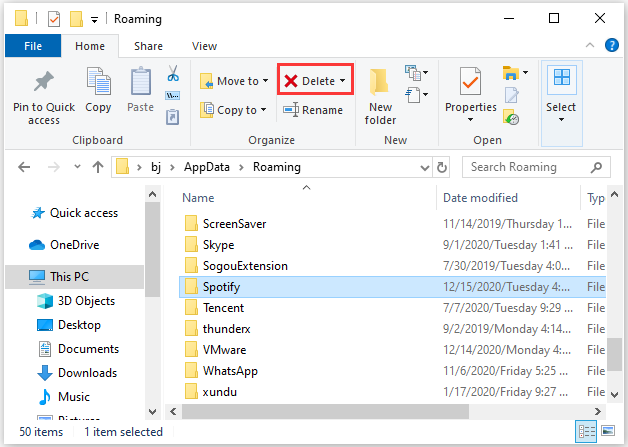 After deleting related files and folders, you can restart your PC and visit the official website of Spotify to download and install Spotify app again. Then launch it and check if the Spotify search not working issue has been fixed.
Are you enjoying music on Spotify? How to uninstall Spotify if you don't need it anymore? In this post, you can find two ways and you can choose one.
Solution 2: Use the Web Version of Spotify
If reinstalling the app doesn't help you fix the problem search not working in Spotify, there might be a bug. In this case, you'd better wait for the next update which might provide some fixes for the bugs in Spotify. You can also contact the support team of Spotify for other solutions.
If you still want to enjoy music on Spotify, you can try the web version. You just need to visit the official website and go to the Web Player section. Then log in with your account and you can enjoy your music as you wish.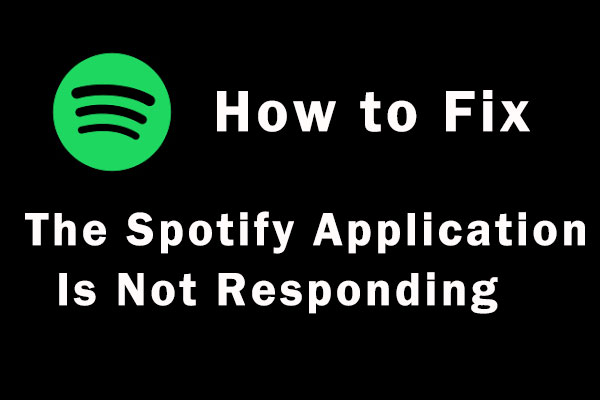 How to solve the problem if the Spotify won't open due to the error message "the Spotify application is not responding"? Here is the answer.