Steam is one of the most popular platforms on which players can purchase, download, discuss, upload, and share games and software.
Well, for certain reasons, some players want to appear offline on Steam while playing games. How to do that? This is discussed below.
How to Appear Offline on Steam
It is quite easy to appear offline on Steam and you just need to:
Step 1: Launch Steam to access its interface.
Step 2: Click the Friends tab from the top menu.
Step 3: To appear offline on Steam, you should choose the Offline option or the Invisible option. You will still be able to chat if you choose the Invisible option. If you choose the Offline option, that will disconnect you entirely from Friends & Chat.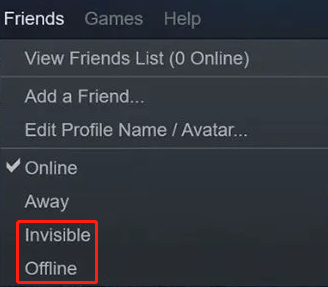 It is quite easy to appear offline on Steam. However, some people state that there is no option to go offline on Steam. If you run into the issue, you can take the following actions:
Verify your internet connection:
Enable and disable your internet connection.
Logout and back in:
Click your profile avatar and choose the Logout option. Then, log back in.
Clear the cache:
Right-click the Steam app and choose the Run as administrator option.
Click the Steam tab on the client and then choose the Settings option.
Go to the Web browser on the left side of the screen.
Click the options: Delete Web Browser Cache and Delete Web Browser Cookies to clear the Steam cache.
Check your internet settings:
Open your browser, then go to the advanced settings, and uncheck the option called Enable Enhanced Protected Mode.
Does the option go back? If yes, that's great! If you have other tricks, please share them with us in the comment zone.
You may have noticed that there are other options like Away and Do Not Disturb. Here is a brief introduction to them. As its name replies, the Away option means that you are unavailable. Enabling the Do Not Disturb option will block notifications from chats or other requests.
Bonus: Steam Offline Mode
The Offline Mode allows you to play your games on Steam without having an active connection to the Steam Network. Therefore, there is a difference between setting your account to appear offline on Steam and putting your account into the Offline Mode.
How to use the Steam Offline Mode? Please refer to the following recommended article.
Bottom Line
It is easy to appear offline on Steam: you just need to go to Steam, click the Friends tab, and choose one of the two options: Invisible and Offline.
Have you switched your status to offline on Steam? If you have some troubles, please feel free to tell us and we will try to help you get rid of them.