A great many people are confused about the Google Hangouts app. In this post, MinTool introduces the definition and system/browser requirements of this app. It also provides a full Google Hangouts download guide for PC, Web, Android, and iOS.
About Google Hangouts
Before you download Hangouts, let's have a basic understanding of this app. Here we summarize some frequently asked questions related to the Google Hangouts download.
What Is Google Hangouts
Google Hangouts is a widely popular social media service that allows you to have conversations with others in a variety of formats, including text, voice, video chats, photos, maps, emojis, animated GIFs, and more. With this app, you can initiate a conversation either one-on-one or in a group.
In addition, this app can enable you to keep in touch with your friends across different platforms and sync chat across all your devices. It also integrates well with other Google services like Gmail, Google Talk, and Google+.  In a word, the Hangouts apps provide you with many powerful features.
However, a lot of users don't know where to download Hangout for PC, Web, Android, and iOS. Let's find the answer from the following part.
Can You Still Download Hangouts App
According to the information from Google support, the Google Hangouts app will be upgraded to Google Chat at the end of 2022 for those who haven't updated. The Hangouts extension for the web will be available until November 1, 2022. After that time, you will be redirected to get Hangouts Chat downloaded on the web.
Of course, you still can download Google Hangouts for PC, Web browser, Android, and iOS if you wish before the end of the support.
Google Hangouts Download for PC (Windows/Mac)
There is no direct Hangouts app download link provided by the official Google Support for PC (Windows/Mac). Now, the Hangouts app has been upgraded to Google Chat for PC. If you still want to get Hangouts Chat downloaded, you can navigate to the https://hangouts.google.com/ site and click on redirected to Google Chat, and then you can start using the app.
Google Hangouts Download for Web Browser
You can add Google Hangouts as an extension on your web browser. The Hangouts app works with Google Chrome, Microsoft Edge, and Firefox. Here we will show you how to get the Hangouts app downloaded for Chrome.
Step 1. Navigate to the Chrome web store on your browser and sign in to your Google account.
Step 2. Type hangouts in the search box and select Google Hangouts from the list of extensions.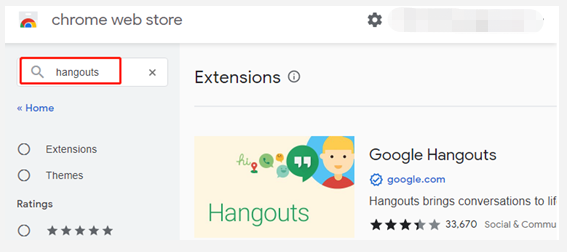 Step 3. On the new page, click on Add to Chrome.

Step 4. Click on Add extension to confirm this operation and click Get Started to start using the app on your device. Well, if you want to remove Hangouts from Google Chrome someday, you can refer to this guide.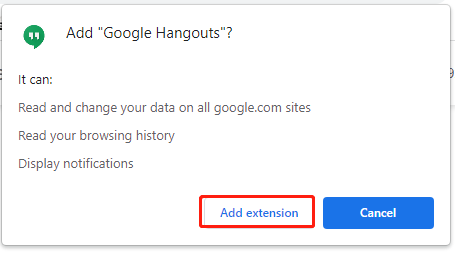 Google Hangouts Download for Android & iOS
In addition to PC and web browsers, you can get the Hangout app download for Android and iOS. For Android devices, you can launch the Google Play Store, search for this app and click on Install. For iOS devices, you can download and install Google Hangouts via the App Store.
Note:
You can no longer download the classic Hangouts app on Android. If you accidentally delete or uninstall this app, it won't be installed any longer. To continue using the Google conversation app, you only can get Hangouts Chat downloaded on Android.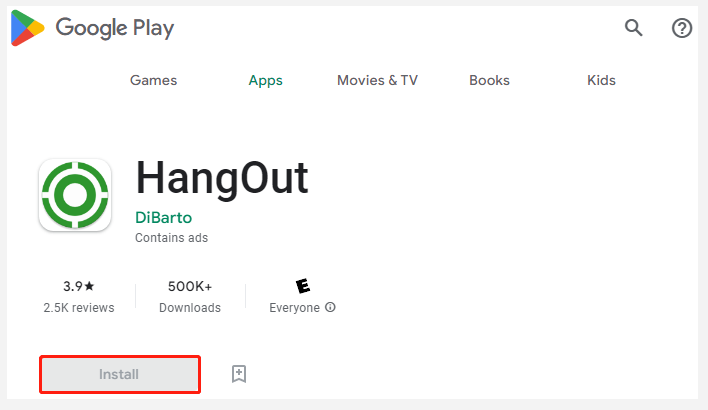 Further Reading: If you can't download the Google chat app on Windows due to insufficient disk space, don't worry. MiniTool Partition Wizard can help you fix it easily by analyzing disk space, extending partition, upgrading to a larger hard drive, etc.