A great many are searching for a safe auto clicker for their mouse. GS Auto Clicker is such a tool. In this post, MiniTool will show you how to download GS Auto Clicker for Windows 10/8/7 and introduce other related information.
About GS Auto Clicker
Before you download GS Auto Clicker for Windows, it's necessary to have an overall understanding of this software. Here we summarize several frequently asked questions related to the GS AutoClicker.
What Is GS Auto Clicker
GS Auto Clicker is a practical automatic mouse click software that can save you time by performing automatic repetitive mouse clicking, which can improve your working efficiency and protect your mouse from unnecessary wear. This Auto Clicker PC software is very useful especially when you need to repeatedly move and click the mouse like playing games.
If your mouse gets faulty in reality, GS AutoClicker is a good choice that works as a virtual mouse for clicking. In addition, this software is very small and easy to download/use as it only takes up a few system resources (less than 1MB of disk space. So, you don't have to worry about any lag issues.
What Are Benefits of GS Auto Clicker
Why it is worth downloading Auto Clicker for Windows 10/8/7? After analyzing extensive user reports and using the Auto Clicker PC tool by myself, I found the following several benefits.
Simple and clean interface: This software provides a simple and effective interface that is designed with old-fashioned UI and shows only bare essentials on the screen. So, it is a great choice for beginners who are looking for a simple Auto Mouse clicker.
Lightweight and fast: The GS AutoClicker software comes in a very small size, so it is very quick to complete the installation and takes up a few system resources when running.
Many advanced features: In addition to automatic mouse clicking, this Auto Clicker PC software offers many other features. For example, you can set up multiple click sequences and intervals to automate clicks, record an entire mouse click routine on different areas of the screen, enter frequently used words, add repetitive phrases whenever required, etc.
100% free to use: The GS Auto Clicker for PC is entirely free to use. It doesn't contain any subscription requests or annoying ads. Once installed, you can use it instantly without any time limitations, hidden fees, or locked features.
100% safe to use: This software doesn't come with any harmful codes, malware, or unknown ad link. So, it is legitimate and safe to use.
Of course, this Auto Clicker also has some defects. For example, the macros can't be saved to files and the Help links lead to a third-party mouse click website.
GS Auto Clicker Download & Use Guide for Windows 10/8/7
How to download GS Auto Clicker for Windows 10/8/7 PCs? Since some users reported that the file is named Trojan/Malicious on the computers, make sure you download the software from its official website.
Step 1. Click here to open the GS Auto Clicker official website and click on Free Download. Then select a location to save the downloaded package.
Step 2. Once downloaded, double-click the GSAutoClicker.exe file and you will enter the main interface of this software.

Step 3. Now, you can set up automatic click tasks according to your needs. Click on Options > Recording > Multiple clicks to set up the multiple-click sequences.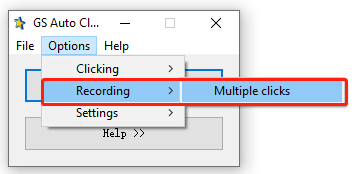 Step 4. Tick the checkbox next to Record and replay multiple clicks. Then click on Pick point and move your mouse somewhere on the screen and click. Repeat this process until you capture all clicking points.
Step 5. Click on OK to save the new script. Then close the main window to take the action into effect.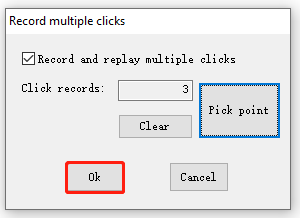 Step 6. Click on F8 to start the macro. If you want to set up the mouse-clicking speed, you can navigate to Options > Clicking > Repeat and adjust the Interval and click on OK. Also, you can set the tool to repeat until you stop it by pressing F8.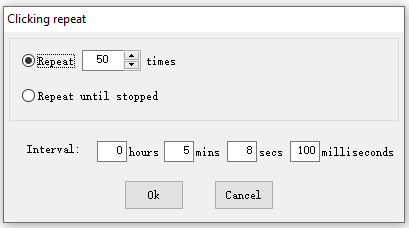 Step 7. You can navigate to Options > Clicking > Option to set up the mouse Left/Right model and the Single/Double click. To know more about how to automate a sequence of mouse clicks and keystrokes, you can click on Help.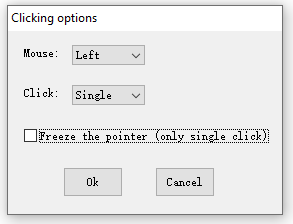 Further reading: Do you want to manage your partition and disk on Windows effectively? MiniTool Partition Wizard is a good choice that can help you extend/resize/delete partition, convert a disk to MBR/GPT, migrate OS, etc.