Sometimes, your computer may have difficulty in playing sound and throw you the generic audio driver detected error. What causes this troublesome issue and how to fix it? Here, MiniTool will talk about it and make replies to this issue.
An Overview of Generic Audio Driver Fix
The generic audio driver detected is an issue that is generated by Windows Troubleshooter. It will occur when there's something wrong with your sound devices. It indicates that your sound devices are not respond to the commands of your PC.
What's worse, this issue – generic audio driver detected is persistent and hard to diagnose. Due to this fact, many users raise the question – how to fix my generic audio driver. Well, you can obtain some methods in this generic audio driver fix guide. Now, let's explore it together.
Solution 1: Run Audio Troubleshooter
It is recommended that you run the Windows 10 audio driver troubleshooter to fix your generic audio driver. Troubleshooter is very useful, which can help you fix many issues. This has been illustrated in our previous articles. For instance, it can solve Cannot not responding, printer offline, unidentified network and other issues.
How to run the audio troubleshooter? Here are detailed steps.
Step 1: Open Windows Settings by holding Win plus I keys, and then navigate to Update & Security section.
Step 2: Click on Troubleshoot in the left panel and then move to the right side of the window. After clicking on the Play Audio option, click Run the troubleshooter to go on.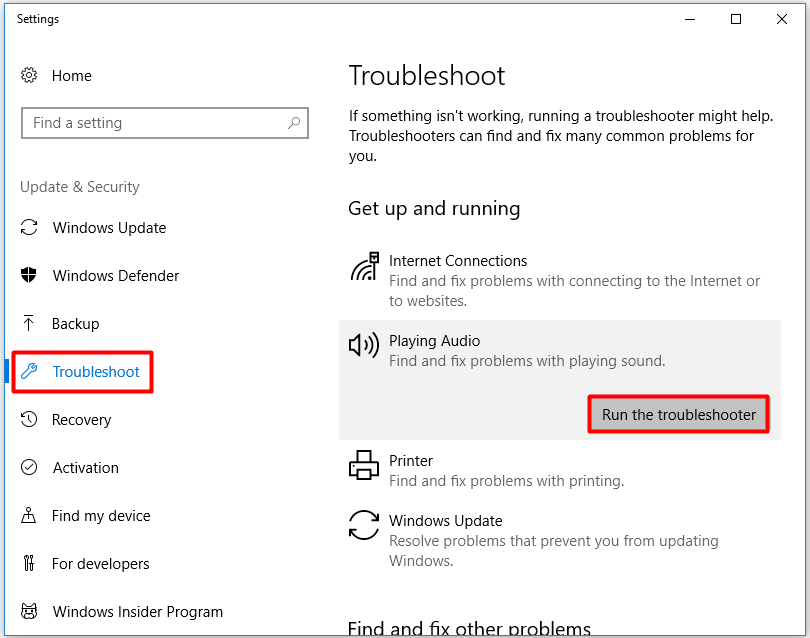 Step 3: Then, the Troubleshooter will detect problem automatically.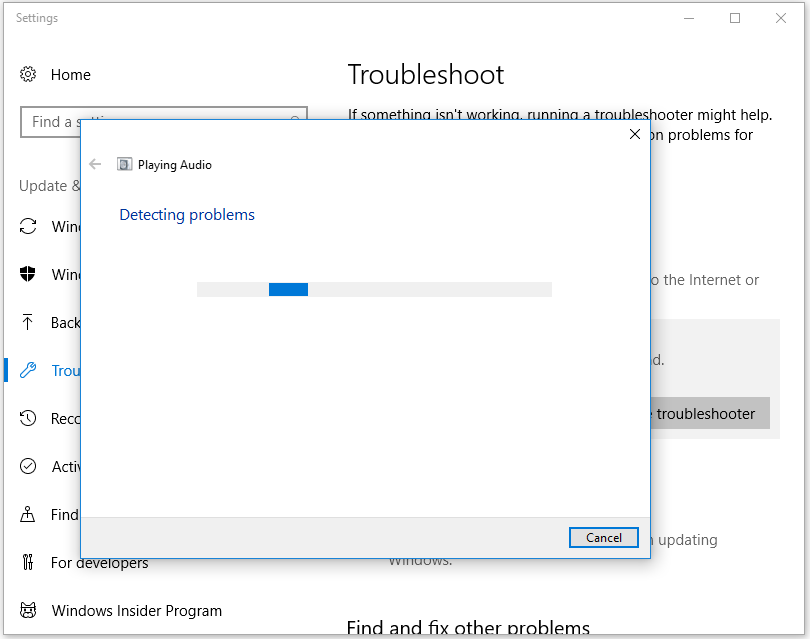 Step 4: Now, you can do as the Troubleshooter tells you. Turn off sound effects and enhancements to improve sound quality. Then, follow the on-screen instruction to complete the whole process.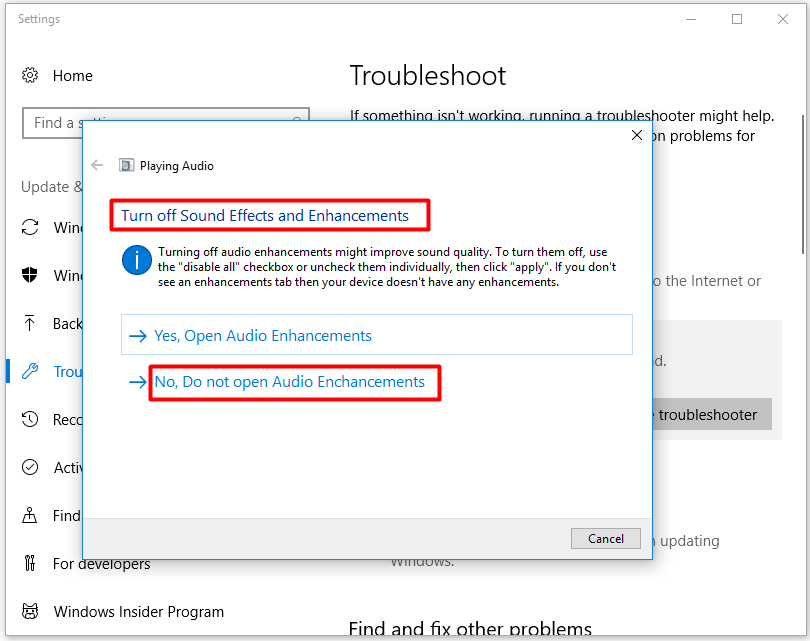 Solution 2: Check the Status of Your Audio Services
The generic audio driver detected error can also happen to you if the audio services are disabled. So, you can check the status of your audio services when you receive the error. Here's the step-by-step guide for you.
Step 1: Open the Run window and type services.msc, and then hit Enter to open the Services window.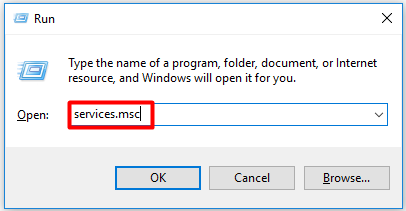 Step 2: In the next window, scroll down the service list until you find the Windows Audio and Windows Audio Endpoint Builder service. Here, you can check if they are running at present and if the startup type is Automatic. If not, you can double click on them respectively and set its status and startup type manually.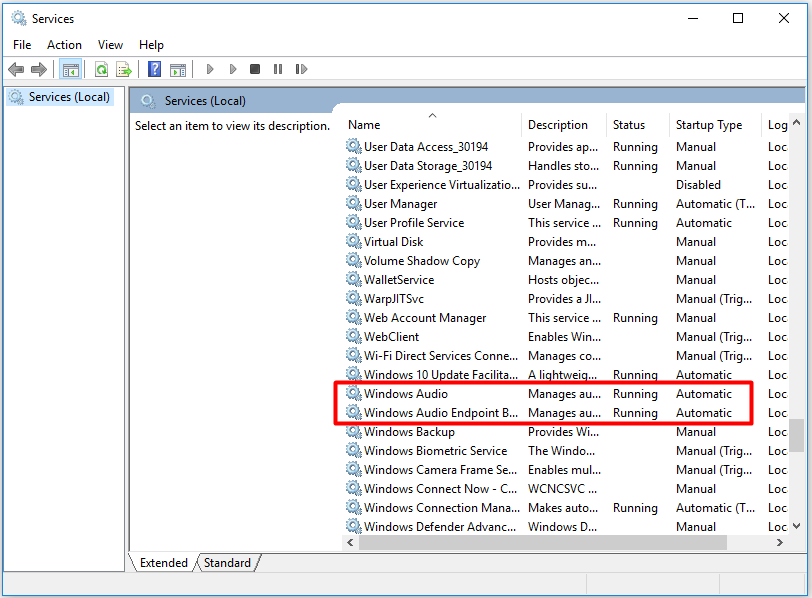 Solution 3: Update Audio Drivers
As outdated or missing audio drivers can result in various errors including the generic audio driver detected error, you are suggested to update your audio drivers when receiving the error.
Step 1: After opening the Run dialog window, type devmgmt.msc and click on OK.
Step 2: In the Device Manager window, double click on Sound, Video and Game Controllers option to expand it. Then, right click on the outdated driver and choose Update driver from the elevated menu.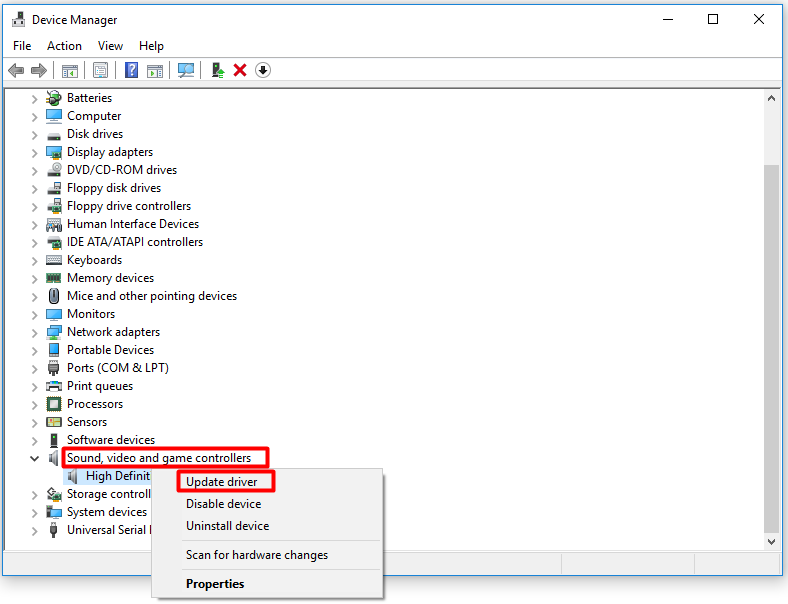 Step 3: In the next window, choose one method to search for drivers based on your demand. Then, follow the on-screen prompt to finish the update process.
Step 4: Now, restart your PC and see if the error is solved.
Solution 4: Reinstall Audio Driver
If updating drivers doesn't work, it's time to reinstall your audio driver. You can follow the steps below to perform the reinstallation.
Step 1: Repeat the Step 1 to Step 2 of Solution 3 to uninstall audio driver. So, you should choose Uninstall device from the pop-up menu. If you are prompted with confirm window, click Uninstall to start the uninstallation.
Step 2: After that, reboot your PC and then reopen Device Manager again. Right click on the name of your computer and click on Scan for hardware changes. Then, it will finish the reinstallation automatically.
Tip: Generally speaking, it is the first name in the list of Device Manager.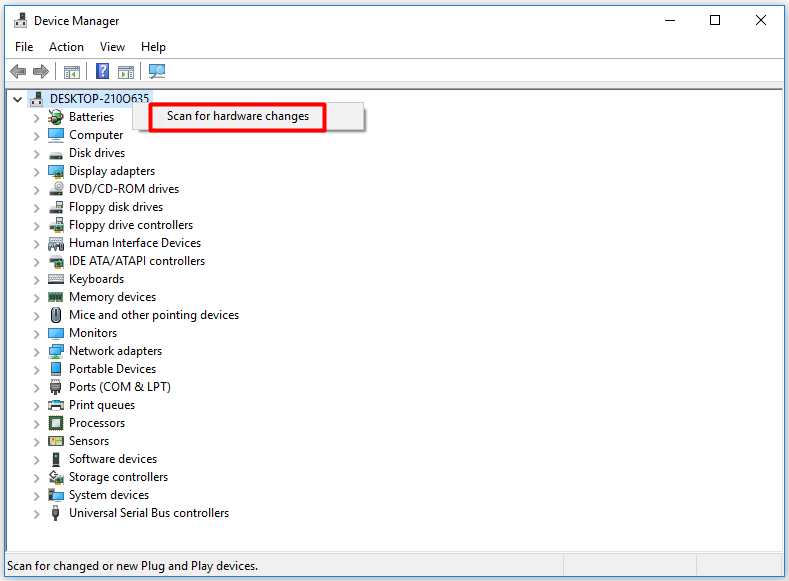 That's all the content of the generic audio driver fix guide.