Destiny 2 updates are important to the game. If you encounter Destiny 2 not updating issue, you might be unable to play the game. To solve the problem, MiniTool Partition Wizard puts together some solutions and you can have a try.
Destiny 2 which is also known as Destiny 2: New Light is an online multiplayer shooter video game developed by Bungie. Players can enjoy the game from the first-person perspective. The game was first released as a pay-to-play game in 2017, but it's free-to-play now, and it is available on various platforms, including Xbox series X/S, Xbox One, PS4, PS5, Steam, and Stadia.
Tip: Destiny 2 was available on Blizzard Battle.net, but it has moved to another PC platform, Steam, in 2019.
The developers are keeping releasing Destiny 2 updates to address gameplay issues or to update in-game features. And to continue playing, players are required to download and install these Destiny 2 updates. However, some users report that their Destiny 2 update got stuck on initialization.
This problem usually happened while players were trying to update Destiny 2 on Blizzard Battle.net. Since the game was moved to Steam, the problem seems to disappear in some cases, but some users still can't update the game. If you are bothered by the same problem, you can try the following solutions.
Solution 1: Restart the Game Platform
The first thing you can try is to restart the Steam client. Before that, you should close the related processes completely. Please press Ctrl + Shift + Esc to open Task Manager. Under the Processes tab, right-click each process related to Steam and select End task.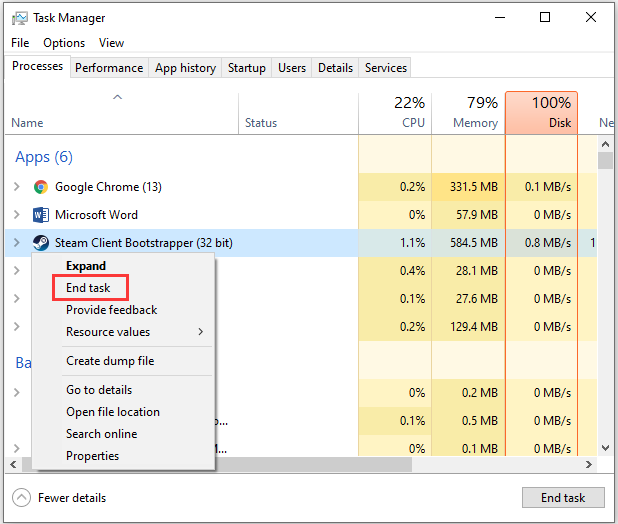 Restart Steam and then update Destiny 2 again to check if the problem has been fixed. If it doesn't work, you can move on to the next solution.
Solution 2: Check Your Internet Connection
Destiny 2 not updating issues could also have something to do with the Internet connection. To troubleshoot the problem, you need to check your network and make sure it works properly. You can reboot your PC and restart the router or modem. By the way, a wired connection might also help.
For detailed information, you can refer to the Network Troubleshooting Guide from Bungie.net.
Solution 3: Verify the Integrity of Game Files
Another reason for Destiny 2 not updating on PC is that some game files are corrupted or missing. Fortunately, Steam provides a feature that allows users to verify and repair the game files. Now, let's have a check.
Step 1: Launch Steam.
Step 2: Click the LIBRARY tab to view the list of your installed games.
Step 3: Right-click Destiny 2 and select Properties.
Step 4: In the pop-up window, select LOCAL FILES in the left pane. In the right pane, click Verify integrity of game files…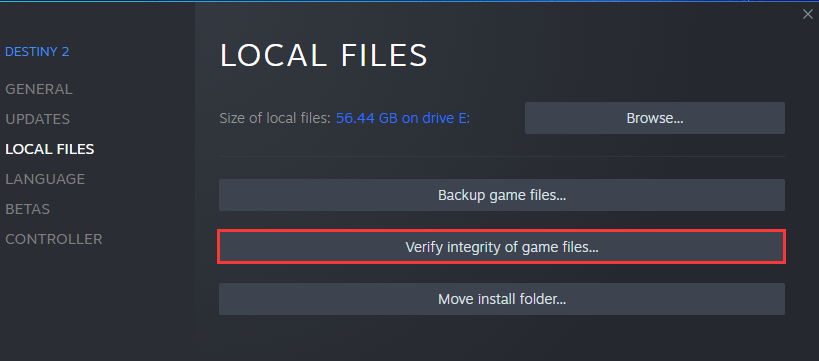 Wait patiently until the verifying process is completed and then restart Steam to check if Destiny 2 not updating has been solved.
Solution 4: Reinstall the Game Platform
If you have tried all the solutions you can find but encounter Destiny 2 stuck on updating again, you might need to reinstall the game platform where you install the Destiny 2 updates to solve the problem.
If you don't know how to uninstall the client, you can refer to the following post: How to Uninstall Programs on Windows 10? Here Are Methods. After uninstalling it, you can go to the official website to download and install it again. Then launch it and sign in with your account. After it synchronizes with the installed games, try updating your game again.