How to delete Skype account? You may have such a doubt like many other users. Don't worry about it. In this post, MiniTool tells you how to delete a Skype account.
Skype is one of the oldest Voice over Internet Protocol (VoIP) applications. It used to be popular. As many applications with built-in voice and video call functions comes into being, Skype is losing its popularity gradually.
More and more people want to delete Skype account. However, they don't know how to do that. You can see questions like "how to delete my Skype account" are asked in Google or other browsers. How to delete a Skype account? What you should do before deleting? Read the content below!
What You Should Do before Deleting Skype Account
After you delete Skype account, data associated with Skype like Skype contacts, purchases and chat history will be cleared. If you don't want to end up losing access to Outlook or Xbox Live account after deletion, you should unlink Microsoft account before starting the process.
You can do that by following steps below.
Step 1: Type Skype.com in a web browser and hit Enter to access the main page of Skype.
Step 2: Drop down the bottom of the webpage and click the Account settings under the Settings and Preferences option.
Step 3: Click on the Unlink option close to your Microsoft account.
Tip: You should note that if the option is Not Linked instead of Unlink, it indicates that your Skype account is not linked to your Microsoft account. In this case, you can skip this section and proceed to the next section.
How to Delete Skype Account by Deleting Microsoft Account
An effective way to delete Skype account is to delete Microsoft account. How to do? Here are steps for that.
Step 1: Click here to move to the login page of Microsoft. Then follow the on-screen instruction to log in Microsoft account and navigate to the location as shown in the picture below. If you have any subscriptions, click the given link to unsubscribe. Then click Next to continue the process.

Step 2: In the pop-up window, you will see a list of notifications because of Microsoft account deletion. You should read them carefully before executing the operation. Then check all the checkboxes and choose the reasons for leaving from the drop-down menu.
Step 3: Finally, click on the Mark account for closure button.
Tip: After executing this operation, Microsoft will initiate a 60-day grace period. It means that you can recover your account during this period. If you don't recover it within the period, your Skype account will be permanently deleted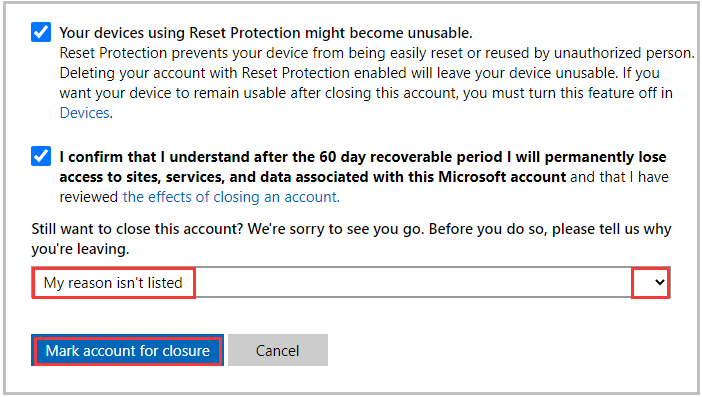 How to Delete a Skype Account from Skype
Step 1: Click here to launch you Skype.
Step 2: After accessing your Skype account, click on your Skype name and then click on Settings from the prompted menu.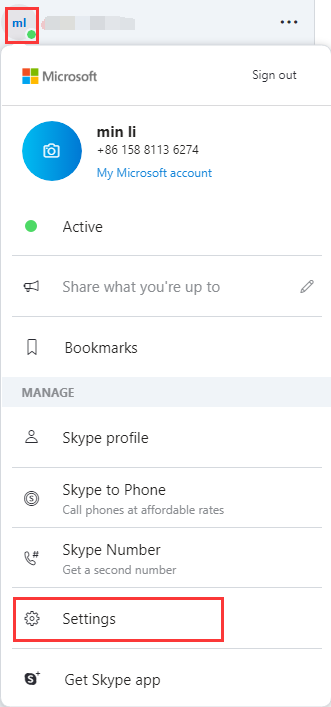 Step 3: In the elevated window, click Close your account.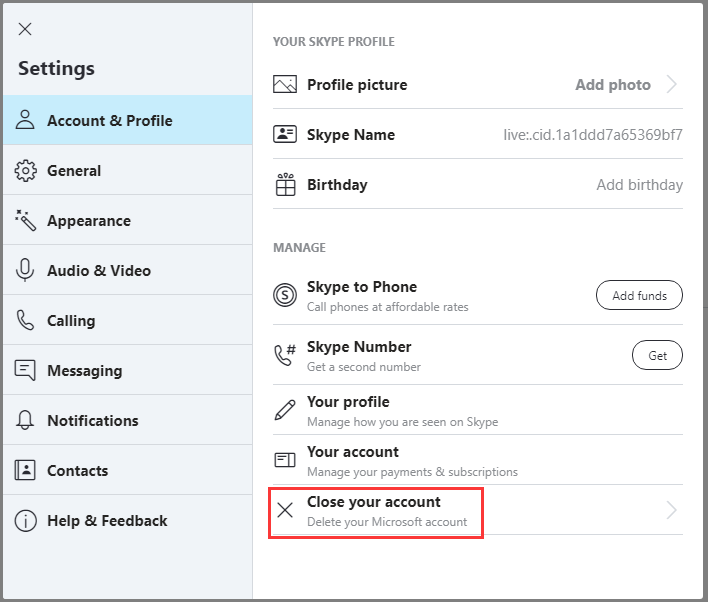 Step 4: In the next page, click on the Microsoft account closure page link. Then log in Microsoft by following the pop-up instruction.
Step 5: Now, you should cancel subscriptions like you do previously. After that, mark the account for closure step-by-step.