If you want your team to work together on the same document, see changes, and have real-time conversations right in the file, you can collaborate on Microsoft Office files in G Suit. MiniTool Solutions offers you the guide to use it.
What Is G Suit
G Suite is a set of cloud computing, productivity and collaboration tools developed by Google.
It includes:
Communication service: such as Gmail, Hangouts, Calendar, and Currents.
Storage service: Google Drive.
Collaboration service: like Docs, Sheets, Slides, Keep, Forms and so on.
It enables you to edit a Word document with multiple users at the same time. Let's see how to do it.
Sharing Office Files
In the first place, you need to add the file to Google Drive and share it with your collaborators if you want to edit Microsoft Office documents with someone else.
Step 1: Go to "drive.google.com" and log in.
Step 2: On the top left, select New > File upload. Then choose the file you are trying to add and click OK.
Step 3: Share the file with others.
Right-click the file and select Share.
Input the email addresses of your collaborators in the box.
Click the pencil icon and choose Can editfrom the drop-down menu to allow them edit your file.
Add a message to the note field and check Notify people.
Click Sendand then your collaborators will receive an email with a link to the file.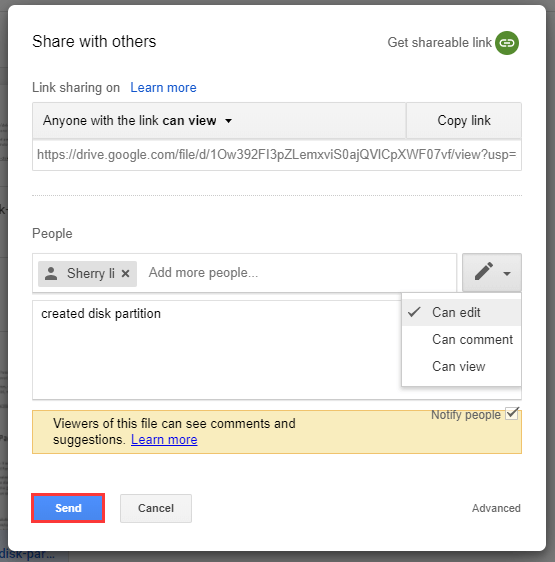 Edit Microsoft Office Files in GSuite
It is simply to edit Microsoft Office documents with someone else when collaborate on Microsoft Office files in G Suit.
Step 1: Go to your Google Drive folder and double-click the file you want to edit to open a preview.
Step 2: Click Open in Google Docs (or Open in Google Sheets/Slides) at the top to open the file.
Then you will see a .docx, .xlsx or .pptx file extension after the file name, which means you are dealing it with Microsoft Office format.

Every change you've made is automatically saved in Google Drive and it will be visible by all the collaborators. In addition, with the feature Suggesting mode, you can also propose edits without making any change to the original text in Word.
Read more: Easy Ways to Restrict Document Editing in Microsoft Office.
Add Comments
To communicate with other collaborators when you are editing a Word document with multiple users at the same time, you can use Comment.
Step 1: Select the text you plan to add a comment.
Step 2: Right-click it and choose Comment from menu.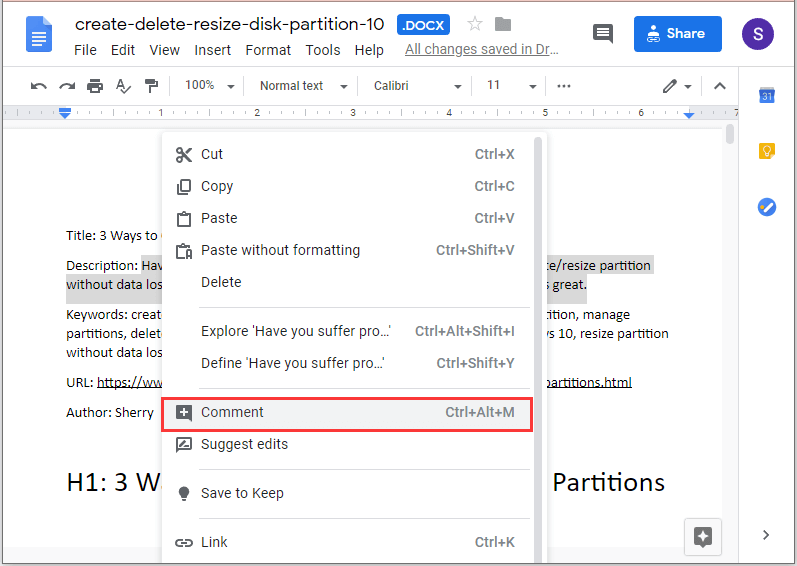 Tip: You can also press Ctrl + Alt + M, or click the speech bubble icon in the top right of the screen and select Add comment to give comments.
Step 3: Type your comment in the pup-up box and then click Comment to keep it.
Note: You can enter a "+" followed by email address after the comments to direct your comments to one or more specific people.