It's said that Google Drive and Dropbox rank as the two most popular online storage services today, but when it comes to choosing between google drive and Dropbox, you may wonder what differences between them are. Which one is your best file storage solution? Here MiniTool tells you the answers.
Google Drive and Dropbox Overview
With Google Drive, you can access the most essential programs such as Gmail and Docs. It is a great deal that you will get 15 GB free storage space just for signing up. According to the latest count available of Google, there are 800 million active users in 2019, while only 240 million active users in 2014.
Google Drive VS Dropbox: Cost of Storage
When making a comparison between Google Drive and Dropbox, the cost of storage space is a key factor when choosing a cloud storage service. Here we evaluate the cost per gigabyte and their free plan.
Here are two charts from cloudwards.net about the differences between Dropbox and Google Drive on the cost of storage space you can refer to.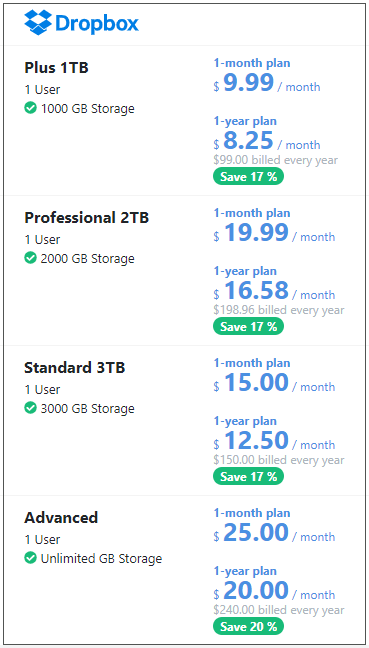 As is shown, the professional and advanced plan is more expensive. In a word, you can save some money, especially for Advanced Dropbox if you choose 1-year plan. If you are not a paying user, Dropbox has a referral program that gives you 500MB per referral. If you are on a subscription, you can get a cap of 16GB, or 1GB referral.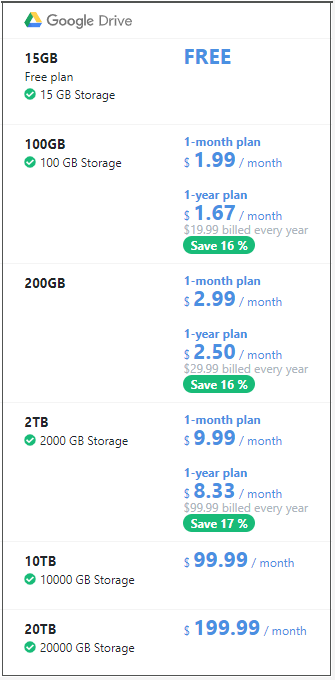 According to Google Drive VS Dropbox, Google Drive offers more storage choices for users. But you may also find Google Drive doesn't have a referral program.
Google Drive VS Dropbox: File Sync
Both provide file sync features to back up your data timely. While Google Drive really differs from Dropbox in file sync. When you work on the cloud storage services, your files are saved automatically so that they can be accessed from any device or browser.
In the process of file sync, Google Drive will download and upload the entire document that may take you some time. Sometimes, a delay will occur when you access a file from a different device rather than the one you made changes from. For instance, you made the changes from desktop, opening the file from your phone may not show the changes at once.
Unlike Google Drive by downloading the entire document, Dropbox uses a block-syncing method. It just stores and syncs the changes made to the document. So, Dropbox is much quicker than Google Drive. In other words, you don't have to wait so long to access the changes when you log in Dropbox from another browser or device.
Google Drive VS Dropbox: Additional Features
In addition, both of the two storage services have noticeable differences in the word processor and project creation tools.
The creation tool of Dropbox is called Paper that enables you to create a word document with embed images, calendars, media files, merge other Dropbox files or create a table. And Dropbox offers a spell checker to correct the unrecognized words.
You also have access to a word processor via Google Docs that is similar to Microsoft Word with a plethora of formatting and embedding tools. You can change the text fonts and colors, add backgrounds when using Google Docs. Updates are automatically saved in Google Drive so that you can access them later.
Through the above Google Drive VS Dropbox, I believe you would have deeper understanding of the two cloud storage tools. </p