Some Windows users have reported that the Incognito Mode of Google Chrome is missing for unknown reasons. If you encounter the same issue while using Chrome, just keep reading this post. MiniTool collects 4 methods here for you to resolve Chrome Incognito Mode missing.
Nowadays, almost every browser supports private browsing or the Incognito Mode. So do Google Chrome.
While using Chrome to browse websites, you can browse in the Incognito Mode to make sure you are not being tracked by websites you visit and keep targeted advertisements away. In other words, it can protect your privacy to the highest degree while browsing websites.
The Incognito Mode in Chrome is available by default. However, sometimes this mode disappears from this browser and even the Control + Shift + N keyboard shortcut fails to enable this mode. Why does this happen? Here are several common reasons:
Extensions: In most cases of browser issues, your extensions should be to blame as they may interfere with the proper functioning of a browser.
Change in System Registry: If the value of the key related to Chrome Incognito Mode is changed, the option of the mode will disappear.
Improper Chrome settings: The Incognito Mode might disappear for improper Chrome settings which might be changed by yourself or on Chrome's own, or because of another file.
As you have known the probable reasons for this issue, you can easily fix it with the following solutions.
Solution 1: Disable Extensions
Your extensions might lead to chrome Incognito Mode missing, and you can simply disable them to fix it.
Step 1: After opening your Google Chrome, click the three-dots menu button and choose More tools from the drop-down list. Then, choose Extensions from the expanded menu.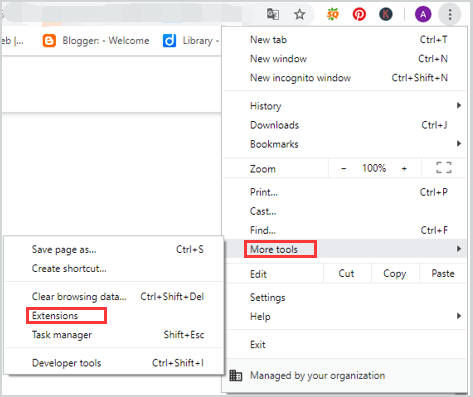 Step 2: When you enter a new page, you will see all your extensions here. Toggle off the switch on the bottom right corner of every extension to disable all the extensions.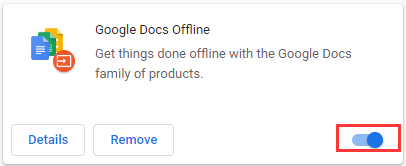 Step 3: Restart your browser to check whether chrome Incognito Mode missing issue is resolved. If it is gone, your extensions are the cause.
If you don't want to disable all extensions all the time, you can find the extension that causes the problem and disable it only. To do that, just enable them one by one. If the Incognito Mode disappears again after enabling a specific extension, this extension should be the culprit.  
Solution 2: Use Chrome Cleanup Tool
There is a built-in malware removal tool in Google Chrome, you can use it to fix Chrome Incognito Mode missing as well.
Step 1: Open your Google Chrome and choose Settings from Chrome menu.
Step 2: Go ahead to Advanced -> Reset and clean up -> Clean up computer.
Step 3: Then, you will get the following interface, just click Find button to start checking for harmful software.

Step 4: Wait patiently until the process finishes. If Chrome finds harmful software, you will get the following prompt. just click Remove button.
Note: Chrome also disables all extensions during the removal procedure. You can enable the extensions referring to the steps of Solution 1.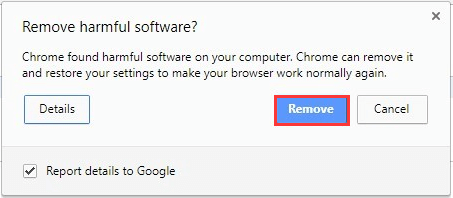 Solution 3: Reset Chrome Settings
Alternatively, you can try reset Chrome settings to fix Chrome Incognito Mode missing. However, you should note that this operation will reset everything on Chrome and clean the entire history. So, it's recommended to back up your passwords saved by Chrome or remember some important personal settings.
To reset Chrome settings, you should navigate to Reset and clean up section referring to Solution 2 and choose Restore settings to their original defaults.
There will be a pop-up window telling you what will happen after resetting settings. Make sure that you have been prepared for performing this operation, then click Reset settings.
After finishing resetting, restart your Google Chrome and Incognito Mode should be working again.
Solution 4: Configure System Registry
If there's no Incognito Mode in Chrome after removing certain extensions or resetting Chrome settings, you should check your system registry.
Step 1: Press Windows + R to open Run window. Type regedit and click OK to enter Registry Editor.
Step 2: Locate the folder named Chrome according to the following path: CompterHKEY_LOCAL_MACHINESOFTWAREPoliciesGoogleChrome.
Note: Before proceeding, consider backing up your registry just in case something goes wrong. Just select Computer, then click File and choose Export from the drop-down menu. Then, choose a location to save the copy of registry.
Step 3: Click Chrome folder and double-click IncognitoModeAvailability key from the right pane. In the pop-up window, set its value as 1 and click OK.
Note: There are three values for this key: 0=Incognito Mode enabled (default), 1=Incognito Mode disabled, and 2=force Chrome to always open in Incognito Mode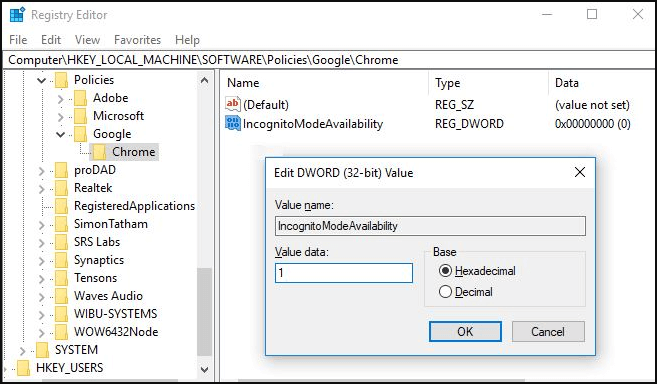 That's all about the solutions to Chrome Incognito Mode missing. Hope these solutions introduced in this post can help you resolve this issue effectively.