Can't log into ChatGPT? If you are bothered by this issue, read this post now! MiniTool Partition Wizard tells you the potential causes behind the issue and offers you some methods to fix it.
What Causes ChatGPT Login Failure
A lot of factors can cause ChatGPT login failure. For instance, you will fail to log in ChatGPT if its servers are down, you have a slow Internet connection, you type the wrong login password or email address, etc. Moreover, VPNs and accumulated browsing data on browser can also lead to ChatGPT login failure.
Method 1: Check If Your Login Credentials Are Wrong
The first thing you should do after you encounter ChatGPT login failure is to check if your login credentials are wrong. Make sure that the password and email address registered for ChatGPT account are correct before you log into the account.
For instance, keep an eye on misspelled words or typographical errors in your email or password. If you forget your password, take some measures to get it back.
Method 2: Check Your Network Status
You can't log in to ChatGPT if you have a slow or unstable Internet connection. To check if the network is the error root, you should perform a network speed test via websites like Fast.com and TestMy.net. If there are issues with your network, restart or reset your router and modem. Alternatively, directly switch to a fast and stable network.
Method 3: Check If the Server of ChatGPT Is Down
The ChatGPT server will be down due to reasons like a power outage, network card issues, etc. If there are too many users using the service at a certain time, the server will fail to work too. If the server is down, you can't log into ChatGPT.
Once you experience ChatGPT login failure, you should check the status of the ChatGPT server from the official site of OpenAI or status-checking websites. You can also click the "Get notified when we are back" link to learn the ChatGPT server status.
Method 4: Clear Browsing Data of Your Browser
To improve the performance, browsers usually store temporary data like caches and cookies. However, these data could accumulate over time and become corrupted, which causes various issues. ChatGPT login failure is one of them. To solve the issue, clear the browsing data on your browser and then sign in to your ChatGPT account again.
The following steps show you how to clear browsing data on Google Chrome.
Step 1: Open Google Chrome and click the three-dot icon at the upper right corner of the webpage.
Step 2: In the pop-up menu, click Settings.
Step 3: In the left panel, tap Privacy and security.
Step 4: Move to the right side of the page and click Clear browsing data under the Privacy and security section.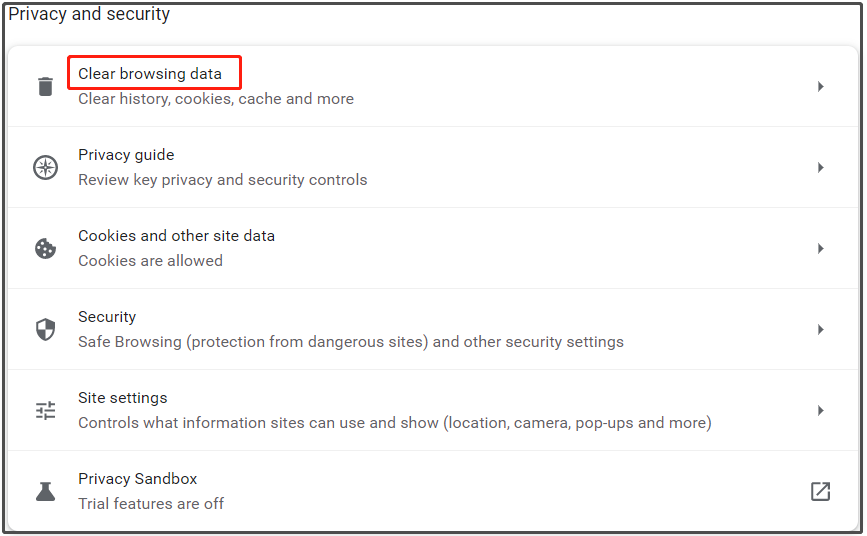 Step 5: In the next window, check the data type you want to clear from the list and choose a time range that the data is generated from the drop-down menu. Then click Clear data to execute the operation.
Tips:
If necessary, navigate to the Advanced tab and select the data type to remove.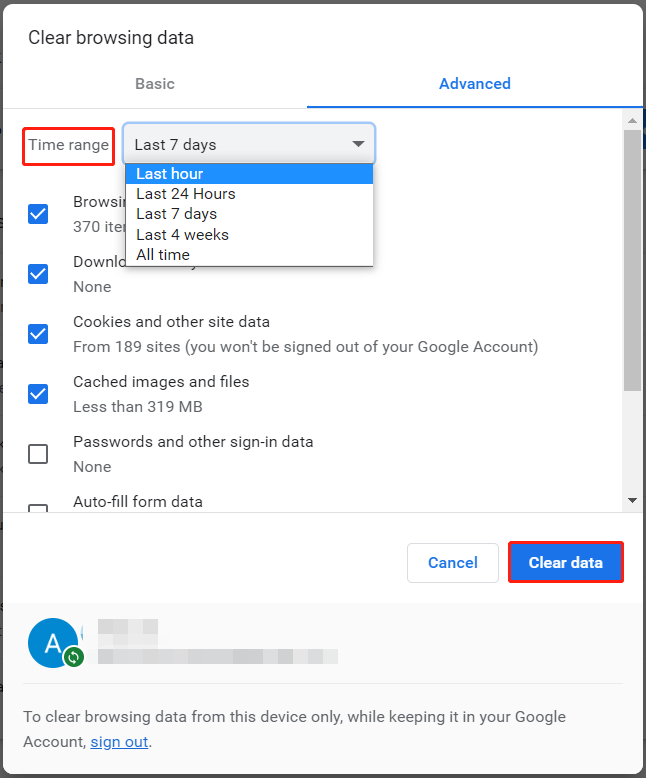 Method 5: Disable VPN
Though VPNs can prevent your network and data from being hacked, they may cause delays and instability to your network. Then you can't log in to ChatGPT. If so, disable or disconnect your VPN with the steps below.
Step 1: Open Settings by pressing Windows and I keys.
Step 2: Click Network & Internet > VPN.
Step 3: In the right side of the window, click on the VPN that you are connecting to at present and click the Disconnect button.
Method 6: Switch the Login Device
If you can't sign in ChatGPT on your computer, try logging into it on your mobile devices. This method sometimes works. It is worth having a try.
Bonus tip: For issues related to hard drives or partitions, you can repair them by using MiniTool Partition Wizard. For instance, it helps you fix issues like partition not showing up, system reserved partition not showing, format option greyed out, etc.
MiniTool Partition Wizard FreeClick to Download100%Clean & Safe
Get this software to fix hard drive issues on your Windows PC.