How to fix the "BitTorrent stuck on connecting to peers" issue? If you are still trying to resolve it, then you come to the right place. This post of MiniTool explores some useful methods to fix the problem.
BitTorrent is a popular communication protocol for peer-to-peer file sharing. With this client, users can distribute data and electronic files over the connected internet. Sometimes, however, many people encounter the "BitTorrent stuck on connecting to peers" issue.
According to a survey, the main reason for BitTorrent not connecting to peers is poor internet speed. If you have a good internet connection, then the issue could be caused by dead torrents, antivirus software or Firewall, and an incompatible VPN service. Here we provide corresponding solutions to the problem.
Solution 1. Check Your Internet Connection
Before you perform the following solutions, you should check if your internet connection is stable and fast. If BitTorrent stuck on connecting to peers due to bad internet, you need to improve the internet speed. Here are some practical tips for you:
Disconnect all unnecessary devices that you are using from your Wi-Fi network.
Place your devices in a relatively high location.
Move your devices away from metals, walls, ovens, or other interferences.
Connect to 5GHz WiFi if your router supports it.
Restart your modem or router.
Try using an Ethernet network.
Solution 2. Allow the BitTorrent Client Through Your Firewall or Antivirus
Sometimes your antivirus software or even Windows Firewall can block you from access the BitTorrent service. To fix the "BitTorrent stuck at connecting to peers" problem, you can try allowing the client through the whitelist of your Firewall or antivirus. For that:
Step 1. Type firewall in the search box and then select the Windows Defender Firewall from the context menu.
Step 2. Click on Allow an app or feature through Windows Defender Firewall from the left pane.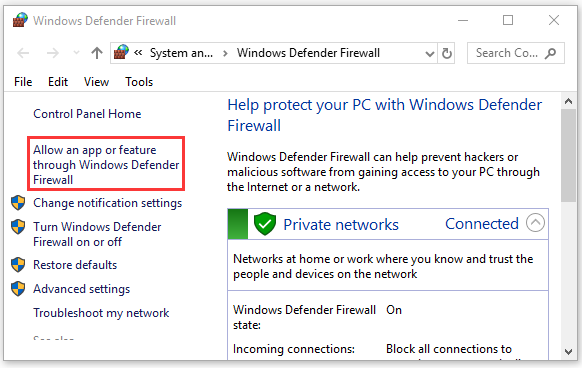 Step 3. Select the checkbox for BitTorrent from the list of programs, and then tick the checkboxes for both Private and Public networks, and click OK to save the changes. If you can't find the BitTorrent client, you can click on Allow another app and add it.
Tip:
If you are using Avast on your computer, read
this post
to add an exception to Avast. For AVG antivirus, navigate to
Home > Settings > Components > Web Shield > Exceptions
to add
BitTorrent
to the exceptions list. If you are using Kaspersky, navigate to
Home > Settings > Additional > Threats and Exclusions > Exclusions > Specify Trusted Applications > Add
.
Solution 3. Clear the Settings.dat File in BitTorrent
If the "BitTorrent stuck on connecting to peers" issue still appears after you tried the above methods, then it could be caused by dead torrents. In this case, you can try deleting and modifying the settings.dat file. Here's a quick guide for you:
Step 1. Make sure you save all your current torrent downloads and then note down the location of the download folder and other important settings.
Step 2. Close the BitTorrent client.
Step 3. Press Win + E keys to open the File Explorer and locate the following directory:
C:\Documents and Settings\[YourUserAccountName\Application Data\Bittorrent
or
C:\Users\[YourUserAccountName]\Application Data\Bittorrent
Step 4. Inside the directory, find the following file and delete them:
Step 5. Restart your BitTorrent client and modify the settings based on your demands.
Step 6. Reload the torrent list. After that, you can try connecting to peers again and see if the "BitTorrent connecting to peers" issue gets resolved.