The Avast Bank Mode built-in Avast Secure Browser may not work due to various reasons. In this guide developed by MiniTool Partition Wizard, several possible solutions to Avast Bank Mode not working are displayed together with the detailed instructions. Hope you can benefit from this post.
What is Avast Bank Mode? Is Avast Bank Mode safe? These are two frequently asked questions about Avast Bank Mode. Simply put, the Bank Mode is a useful Avast Secure Browser feature that helps users protect their bank information, and it is safe.
When you are trying to log in or access your bank account in the browser, some cybercriminals might steal your bank information, and even some installed third-party programs on the computer may also take screenshots to get the details without your permission. All of these are leaving your bank account at risk.
The Avast Bank Mode provides a virtual desktop for users to avoid any potentially hijacked host or network. and prevent keyloggers and network-based eavesdropping from capturing any data on the account information. If you want to access your bank account or make a payment online, using Avast Bank Mode is a wise choice.
This browsing mode can be manually enabled, and it may automatically activate when it detects that you have reached a banking website or a payment page. However, this powerful feature might fail to work sometimes.
If you encounter Avast Bank Mode not working, don't worry. The following methods may help you get out of trouble.
Fix 1: Make Sure the Bank Mode Extension Is Enabled
There is an extension related to the bank mode in the settings of Avast Secure Browser. By default, it is enabled, but it might be turned off after an update. If the extension is disabled, this mode will be unable to work properly. So, you should make sure the extension is enabled first.
Step 1: Open your Avast Secure Browser and click the three-dot icon to open the menu.
Step 2: Click More Tools and then choose Extensions.
Step 3: You will see all your extensions on the new page. Just scroll down to find the Avast Bank Mode extension and make sure it is enabled. If the extension isn't among the list, you can click the button next to Developer mode to view all pre-installed extensions.
Fix 2: Use the System Tray Icon
According to the reports, some users successfully open the bank mode using the system tray icon of Avast Antivirus. This is not a thorough solution but may instantly make the Avast Bank Mode work for you. So, you can also have a try.
You just need to right-click the Avast antivirus icon in the system tray and choose Run Bank Mode from the drop-down menu. Then, you can check if this browsing mode works properly in your Avast Secure Browser.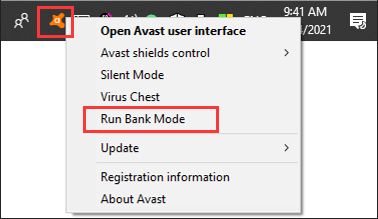 Fix 3: Update Your Avast Secure Browser and Avast Antivirus
You are very likely to encounter the Avast Bank Mode not working issue if either your Avast Antivirus or Avast Secure Browser is outdated. So, updating them to the latest version could help fix the problem.
To update Avast Antivirus:
Step 1: Launch the application.
Step 2: Click Menu from the upper right corner and choose Settings.
Step 3: Go to General > Update and click CHECK FOR UPDATES under the application section (not the virus definitions section).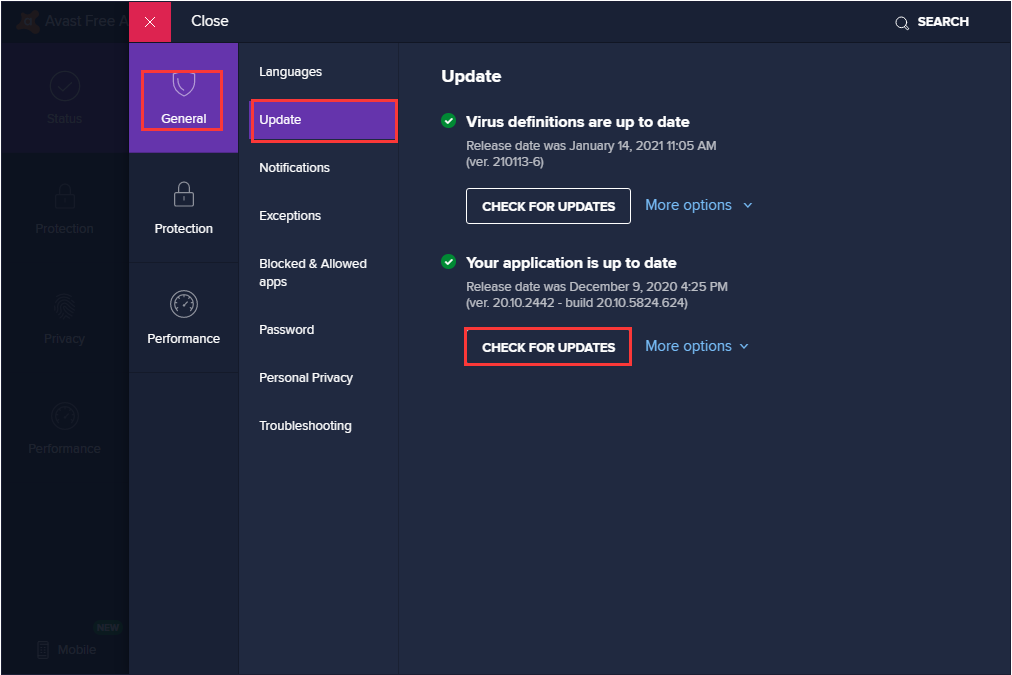 To update Avast Secure Browser, just click the three-dot icon and click Help and About Avast Secure Browser > About Avast Secure Browser. Then, your browser will automatically check for the latest available updates.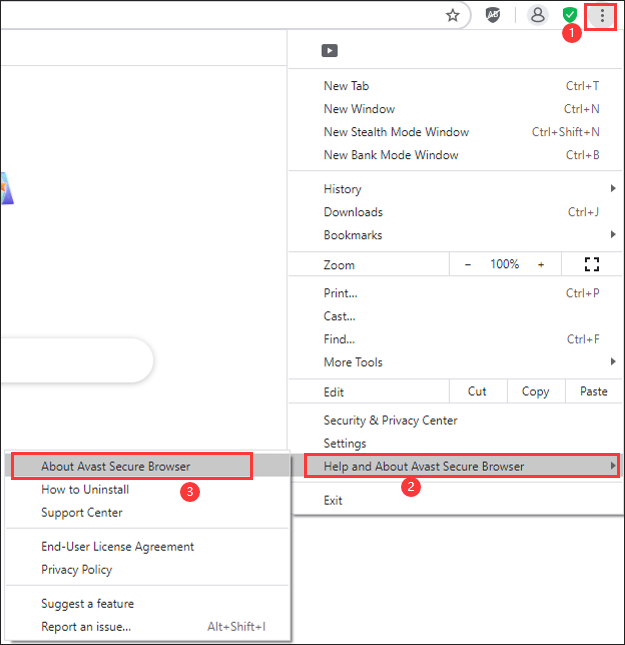 After updating both of them to the latest build, you can restart your browser and check if Avast Bank Mode not working issue is fixed.
Fix 4: Scan Your PC Using Avast Antivirus
As it turns out, the bank mode issue could be caused by a temporary failure of Avast Antivirus modules. In this case, you can scan your PC using Avast Antivirus to solve the problem.
Here's a simple guide:
Step 1: Open your Secure Browser and open the three-dot menu.
Step 2: Choose Security & Privacy Center to get the following page. Then, click SCAN MY PC under Avast Antivirus.
Step 3: Once it's done, check if the problem is fixed. If not, launch your Avast Antivirus application and click RUN SMART SCAN in the Status section.
Step 4: If the bank mode still fails to work, stop scanning your PC, then click Performance > Cleanup Premium in the main interface of Avast Antivirus and click SCAN NOW.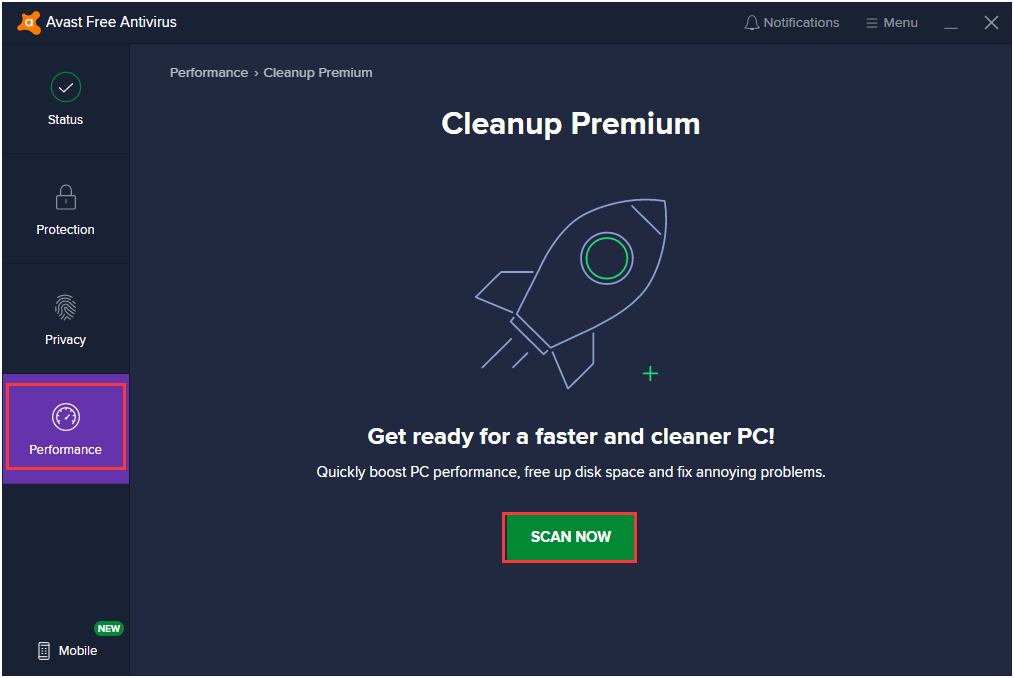 Now, you can test if the Avast Bank Mode works properly.
Fix 5: Reinstall Avast Secure Browser
If all the above methods fail to resolve the problem for you, perhaps the installation of Secure Browser is corrupted. To fix the issue, you need to reinstall it. Just completely uninstall the Secure Browse, download the latest version from the official website, and install it according to the onscreen instructions.
After the fresh installation, the Avast Bank Mode should be able to work correctly.
See also: 10 Best Avast Alternatives for Windows 10/8/7 [2021 Update]