ATT is a reliable webmail service and is used by people all over the world. However, ATT.net Email not working with Outlook issue is reported recently and users are eager to find ways to fix it. Luckily, MiniTool put together some proven solutions to this issue in this post.
ATT is famous for its excellent, high-tech functionality and services, and it owns a considerable number of users over the globe. Also, users choose to employ ATT email as it can ensure the privacy and security their emails. If you are using this service, you might find that ATT email not working with your Outlook sometimes.
Why does this issue occur?
Actually, the reasons for this issue are various. If your ATT email fails to open in Outlook, perhaps there are some issues with your internet connect, some configuration and etc. If you cannot send ATT email on Outlook, the possible reason might be the email profile issue.
Just keep reading this post, and you will learn about how to effectively fix ATT.net email not working with Outlook. Let's see them one by one.
Solution 1: Disable Your Antivirus
At first, you should make sure your antivirus it not interfering with your Outlook. You need to disable your third-party antivirus program. If you are using Windows Defender to protect your computer, disable it as well. Here's how to disable your Windows Defender:
Step 1: Press Windows + I to open Settings.
Step 2: Go to Update & Security and then choose Windows Security.
Step 3: In the right pane, click Virus & threat protection.
Step 4: Click Virus & threat protection settings in the pop-up window.
Step 5: Now, switch off the button in Real-time protection.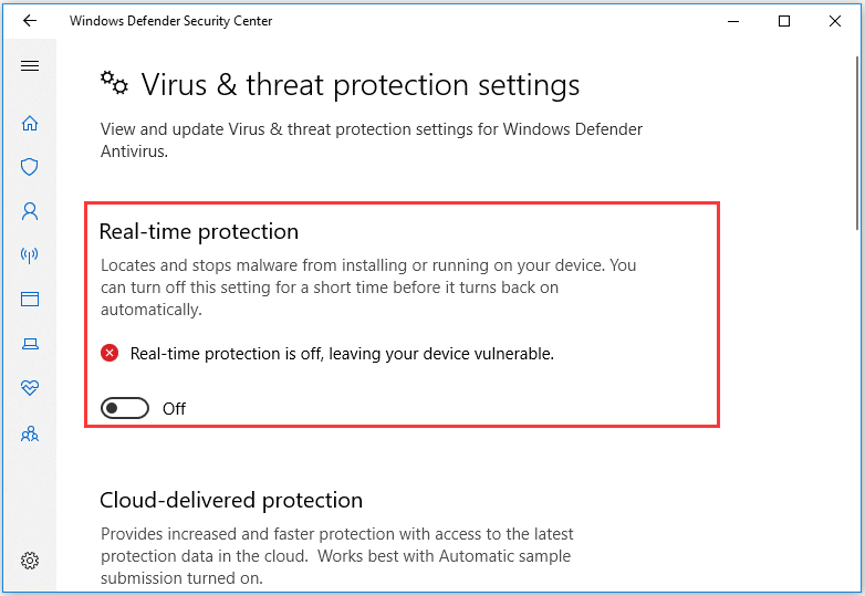 Solution 2: Use Google DNS
In some cases, ATT.net email not working problem is caused by DNS. If it applicable in your case, you can try using Google DNS instead. You can follow the steps below.
Step 1: Right-click the Network icon on the taskbar and choose Open Network & Internet settings.
Step 2: Click Change adapter options.
Step 3: Right-click the network connection you are using currently and choose Properties.
Step 4: Under Networking tab, choose Internet Protocol Version 4 (TCP/IPv4) and click Properties.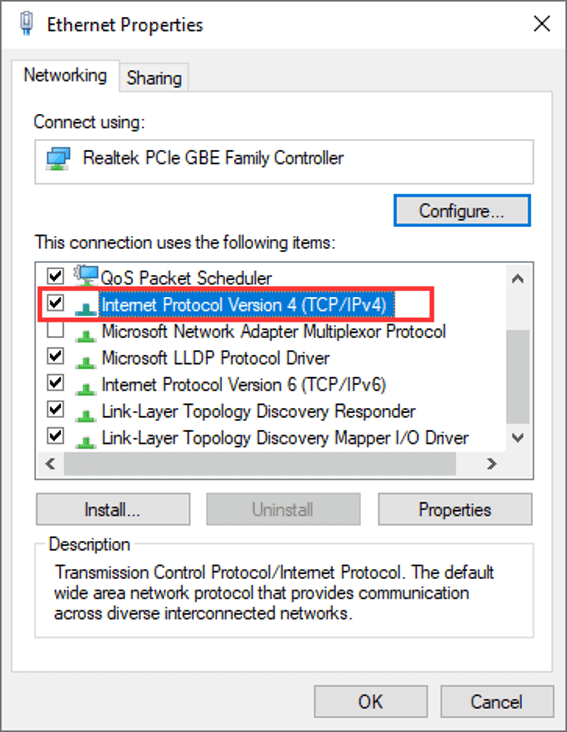 Step 5: Check Use the following DNS server addresses and fill in the Google DNS server address:
Preferred DNS server: 8.8.8.8
Alternate DNS server: 8.8.4.4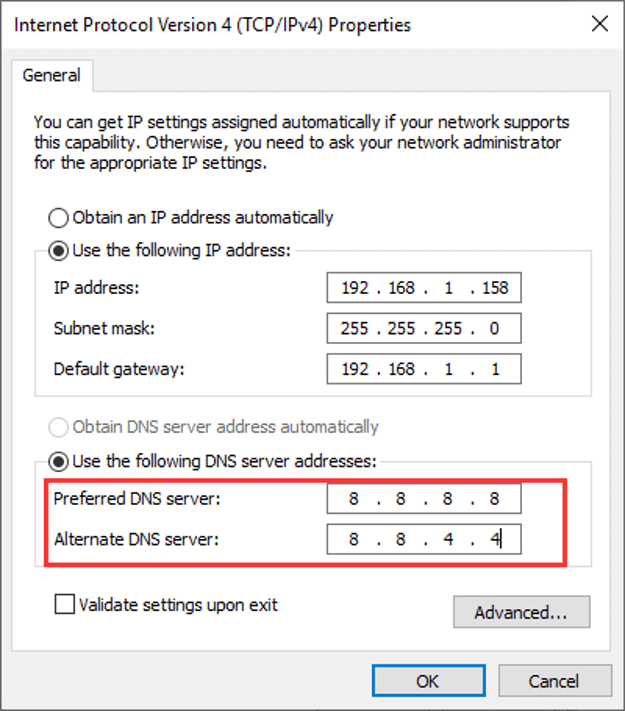 Step 6: Click OK to save the changes.
After that, you can open your Outlook to check if your ATT.net email can work properly.
Solution 3: Remove Your Email Profile and Add Account Again
If your ATT.net email is not working with Outlook, your email profile might run into certain problems. To fix it, you can remove your email account and re-add it to your Outlook.
Step 1: Open your Outlook and click File.
Step 2: Click Account Settings and choose Manage Profiles from the drop-down menu.
Step 3: In the pop-up Mail Setup window, click Show Profiles.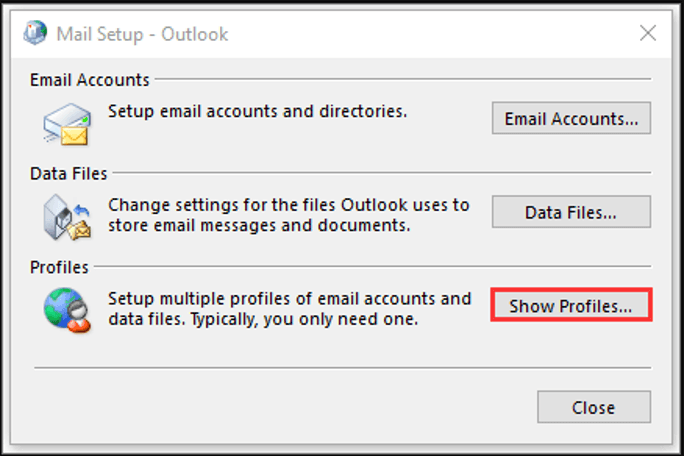 Step 4: Choose your account and click Remove to delete your profile.
Step 5: Then, back to your Outlook and go to File > Add Account. In the new window, choose Manual setup or additional server types and click Next.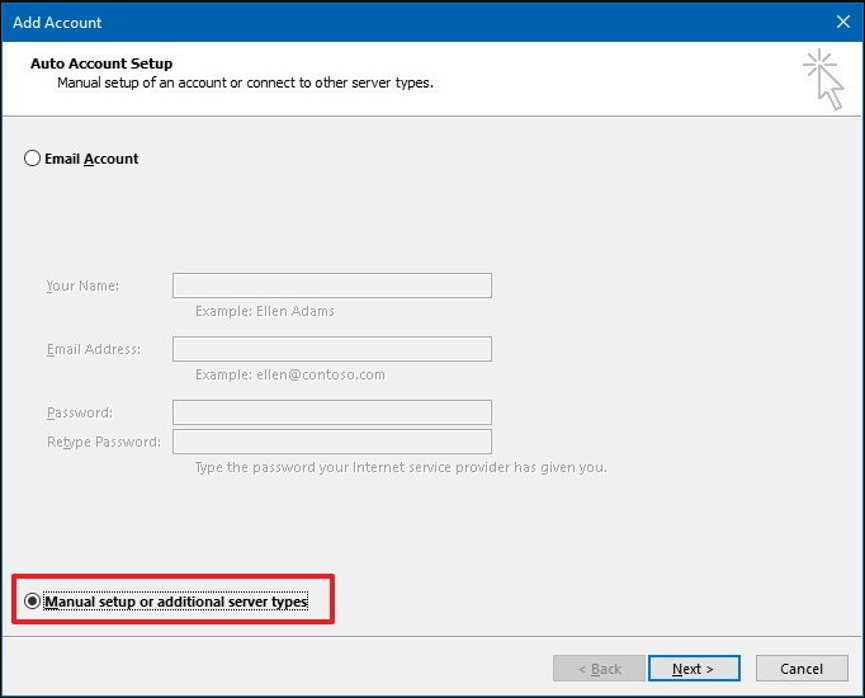 Step 6: Choose POP or IMAP and click Next.
Step 7: Fill in the Under Information and Logon Information. Under Server Information section, set IMAP or POP3 as the account type, and configure the incoming and outgoing server.
For IMAP server, use incoming mail server: mail.att.net and outgoing mail server: smtp.mail.att.net.
For POP3 server, use incoming mail server: att.net, and outgoing mail server: outbound.att.net.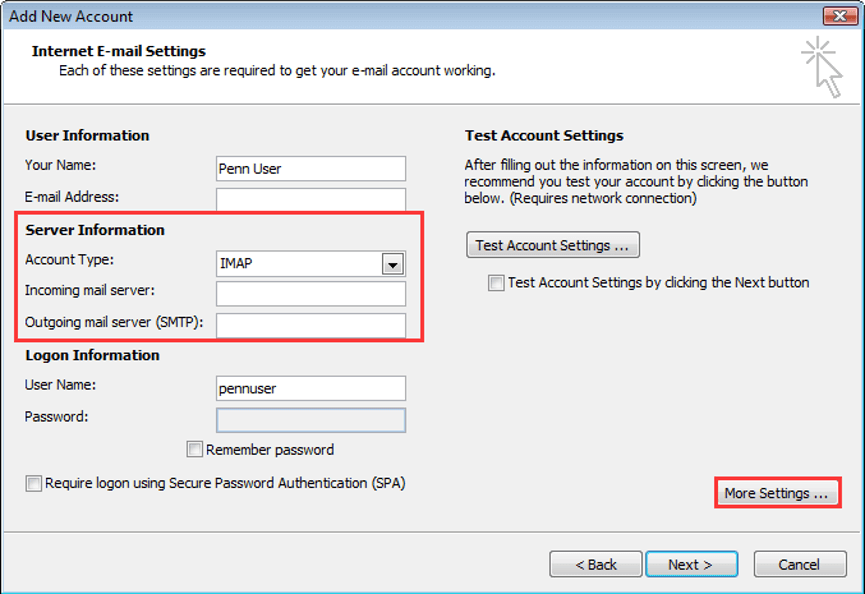 Step 8: Click More Settings. In the new window, switch to Outgoing Server, and check My outgoing server (SMTP) requires authentication and Use same settings as my incoming mail server. Then, configure your port (incoming server: 993 for IMAP or 995 for POP3, outgoing server: 465 for both account type) and select SSL for both Outgoing and Incoming server.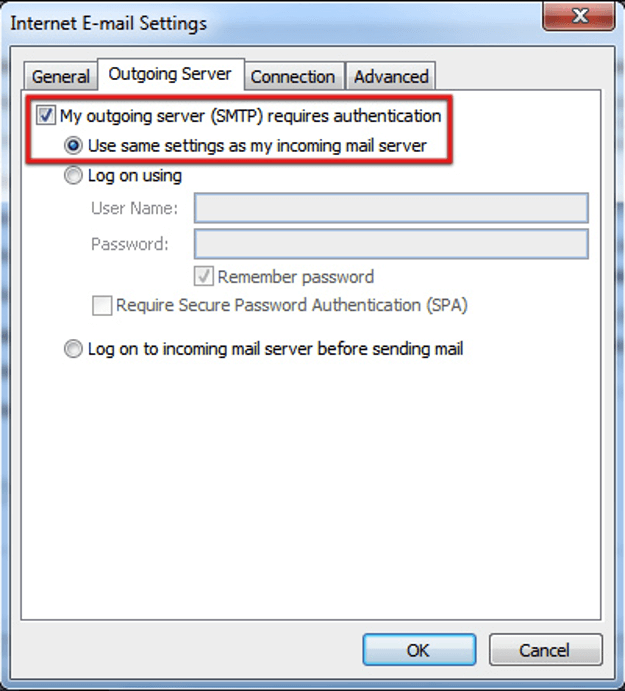 After saving the changes you've made, your email profile and network connection should work without any problem.