Summary :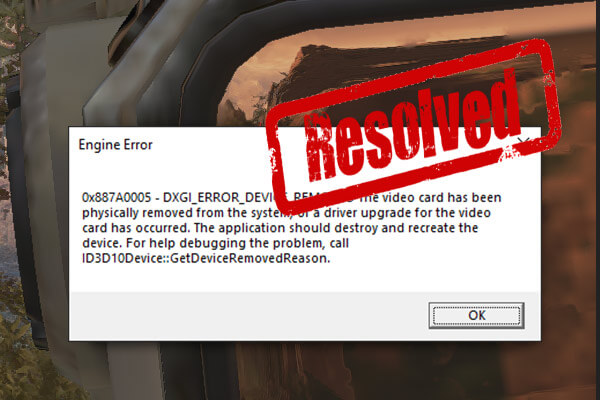 The Apex Legends engine error is frequently reported by players, and it might come up for various reasons. How to fix the engine error in Apex Legends? Here in this post from MiniTool Partition Wizard, you will learn about 5 solutions.
Apex Legends is a free-to-play first-person shooter battle royale game. It is favored by plenty of Windows users, and it also available on other game platforms like PS4 and Xbox One. Unfortunately, some Windows players are reporting the Apex Legends engine error which may stop them from launching the game.
When you are trying to launch Apex Legends, you might receive an Engine Error window with an error message which might be different in different cases. Sometimes, it gives an error code, such as 0x887a0006 – DXGI_ERROR_DEVICE_HUNG and 0x887a0005 –DXGI_ERROR_DEVICE_REMOVED.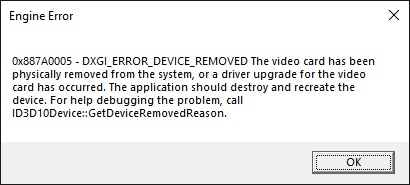 If you are facing the engine error in Apex Legends unfortunately, this article might help you out of the trouble. Just keep reading to check these feasible solutions.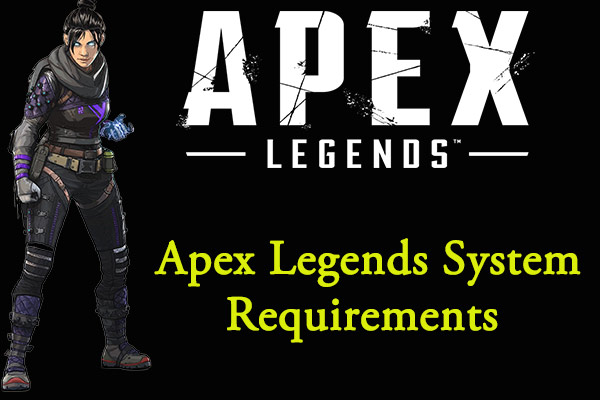 Can I run Apex Legends? What are Apex Legends system requirements? What can I do if my PC doesn't meet requirements? You can find the answers in this post.
Solution 1: Grant Administrator Privileges
If your game lacks of the administrator privileges, you might receive certain problems while launching or playing the game, such as the Apex Legends engine error. To fix the issue, you can follow the steps below to run your game as administrator.
Note: In some cases, you might need to grant administrator privileges to your game platform as well.
Step 1: Right-click the executable file or the shortcut icon of Apex Legends and choose Properties.
Step 2: Click the Compatibility tab and check Run this program as an administrator option.
Step 3: Click Apply and OK to save changes.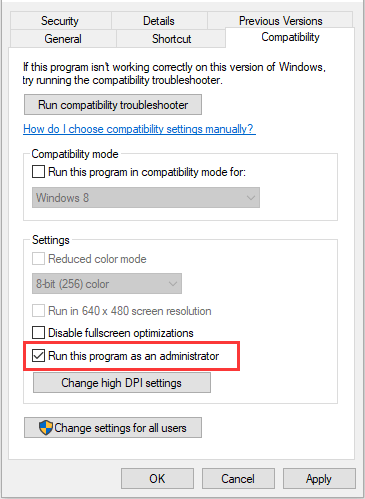 Solution 2: Repair the Game
Sometimes, certain important game files might get missing or corrupted and thus lead to certain gaming problems. In this case, you can repair your Apex Legends in your game platform. Here, I will show you how to repair a game in Origin.
Note: Apex Legends is not available in Steam yet.
Step 1: Open your Origin and sign in to your account.
Step 2: Click My Game Library in the left pane.
Step 3: Right-click your Apex Legends and choose Repair.
Then, Origin will start verifying game files, and you just need to wait patiently until the process is completed.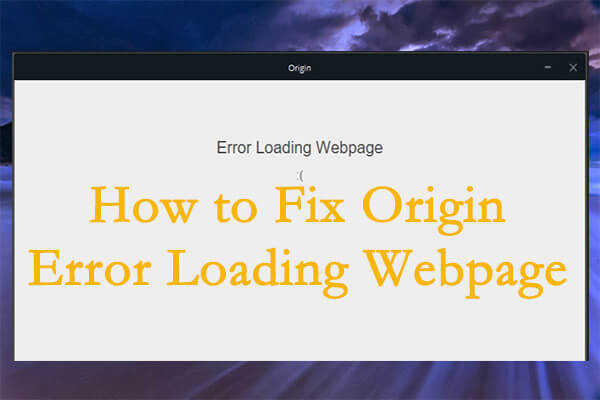 You might receive the message "error loading webpage" during Origin setup. How to fix Origin install error loading webpage issue? Check solutions in this post.
Solution 3: Modify Your Windows Registry
In this solution, you will need to modify your Windows Registry by adding a command which might be missing. Just follow the steps below:
Step 1: Right-click the empty place on the desktop and choose New > Text Document.
Step 2: Double-click the new notepad to open it and input the following contents if your system is 64-bit:
Windows Registry Editor Version 5.00
[HKEY_LOCAL_MACHINE\SYSTEM\CurrentControlSet\Control\GraphicsDrivers]
"TdrDelay"=hex(b):08,00,00,00,00,00,00,00
For 32-bit system, you need to input the following code instead:
Windows Registry Editor Version 5.00
[HKEY_LOCAL_MACHINE\SYSTEM\CurrentControlSet\Control\GraphicsDrivers]
"TdrDelay"=dword:00000008
Step 3: Click File > Save As. You can assign a name you want, but you need to make sure it's extension is .reg. Choose All Files from the list of Save as type, and click Save button.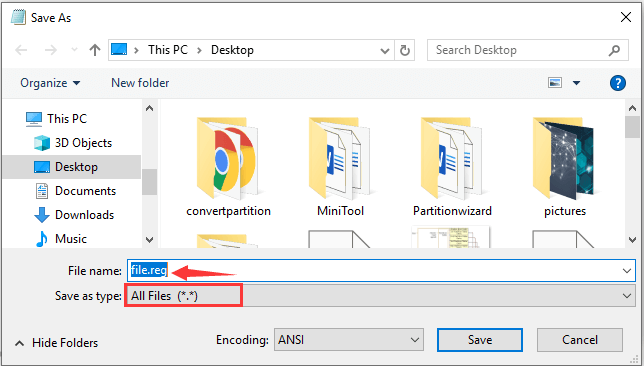 Step 4: Double-click the .reg file and click Yes in the waring prompt to add the command to your Windows Registry.
Solution 4: Stop Overclocking
Many game lovers would like to overclock the CPU or graphics card to improve the computer performance. It is true that overclocking can boost the gaming experience to a certain degree, but it might also lead to certain problems.
Your computer might be unstable after being overclocked, and you might encounter various problems during game play if you are overclocking improperly, including game crashing and Apex Legends engine error in our case. Therefore, if you are overclocking your computer, stop it right now.
Solution 5: Update Your Graphics Card Driver
Finally, you can consider updating your graphics card driver if you haven't installed driver updates for a long time. To update a graphics card driver, you need to:
Note: If you receive engine error just after updating graphics card driver, perhaps you need to roll back your driver to the previous version instead.
Step 1: Right-click the Start button and choose Device Manager.
Step 2: Expand the Display adapters category, right-click your graphics card driver and choose Update driver.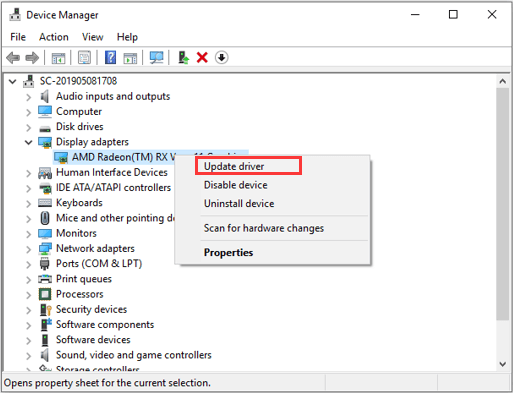 Step 3: Choose Search automatically for updated driver software option and follow the onscreen instructions to complete the process.
After that, restart your computer and check if you can launch Apex Legends properly without the engine error.