Summary :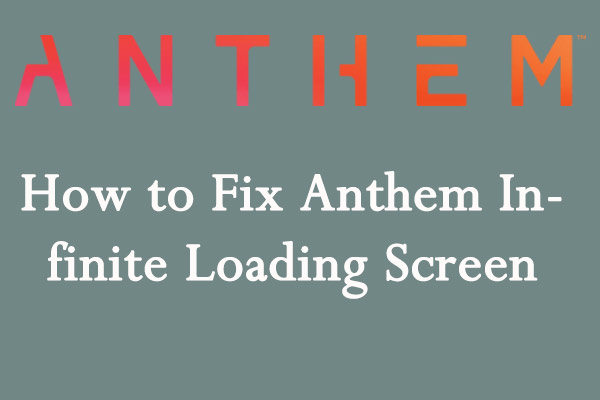 Do you play Anthem? Do you get an infinite loading screen when you are trying to launch the game? Don't worry. You can come and read this post from MiniTool Solutions to get 5 feasible methods to fix the frustrating issue by yourself.
Anthem, released in start of 2019 by Bioware, is a quite popular online multiple action role-playing video game. For any new games, it is not surprising to be reported with certain issues. Recently, some Anthem player complain that the game shows an infinite loading screen and cannot load up at all.
What a frustrating problem for these who are eager to play Anthem game! If you are experiencing the same issue, you are at the right place. Just keep on your reading to get corresponding solutions.
Fix 1: Run Anthem as Administrator
At first, you can force close your Anthem and restart it as administrator. Just follow the steps below:
Step 1: Right-click the Start button and choose Task Manager from the list.
Step 2: Under Processes tab, choose the Anthem process and click End task button to completely close the game.
Step 3: Right-click the shortcut or executable file of Anthem and choose Properties.
Step 4: Go to Compatibility tab, check Run this program as an administrator option, and click Apply and OK to save changes.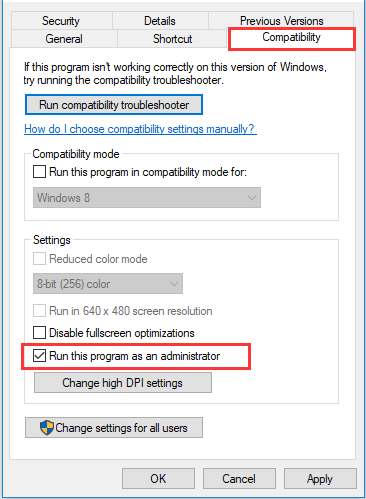 After that, restart the game and check if Anthem infinite loading issue is fixed.
Fix 2: Move Your Anthem to Another Drive
Some players recommend moving the game to another driver on the computer. You can also have a try. If you are using Origin platform, you can follow the steps below:
Step 1: Kill the task of Anthem in Task Manager.
Step 2: Launch Origin and log into your account. Choose My Game Library.
Step 3: Right-click your Anthem and choose Move Game from the context menu.
Then, you can follow the onscreen instruction to save your game to another drive. After that, restart the game and check if Anthem loading screen stuck issue is fixed.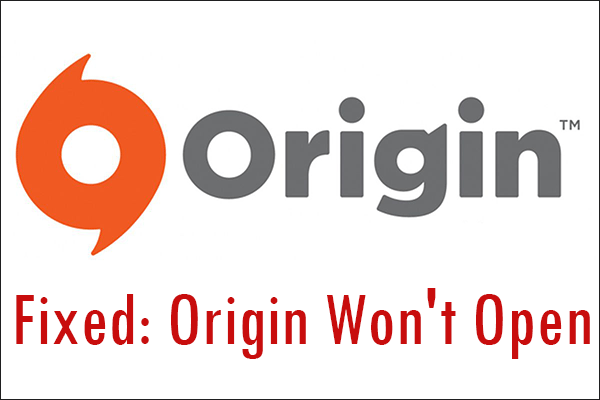 This article will show you some top solutions to fix Origin won't open issue. If you encounter Origin won't open issue, check out this post for solutions now.
Fix 3: Repair Anthem
If you are facing Anthem infinite loading issue, perhaps the game data gets corrupted. In this case, you need to take some measures to repair the game. In Origin, you just need to go to My Game Library, right-click Anthem and choose Repair.
Origin will start scanning the game files of Anthem and repairing detected issues automatically. Wait until the process is completed, restart your computer and open Anthem. Now, you Anthem should be able to load up without problems.
Fix 4: Disable In-Game Overlay in Origin
It is also reported that the Origin In-Game Overlay might prevent games from functioning properly, causing various problems including game crashing or conflicts. And Anthem infinite loading screen issue might also be caused by the In-Game Overlay. Thus, you can try disabling it in your Origin.
Step 1: Enter Origin main interface. Click Origin in the left upper corner and then choose Application Settings.
Step 2: In the right pane, choose ORIGIN IN-GAME.
Step 3: When you get the following interface, switch off the button next to Enable Origin In-Game.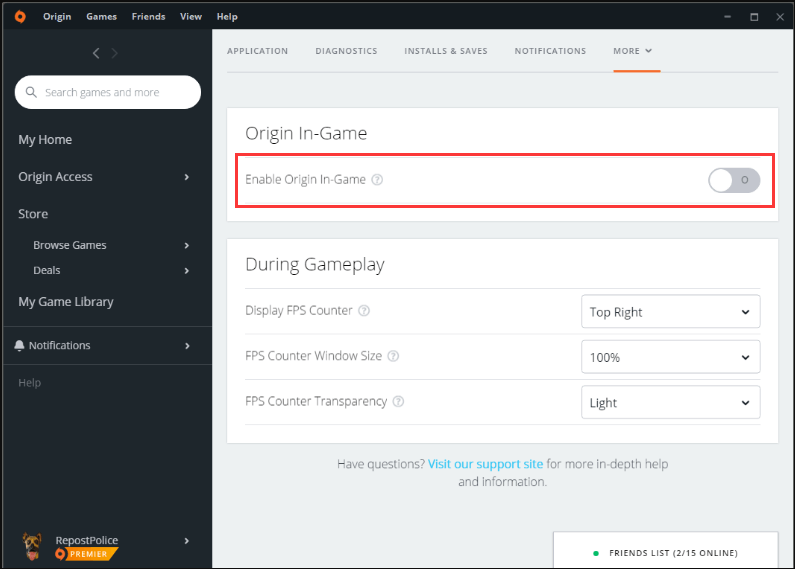 Once it's done, exit Origin and check if Anthem infinite loading issue is resolved.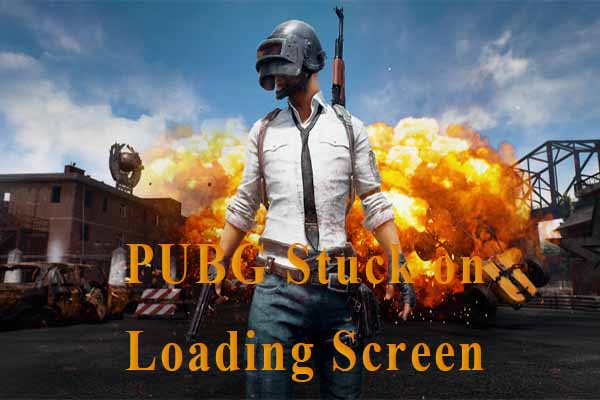 A great many players complain that their PUBG stuck on loading screen. Are you searching for its fixes? Here this post can help you fix this annoying problem.
Fix 5: Update Your Drivers
In addition, you might also encounter Anthem loading screen stuck issue if some related device drivers get missing or outdated, especially the graphics card driver and network adapter driver. Thus, if the above solutions fail to fix the issue for you, don't hesitate to update your drivers. You can make it in Device Manager.
Step 1: Open the Start menu and choose Device Manager.
Step 2: Right-click the driver you want to update and choose Update driver.
Note: For graphics card driver, you need to expand the Display adapters category. While network adapter driver is located in the Network adapters category.
Step 3: Choose Search automatically for updated driver software option to search computer and the Internet for the latest driver software for your device.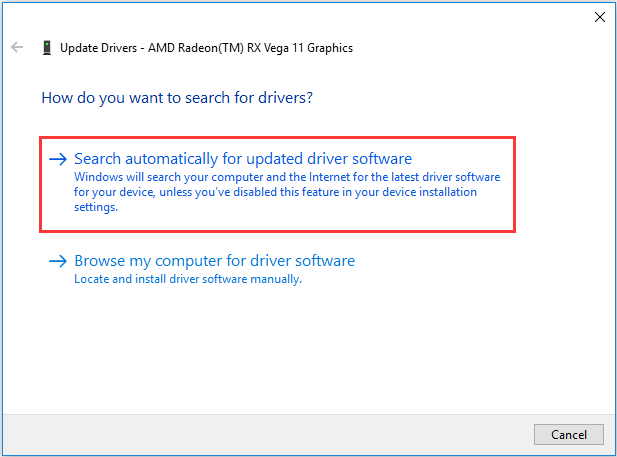 Windows will download and install any available updates for your driver, you just need to wait patiently. After that, you can restart your computer and check if Anthem infinite loading screen is resolved.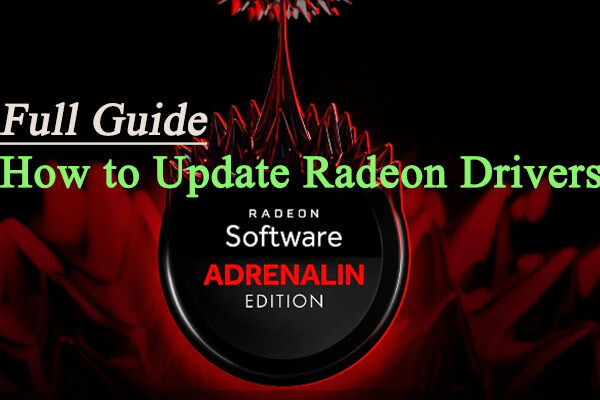 This article aims to show you how to update Radeon drivers on your computer and 4 methods are provided here.