Summary :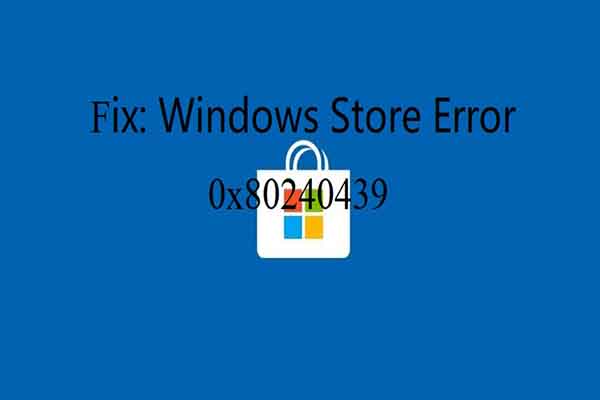 If you encounter an error 0x80240439 when downloading apps in Windows Store, you will fail to download any apps. What causes the Windows 10 Store error 0x80240439? You will get the answer from this post of MiniTool today. Besides, you will lean some methods to fix the error.
What Causes the Windows Store Error 0x80240439
According to user reports, Windows Store error 0x80240439 often bother them. When this error code occurs, you are unable to download apps from Store and all the Windows devices will be affected. There are multiple factors that can result in the error 0x80240439.
Windows files are damaged.
Windows Update files are damaged or Windows Update installation is not complete.
The system date and time is out of sync.
Now, let's move to the next part to see how to fix the error 0x80240439.
Top recommendation: 4 Methods to Fix Windows Store App Error NET HELPMASG 2182
Fix 1: Clear Windows Store Cache
Windows Component Store is used to support the features that are built-in Windows or are required for updating. The corruptions in Windows Component files can lead to the 0x80240439 error. To fix the error, you can clear Windows Store cache. Here's how to do.
Step 1: Type command prompt in the search box, and then right click Command Prompt and choose Run as administrator in the sub-menu.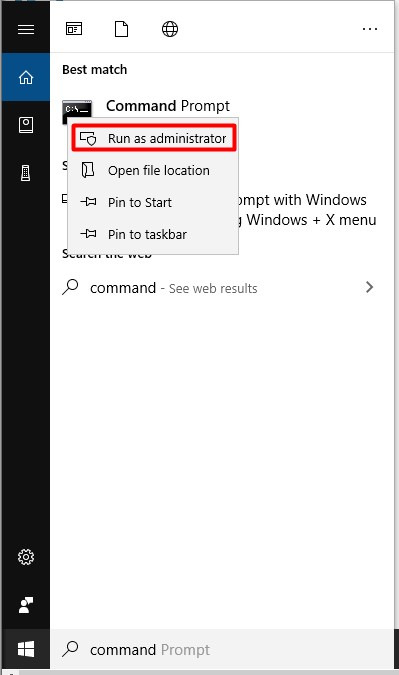 Step 2: Type the command dism / online / cleanup-image / startcomponentcleanup in the prompt window and hit the Enter key. Then the program will clean up Windows Component cache automatically.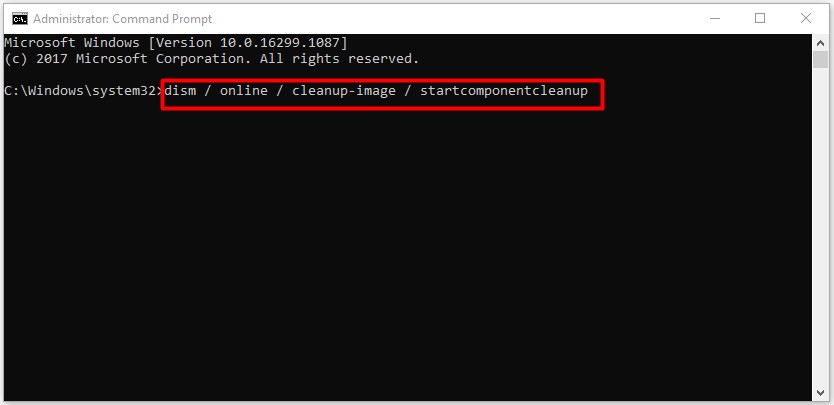 When the operation finishes, check if the error code 0x80240439 disappears. If the error still persists, please move on.
Related article: Full Guide to Fix "Windows Store Cache May Be Damaged"
Fix 2: Update to the Latest Windows Version Manually
If Windows Update stops, the error 0x80240439 sometimes will happens to you. In this case, installing the latest Windows Update can fix the error. Here are steps.
Step 1: Navigate to Microsoft official website and download the Media Creation Tool.
Step 2: Select the download tool and run it as administrator.
Step 3: On the first page, click Accept to go on.
Step 4: Then, pick Update this PC now and click on Next.
Step 5: If you update Windows for the first time, you have to type the Product License key.
Step 6: Click the Change option to indicate the data you want to keep on computer. You can choose to keep personal files and apps, keep personal files only or nothing.
Step 7: At last, choose Install.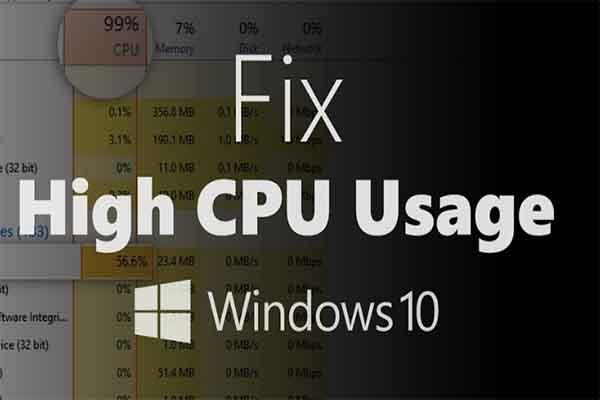 High CPU usage is a common problem that happens to PCs. The latest Windows 10 KB4512941 update also leads to this issue, but you can find solutions to fix it.
Fix 3: Check Data and Time Settings
As mentioned earlier, that the time and date on the system is out of sync can also be the cause of Windows 10 Store error code 0x80240439. Therefore, you are able to sync the time and date on your system to fix the error.
There are two methods to do that. The first method is to utilize wsreset Command. Here are steps.
Step 1: Open Command Prompt as administrator.
Step 2: Type wsreset and press the Enter key. Then the program will run automatically.

Alternatively, you can change the Time and Date via Control Panel. Here's how to do.
Step 1: Find and open Control Panel from the search box. Then choose Date and Time to go on.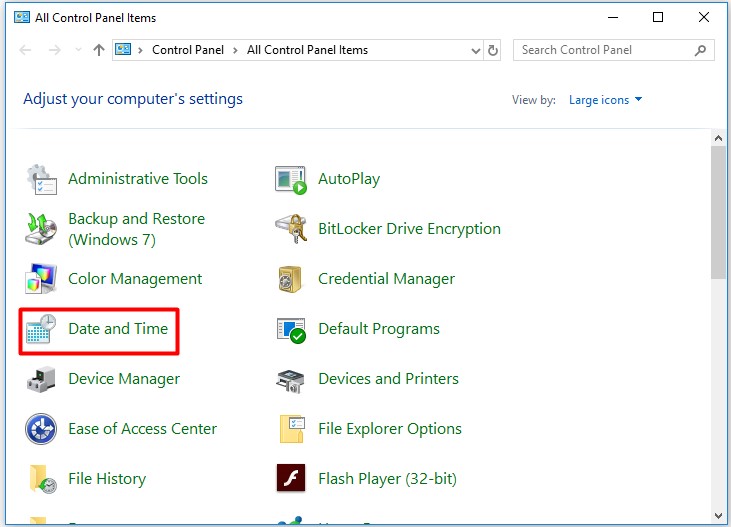 Step 2: Click on Change date and time. Then set them in the prompt window and click OK to save the changes.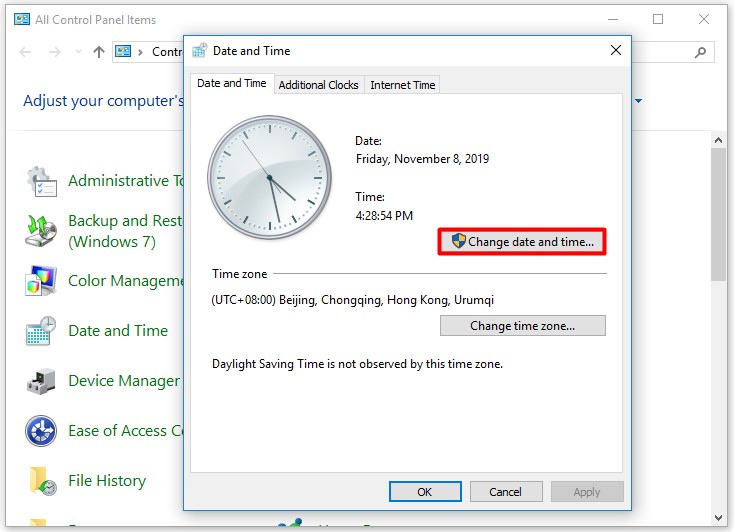 Step 3: Click Change time zone to set the right time zone. After that, click OK.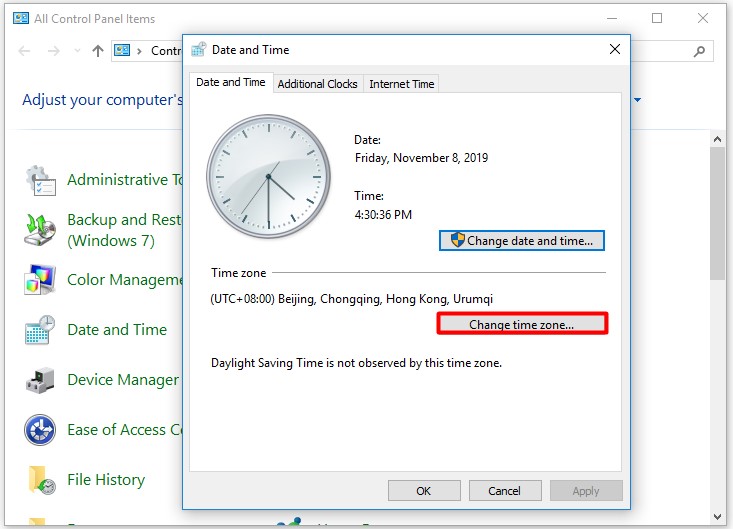 You may be interested in this: Your Troubleshooting Methods to Fix Windows 10 Time Wrong
Now, it's your turn to select a method to fix the Microsoft Store error 0x80240439. Be free to choose one.