Sometimes when you install certain Windows updates, you are likely to run into Windows update error C8000266. In this post, MiniTool Partition Wizard provides several methods that may help you solve this error. You can have a try.
The developer will release Windows updates regularly to add new features, repair bugs found in the previous versions, or improve your computer performance. For some reason, you may sometimes tend to update your Windows. However, the update will not always be smooth and you may randomly fail to update Windows due to some errors.
The error C8000266 is one of the most common Windows update errors. It often shows up when you are trying to install a new pending update for your Windows by using a conventional channel. In most cases, the Windows update error C8000266 appears on the Windows 7 and Windows 8 screens. Additionally, it can also occur while you update your Windows 10.
Once you run into the Windows update error code C8000266, you should take immediate action to fix it so that you can complete the Windows update successfully. If you have no clue what to do, you can pay attention to the following content. There are several workable methods available below.
Method 1: Run the Windows Update Troubleshooter
When you are faced with the Windows update C8000266 error code, you can try to get rid of it with the Windows Update troubleshooter. It's an in-built Windows utility that can help repair plenty of Windows update issues. Here's a step-by-step guide on how to run the Windows Update troubleshooter.
Step 1: Press Windows + I to open Windows Settings. Then select Update & Security.
Step 2: Go to Troubleshoot and then click Additional troubleshooters from the right side.
Step 3: In the next window, select Windows Update. Then click Run the troubleshooter.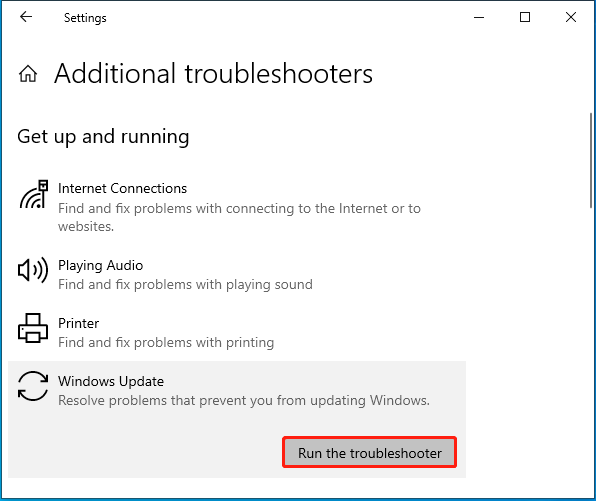 Step 4: After that, this troubleshooter will automatically start detecting possible problems with Windows Update. If any are found, you should follow the on-screen instructions to repair them.
Step 5: Once done, restart your PC and try the failed Windows update again to see if the Windows update error C8000266 persists.
Method 2: Reset Windows Update Components
Faulty Windows Update components may lead to the Windows update error C8000266 as well. On this occasion, it's recommended that you reset the Windows Update components to resolve this annoying error. To execute this operation, you can follow this guide: How to Reset Windows Update Components in Windows 11/10?
Method 3: Install Windows Updates Manually
If the above methods don't remove the Windows update error code C8000266, then you should try to bypass this error by downloading and installing the problematic Windows update manually. It might be a little complex but really a great way to avoid update errors met while updating Windows with the Check for updates feature on your PC.
How can downloading Windows updates manually solve the Windows update error C8000266 effectively? You can get the details from this post: [Tutorial] How to Download & Install Windows 10 Updates Manually.
Further reading:
In some cases, file system corruption and bad sectors on your hard drive may cause the Windows update C8000266 error code. To figure out if it is the culprit, you'd better check your disk for health. Normally, you can simply use the CHKDSK tool to check your disk. If CHKDSK won't run, you should then make use of a third-party disk checker like MiniTool Partition Wizard.
MiniTool Partition Wizard is a professional and safe disk checker that enables you to check and fix corrupted file system and scan bad sectors. Besides, you can perform many other disk/partition tasks with its various features. For instance, you can copy/wipe disk, migrate OS to SSD/HDD, convert to MBR/GPT, etc.
To check your hard drive with this disk partition software, you should download and install it on your PC, enter its main interface, and then select Check File System or Surface Test for the target drive.
MiniTool Partition Wizard FreeClick to Download100%Clean & Safe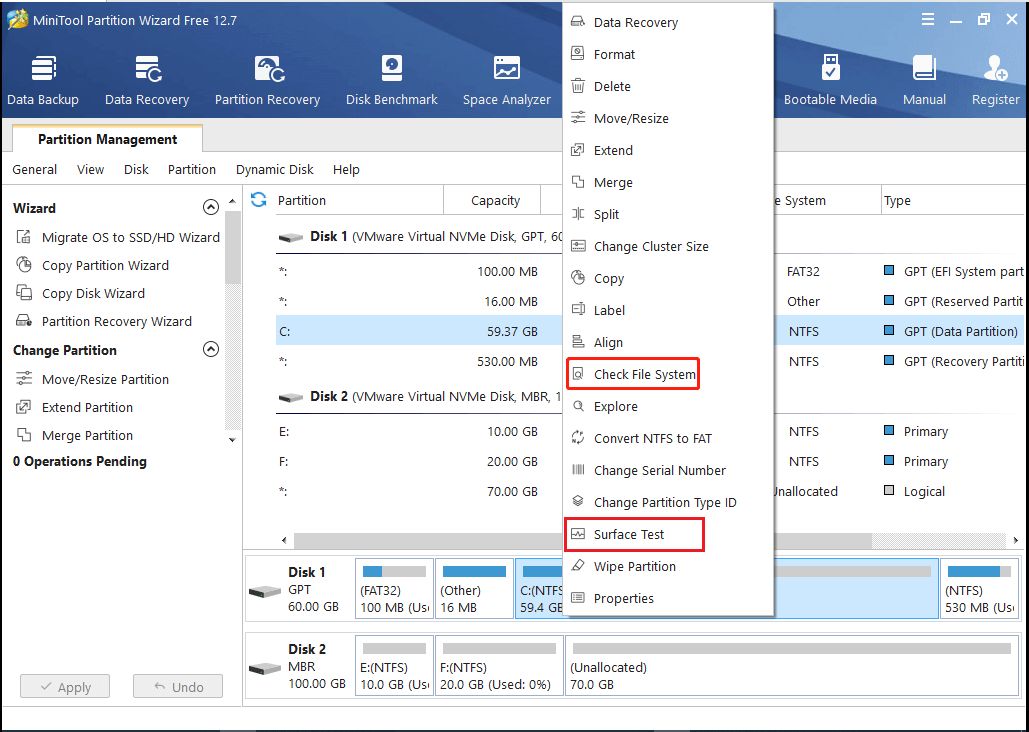 When you get stuck in the Windows update error C8000266, you can try the above methods to fix it. If you have any problems with this error, you can leave a message in our comment part below.