Some users reported that they encountered the error
WD SES USB device driver not found
. If you are troubled by the same problem and looking for solutions to fix the problem,
MiniTool Partition Wizard Solution
can help you.
WD SES (SCSI Enclosure Services) Device USB Device is a driver for WD external hard drives. Your WD external hard drive will not be recognized by your PC until this driver is installed. However, the driver might not be installed correctly or be missing, resulting in WD SES Device USB Device Driver not found error.
Here are some possible causes of this error:
Drivers are missing or outdated
The operating system is not compatible
Connection or hardware problem
Based on these reasons, you can go to the solutions below to solve this problem.
Before proceeding to any advanced troubleshooting steps, please try the following initial checks:
Check the USB connection: Make sure the USB cable is securely connected to the WD device and computer.
Disconnect other USB devices: Disconnect any unnecessary USB devices from your computer to avoid conflicts and ensure adequate power to your WD device.
Install WD Drive Utilities: Using Drive Utilities will help update and fix any issues with your problematic drive.
Try another computer: Connect the WD device to another computer to determine if the problem is specific to your computer or the device itself.
If the solutions above do not work, you should continue the try the solutions below.
Solution 1: Update the WD SES Device Driver
A common cause of WD SES device USB device driver not found is missing or outdated drivers for the WD SES device. If the driver is missing or outdated, the system will not recognize the device correctly. So, you should try to update the WD SES Device Driver.
Step 1: Right-click on the Start menu and select Device Manager.
Step 2: In Device Manager, expand Other devices and right-click WD SES Device Driver. Then select Update driver from the drop-down menu.
Step 3: On the next screen, click on Search automatically for updated driver software. Then the drive should be updated to the latest version.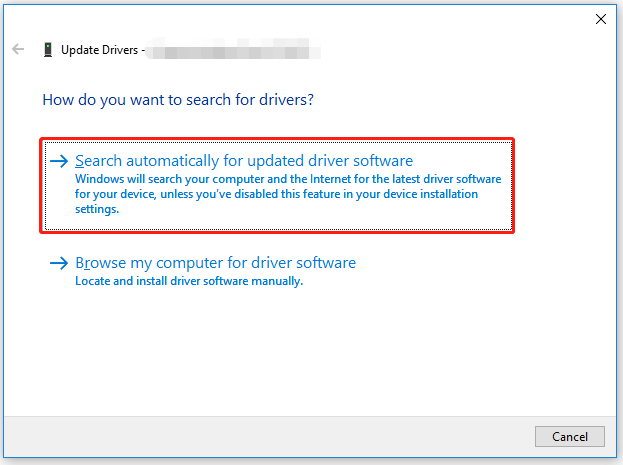 After that, you can check if the WD SES USB device driver not found problem disappears.
Solution 2: Update Windows 10
This WD SES USB device driver not found issue may occur when the WD SES driver is incompatible with your operating system. The operating system is too old to be compatible with the new driver version, so you need to update Windows.
It may also be because the operating system is updated, which may introduce changes that are not compatible with the old driver version, causing the drive to not install or malfunction.
Solution 3: Copy the WD SES Device Driver Folder to Windows
You can copy the WD SES Device Driver Folder to Windows and make it accessible.
Step 1: Press the Win + E key to open File Explorer.
Step 2: Find the WD SES Device Driver folder, right-click on it, and select Copy.
Step 3: Navigate to the following path: Windows \system32 \drivers.
Step 4: Right-click and select Paste from the content menu.
Once done, check if the WD SES device USB driver not found issue gets fixed.
If you want to check the hard drive for errors, you can use MiniTool Partition Wizard. Its Check File System and Surface Test feature can help you check bad sectors but also repair file system errors easily and quickly.
MiniTool Partition Wizard FreeClick to Download100%Clean & Safe