Both Snipping Tool and PrintScreen can take screenshots. What's the difference between them? This post from
MiniTool Partition Wizard
explains
Snipping Tool vs PrintScreen
and shows you how to make PrintScreen open Snipping Tool.
An Overview of Snipping Tool and PrintScreen
What Is Snipping Tool?
Snipping Tool is a Microsoft Windows screenshot utility included in Windows Vista and later. But in Windows 10 version 1809, a new Universal app version of Snipping Tool known as Snip & Sketch was introduced. Microsoft encourages users to move to Snip & Sketch.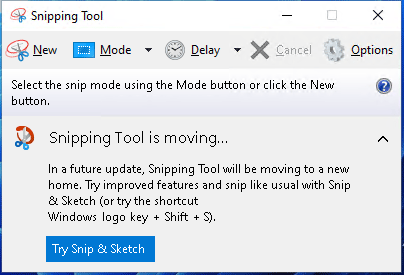 Windows Snipping Tool or Snip & Sketch can take still screenshots of an open window, rectangular areas, a free-form area, or the entire screen.
In addition, it allows you to annotate the image. It offers Touch Writing, Ballpoint pen, Pencil, Highlighter, Eraser, Ruler, and Image Crop tools to edit images. After that, you can save the image as a PNG, JPG, or GIF file. It also offers the share feature, allowing you to send the image to others.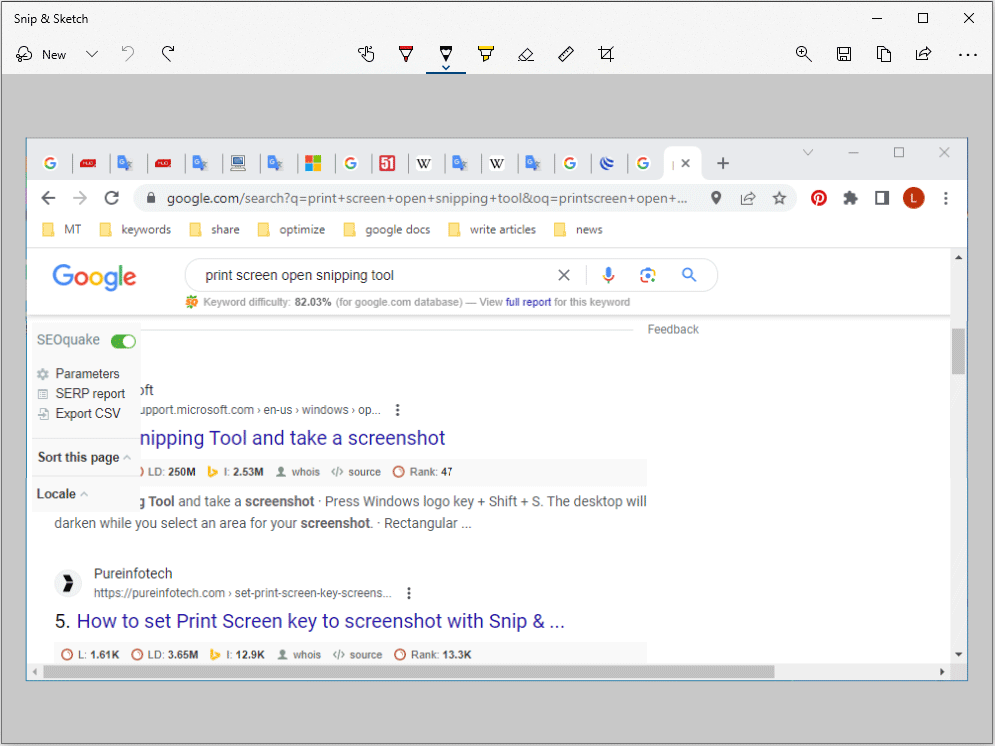 What Is Print Screen?
PrintScreen (often abbreviated Print Scrn, Prnt Scrn, Prnt Scr, Prt Scrn, Prt Scn, Prt Scr, Prt Sc, Pr Sc, or PS) is a key present on most PC keyboards. If you press this key, a bitmap image of the current screen, or screenshot will be taken and saved to the clipboard or comparable storage area.
Then, you can paste the snapshot to a document or a location on the computer. If you press the Win + PrintScreen key, Windows will directly save the snapshot in the Screenshots folder.
Snipping Tool vs PrintScreen
Both Snipping Tool and PrintScreen can take the screenshot but Snipping Tool is more versatile and flexible. The reasons are as follows.
#1. 4 Screenshot Modes
PrintScreen can only capture the image of the entire screen, but Snipping Tool offers 4 modes.
Rectangular snip allows you to choose a portion of the screen to capture by dragging the cursor around an object to form a rectangle.
Window snip allows you to select a particular application window and screenshot it.
Full-screen snip does what the Print Screen key does.
Free-form snip works similarly to rectangle mode, but users can define the borders by dragging the cursor around to form the desired shape.
#2. More Features
Snipping Tool offers some features not included in Print Screen. For example:
Delay Snip: Snipping Tool allows you to take the screenshot now, or in 3 or 10 seconds.
Image Editing: Ballpoint Pen allows you to scribble on the captured image using your cursor in whatever color you choose. Highlighter allows you to use translucent coloring to mark important portions of your screenshot. Image Crop allows you to select a portion of your screenshot to remove.
Share and Print: You can send the image to a nearby device or even import it into an email and send it to the desired address.
5 Free Snipping Tool Alternatives for Windows 11/10 PC
Set PrintScreen to Open Snipping Tool
In Windows 10, the PrintScreen key can be configured to open the "New" function of the Snip & Sketch tool. To configure PrintScreen to open Snipping Tool, you can follow the guide below:
Press Windows + I to open Settings.
Go to Ease of Access > Keyboard.
Scroll down the right panel to find Print Screen shortcut.
Turn on the "Use the PrtScn button to open screen snipping" toggle switch.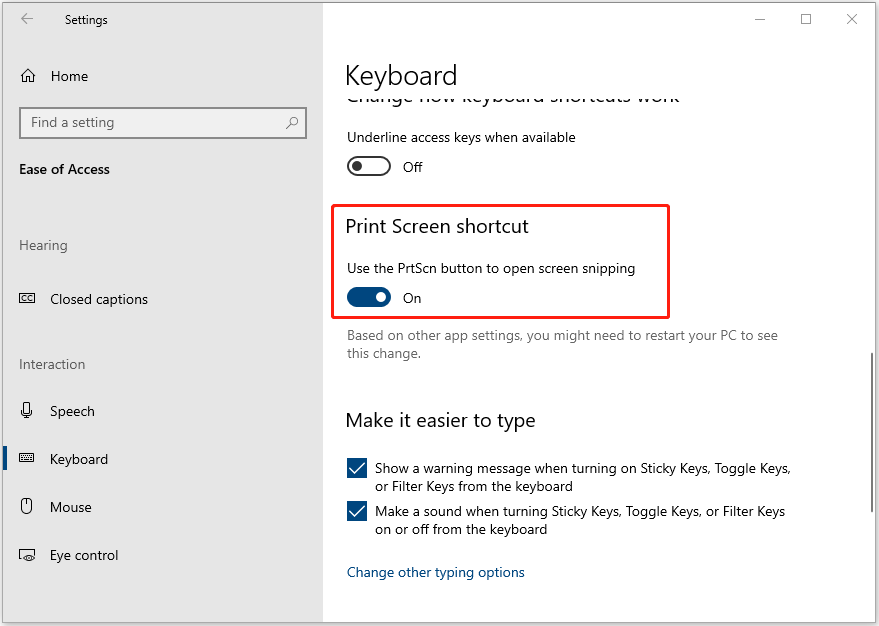 If you want to manage your hard drive better, you can try MiniTool Partition Wizard.
MiniTool Partition Wizard FreeClick to Download100%Clean & Safe
Bottom Line
MiniTool Partition Wizard can help you clone the system, manage disks better, and recover data. If you have this need, you can download it from the official website.