What Is USB C?
USB C, also called USB Type-C, is a physical port shape of USB (Universal Serial Bus). It looks like the following picture.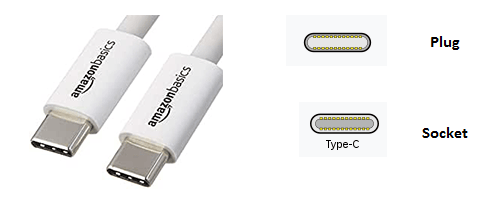 USB C made its debut back in 2014 but only started to receive widespread implementation in the late 2010s. It is mainly used by computers, mobile phones, tablets, external hard drives, etc.
What Is Lightning Connector?
Lightning is a proprietary computer bus and power connector created and designed by Apple Inc. and introduced on September 12, 2012. The Lightning connector is used to connect Apple mobile devices like iPhones, iPads, and iPods to host computers, external monitors, cameras, USB battery chargers, and other peripherals.
The Lightning connector looks like the following picture.

The Lightning plug is symmetrical (same pins on either side), so it can be inserted into a Lightning socket in either orientation.
In addition, the maximum transfer speed available over the 8-pin Lightning connector is 480 Mbit/s, the same as USB 2.0. The 16-pin Lightning connector supports USB 3.0 (now USB 3.2 Gen 1) at the maximum transfer speed of 5 Gbit/s.
Lightning vs USB C
Lightning and USB C are not the same. They have many differences. In this part, I will explain USB C vs Lightning in detail.
Lightning connectors are only meant to work with Apple devices, whereas USB-C connectors have a universal utility. You can see USB-C on Android phones, video game controllers, laptops, tablets, etc. Even Mac's Thunderbolt port also uses the USB C shape.
USB C is the latest USB physical port. Manufacturers usually apply USB 3.0, 3.1, 3.2, or Thunderbolt 3 on this port. However, the maximum transfer speed of Lightning is only 3.0 speed. Therefore, USB C is faster than Lighting.
USB-C offers a higher power delivery rate than Lightning and delivers a faster charge under the same voltage. Whereas Lightning supports a maximum current of 2.4A, USB-C carries 3A with support for up to 5A.
Lighting is gradually being replaced by USB C. Since 2018, Apple released a range of iPad models that replaced Lightning with USB-C. In addition, the European Parliament approved regulations that would require all electronic devices to support USB-C. Then, Apple said that they will comply with the new EU regulations.
The above content is all about USB-C vs Lightning. Then, we can answer the following questions:
Is Lightning better than USB-C?
No. USB-C is a new connector coming out years after Lightning. It is currently better than Lighting.
Will USB-C replace Lightning?
At present, USB-C is gradually replacing Lighting. And USB-C will fully replace Lightning in Europe.
Bottom Line
MiniTool Partition Wizard can help you clone the system, manage disks better, and recover data. If you have this need, you can download it from the official website.