The PC Health Check utility is often used to diagnose and troubleshoot issues on Windows PCs. Is PC Health Check safe? This question is asked by a lot of users. Here, MiniTool Partition Wizard would explore the answer for you.
What Is Windows PC Health Check
PC Health Check is a diagnostics tool developed by Microsoft. Released in conjunction with Windows 11, it offers various troubleshooting and maintenance features. It mainly includes the following features.
Windows 11 eligibility: It provides a comprehensive eligibility checker based on the minimum system requirements for Windows 11.
Battery capacity: It allows you to view the battery capacity relative to the original for devices that use single or multiple batteries.
Storage capacity: You can view the storage usage for the main drive that holds files, apps, and Windows.
Backup and sync: It enables you to create or sign in to a Microsoft account to sync device preferences across devices and set up Microsoft OneDrive to protect your files.
Windows Update: It can keep your device safe by running the latest version of Windows 10.
Startup time: You can manage startup time to boost startup time.
Tips on PC health: It offers extra tips to improve the overall health and performance of the PC.
Based on customer feedback, PC Health Check will be periodically updated to help you make the most of your Windows PC. It is opened by default, so it will automatically install essential application updates when they become available.
Further reading:
As a PC optimizer, MiniTool Partition Wizard helps you check disk space usage and free up space to increase disk space. Besides, it also enables you to scan hard drive for bad sectors, detect and fix file system errors, clone disks, wipe disks, recover missing data/partitions, etc.
MiniTool Partition Wizard FreeClick to Download100%Clean & Safe
Is PC Health Check Safe
Many people find that PC Health Check is compulsorily installed on computers with the KB5005463 update. Hence, many users raise the question: is Windows PC Health Check safe. Apart from the features mentioned above, there's nothing groundbreaking in the PC Health Check app.
It can check and monitor the health status of your PC. Moreover, it provides you with tips on improving PC health. However, it would take up space and cause your system to run slower if a PC health check tool has been installed on the computer.
Besides, its built-in Windows 11 system requirement checker confuses many people because it can mislead you into thinking your system is unable to upgrade to Windows. Though Windows PC Health Check is not bloatware, many people are still categorizing it as such and would like to uninstall it.
How to uninstall PC Health Check? Is Windows PC Health Check safe? The section below will illustrate that for you. Please move on!
How to Uninstall PC Health Check
If you don't want to use PC Health Check, uninstall it in the Settings app. Is it safe to uninstall Windows PC Health Check? You may worry about that. Fortunately, it is completely safe to uninstall PC Health Check. You can do that by following the steps below.
Step 1: Press Windows and I keys to open Settings.
Step 2: Click Apps > Apps & Features.
Step 3: Under the Apps & features section, find and click Windows PC Health Check and then click the Uninstall button. In the prompted window, click Uninstall to confirm the operation.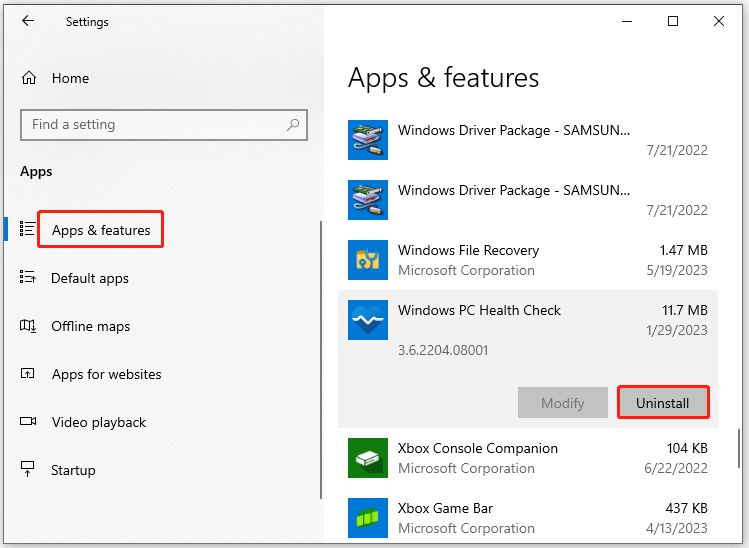 Is PC Health Check safe? This post explores the answer for you. If you don't like the app, uninstall it with the given steps in the post.