You are likely to experience
error 1327 invalid drive
while installing certain software on your Windows 10 PC. To help you fix it, this post from
MiniTool Partition Wizard
provides some feasible troubleshooting fixes. You can have a try.
When you are attempting to install a program, you may get stuck in error 1327 invalid drive [DriveLetter]. Once this error occurs, it means the drive you use to install programs is invalid. Based on the drive you select, you may receive the error followed by a different drive letter. For instance, you may meet error 1327.invalid drive F:, error 1327.invalid drive H:, etc.
The error 1327 invalid drive Windows 10 can occur due to multiple reasons, such as the disconnected network drive, corrupted registry keys, a wrong drive letter, and so on. To fix the invalid drive error, you can try the following solutions.
Solution 1: Map the Unmapped Network Drive
If you install the program on an unmapped network drive, you may run into error 1327 invalid drive. To fix it, you can try mapping the specific network drive to obtain the required privileges. Here's a step-by-step guide that helps you execute the operation: How to Map a Network Drive in Windows 10? – Get Answers Now.
Solution 2: Edit Registry Keys
After encountering error 1327 invalid drive Windows 10, you can also try to fix it by modifying your registry. Here's how to do this.
Step 1: Right-click the Start icon and select Run.
Step 2: Type regedit in the Run dialog box and then press Enter to open Registry Editor.
Step 3: Navigate to the following path: Computer\HKEY_CURRENT_USER\SOFTWARE\Microsoft\Windows\CurrentVersion\Explorer\Shell Folders
Step 4: After that, check if the data of any values in the right pane is set with the incorrect drive letter. You should double-click the problematic value and change its data with your system drive's letter (normally C:). Then click OK to save the change.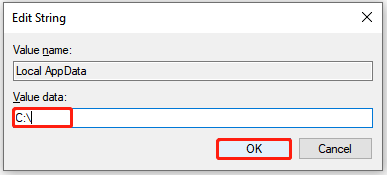 Step 5: Once done, restart your computer to see if the invalid drive error persists.
Solution 3: Substitute the Path of the Problematic Drive
Since error 1327 invalid drive Windows 10 occurs on a specific drive, you can try to avoid it by replacing the problematic path and installing the program to a valid drive. To do this, follow the steps below.
Step 1: Open the Run dialog and type cmd in the text box. Then press Ctrl + Shift + Enter to run Command Prompt as an administrator.
Step 2: In the elevated Command Prompt, type subst *: C:\ and press Enter.
Tips:
* represents the drive letter of the problematic drive. For example, if you are bothered by error 1327.invalid drive F:, you should execute the subst F: C:\ command. You can also replace C with another valid drive.
Step 3: Restart your PC and then try the installation again to see if the error disappears.
Solution 4: Create a Temporary Drive
In some cases, Windows 10 will mistakenly install apps to a non-existing drive, leading to error 1327.invalid drive. On this occasion, we recommend you change your drive letter to the given drive letter. Alternatively, you can also create a temporary drive with the correct drive letter.
Here we mainly discuss how to create an H drive when suffering error 1327.invalid drive H.
Step 1: Right-click the Start icon and select Disk Management.
Step 2: Right-click the unallocated space on the disk and select New Simple Volume. Then click Next to continue.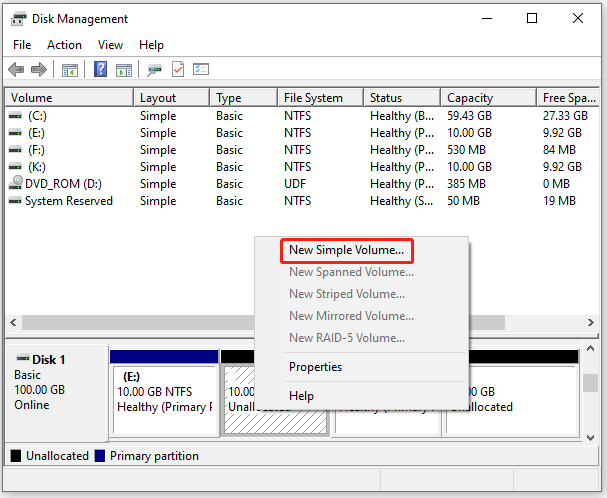 Step 3: In the next window, set the partition size and then click Next.
Step 4: Choose H from the drop-down menu and click Next.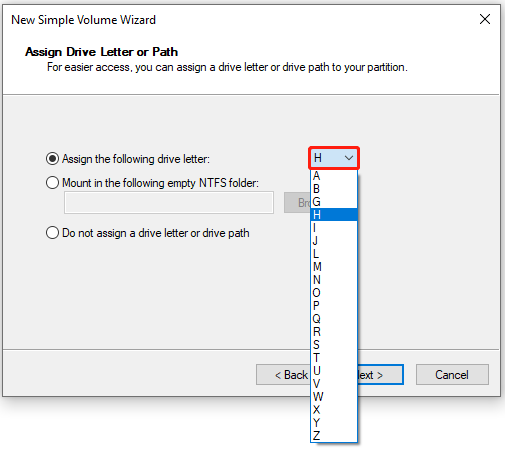 Step 5: Select a desired file system and check Perform a quick format. If necessary, you can change other settings according to your needs.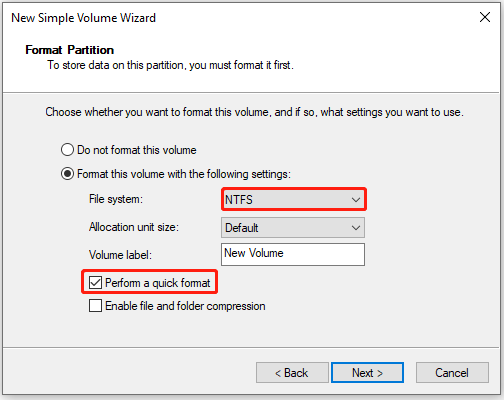 Step 6: Finally, click Next > Finish to finish creating the new partition.
Further reading:
If the New Simple Volume option is greyed out, you'd better take advantage of a third-party partition manager to complete the operation. As for this, MiniTool Partition Wizard is a great choice. It's professional and comprehensive disk partition software that enables you to create new partitions, change drive letters, recover data/partitions, etc.
If you are interested in this program, simply download and install it on your PC to have a try.
MiniTool Partition Wizard FreeClick to Download100%Clean & Safe
When suffering the error 1327 invalid drive, you can try to fix it with the above methods. If you have any other great solutions to this error, you can share them with us in the comment part below. Thanks a lot.