Some users reported that they encountered the error 0x800b010e when installing the latest updates for their Windows system. How to solve this issue? In this post, MiniTool Partition Wizard tells you some useful fixes.
What Causes the Windows Error Code 0x800b010e
The error 0x800b010e can occur due to various factors, such as:
Corrupted system files
Registry issues
Wrong system configurations
Hardware malfunction
…
How to fix the Windows error code 0x800b010e? There are some effective solutions that you can try.
Method 1. Run SFC and DISM
The error 0x800b010e can be caused by corrupted system files. To fix this issue, you can run SFC (System File Checker) and DISM (Deployment Image Servicing and Management) scans. They are Windows built-in tools that can repair and restore the integrity of your system files. To run these tools, follow these steps:
Step 1. Type cmd in the Windows Search tool and select Command Prompt > Run as administrator to run Command Prompt as administrator.
Step 2. Then type sfc /scannow and press Enter.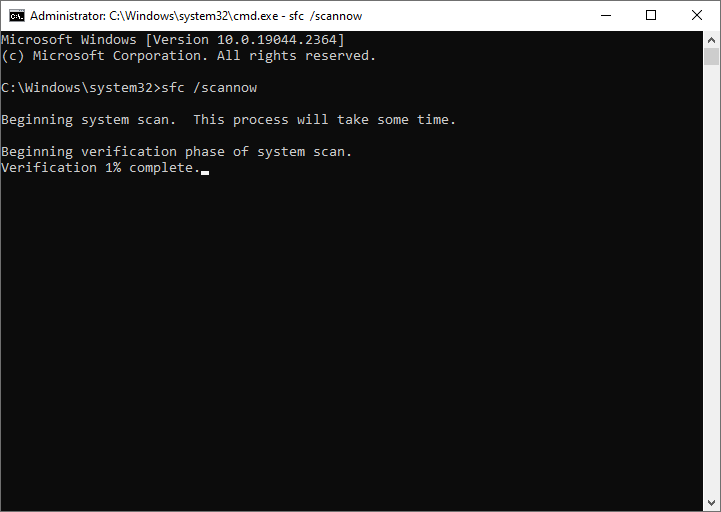 Step 3. After the SFC scan completes, reboot your system. If the error still exists, run Command Prompt as administrator again.
Step 4. Then type the following commands and press Enter after each line.
DISM /Online /Cleanup-Image /CheckHealth
DISM /Online /Cleanup-Image /ScanHealth
DISM /Online /Cleanup-Image /RestoreHealth
Step 5. Wait patiently for the scan to complete. Once done, restart your computer and check if the issue is resolved.
Method 2. Temporarily Disable the Firewall
To get rid of the Windows error code 0x800b010e, you can try temporarily turning off Firewall with the steps below.
Step 1. Type Control Panel in the Windows Search tool and choose the best match.
Step 2. In the pop-up window, click Windows Defender Firewall.
Step 3. In the next window, click Turn Windows Defender Firewall on or off on the left pane.
Step 4. Then select Turn off Windows Defender Firewall (not recommended) under the Private and Public network settings sections.
Step 5. Once done, click OK to save the changes and reboot your PC.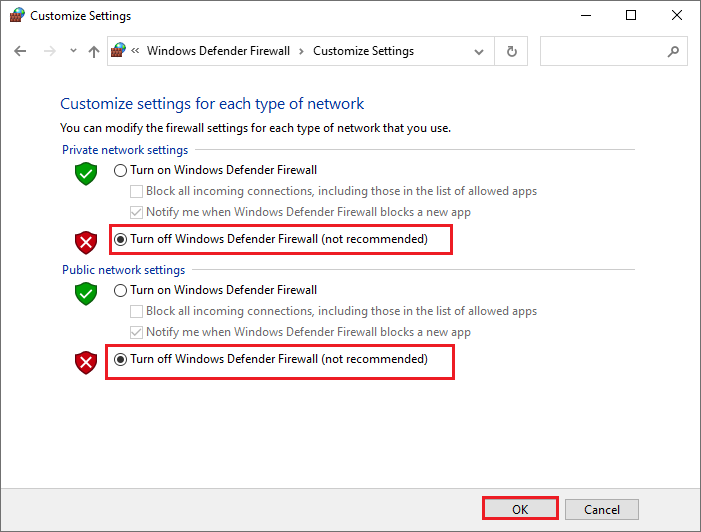 If the issue is fixed, you should re-enable Windows Defender Firewall as soon as possible.
Method 3. Check the Hard Drive
Sometimes, the hard drive issues may also cause the error 0x800b010e. To check the hard drive for errors, MiniTool Partition Wizard is a good choice. Its Surface Test and Check File System features can help you check file system errors and bad sectors.
In addition, it is a powerful and multifunctional partition manager that allows you to recover data and partitions, increase the storage space, migrate OS to another disk, etc. Here is how to check the hard drive for errors using MiniTool Partition Wizard:
MiniTool Partition Wizard FreeClick to Download100%Clean & Safe
Download and install MiniTool Partition Wizard on your PC. Then launch it to enter the main interface.
In the main interface, right-click the partition to be checked.
If you want to check bad sectors on the hard drive, select Surface Test and click Start Now.
If you want to check and fix file system errors, click Check File System and then select Check & fix detected errors > Start.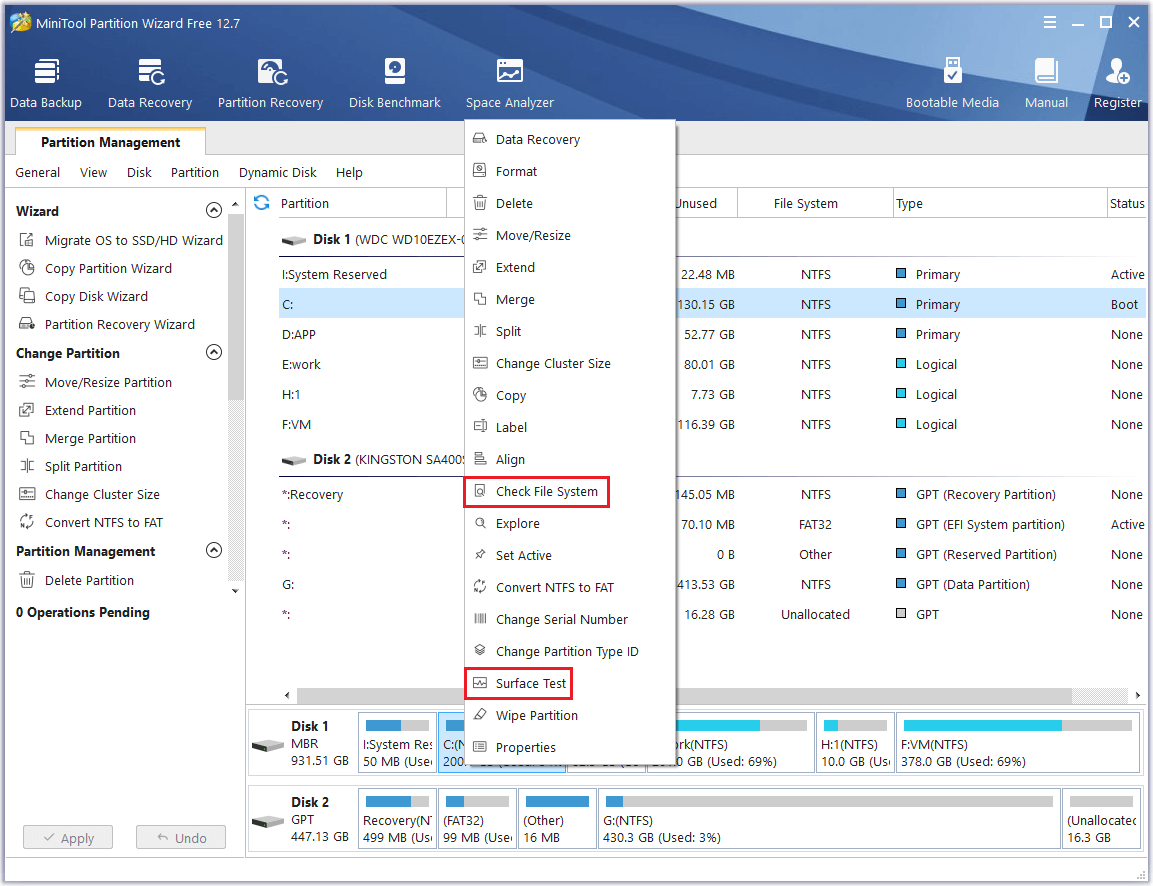 Method 4. Perform a Clean Boot
You can try fixing the error 0x800b010e by performing a clean boot, which is a way to start Windows with a minimal set of drivers and startup programs. To perform a clean boot, you can refer to this post: How to Clean Boot Windows 10 and Why You Need to Do So?
Method 5. Perform a System Restore
If the Windows error code 0x800b010e still exists, you can try restoring your system to a previous state. System Restore is a tool that allows you to undo system changes to your computer without affecting your personal files.
Method 6. Update Windows Manually
If none of the above solutions work, you can try manually downloading and installing the latest Windows updates on your computer with this guide: [Tutorial] How to Download & Install Windows 10 Updates Manually.
Conclusion
In this post, we have learned a step-by-step guide on how to fix the error 0x800b010e. Do you have any suggestions or other nice solutions? You can feel free to share them with us in the following comment part.