Many players complain about the Dev error 841 in COD MW3. In this post, MiniTool Partition Wizard provides a complete guide to help with the frustrating error. If you encounter the same error, you can try following this guide to fix it.
Call of Duty: Modern Warfare III (MW3) is a first-person shooter video game developed by Sledgehammer Games and published by Activision. It's available on PS4/5, Windows, Xbox One, etc.
MW3 is set to be released on November 10, 2023. For now, you can enjoy this game in its open beta. Unfortunately, sometimes you may get hit with the Dev error 841 while gaming on your PC, which may trouble you a lot.
How can you repair the error? Well, there are several feasible solutions available.
Method 1: Relaunch the Game
When facing the Dev error 841 MW3, you can try relaunching the game first. This can always help remove temporary glitches or bugs. You need to completely close the game by opening Task Manager, right-clicking MW3 under the Processes tab, and clicking End task. Then open the game again to see if the error disappears.
Method 2: Check Your Network Connection
A poor network connection may result in the MW3 Dev error 841 as well. Therefore, it's also important for you to check the Internet connection. To make sure your network is running well, you can try resetting your router and modem.
Method 3: Repair the Game Files
The Dev error 841 Modern Warfare 3 may also occur due to corrupted game files. In this case, you'd better verify the integrity of game files via the game launcher. Here we take Steam as an example.
Step 1: Launch Steam and then go to LIBRARY.
Step 2: Find and right-click MW3 from the game list and select Properties.
Step 3: Switch to LOCAL FILES. Then click Verify integrity of game files on the right side.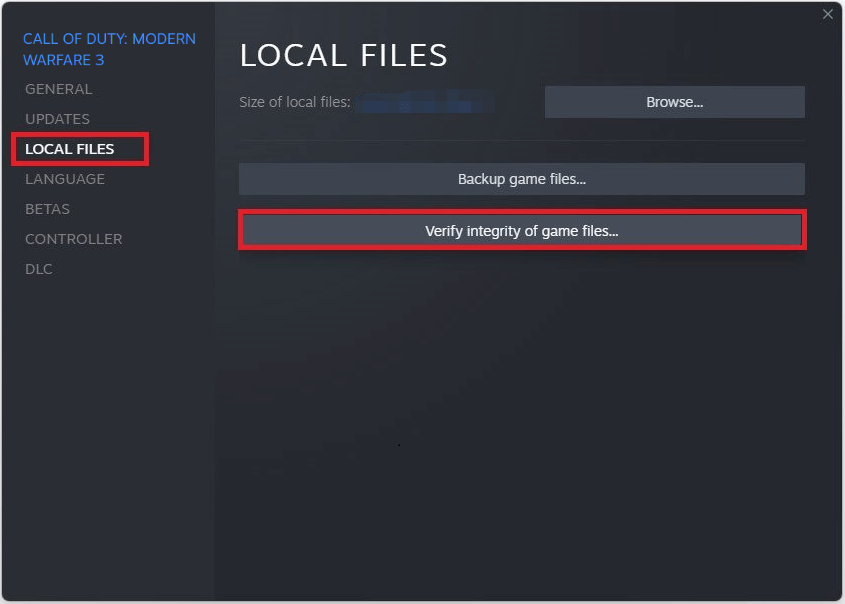 Method 4: Update Your Graphics Driver
The outdated graphics driver on your PC might be another reason for the MW3 Dev error 841. To bypass the error, you can try updating your graphics driver to the latest version. Here's a guide on how to do this: How to Update Graphics Card Drivers (NVIDIA/AMD/Intel)?
Method 5: Reinstall the Game
If there is something wrong with the game installation, you are likely to experience the Dev error 841 MW3. On this occasion, you can try to fix the error by uninstalling MW3 and then installing it back on your computer. You can execute the operation with the given steps.
Step 1: Press Windows + R to open the Run dialog.
Step 2: Type appwiz.cpl in the text box and then click OK to enter the Uninstall or change a program window.
Step 3: Right-click MW3 and click Uninstall to remove it from your PC.
Step 4: Once the game is uninstalled, reinstall it from the official website.
Further reading:
The game installation will fail if you have no sufficient disk space on your computer. Therefore, you need to free up enough disk space by deleting unused files or programs. Besides, you can use MiniTool Partition Wizard to enlarge the drive for game installation if there is unallocated space or free space on another drive.
MiniTool Partition Wizard is a comprehensive partition manager that enables you to partition/format/extend/clone hard drive, format USB to FAT32, convert MBR to GPT, recover data from hard drive, etc.
MiniTool Partition Wizard FreeClick to Download100%Clean & Safe
Method 6: Wait for the Official Release of the Game
Since the current MW3 is only a beta version for testing, certain bugs like Dev error 841 may exist during the gameplay. If you cannot solve it with the above methods, you can simply wait until the developers release the official game version on November 10, 2023. It's not long from now.
All the methods mentioned in this post are available. When you are facing the Dev error 841 Modern Warfare 3, try to fix it with these methods. If you have any other great solutions to this error, please share them with us in the comment area below.