Are you having trouble with the USB flash drive not saving files problem when you try to save some files on your USB flash drive? If so, you come to the right place. This article from MiniTool Partition Wizard will provide three feasible ways to help you when you can't save files to USB flash drive.
Here is a true example from the Microsoft forum:
I have had a 64G SanDisk USB drive for roughly a year. Recently, however, I can no longer save files to my flash drive. I'm a college student so storing my work on a flash drive is crucial. I can open the flash drive and see its contents, but when I try to save a Word doc. from Microsoft Word onto the flash drive, the files don't appear, and both Word and the saving process freeze.https://answers.microsoft.com/en-us/windows/forum/all/cant-save-files-to-usb-drive
You may also encounter this problem: can't save files to USB flash drive. To solve this problem, you can refer to the following methods. Keep reading.
Way 1: Repair Microsoft Office
If the "can't save files to USB flash drive issue occurs when you have a document open in Word and try to save the document directly to the flash drive, then your Microsoft Word has some errors. Just follow the steps below to repair your Office installation.
Step 1: Press the Win + R key to open the Run dialog. Then type appwiz.cpl and press Enter to open Programs and Features.
Step 2: In Programs and Features, find Microsoft Office. Then select it and click Change located at the top of the list of programs.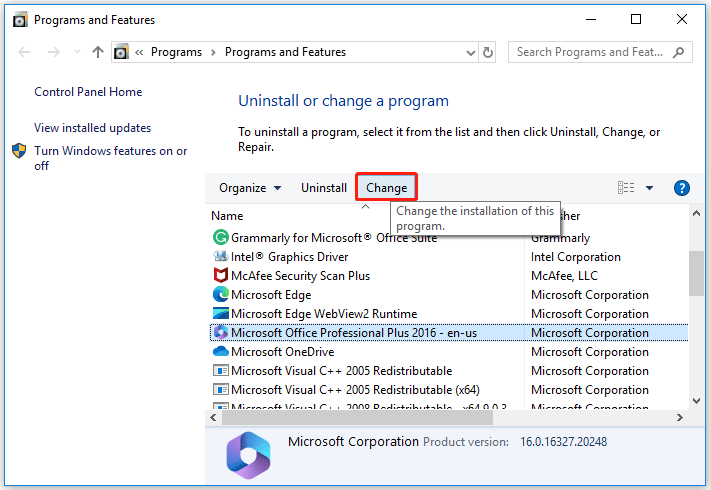 Step 3: If the UAC prompts, click Yes to continue.
Step 4: Select the Online Repair option and click Repair to implement.

Step 5: Wait for some time until the repair finishes. Then restart your computer and check the problem has been solved.
Way 2: Convert USB Flash Drive from FAT32 to NTFS
You may encounter the "can't save files to flash drive" if the files exceed the size limit of the target drive's file system. Most USB flash drives are FAT32 formatted. One downside of FAT32 is that it only supports a single file with a maximum size of 4GB. Therefore, if you try to save a file larger than 4GB, you will fail.
In this case, you can convert the file system from FAT32 to NTFS. Because it keeps your data intact. How to convert a USB flash drive from FAT32 to NTFS? Here MiniTool Partition Wizard is highly recommended. It is a professional and easy-to-use partition manager. Use it to convert FAT32 to NTFS in just a few clicks.
MiniTool Partition Wizard FreeClick to Download100%Clean & Safe
Step 1: Download and install MiniTool Partition Wizard on your PC. Then launch it to get its main interface.
Step 2: Choose the target FAT32 partition and select Convert FAT to NTFS from the left action panel.
Step 3: Click Start in the pop-up window to get FAT to NTFS conversion.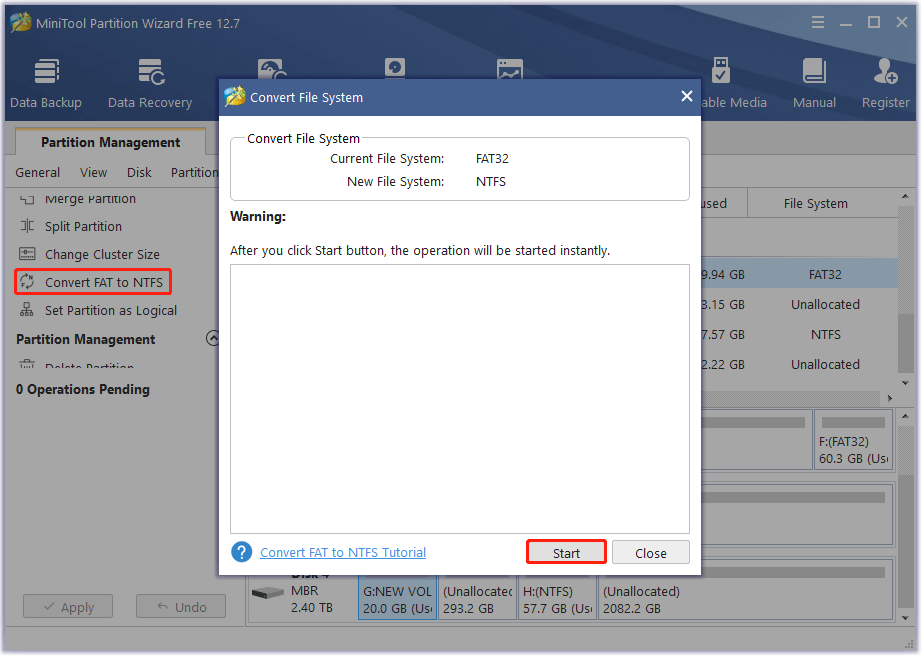 Step 4: Click Close when the conversion is completed.
Way 3: Run CHKDSK
Some errors on the USB flash drive can cause this "can't save files to USB flash drive" error. Therefore, you should run CHKDSK to check the hard drive for errors. The steps are as follows:
Step 1: Type cmd in the Search box. Then right-click on Command Prompt and select the Run as administrator option to open Command Prompt as administrator. Then click Yes to get Admin access.
Step 2: In the Command Prompt window, type the chkdsk G: /f command and press Enter.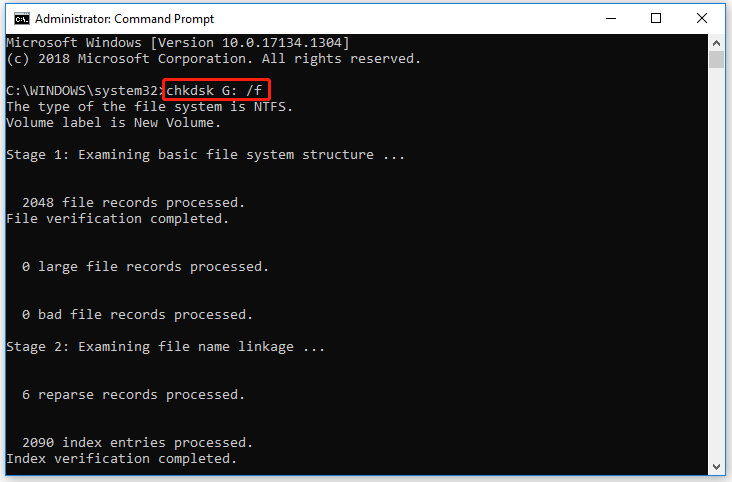 Tips:
"G" represents the hard drive partition letter.
After that, you can try to save the files to your flash drive again and see if the error still appears.