Sometimes you may need a recycle bin cleaner to clean up its files. What's the
best free recycle bin cleaner
for Windows 10/11? Now, you come to the right place. This post from
MiniTool
will share you with 5 free recycle bin cleaners.
How to Clean Up Recycle Bin in Windows 10/11
Recycle bin was designed by Microsoft to keep items that have been set aside by users for deletion. It offers users a second chance to recover the mistakenly deleted data on Windows PCs. To free up the recycle bin, you just need to right-click the desktop icon and select Empty Recycle Bin. Alternatively, you can open the recycle bin, press Ctrl + A keys to select all files and delete them.
However, sometimes you may encounter various issues with the tool, such as "recycle din file association error", "recycle bin not showing", "recycle bin corrupted", "recycle bin can't delete files", etc. Under these circumstances, you may need a professional recycle bin cleaner. What's the best recycle bin cleaner for Windows 10/11? Let's keep reading.
Best Free Recycle Bin Cleaner for Windows 10/11 in 2023
Are you looking for a free recycle bin cleaner for Windows 10/11? Now, you can try the following 5 recycle bin cleaning tools or directly choose one that works best for you.
# 1. MiniTool Partition Wizard
MiniTool Partition Wizard is a free disk wiper as well as a junk file cleaner for Windows PCs. It can easily scan the recycle bin and clean up all files permanently. Besides, it can tell you what's exactly taking up your disk space and help free up space. It's also a professional partition/disk manager that can extend/resize/move partitions, convert MBR to GPT without data loss, migrate OS to SSD, and more.
MiniTool Partition Wizard FreeClick to Download100%Clean & Safe
Step 1. Launch the MiniTool software to get its main interface and click Space Analyzer from the top toolbar.
Step 2. Select the drive letter from the drop-down menu and click on Scan.
Step 3. Wait for the scanning process to complete, and you should see the Recycle Bin folder and clean it up. If you want to delete a specific file, go to the File View tab, and search for the file via its file name.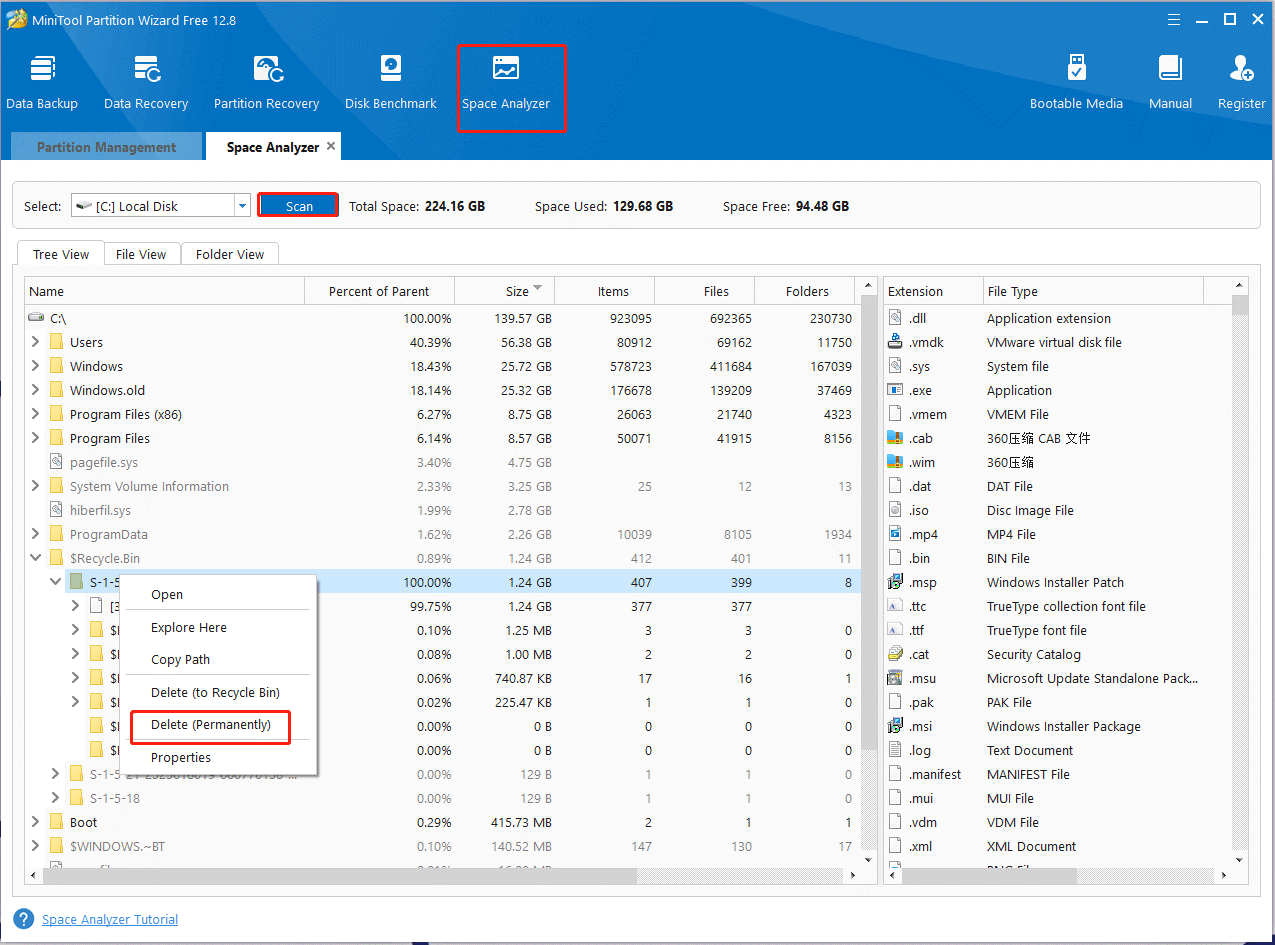 # 2. CCleaner
CCleaner is a well-known PC cleaner that can also be used as a free recycle bin cleaner on Windows 10/11. With this cleaner, you can clean up recycle bin files, system caches, log files, problematic registry keys, tracking files, browsing data, and so forth.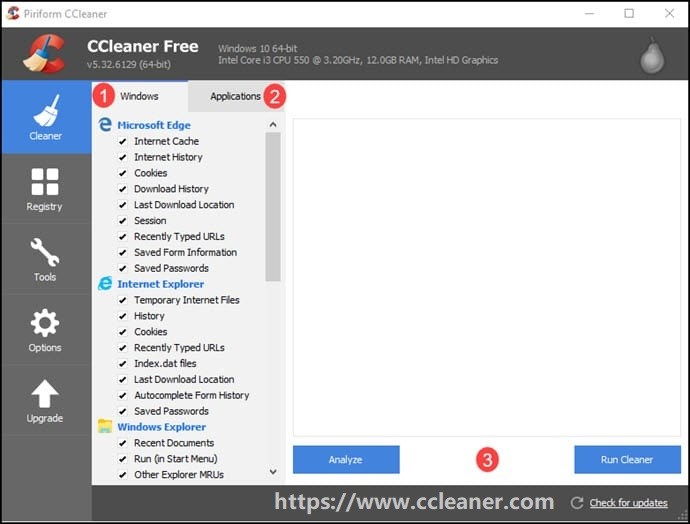 This cleaner is very easy to use by selecting your desired scanning task and then waiting for it to complete. It contains many practical options, such as registry cleaner, program uninstaller, duplicate file finder, startup monitor, disk analyzer, system restore, etc.
# 3. Secure Eraser
Secure Eraser is also a free recycle bin cleaning tool for Windows PCs. It works as a registry cleaner and system cleaner that can securely delete all junk files, recycle bin files, and corrupted registry files. Besides, it's also a drive/partition cleaner as well as a free space cleaner that can securely delete a partition and erase deleted files, helping optimize your hard drive. With this tool, you don't have to worry about any remains that can be retrieved.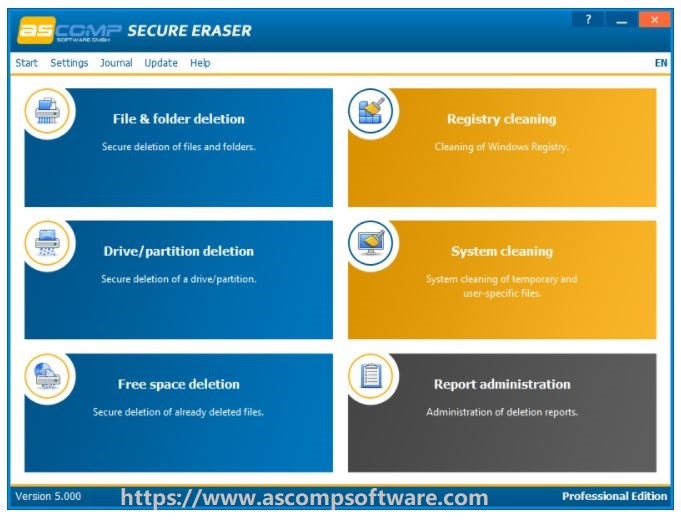 # 4. Securely File Shredder
Securely File Shredder is a free and easy-use file cleaner that can clean up the recycle bin with the drag-and-drop feature. Besides, you can customize the wiping method like DoD and Gutmann while deleting the files. However, one of the cons is that the program only supports Windows 10 version 17763.0 or higher.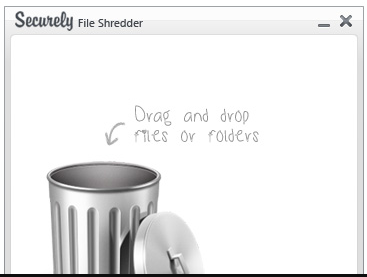 # 5. Eraser
Eraser is a lightweight recycle bin cleaning tool that can delete all junk files/folders, and erase unused disk space or even entire drives safely. If you want to clean up unnecessary data regularly, you can create scheduled erasing tasks in its interface.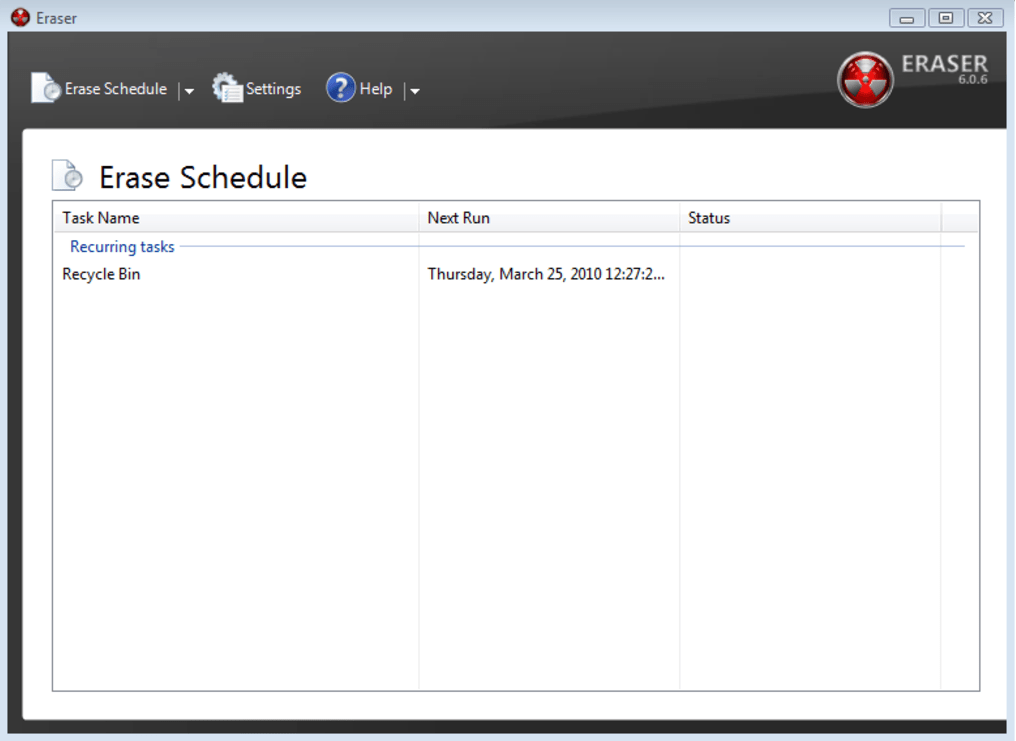 Moreover, this tool provides 13 different erasing methods like Gutmann. It also adds the secure delete options to the Windows right-click menu automatically. So, you can easily access the delete options and free up disk space by right-clicking any empty space on your desktop.