Many users encounter the
Acronis clone disk failed error
when cloning an SSD on Windows 10/11. What causes the Acronis clone disk operation failed error? How to fix the problem? Now, let's explore the answers together with
MiniTool Partition Wizard
.
Acronis True Image is a practical disk cloning utility that can clone a hard disk to an SSD or another disk. Besides, this software can be used to back up the computer/files/disk and recover data on Windows PCs. Sometimes, however, the Acronis cloning software runs into different issues, such as "Acronis clone disk operation failed error", "Acronis Clone Disk Wizard stuck", etc. Here's a user report from the Acronis forum:
Acronis disk cloning failed, see log for details. I bought a couple of Crucial BX300 (120 GB) SSDs to upgrade a couple of computers at home. I get the error when attempting to clone the hard drive. The hard drive in the laptop is 1 TB but has less than 100 GB of used space. Can anyone tell me what's wrong? Many thanks.

https://forum.acronis.com/forum/acronis-true-image-2018-forum/disk-cloning-failed-see-log-details?ckattempt=1
What Causes the Acronis Clone Disk Failed Error
What causes the Acronis True Image HD clone failed issue? After investigating extensive user reports, we found that Acronis disk cloning has failed error often occurs while cloning a large hard disk to a smaller SSD. Besides, the problem can be caused by loosened USB cables, an outdated software version, or a temporary glitch.
How to Fix Acronis Clone Disk Operation Failed Error
How to the Acronis clone disk failed error on Windows 10/11? Here we summarize 2 simple methods to fix the problem. Before trying them, we recommend you perform some preliminary checks of your hard disk and devices.
Restart the Acronis cloning software to clear all temporary glitches and see if it works.
Check if you have the latest version of Acronis True Image. If not, update the program.
Make sure you connect the hard disk/SSD to the computer properly.
If the Acronis True Image HD clone failed issue persists after the above checks, proceed with the following 2 solutions.
# 1. Use an Alternative to Acronis Clone Disk
MiniTool Partition Wizard is also a professional disk cloning utility that can clone a hard drive, back up Windows OS, and copy partitions. With software, you can even copy a hard drive to a smaller SSD without reinstalling OS. Moreover, it's a multifunctional partition manager that can extend/resize/shrink/merge partitions, convert FAT32 to NTFS, change cluster size, check disk health, and so on.
Here's how to clone a hard drive to SSD using MiniTool Partition Wizard.
MiniTool Partition Wizard DemoClick to Download100%Clean & Safe
Step 1. Open the MiniTool program to enter its main interface, select the original hard drive from the disk map, and click on Copy Disk from the left action panel. Alternatively, you can select Migrate OS to SSD/HD Wizard to copy only the OS partition.
Step 2. In the pop-up window, select the target SSD and click on Next to go on. Then click on Yes to further confirm if there are no important data on the target disk.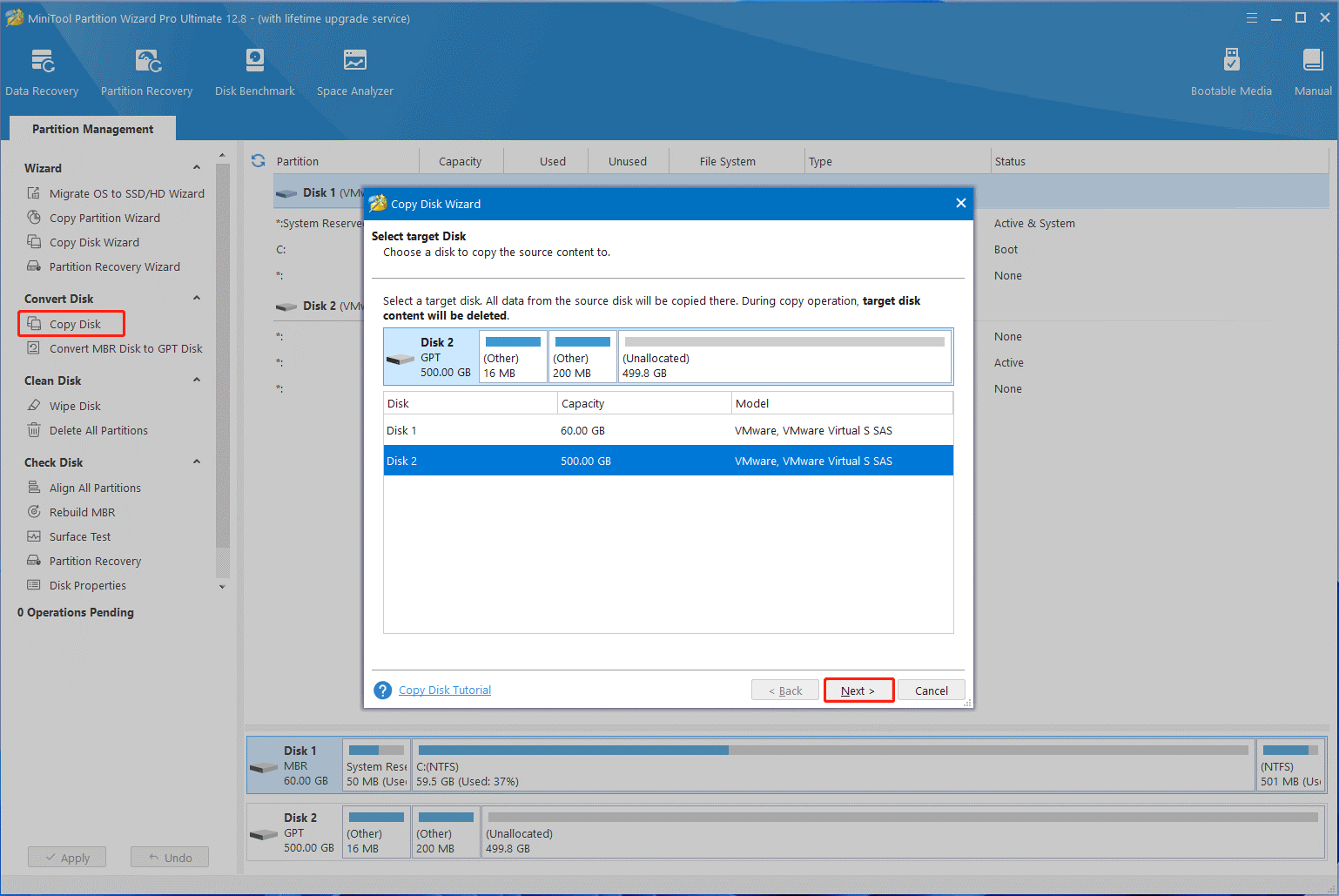 Step 3. Select copy options based on your preference and click on Next. If you are using an MBR disk, you can keep the default options unchanged.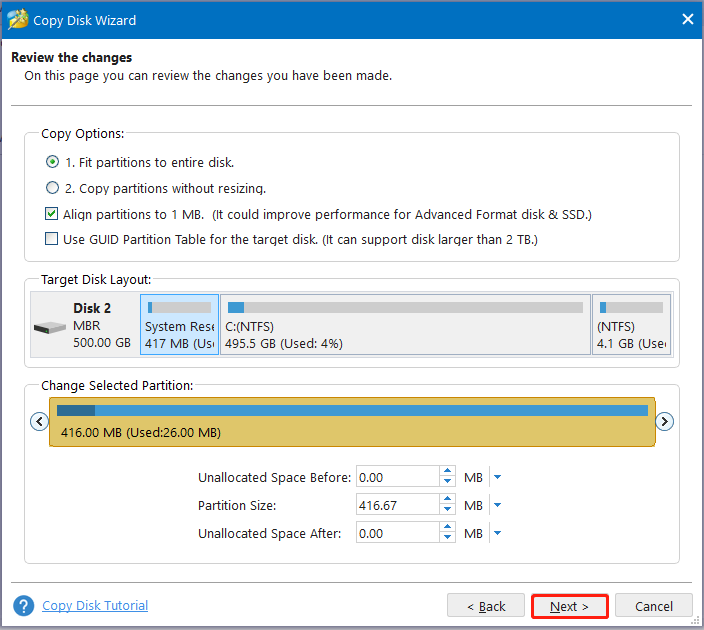 Step 4. Read the Note information and click the Finish button to confirm the copy.
Step 5. Finally, click on Apply to execute the pending operations.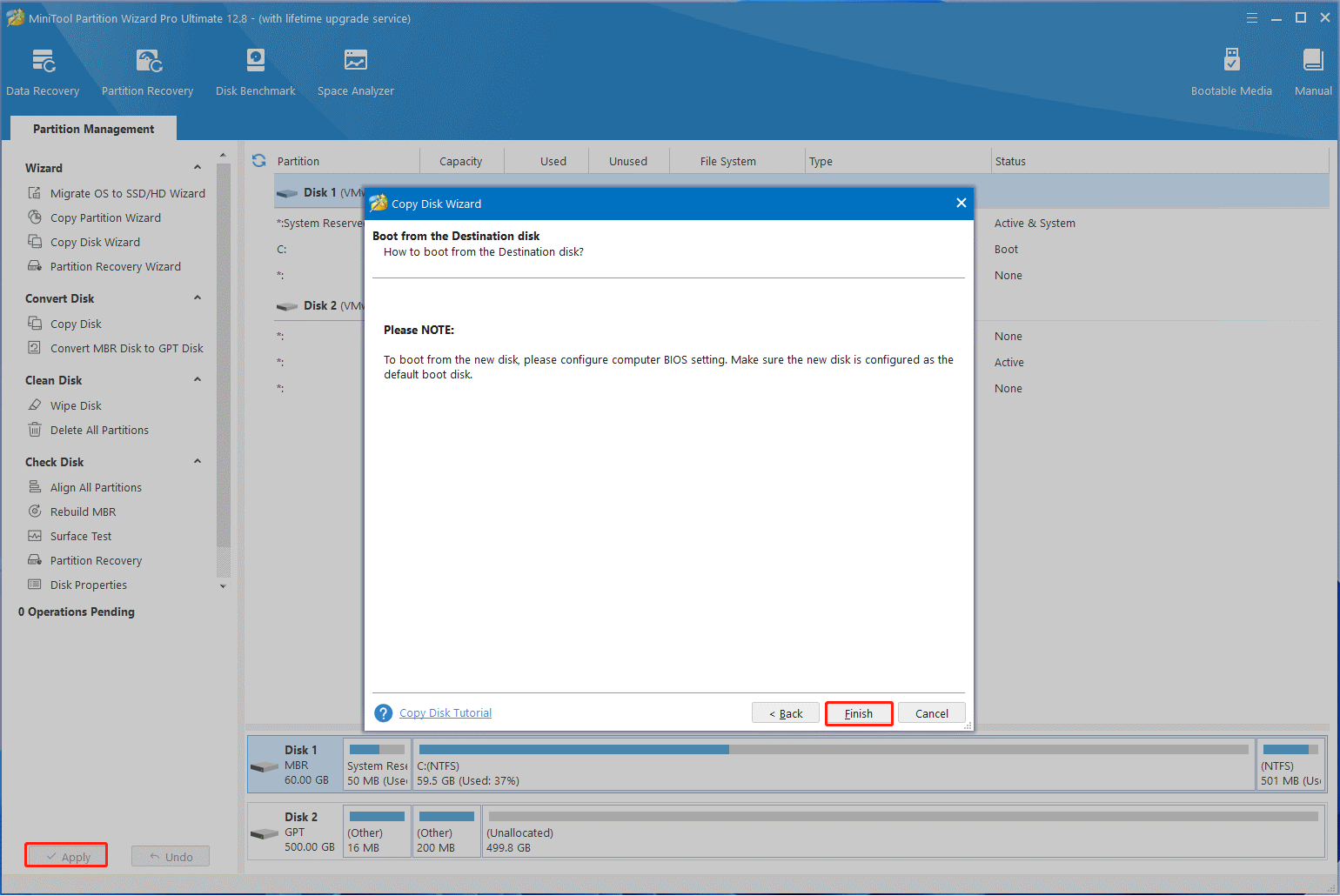 # 2. Shrink the Partition on the Source Disk or Use a Larger Target SSD
As discussed above, the Acronis disk cloning failed problem often occurs when cloning a hard disk to a smaller SSD. If you still want to use the Acronis software, you can shrink the partition on the source disk until the used space is equal to or smaller than the target disk space. Also, you can directly use a larger SSD.
Here's how to shrink the partition using Disk Management.
Step 1. Press the Win + X keys and select Disk Management from the right context menu.
Step 2. In the Disk Management window, right-click the partition on the source disk and select Shrink Volume.
Step 3. Enter the amount of disk space to shrink in MB like 500 MB and click on Shrink to confirm it.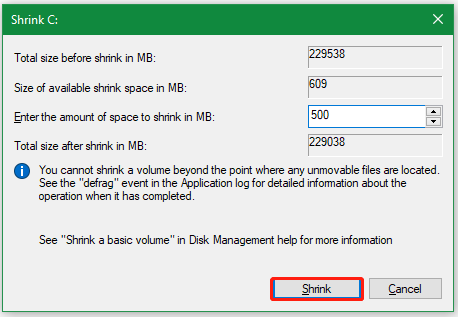 Once done, you can clone the hard disk again and see if the Acronis clone disk failed error gets fixed. Of course, if you have any other solutions to this problem, share them with us in the following comment area.