Have you ever deleted your data on Sony SxS card by accident? Have you ever formatted your Sony SxS card without data backup? In this post, MiniTool Partition Wizard shows you how to do the Sony SxS card data recovery successfully.
What Is SxS Card?
SxS (S-by-S) is a flash memory standard compliant with the Sony and SanDisk-created ExpressCard standards. The SxS card has better transmission performance than other kinds of memory cards, with a transfer rate of up to 800 Mbit/s and a burst data transfer rate of 2.5 Gbit/s.
Up to now, there are only three types of SxS cards:
SxS-1: It features a PCI ExpressCard 34 form factor and can achieve a fast maximum read speed of up to 440 MB/s and write speed of up to 200 MB/s.
SxS Pro Plus: It is a faster version of SxS designed to record a 4K resolution video. It has an interface with a theoretical top speed of 8 Gbit/s and a minimum recording speed guarantee of 1.3 Gbit/s.
SxS Pro X: It uses the PCI Express 3.0 advanced interface and newly developed Sony's unique intelligent controller. It has 3X faster read and write speeds than SxS Pro Plus.
The SxS card can be used by the ARRI ALEXA Classic camera and the Sony XDCAM EX cameras. But the Sony XDCAM EX cameras are more famous. 
Sony XDCAM is a series of camera products introduced by Sony in 2003. It has four different product lines—the XDCAM SD, XDCAM HD, XDCAM EX, and XDCAM HD422. They differ in encoder type, frame size, container type, and recording media.
Tips:
Apart from SxS cards, Sony XDCAM EX cameras can use other kinds of cards as well. But you need to use a corresponding card adaptor in the SxS memory slot. For example, if you use an XQD memory card, you need to use an XQD ExpressCard adaptor in the SxS memory slot.
Sony SxS Card Data Loss Scenarios
No matter what medium you use to store data, there is always the risk of data loss. When you use the Sony SxS card, you may lose your data for the following reasons:
Your mistaken operations. For example, you format the Sony SxS card or delete files on the Sony SxS card by accident.
Files on the Sony SxS card are deleted by viruses. If the card is connected to a PC infected with viruses, this situation will occur.
The Sony SxS card is damaged mechanically by voltage fluctuations, water, fire, etc.
If you encounter data loss, you can connect it to your computer and use data recovery software to retrieve the lost files and data.
How to Recover Data from Formatted Sony SxS Card?
If your data on the Sony SxS card is lost, you can use the MiniTool Partition Wizard to make a Sony SxS card data recovery. MiniTool Partition Wizard is useful software that provides Data Recovery functions. This function can help you to recover all of your lost data.  Here're the steps below:
Tips:
When the data loss happens to the SxS card, please stop writing data to the SxS card immediately.  Otherwise, the original data will be overwritten, making Sony SxS card data recovery difficult.
Step 1. Connect your SxS card to your computer. Download and install MiniTool Partition Wizard (Pro Deluxe or higher edition is required). Then open it. Click the Data Recovery on the top toolbar of the window.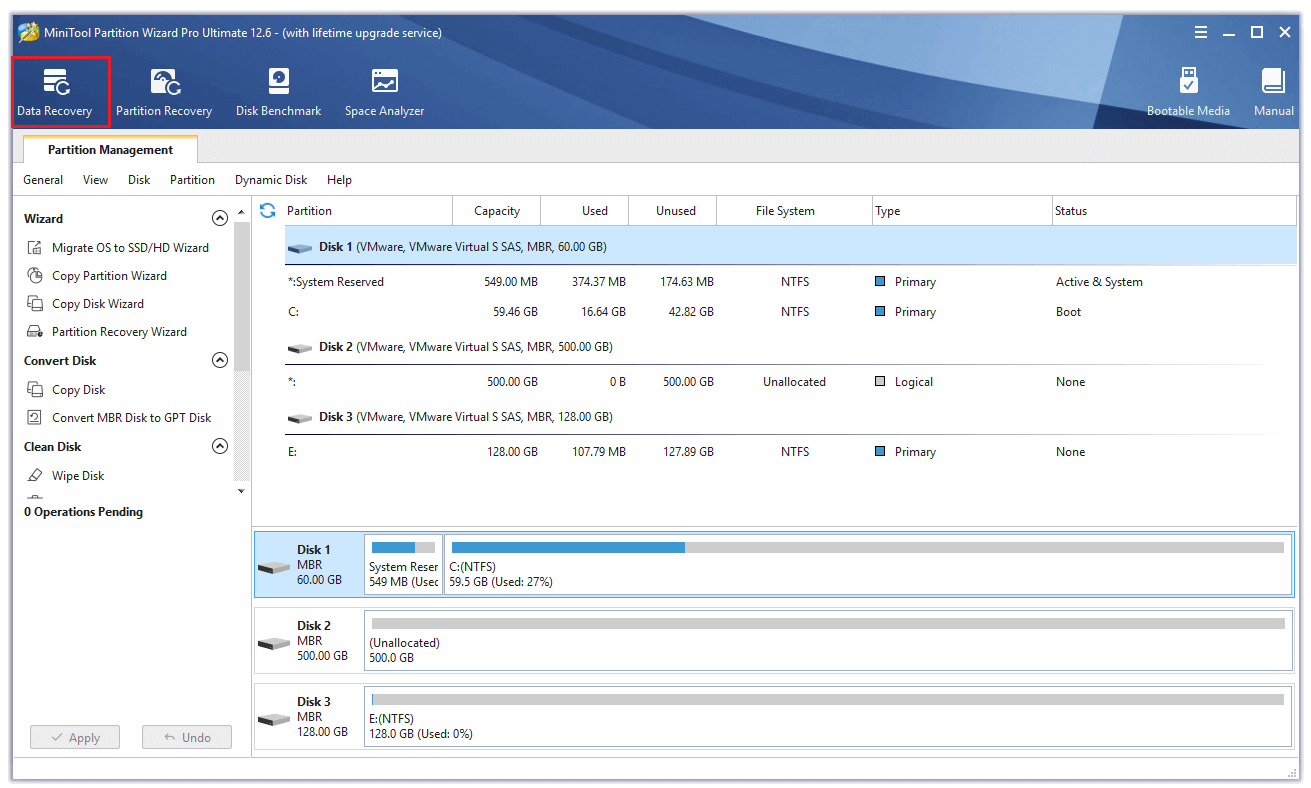 Step 2. In the Data Recovery page, you can see three parts: Logical Devices, Devices, and Recover From Specific Location.
On the Logical Devices section, you can see all the partitions here including the deleted partitions and unallocated spaces.
On the Devices section, you can see all the storage devices here, including internal and external devices.
On the Recover From Specific Location section, you can recover lost data and files from the Desktop, Recycle Bin, and a specific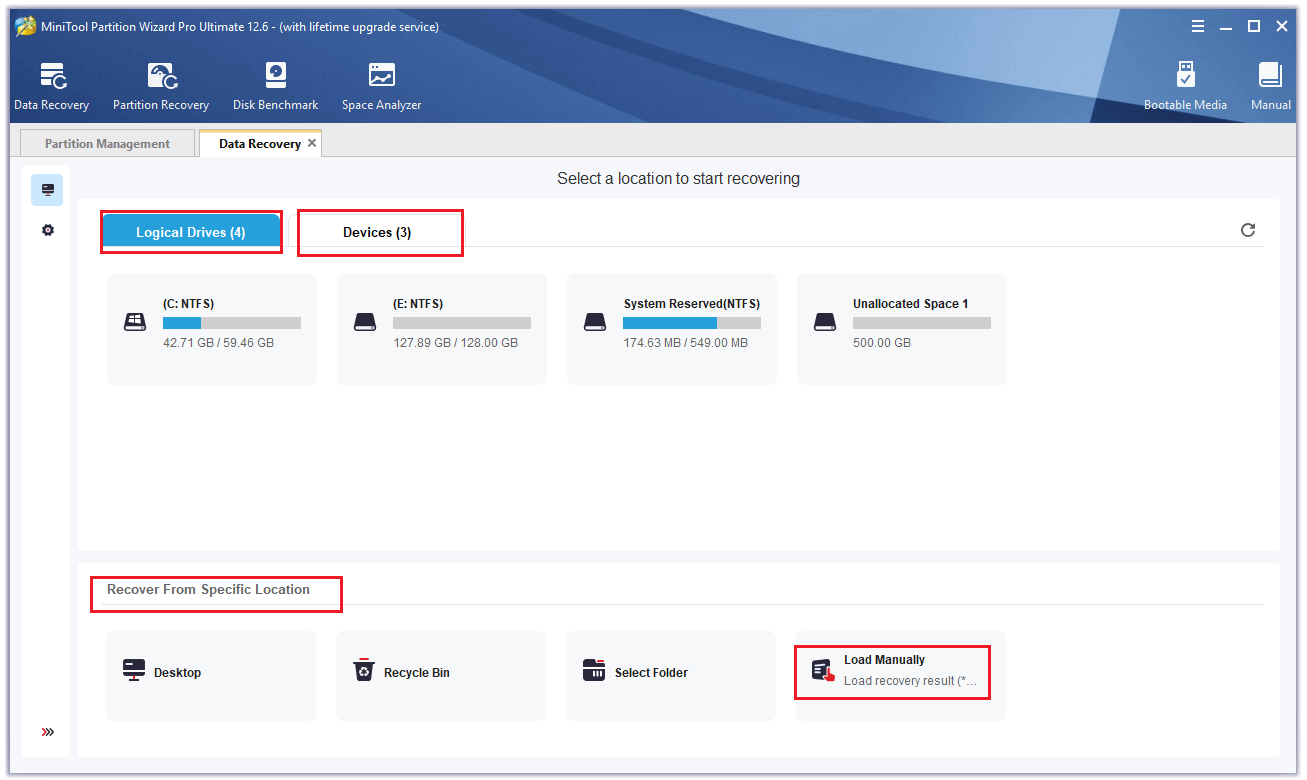 Step 3. As for your situation, you'd better to choose to scan your whole SxS card on the Devices page. Click Devices and place your mouse pointer on your SxS card, and then click the Scan button on this page.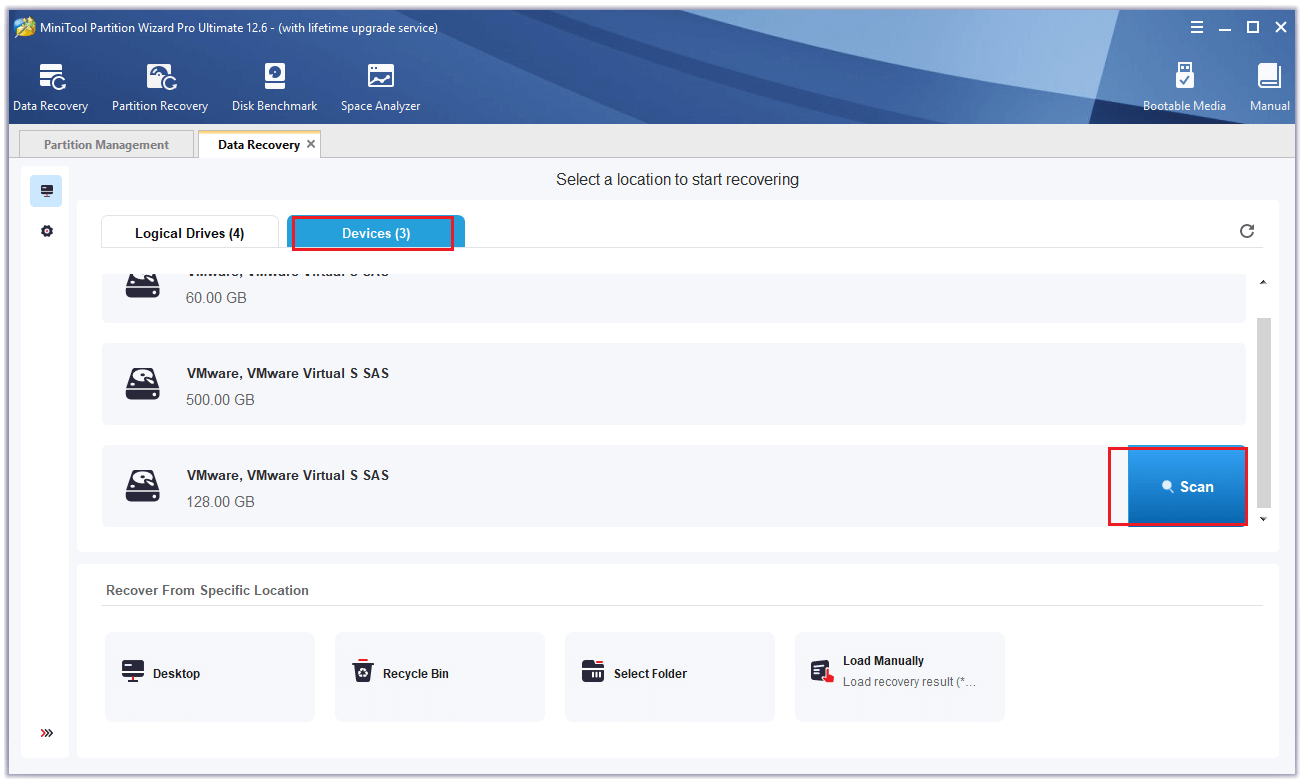 Step 4. Wait patiently until the scanning process completes. Then, you need to find files that you want to recover. Here are some tools you should know:  
Path: All lost files here are listed in the order of directory structure.
Type: All lost files here are classified by types.
Show Lost Files: You can find all lost files here. But this feature can only be used after the scan is complete.
Find: You can find files by their names.
Filter: You can filter the files by filename/extension, size, creation date and modification date, deleted files, lost files, or normal files.
Preview: You can preview about 70 kinds of files that should be smaller than 100MB. But you need to install a package first.
Tips:
1. When the scanning process is going on, if you make sure all the files you want to recover are already found, you can click the pause and stop button to stop it.
2. If you don't have time to find the files or data that you want to recover from the scanning result, you can click the Exports Scan Result button for continuing to recover files in the future.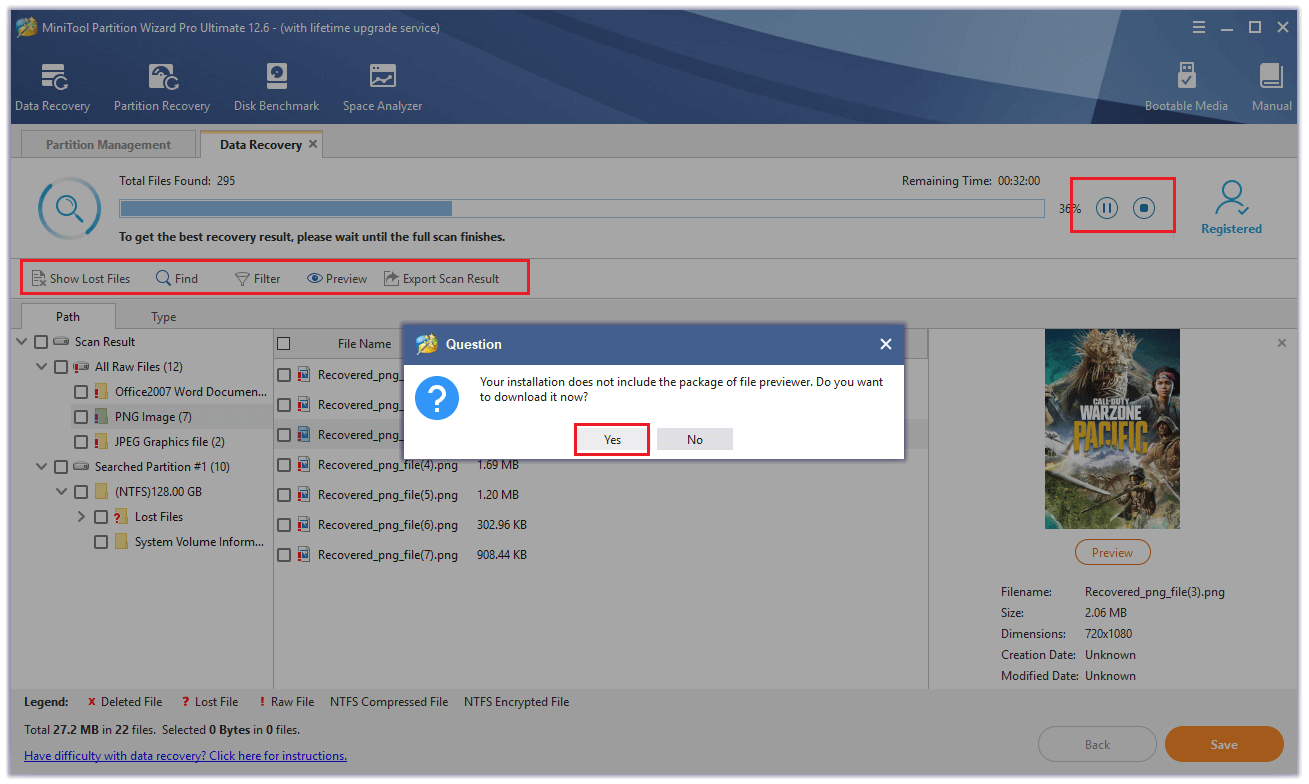 Step 5. After finding what files you want, you need to check them and then click Save button to save them to a safe place.
Tips:
Don't save the recovered data on your formatted SxS card, or it can overwrite the original data and cause the recovered data to be lost again.
What Can You Do to Avoid Losing Your Photos?
Data recovery may fail. To avoid data loss, you can take the following precautions.
Stop using the camera when the battery is at a lower level. If you cut the power off while the camera is still using, some errors will occur on your SxS card.
Don't use the same card on multiple devices. Different devices support different file formats. So, if you use the same card on a different device, errors may occur while writing or deleting data on the SxS card.
You'd better take regular backups for the data on your SxS card. The best way for you to back up the data is saving data on cloud storage or using an independent storage device. I strongly advise you to use this way as a precautionary measure.
You'd better place your SxS card in a place safe enough. This can avoid the physical damage to your SxS card.
Choosing a high-quality card reader is also a good way to avoid damage to your SxS card, and it also can increase the data transferring speed for you.
I formatted my Sony SxS card by accident without backing up for the data. This article tells the way to help me recover the data from it successfully!Click to Tweet
Bottom Line
After reading this post, you can know how to make a Sony SxS card data recovery. So, don't worry that the precious photos or videos may get lost. MiniTool Partition Wizard is a good recovery software and it can solve all your concerns.
For any questions about using MiniTool Partition Wizard, leave comments below. If you have any problem with MiniTool Partition Wizard, please send us an email via [email protected].