How to recover a Snapchat account? This Snapchat account recovery tutorial enables you to recover Snapchat in different cases. Whether the account is hacked, deleted, or forgot, MiniTool would help you recover it.
You can lose the Snapchat account because you forget its passwords, username, or email, deactivate the account, or are hacked by hackers. The steps to recover Snapchat accounts vary in different cases.
Follow the corresponding steps according to your conditions to complete the Snapchat account recovery operation.
Case 1: You Deactivate the Snapchat Account
If you deactivate your Snapchat account in impulse, you can reactivate it within 30 days. In this case, it is very easy to recover deleted Snapchat account. How to do that? Here's the guide on how to undelete a Snapchat account.
Tip: This guide works on computer websites.
Step 1: Click here to move to the Snapchat Support page and then click on the accounts portal link to continue.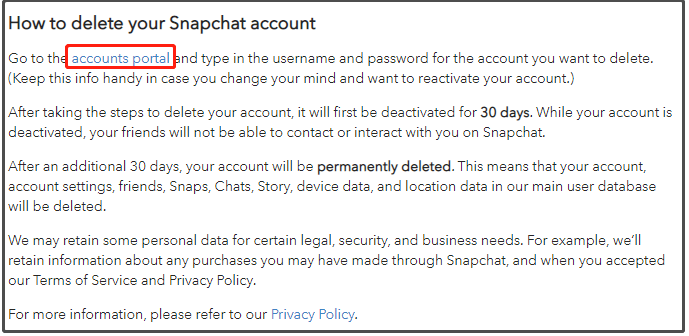 Step 2: Log in the Snapchat account with your username and password.
Note: You can't log in with your email address and you can't change the password.
Step 3: Then your Snapchat account can be reactivated. According to Snapchat, it takes up to 24 hours for an account to reactivate. So, you need to wait patiently.
Case 2: You Forget the Snapchat Password
If you can't access your Snapchat account because you forget the password, you can follow these steps to recover Snapchat.
Step 1: Click here to navigate to the login page of Snapchat.
Step 2: Enter the username or email and then tap Forgot Password.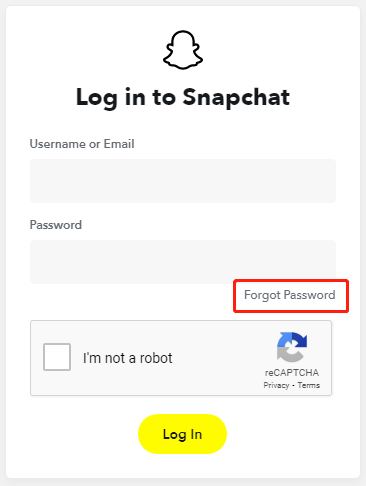 Step 3: In the prompted window, choose a way (Phone Number or Email Address) to reset password.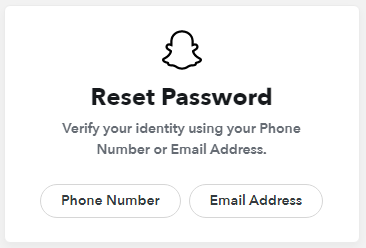 Step 4: Then follow the on-screen instructions to finish the operation.
Step 5: Now, you can log into your Snapchat account with the new password.
Case 3: You Forget the Username and Email of Snapchat Accounts
Sometimes, you may forget the username or email while logging in the Snapchat account. If you are in this case, here are two tips for you.
List all your emails on a notepad and then try them one by one on Snapchat until it works.
Ask a friend about your username.
Case 4: The Snapchat Account Is Hacked or Stolen
The Snapchat account recovery operation would be difficult if the account is hacked or stolen. The specific difficulty depends on the changes the hacker has made to the account. Here, some situations are listed.
If you have logged Snapchat account on some other devices before and forgot to log out, log in it again.
If you can still access the account (the email hasn't been changed), simply change your password. Nevertheless, if the recovery email address and phone number have been modified, the only thing you can do is to contact Snapchat Help. Then fill up an account recovery form and wait for response.
Also read: Snapchat Streak Lost | How to Get a Streak Back on Snapchat
Bonus Tips for Keeping the Snapchat Account Safe
To keep your Snapchat account from being hacked, you can take some actions to secure it. The following are some tips for you.
Keep email ID and phone number updated.
Enable the two-factor authentication.
Utilize the best combination of passwords.
To sum up, this post shows you how to recover a Snapchat account in different situations. Besides, it also provides you with some tips to secure the Snapchat account.