How to delete Snapchat account? Well, this post of MiniTool would tell you how to delete a Snapchat account on computers and mobile devices respectively. Explore the content now!
Snapchat Delete Account: Overview
Snapchat, an instant messaging app, allows you to send pictures and videos that are only viewable for a short period of time. Though it is popular, not everyone is pleased with it. The most obvious concern about Snapchat is that a recipient can record snaps without a creator's knowing or permission.
While Snapchat indeed informs a sender when a recipient takes a screenshot or records a video via proprietary software, some apps allow recipients to get rid of these checks. You might want to delete Snapchat account if you get bored of it.
What will happen if you delete Snapchat account? Actually, the Snapchat account is just deactivated after you delete it within 30 days, which means that you can reactivate it as you like. However, your Snapchat account will be deleted permanently after 30 days.
Then Snapchat will delete data including account, account settings, friends, snaps, chats, story, device data, and location data from its database. According to Snapchat, some of your personal information might be kept in the database for "certain legal, security and business needs".
Here comes the question: how do you delete a Snapchat account. Well, here is a full guide for you. Just follow it to finish the operation.
Snapchat Delete Account: Preparations
Before you delete your Snapchat account, you'd better download your Snapchat data. For the sake of security, you need to get a verified email address to download the data. However, you need to note that you can't download the Snapchat data via the app. Instead, you are required to do that via the Snapchat website at accounts.snpachat.com.
Tip: You are allowed to download the Snapchat data at any time, not just because you are going to delete Snapchat account.
Log into the given website. If you don't log in this website often, you possibly receive a "Suspicious Login" page. If so, you should identify yourself by inputting the code sent by the website in your text message box or the registered email address. Follow the process and then click My Data on the prompted account homepage.
The next screen explains what sort of data Snapchat has on file for you. Simply scroll down to the bottom of the page and then click Submit Request. After that, you will receive a copy of the Snapchat data as a ZIP file to your verified email address. Generally speaking, it sends to you within 24 hours, so you need to wait patiently and delete Snapchat after receiving it.
Snapchat Delete Account: Two Cases
On Computers
Step 1: Click here to locate to the Account settings and then click My Account and Security.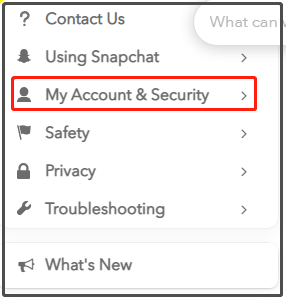 Step 2: Click Delete My Account in the prompted menu.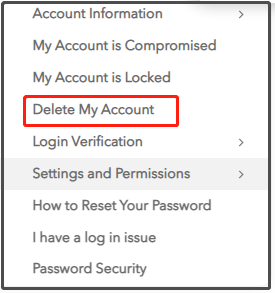 Step 3: Move to the right side of the page and click on the accounts portal link.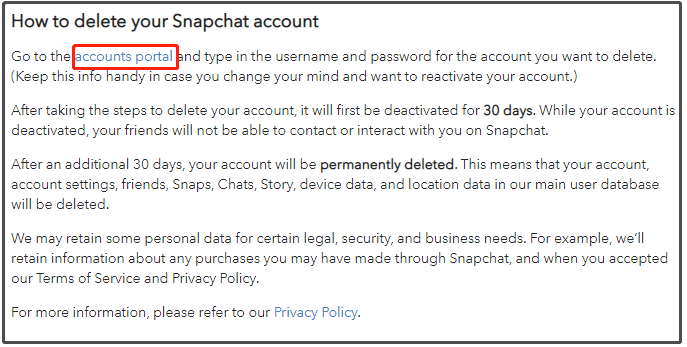 Step 4: In the elevated window, type your account information and then click Log In.
Step 5: Enter the security code sent to the phone number that is linked to the account and click Submit.
Step 6: Enter your username and password again. After that, click Continue and then the account will be deactivated. If you don't reactivate it within 30 days, your Snapchat account will be deleted permanently.
On Mobiles
If you want to delete Snapchat on mobile devices like iPhone and Android, please refer to these steps.
Step 1: Open Snapchat on your device first.
Step 2: Click your avatar on the top left corner and then click the gear icon on the top right corner.
Step 3: Scroll down to the Support heading and click I Need Help.
Step 4: Then you will be taken to the Snapchat Support page. Type delete in the search bar and click Delete my account from search results.
Step 5: Click on the Accounts Portal link to continue.
Step 6: In the next page, type your username and password and click Continue. Then your account will be removed completely after 30 days.
Also read: Deactivate Primary PS4 – Everything You Need to Know
Here's a tutorial on how to delete Snapchat account on PCs and mobile devices. Have a try now!