Have you come across this news? The SanDisk 1 TB micro SD cards are now available. Are you still tangled in choose the SanDisk micro SD card? You come to the right place. Today, MiniTool will provide you with a comprehensive analysis.  
Overview of SanDisk Micro SD Card
The SanDisk micro SD cards have attracted a great number of customers around the world. Since SanDisk released its first 32GB microSDHC card in 2012, more and more storage capacity options are available. In February 2019, SanDisk cooperated with Micron, introduced the SanDisk 1TB micro SD card.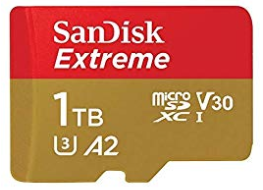 --image from Amazon 
This microSDXC card of 1TB capacity owns the biggest capacity that's ever sold. At present, this micro SD card with an adapter is sold about $289 on Amazon. But it's currently unavailable in the US. You can purchase the SanDisk micro SD card through Amazon if you live in Spain, Germany, or the UK.
Now, you may have an overall understanding of the SanDisk micro SD card. Please keep reading to know more product details.
Product Details
As one of the best micro SD cards, the SanDisk 1TB micro SD card has gotten great improvement on the performance. It can get extreme data transfer speeds for app performance and 4K UHD. According to the official report, this SanDisk Extreme micro SD card boasts 160MB/s read speed and 90MB/s write speed.
This SanDisk micro SD card is an ideal choice for your action cameras, Android smartphone, and even drones. One of the biggest selling points is that the 1TB micro SD card can be able to do 4K UHD video recording, high-resolution photos, and Full HD videos.
As a super-fast A2-rated microSDXC memory card, you can get a fast application performance for exceptional smartphone experience.
Apart from the information above mentioned, the SanDisk 1TB micro SD card owns many other features. Here we summarize them for you as follows:
Saving your time when transferring data: It read speed can be up to 160MB/s. You can transfer 1000 high-resolution photos and a 24GB pf 4K video (about 30 minute's duration) within 3 minutes.
Shoot more and faster: This SanDisk Extreme microSDXC card is a perfect choice if you want to capture the fast-action photos.
Best for capturing 4K UHD video: With SanDisk 1TB micro SD card, you can capture uninterrupted 4K UHD and Full HD video with its U3 (UHS Speed Class) and V30 (Video Speed Class 30) ratings.
Faster app loading with A2-rated: You can get a super-fast app loading speed for outstanding smartphone experience.
Compatible with MobileMate USB 3.0 reader: With this reader, you can move big files fast and move lots of files fast. Besides, it is compatible with microSDHC, microSDXC, microSDHC UHS-I and the microSDXC UHS-I supporting host devices.
Durable in extreme environments: It is a waterproof, temperature-proof, shockproof, and X-ray-proof micro SD card. So, you can enjoy your adventures without worrying about durability.
Right now, I believe that you already have an overall understanding of the SanDisk micro SD card.
Wrapping Up
Although there is software provided by SanDisk to manage your SD card such as data recovery or back up files, these programs have some limitations in some situations. You can choose a more professional and effective software to manage your micro SD card. Here it's highly recommended that you use MiniTool Partition Wizard. This software can not only help you format your SD card but recover lost files, and do many more things.