Summary :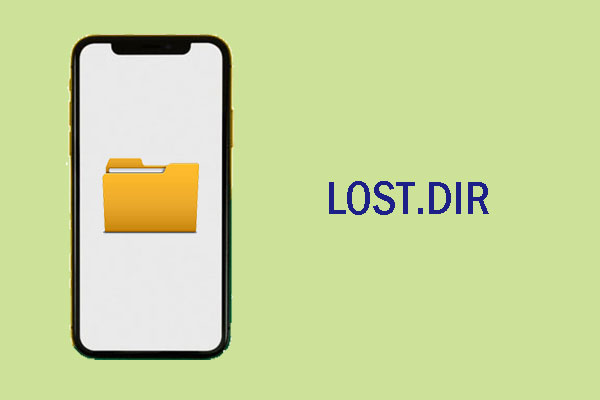 Some of you may notice LOST.DIR. However, what's it? How to recover files from it? And how to prevent data loss caused by it? Many of you may know little about these problems. If so, please read on to know more.
What Is LOST.DIR?
Nowadays, the internal storage of smartphone is not able to meet the demands of users because of the increasing information and applications. Most people will purchase an SD card to extend the phone storage when they get a new phone.
However, some people may find that there is a folder named LOST.DIR in the phone. The LOST.DIR folder contains many unknown corrupted files, which eats a lot of storage space.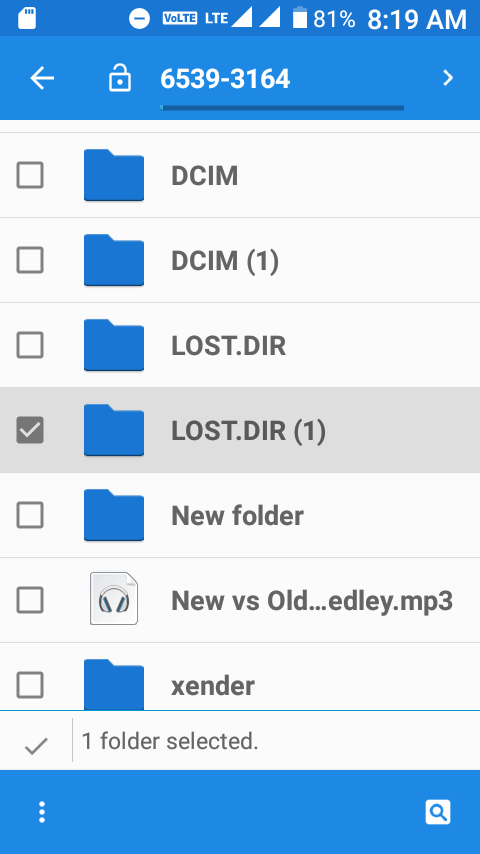 What is LOST.DIR? What does it contain? Can I delete it? You may want to ask problems like these. Some of you may also want to know whether it is a virus because you may find this folder will appear automatically after you reboot your phone even if you have deleted it before.
In fact, LOST.DIR is a folder created by Android system, so you don't worry about whether it will damage your phone.
But why does Android system create such a directory, in which many corrupted files are stored? And what's the purpose of it? Actually, LOST.DIR is an Android folder specially created to collect files that are accidentally lost when the Android system fails due to accidents in running.
The accidents include the following situations:
The applications suddenly fail to run properly.
Android operating system is frozen suddenly.
The SD card is abruptly and improperly ejected from Android phone.
The device is ejected while some files are in read-write process.
Accidental interruptions occur while downloading files to Android device.
Data write back failure in SD card.
In a word, as long as accidents happen, the Android system will recover files during next system boot up and place these files into Android LOST.DIR directory. At the same time, the filename extension of files will be replaced by the numeric sequence name. So, you can't recognize these files.
Further Reading: Some users report that they have found LOST.DIR folders on their USB flash drives. The LOST.DIR folder is usually created on flash drive by LINUX system and its function is similar to that of Android LOST.DIR.
In general, the LOST.DIR Android folder will store contents including various memory data, exchange data, staged data, cache data of applications, and other types of documents. Hence, you can delete LOST.DIR files safely if there is no important file in this folder to save storage space.
But if you delete the LOST.DIR folder, it will be recreated automatically in next boot up. Some people may like to compare it to the Recycle Bin on computer. But there are some differences. Generally speaking, Recycle Bin is used to destroy unwanted files. However, SD card LOST.DIR is used to prevent files from losing in accidents.
In other words, you may need to recover files from LOST.DIR. Besides, there are some users who may find their files are moved into LOST.DIR folder after system upgrade, just like the following situation.
I am using LG P970 (Optimus Black series phone). I recently upgraded my OS (Android) from 2.2 to 2.3 and prior to it everything was working fine on SD card. But after the update of the OS all the files including .mp3 and pics were moved into LOST.DIR folder... I tried myself by adding extensions to it randomly and I was able to access files but some of them. I want to recover all the data from LOST.DIR.

--- forums.androidcentral.com
As for how to recover LOST.DIR files, you can read on to get LOST.DIR recovery methods.
How to Recover Files from LOST.DIR on SD Card
Here are two methods for LOST.DIR recovery. You can try them one by one.
Method 1. Add Filename Extension
The first method is to add filename extension for LOST.DIR files. A filename extension indicates the type of a file and makes system open the file with a certain kind of software when you want view the file.
Sometimes, the files can only be opened by certain software. The mechanism of removing the filename extension of the file in Android LOST.DIR folder will make files can't open. Fortunately, you can recover some Android files through adding filename extension.
Here is the tutorial.
Step 1: Find LOST.DIR folder in your Android phone. You can find it quickly through searching file name.
Step 2: Check all LOST.DIR files to batch rename them. You can add the filename extension in this step.
Tip: The common picture formats include jpg, png, gif, bmp, etc. The common video formats include avi, mp4, 3gp, wmv, flv, etc. The common music formats include mp3, wav, cda, etc.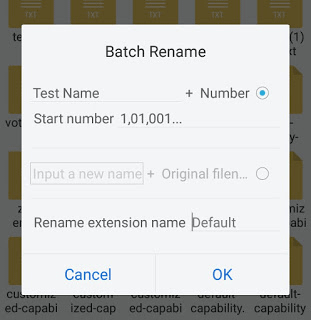 Then, you can attempt to open the files to see whether they are recovered.
Method 2. Third-Party Recovery Software
If you have tried the first method, you might find that the first method can only recover part of the LOST.DIR files. To recover files in LOST.DIR folder as many as possible, you should use a piece of professional SD card recovery software. Besides, if you have deleted LOST.DIR files or folder mistakenly, you should also use a piece of SD card recovery software to retrieve files.
Hence, MiniTool Partition Wizard is recommended for its powerful features. You can use it to recover LOST.DIR files or folder on SD card or in USB flash drive.
Here is the tutorial.
Step1: Connect the SD card to computer through a card reader.
Note: If the SD card can't be removed from your phone, MiniTool Partition Wizard will not recognize it.
Step 2: Find the partition containing LOST.DIR.
Buy MiniTool Partition Wizard and launch it to get its main interface.
Right-click a partition and choose Explore to confirm which partition contains DIR folder. This feature can make you view the contents in the partition.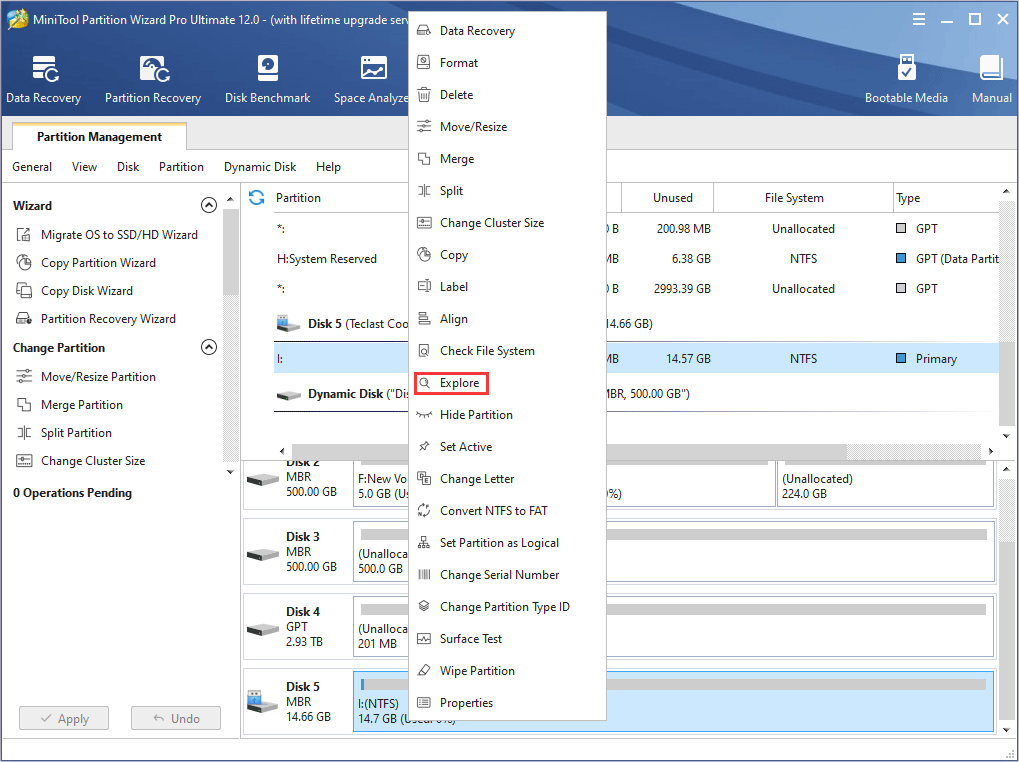 Step 3: Click Data Recovery on the toolbar.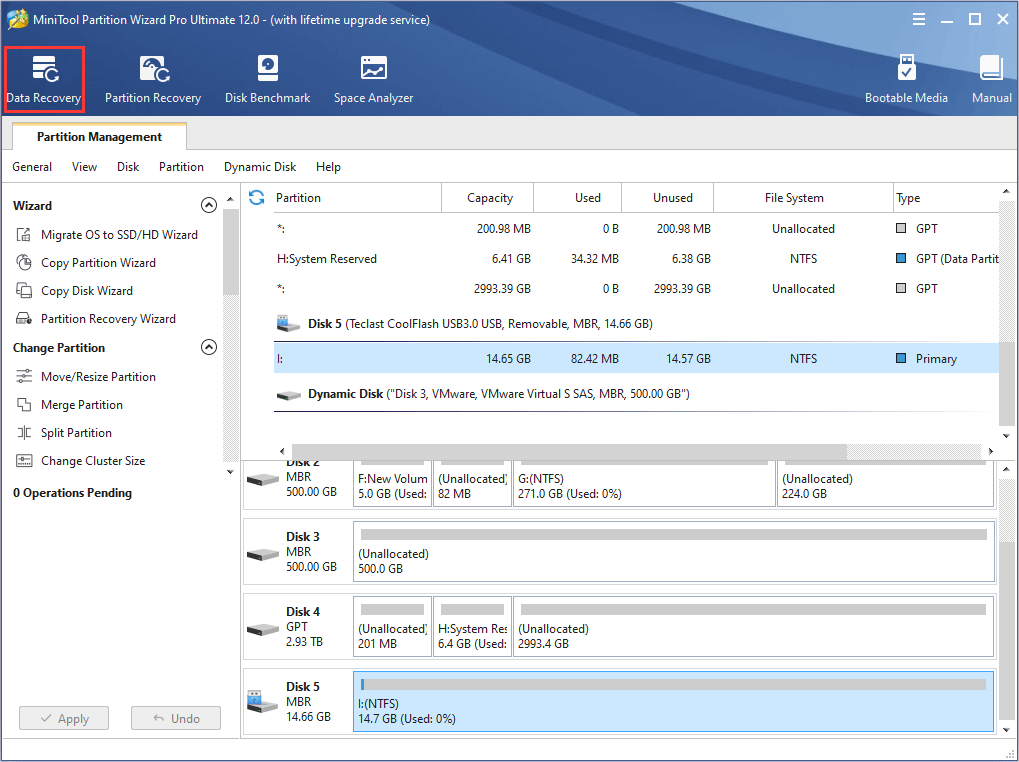 Step 4: Select the phone partition containing LOST.DIR folder and click Scan.
Step 4: Use tools to find out the LOST.DIR files after the scanning process is completed.
Path: In this tab, files are displayed according to their paths. You can find the LOST.DIR files according to their paths in your phone.
Type: In this tab, all of the files are displayed according to file types. You can use this tool if you know the specific file types of LOST.DIR files.
Show Lost Files: In this tab, only the lost files are displayed. You can try this tool if you have deleted LOST.DIT files.
Find: This tool allows you to find out the files or folders easily by typing continuous part of their file names. So, you can find LOST.DIR folder directly by typing the name.
Filter: You can use this tool to narrow down the file range through filename/extension, file size, creation/modification date, deleted files, lost files, and normal files. Thus you can find out them quickly. But this tool is less useful currently because you don't know the above information.
Preview: You can use this tool to preview the files that don't exceed 100 MB before the data is saved. Besides, it can support 70 file types.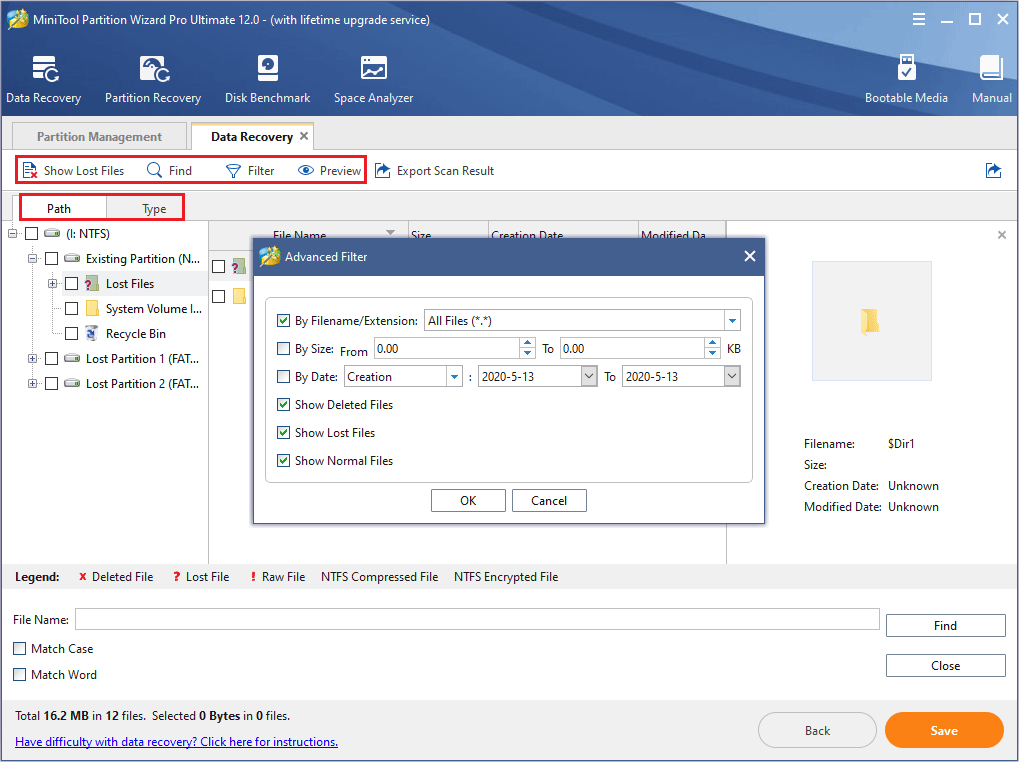 Step 5: Check the files or the folder and click Save to recover them to a safe position.
Then, you can check whether the files are recovered by it. It should be noted that MiniTool Partition Wizard is not only used to recover files on SD card, USB flash drive, and hard disk, it is also used to manage partitions on them.
Tips on How to Prevent LOST.DIR in Android Phone
After recovering files from LOST.DIR, we suggest that you should read on to know how to prevent LOST.DIR files from coming out and how to fix this problem.
Method 1. Manage Smartphone Properly
To avoid LOST.DIR, you should keep the phone running well. Therefore, you should take some strategies to prevent your phone freezing or shutting down accidentally. The strategies include cleaning up junk files regularly, running antivirus program regularly, always closing unused applications, and shutting down phone occasionally.
Too much junk files and multiple program processes will slow down your phone or make your phone shut down accidentally, thus generating LOST.DIR. Shutting down phone occasionally will release the cache, which will speed up your phone to some extent.
Besides, you should eject SD card from your phone in a proper way. For example, before ejecting the SD card, you should close all programs and shut down your phone manually to end the read-write process.
Method 2. Flashing Phone or Formatting SD Card
If your files are often lost because of LOST.DIR, you should consider system problem or SD card problem. This method will tell you how to solve LOST.DIR problem radically. If the system fails to run properly, you can flash it to fix the problem. If the LOST.DIR problem is caused by SD card, you can repair it through formatting.
But before you flash or format it, you should back up files in advance to avoid data loss. MiniTool Partition Wizard can help you back up files quickly.
Here is the tutorial.
Step 1: Activate Copy Partition feature of MiniTool Partition Wizard.
Download MiniTool Partition Wizard and launch it to get its main interface.
Right click the SD card partition and choose Copy.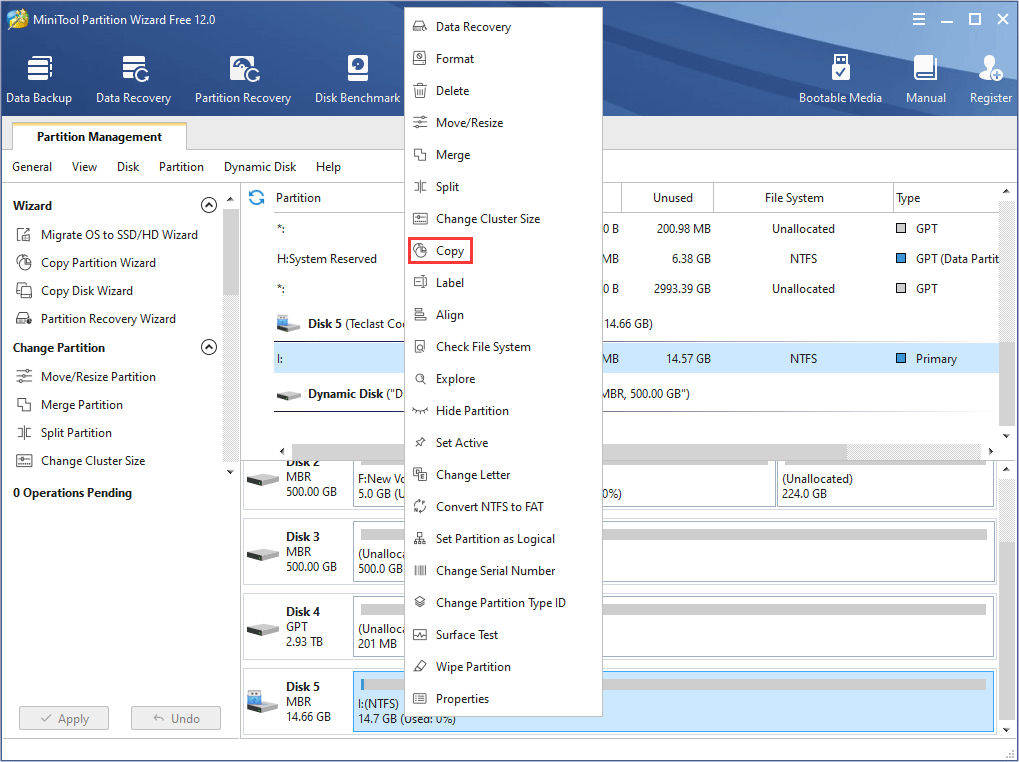 Step 2: Choose a target location where the SD card partition is copied to and click Next button.
Tip: The target location must be unallocated space. Otherwise the Next button is grayed out.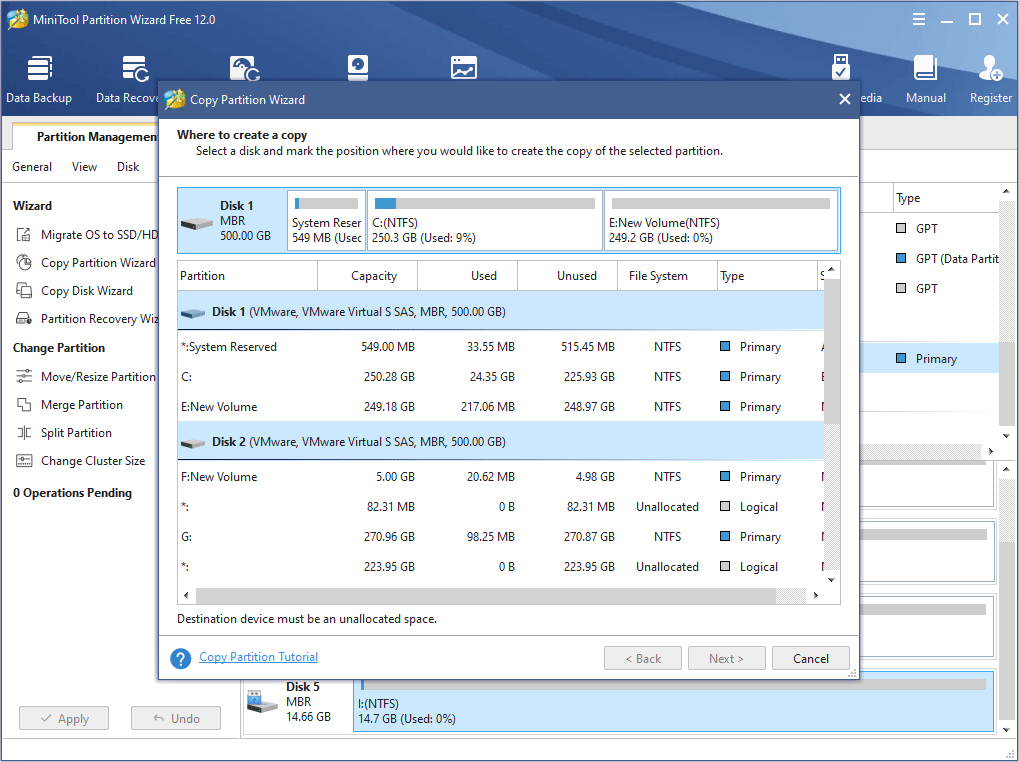 Step 3: Adjust the size and location of the new partition by dragging it and click Finish.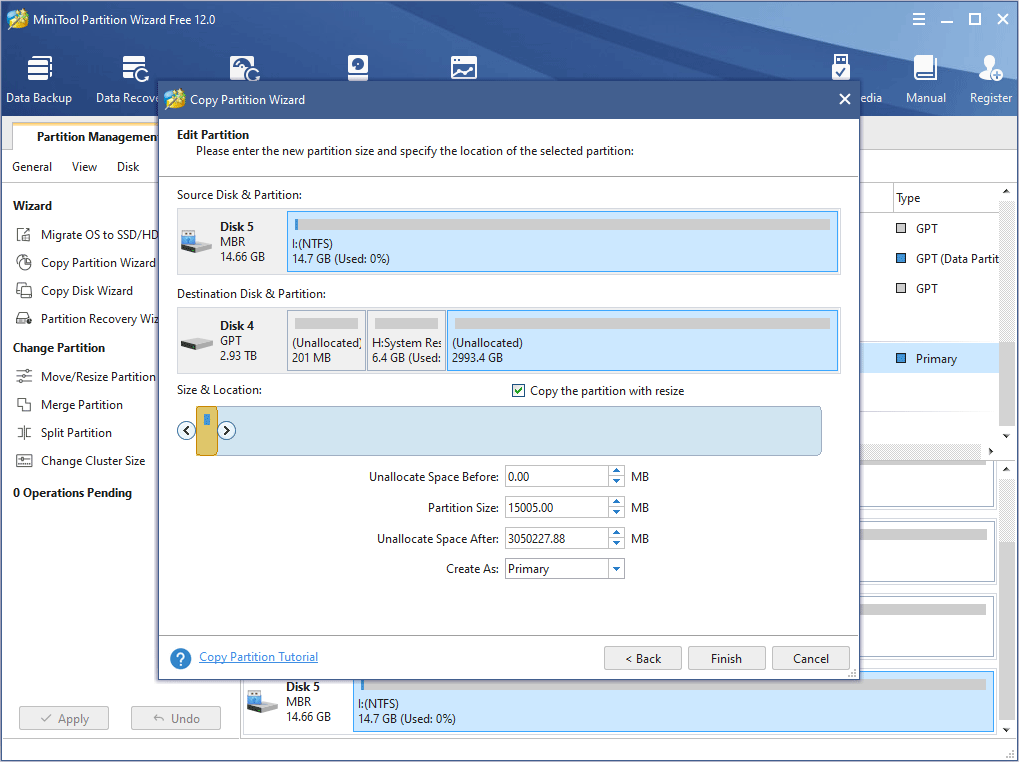 Step 4: Preview and explore the new partition and click Apply button if it's OK.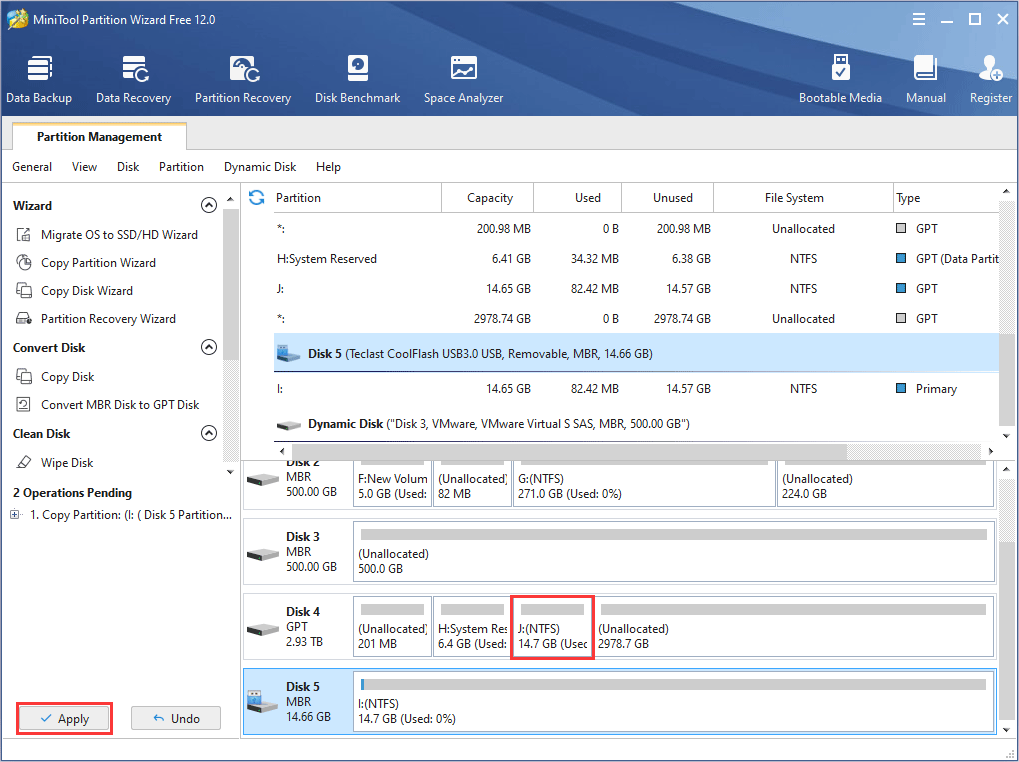 Then, you can flash your phone or format the original SD card. You can search for a piece of professional flashing software on Google. As for formatting SD card, you can use MiniTool Partition Wizard. This feature is also free.
Here is the tutorial.
Step 1: Right-click the SD card partition and choose Format in the main interface of MiniTool Partition Wizard.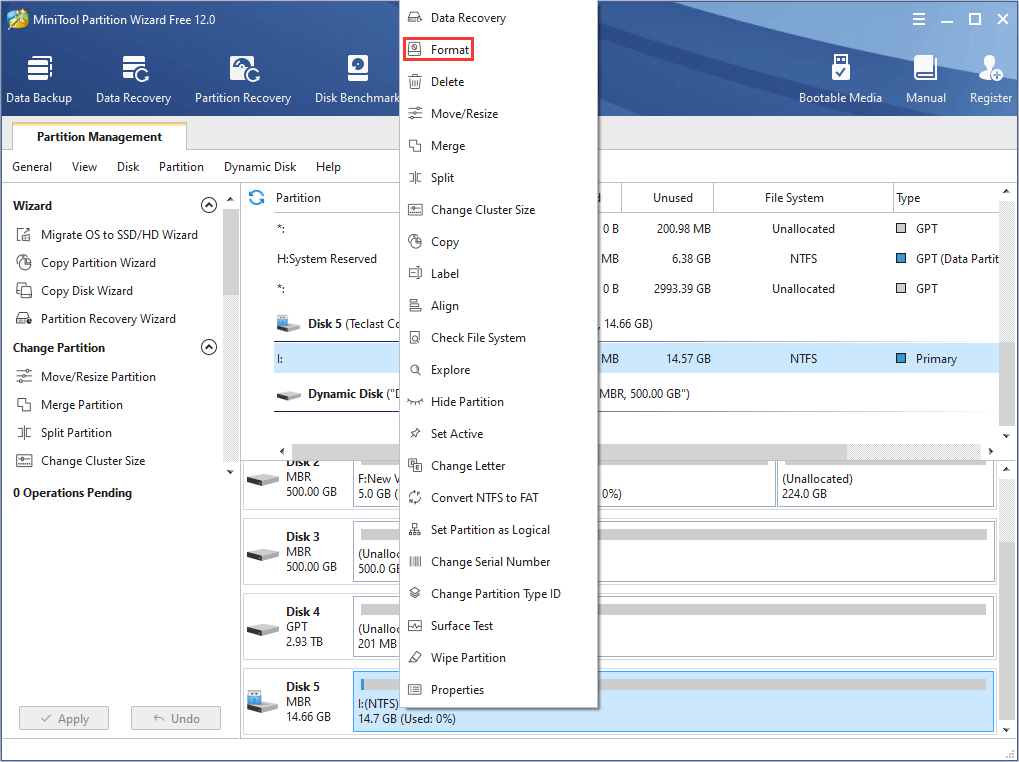 Step 2: Choose a proper file system and click OK on the pop-up window.
Tip: Android phone usually uses Ext4 file system. But you can choose one according to your actual situation.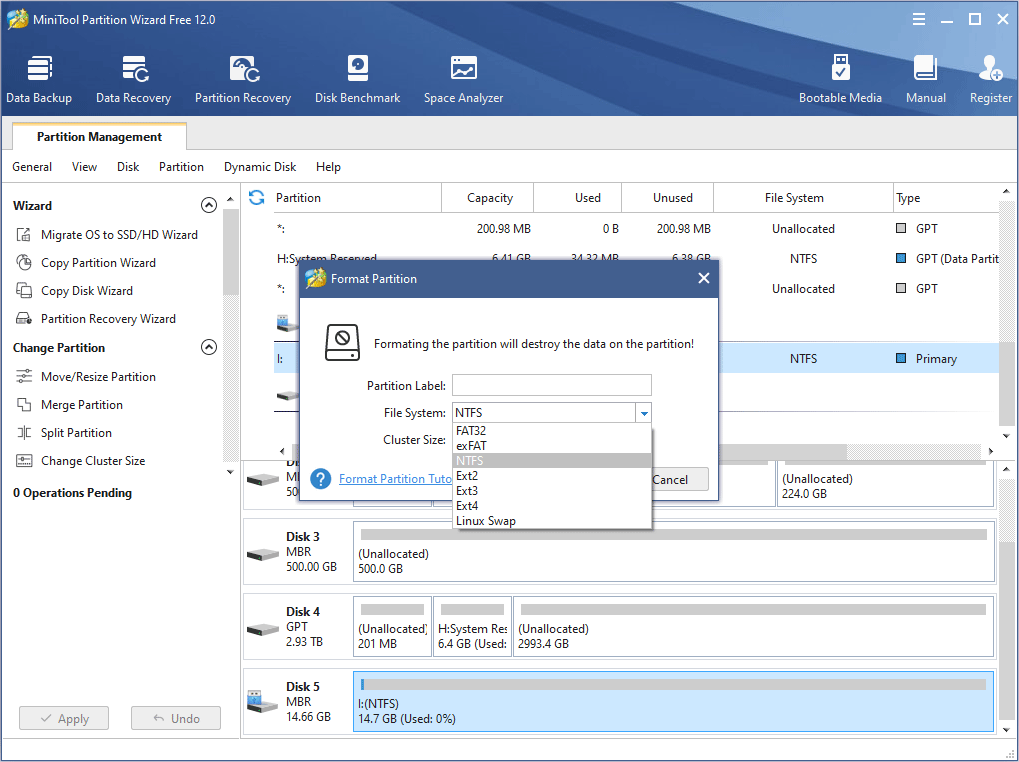 Step 3: Click Apply button to carry out the pending operations.
If the above methods can't help you solve the problem, you may have to contact the phone vendor to get some help.
Here are step-by-step guides on how to recover files from LOST.DIR. Besides, it will tell you how to prevent data loss caused by LOST.DIR.Click to tweet
Bottom Line
We really want to know whether the above methods can solve your problem. Please give us feedback. If you have any other methods for recovering LOST.DIR files or preventing LOST.DIR data loss, please leave a comment below for sharing.
Of course, if you have problem in completing the above method, please leave a comment below or email to [email protected] for help. We will reply as soon as possible.