You may see the error code 0x8024a105 when you run Windows Update. Do you know how to fix the Windows 10 Update error 0x8024a105? This post from MiniTool will show you how to fix the update error with top 7 fixes.
The latest Windows update usually fixes lots of vulnerabilities and severe exploits found in your version of Windows. So it is necessary to get the latest Windows 10 updates in time to protect your Windows PC from malicious attacks. However, sometimes you are unable to get the latest updates due to Windows update errors.
About the Windows Update Error 0x8024a105
One of the frequent Windows Update errors you may encounter is the error code 0x8024a105, which is usually caused by improper installation, a virus attack, corrupted or missing files.
For the error code 0x8024A105, the following message is all the information that Windows can provide.
There were problems downloading some updates, but we'll try again later. If you keep seeing this, try searching the web or contacting support for help. This error code might help: (0x8024a105).
And this error code is not listed in the Windows Updates error codes list. All you could find out about this error is that it is probably something related to the Automatic Updates client. Error code 0x8024a105 is one that usually appears during Windows Updates.
But don't worry that too much. In this post, I summarized top 7 fixes to help you troubleshoot the 0x8024a105 Windows Update error with detailed steps and screenshots. Now let's see what the fixes are.
Note: Before you try the following solutions, you can try some simple fixes firstly, such as restarting Windows 10, performing a virus scan. It is possible that these simple fixes can remove the 0x8024a105 Windows 10 update error.
Solution 1. Run the Windows Update Troubleshooter
Windows Update Troubleshooter can help you troubleshoot Windows update error code 0x8024a105. It is helpful when you come across various Windows update errors. So you can run this tool first to see if the troubleshooter can fix the error code 0x8024a105.
Step 1. Type troubleshoot in the Windows 10 Cortana search box and then click the best match Trouble shoot settings to open it.
Step 2. On the Troubleshoot window, click the Troubleshoot to expand the option.
Step 3. Then, click on Run Troubleshooter.
Step 4. Then click Windows update. You will find the option residing on the right side of the window.
Step 5. Click Run the troubleshooter.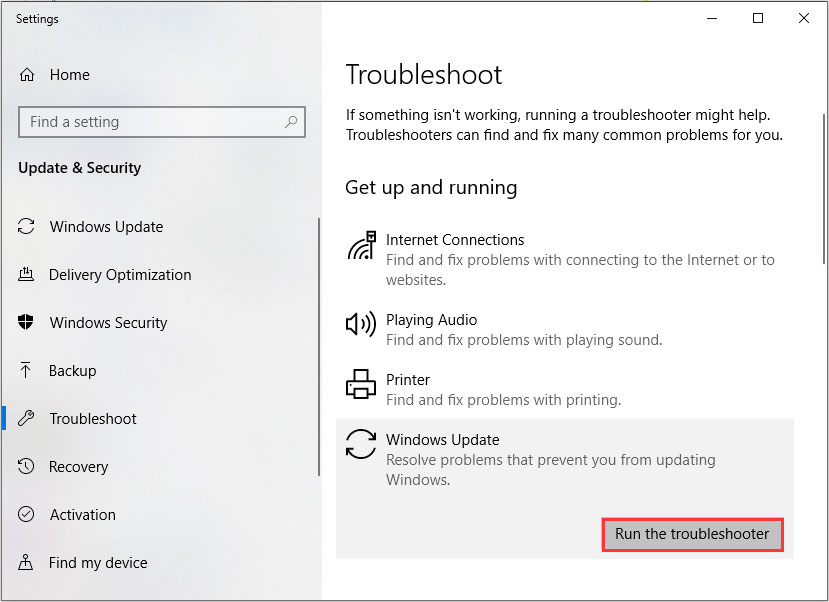 When the troubleshooter is launched, it starts detecting problems. The process won't be too long. When there are problems detected by Windows Troubleshooter, just follow the on-screen instruction to fix the problem.
When it is finished, try updating your Windows 10 again and check if the problem is resolved.
Solution 2. Check Your Internet Connection
Internet connection issue can also lead to Windows Update error 0x8024a105, thus you are unable to download the latest Windows update. So to fix this issue, you need to check your Internet connection.
Make sure your current Internet connection is normal. And then, switch your Internet connection.
If you are using a LAN connection, switch to Wi-Fi. If you are using Wi-Fi, try to connect to a wired connection, preferably using Category 5 cables. After switching connections, you can update Windows 10 again and check if the error code 0x8024a105 has been fixed.
If the problem still exists, then try the following methods fix Windows update error 0x8024a105.
Solution 3. Reset Software Distribution Folder
The Software Distribution folder is a folder used by Windows operating system to temporarily store files which may be required to install Windows Update on your PC.
Sometimes Software Distribution folder can cause issues with Windows update, and resetting it can fix the 0x8024a105 error in some cases.
Don't know how to reset Software Distribution folder? Here is how you can reset it.
Step 1. Input cmd in the Windows 10 Cortana Search box. Right click the best match Command Prompt and choose Run it as administrator.
Step 2. In the command prompt window, type the following commands one by one and hit Enter after each one.
net stop bits
net stop wuauserv
Step 3. Type Win+ R keys on the keyboard to open the Run dialog box. Then input the following command to open the Software Distribution folder on your computer.
C:WindowsSoftwareDistribution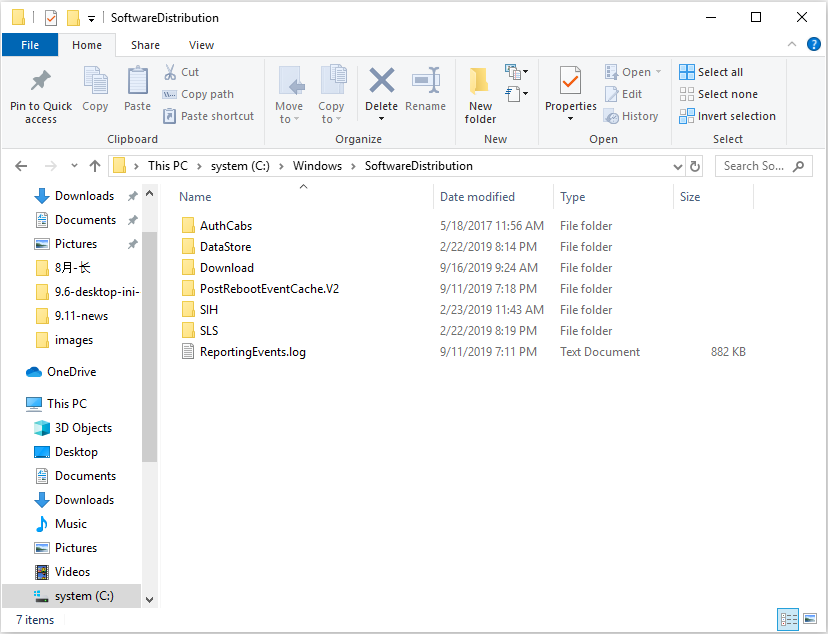 Step 4. Select all files listed in the Software Distribution folder and delete all of them by the right-click menu.
Note: You just need to delete all of the files found in the Software Distribution folder. Do not delete or rename the Software Distribution folder. It is safe to empty the content of the SoftwareDistribution folder, as Windows will always re-download all the necessary files if removed.
Step 5. Type the following commands in the Command Prompt (Admin) window.
net start bits
net start wuauserv
Step 6. Restart your PC and try to download Windows Updates again.
Once you completed the steps, Windows 10 will reconfigure the Software Distribution folder and re-download all the necessary files on its own.
If you find that Windows Update is not working properly or not working at all, you can try this way to fix Windows update error.
Solution 4. Run the DISM Tool
Deployment Image Servicing and Management (DISM.exe) is a handy command-line tool. It can be used to service and prepare Windows images including those used for Windows PE, Windows Recovery Environment and Windows Setup. The DISM tool will scan the system for corrupted files and try to fix the known issues.
Here are detailed steps on how to run the DISM tool.
Step 1. Input cmd in the Windows Cortana search box, right-click the top result, and select Run as administrator.
Step 2. Input the following DISM command to repair corrupted system files and press Enter.
dism.exe /Online /Cleanup-image /Restorehealth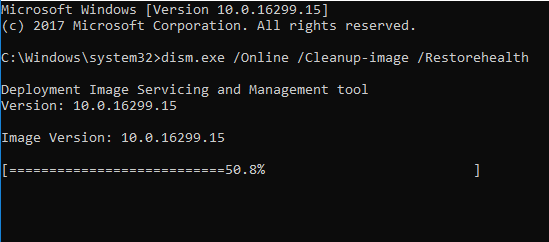 Solution 5. Perform a Clean Boot
Performing a clean boot can help you figure out if that Windows can't install the latest update with error code 0x8024a105 is caused by a software conflict. You can follow the steps below to perform a clean boot on Windows 10.
Step 1. Type Win+ R keys on the keyboard, and thus the Run dialog box will pop up.
Step 2. Input msconfig and hit Enter. The following interface will pop up.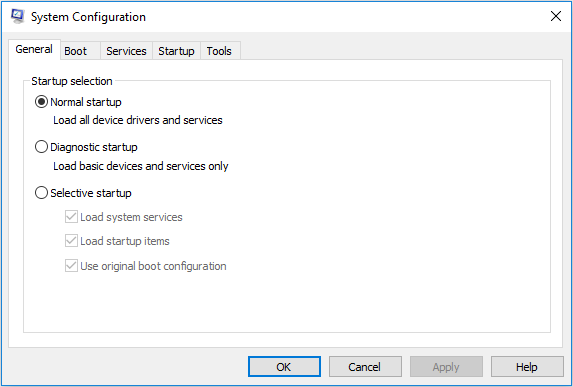 Step 3. Locate to the Services tab. Then check Hide All Microsoft Services and click Disable All.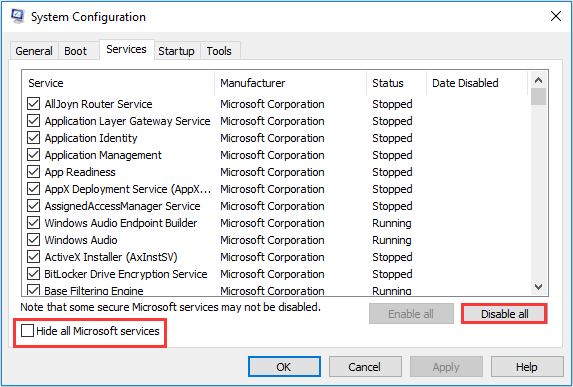 Step 4. Locate to the Startup tab and select Disable All. If there is no disable all option, you can click the Open Task Manager.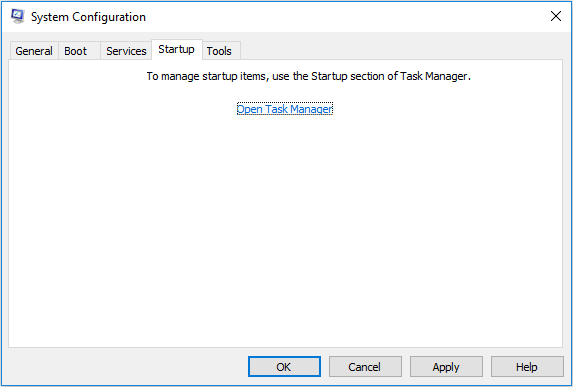 Step 5. Now select each task and click Disable one by one.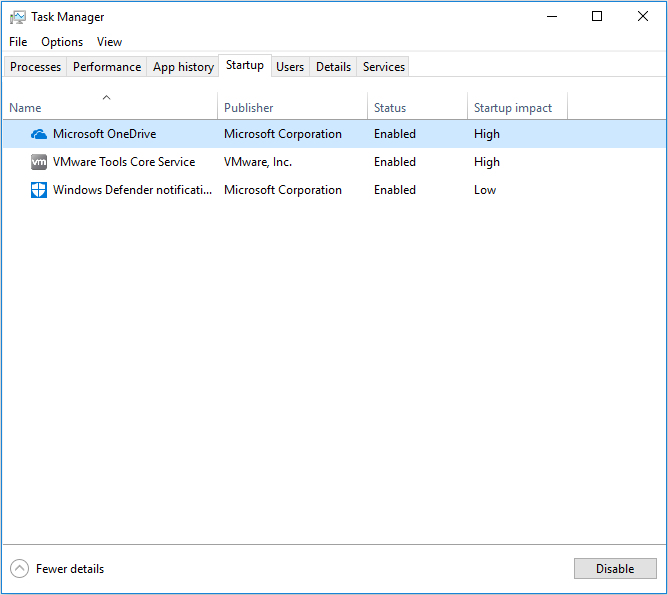 Step 6. Then restart your computer.
Tip: If the System Configuration Utility window pops up, check the option Don't show this message or launch the System.
Solution 6. Reset the Catroot2 folder
If none of the methods above worked, you can reset the Catroot2 folder to see if that can fix the Windows Update 0x8024a105 error code.
Step 1. Type cmd in the Windows 10 Cortana search box, and right click the best match to run the Command Prompt as administrator.
Step 2. In the Command Prompt window, type in the following commands:
net stop cryptsvc
md %systemroot%system32catroot2.old
xcopy %systemroot%system32catroot2 %systemroot%system32catroot2.old /s
Step 3. Then you can delete all of the files in your Catroot2 folder. Press Win + R keys on the keyboard to open the Run command and then type the following commands so you can open the Catroot2 folder.
C:WindowsSystem32catroot2
Step 4. Run the Command Prompt as administrator again and input the following command and hit Enter.
net start cryptsvc
Step 5. Then restart your PC and try updating your Windows once again.
If you come across Windows Update Error Code 0x8024a105 when trying to get the newest Windows update, you can follow the solutions in this post to fix the issue. However, if you have tried various methods but none of them worked, then you can always reinstall Windows 10 to eliminate Windows operating system issues.
Solution 7. Reinstall Windows 10 to the Latest Version
The final fix is to reinstall Windows 10. And it is recommended to backup your system disk before the reinstallation as any mistaken operation may remove your personal data stored on the system disk in a sudden. To avoid this situation, it is strongly recommended to backup the system disk with a professional disk cloning tool.
Backup System Disk with Free Disk Cloning Software
You can follow the steps below to backup the system disk at first.
Step 1. Download MiniTool Partition Wizard Free Edition by clicking the following button. Install it on your computer and launch it to get the main interface.
MiniTool Partition Wizard FreeClick to Download100%Clean & Safe
Step 2. On the main interface, choose Copy Disk from the left action panel.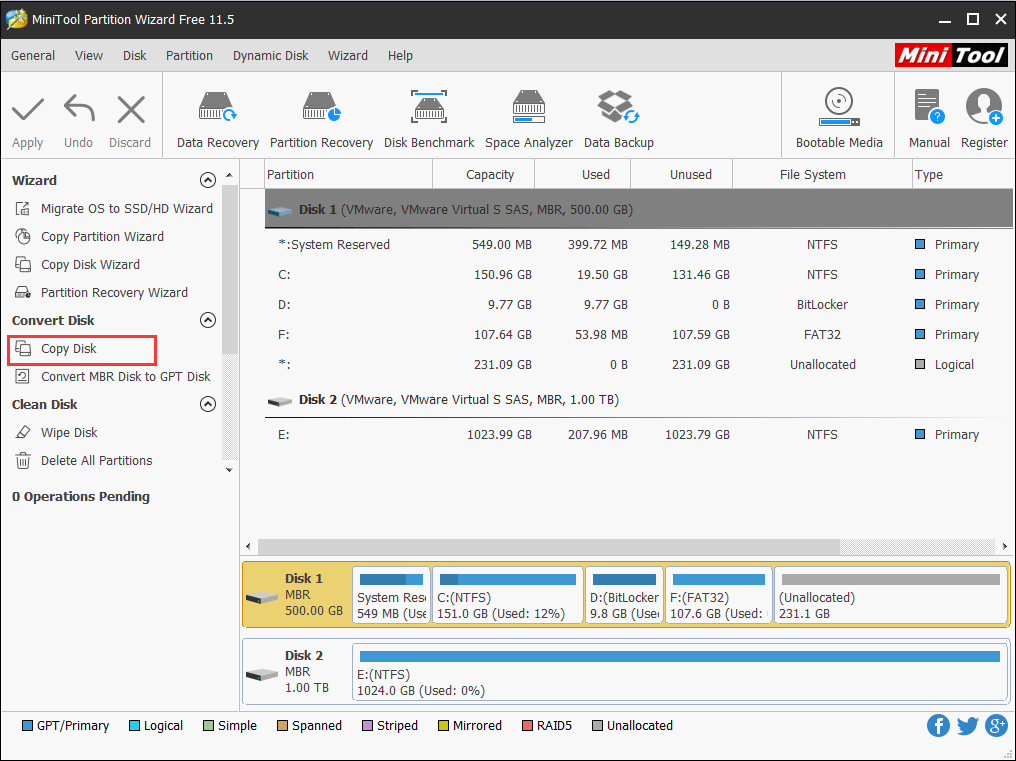 Step 3. Choose a target disk to copy the source content to and click Next. Make sure that you choose the right disk and go on.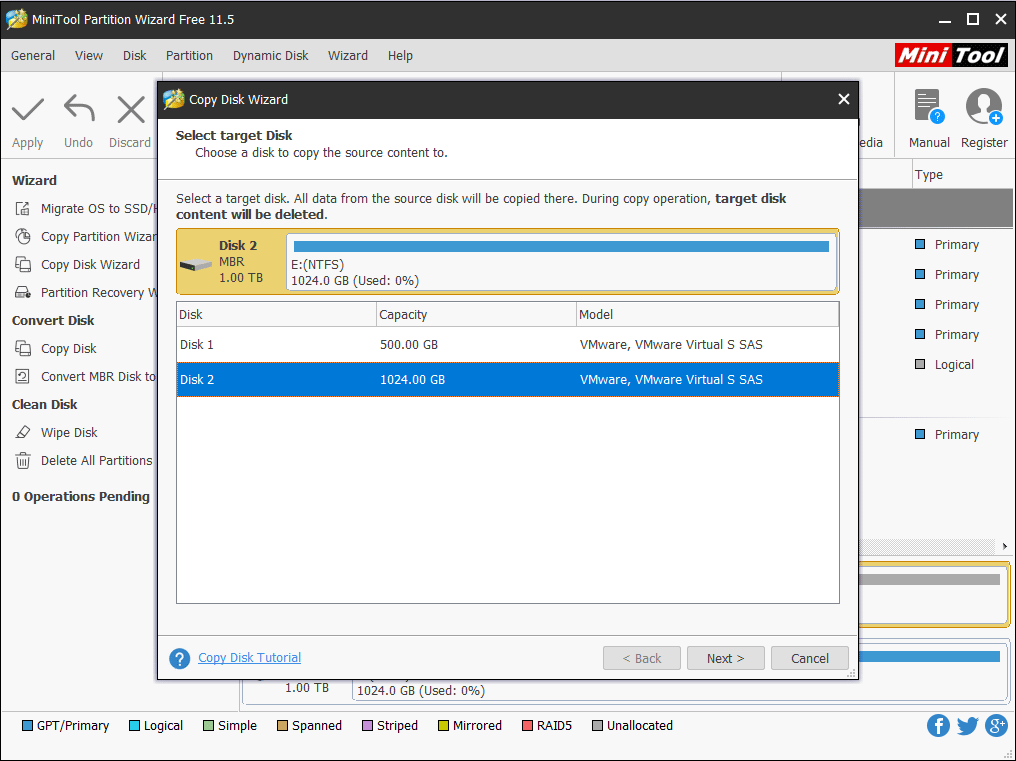 Note: All the data on the target disk will be destroyed, so make sure there is no important file on the disk or you have made backups in advance.
Step 4. Review the changes you are going to make and click Next to go on.
Step 5. Read the note which tells you how to boot from the destination hard drives. Then click Finish.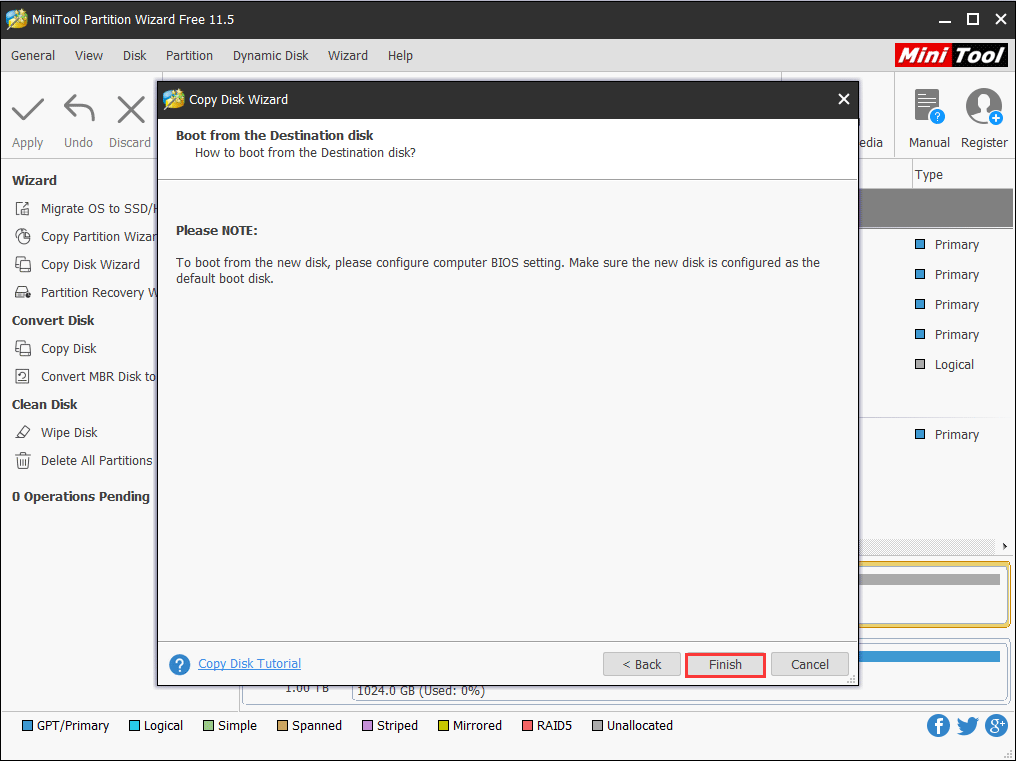 Step 6. At last, click Apply to allow the pending operations.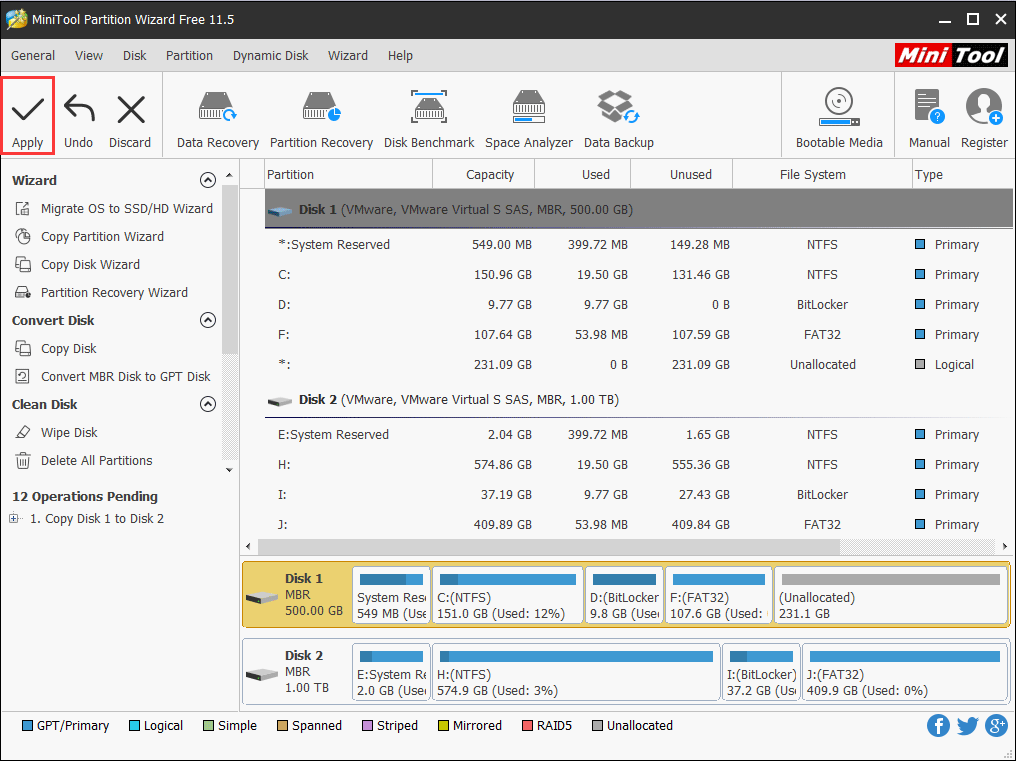 Tip:
If you do not have enough disk space to backup the whole system disk, you can use
Copy Partition
feature embedded in MiniTool Partition Wizard Free Edition to system partition and other essentials.
Reinstall Windows 10
After you backup system disk successfully, you can reinstall Windows 10 to the latest version of Windows 10 without worrying data. After reinstalling Windows 10, the Windows update error 0x8024a105 can be eliminated and your computer running speed can be boosted.
Step 1. Create a Windows 10 installation media USB drive with Windows 10 Media Creation Tool.
Step 2. Connect the Windows10 installation media USB drive to your computer and boot from it.
Step 3. Select your language preferences, and click Next button to continue.
Step 4. Click on Install now.
Step 5. Choose the latest Windows 10 version you would like to install and follow the on-screen instructions to finish the setup configurations.
Then just wait and let it install. When it's finished, you just need to log in with your account. After the reinstallation is completed, the error code 0x8024a105 shown in Windows Update should be removed.
By following the steps in this post, I successfully fixed the Windows update error 0x8024a105. I'd like to share this post with more friends who have the same issue.Click to Tweet
Bottom Line
When you try to run Windows Update to get the newest updates but receive the Windows Update 0x8024a105 error, you can refer the top 7 fixes summarized in this post to fix this issue at ease.
If you have a better solution, we are glad to have you share it with us. You can always leave a comment in the following comment zone when you want to share your opinion or you have some questions to ask. If you need any help when using MiniTool software, you can contact us via [email protected].