A large number of users want to edit hosts file in Windows 10. What is hosts file? Where to find Windows 10 hosts file? If you are also searching for the methods to edit hosts file, this post of MiniTool will walk you through a full guide.
What Is Hosts File
The hosts file is an operating system file on Windows PC that lets you map specific domain names to an IP address. As a plain text file, the hosts file was named HOSTS.TXT originally. Windows will use the hosts file each time when connecting over a network using a hostname. It's used to translate hostnames into numeric protocol addresses that identify and locate a host in an IP network.
The host file is a practical system facility that helps you addressing network modes on your network. With Windows 10 hosts files, you can use it to create a custom URL for IP addresses on your network. Besides, it can help you redirect certain websites.
Now, you may have an overall understanding of the Windows hosts file. Let's keep reading to know the host file location and the methods to edit hosts file.
Where to Find Windows 10 Host File Location
In order to edit the hosts file in Windows 10, it is necessary to know where to find the host file location. Hosts file Windows 10 is stored in a plain text file in the Windows system folder that can be edited for various use cases.
Windows 10 host file is located in the C:\Windows\System32\drivers\etc\hosts path. For Windows XP and Windows Vista or Windows 7, you can find the host file location in C:\Windows\System32\drivers\etc. If you are using Windows 2000 or Windows NT, you can find it in C:\winnt\system32\drivers\etc.
How to Edit Hosts File in Windows 10
On a specific computer, editing host file Windows 10 allows you to override the DNS (Domain Name System) for a domain. This operation involves 2 entries and each entry contains the IP address that you want the site to resolve and a version of an Internet address.
How to edit hosts file Windows 10? Many users receive the error message "You don't have permission to save in this location" when editing the hosts file. To edit the hosts file in Windows successfully, you can follow the steps below:
Step 1. Type notepad in the Windows search box, and then right-click the Notepad app and select Run as administrator.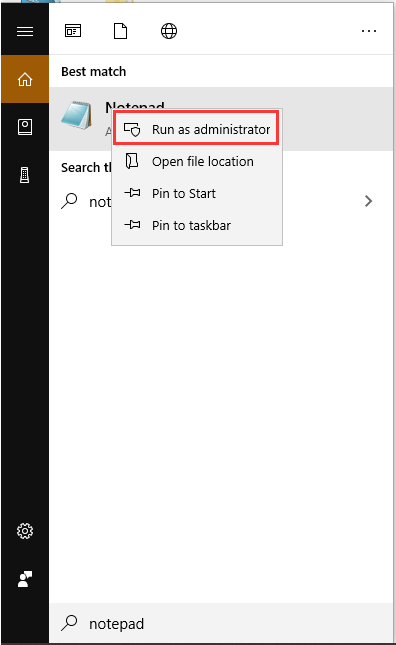 Step 2. In the Notepad window, click on File and select Open from the context menu.
Step 3. In the File name field, paste the following path on it and click on the Open button.
C:\Windows\System32\drivers\etc\hosts
Step 4. Now, you can edit the hosts file in the Notepad. After you complete the editing, press Ctrl + S keys to save the changes. To map a specific domain, you can add a line based on the following examples in the hosts file.
Start with the target IP address, and then type a space and the domain name. Redirect it to 127.0.0.1 if you want to block a website.
Note: If you want to take it into effect, don't enter the #.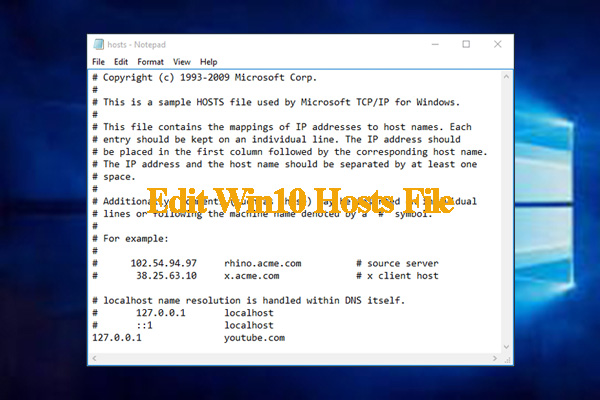 Step 5. After that, restart your computer to make the new hosts file take effect.