This article is going to introduce a kind of SSDs with colorful lights when they are connected to motherboards. They are called RGB SSDs. Also, it will teach you how to replace your old hard drive with these cool storage devices. Find more related information on MiniTool partition manager official site.
RGB SSDs refers to solid-state drives with RGB (Red, Green, and Blue) color model lighting. They are mostly used to play video games by gamers to create cool lighting.
About RGB Color Model
According to Wikipedia, the RGB color model is an additive color model, in which red, green, and blue light are added together in various ways to reproduce a broad array of colors. The name of the color model comes from the initials of the 3 additive primary colors red, green, and blue.
In general, the RGB color model is mainly used to sense, represent, and display images in electronic systems like TVs and computers. Also, it is applied to conventional photography. Early before the electronic age, the RGB color model already had a solid theory based on the human perception of colors.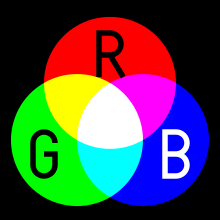 The RGB color model is device-dependent. That is to say, different devices detect or reproduce the same RGB value differently. This is because the color elements, like phosphors and dyes, and their response to the individual R, G, and B levels vary from manufacturer to manufacturer. Even for the same device, it detects and reproduces a given RGB value differently over time. Therefore, an RGB value doesn't define the same color across devices without some kind of color management software.
The common input devices of the RGB color model include television cameras, video cameras, digital cameras, and image scanners. The typical RGB output devices are various-technology of TV sets (CRT, LCD, OLED, plasma, quantum dots, etc.), computer monitors, mobile screens, video projectors, multicolor LED displays, as well as large screens like Jumbotron. Color printers, however, aren't RGB devices; they are subtractive color devices of typically CMYK color model instead.
Related article: Full Introduction to CORSAIR K55 RGB Gaming Keyboard
Common RGB SSDs
Many kinds of SSDs take advantage of RGB SSD covers to make themselves more attractive for buyers. And, the common ones are below.
1. T-Force Delta RGB SSD
T Force RGB SSD is manufactured by TeamGroup. It provides 250GB, 500GB, and 1TB all three capacity choices for users to choose from. This TForce SSD should be connected to the motherboard by a 5V ADD header for proper usage.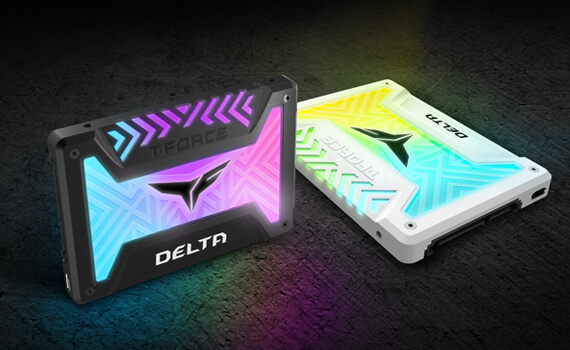 T-FORCE DELTA RGB SSD (5V) is equipped with the largest RGB luminous area in the industry with a ratio of 5:3. Users are able to customize the lighting to express themselves. It allows gamers to set up different light color effects according to different situations, so the status of the system can be noticed immediately through the changes of light effects.
Also, the Team Force Delta SSD the first RGB hard drive with a water flow light effect in the industry; the light effects can be synced with the motherboard. This kind of SSDs presents a magnificent mix with water flow light effects to maximize the variability of color. They offers 16.8 million RGB colors with a configurable mixed color lighting effect.
Using the SATA III 6Gbps interface, T-Force Delta RGB SSD's read speed can reach up to 560 MB/s. adopting the industry-standard 2.5" form factor with only 9.5mm in height, it is suitable for gaming laptop or desktop, and the upgrade can be done easily.
Moreover, this type of SSDs supports multiple kinds of color management software including Asus Aura Sync, Gigabyte RGB Fusion 2.0, MSI Mystic Light Sync, ASRock Polychrome Sync, Biostar Advanced VIVID LED DJ, TT RGB Plus, and Razer CHROMA software. Those lighting controlling programs enable players to control lighting effects and lighting synchronization with T-Force Delta SSD (5V).
Other RGB solid state drives of T-Force Gaming:
Delta S RGB SSD (12V)
Delta TUF Gaming Alliance RGB SSD (5V)
2. HyperX Fury RGB SSD
HyperX RGB SSD is developed by HyperX, the high-performance product division of Kingston Technology and the world's largest independent memory manufacturer. The drive features a smooth, stunning light bar to give your computer a dash of dazzling RGB lighting. It can daisy chain to other RGB devices to sync colors and effects, and its lighting is customizable via motherboard RGB control software mentioned above.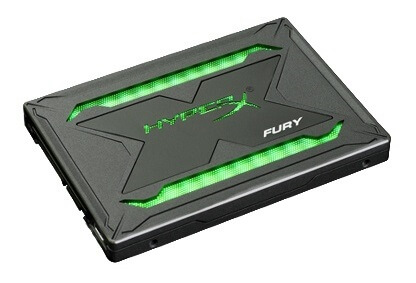 Adopting cutting-edge 3D TLC NAND and a Marvell controller, this HperX SSD owns super-fast sequential read (550 MB/s) and write (480 MB/s) speed. Also, those technologies make the drive more durable and efficient.
With dazzling and dynamic RGB effects, this 2.5-inch portable SSD offers 240GB, 480GB, and 960GB for its users. It makes use of SATA Rev. 3.0 (6Gb/s) with backward compatibility to SATA Rev. 2.0 (3Gb/s).
3. GIGABYTE AORUS RGB SSDs
The Gigabyte Aorus RGB SSD comes in 2 form factors, AIC (add-in card) and M.2.
This NVMe RGB SSD has two storage sizes: 512GB and 256GB. Equipped with the new NVMe interface controller, Aorus RGB M.2 NVMe SSD 512GB delivers blazing sequential read (up to 3,480 MB/s) and sequential write (2,000 MB/s) speed. With M.2 slots are common on modern motherboards, you are able to easily install this small hard drive and enjoy smooth gaming streaming and graphics-intensive rendering.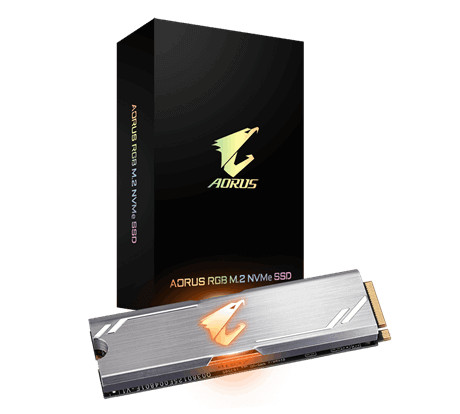 This first industry M.2 RGB SSD can sync perfectly with motherboards. It supports several lighting effects including static, flash, double flash, and color cycle. With an integrated user interface, the RGB Fusion gives you a better solution to customize the lighting effects across all supported devices, motherboards, graphics cards, and other peripheral products. Besides, the new gaming mode makes the lighting effects interact with selected games to bring you the most immersive gaming experience.
AORUS RGB AIC NVMe SSD (1TB/512GB)
Also, with the NVMe interface, the Aorus RGB AIC NVMe SSD 1TB delivers stunning sequential read (maximum 3,480 MB/s) and write (maximum 3,080 MB/s) speed, which is up to 6 times faster than SATA SDDs. While, the heatsink keeps controller and memory temperatures low and ensures SSD performance will not be compromised.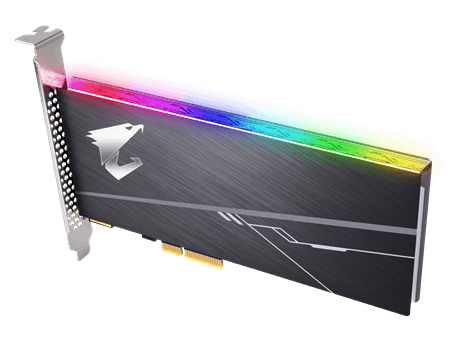 Besides, to get a better heat dissipation, this AIC SSD makes use of the following new standards of thermal engineering:
High conductivity thermal pad on both sides ensure heat dissipation.
High-density aluminum heatsinks take away heat quickly.
The unique design of the light diffuser generates a smoother lighting effect.
This AIC PCIe SSD adopts RGB Fusion 2.0 and has supports 5 exclusive lighting modes including static, pulse, flash, double flash and color cycle. Get this worldwide first RBG AIC SSD to enjoy Xtreme gaming performance!
With M.2 2280 form factor, PCI-e 3.0 x4, and NVMe interface, KLEVV RGB hard disk gives gamers, overclockers and enthusiasts an ideal environment with colorful RGB lighting. Also, users can customize the light effect via sophisticated thermal control features.
This KLEVV RGB SSD is compatible with many kinds of RGB controlling applications from Asus, Gigabyte, MSI, ASRock, and Razer, as mentioned in the above content.
Adopting SLC (Single Level Cell) caching algorithm, CRAS C700 SSD improves drive durability and performance greatly. Also, it contains the built-in S.M.A.R.T (Self-Monitoring, Analysis, and Reporting Technology) for maximized reliability. Using LDPC (low-density parity-check) ECC (error-correcting code) Engine, this RGB SSD achieves greater data retention and more reliable data protection than ever before.
Through many tests, CRAS C700 RGB can read data at a speed up to 1,500 MB/s and write up to 1,300 MB/s. Adopting Global Wear Leveling and 10-year PCB (printed circuit board), you can use the SSD for a longer time no matter which capacity you pick, 240GB, 480GB, or 960GB.
Compare and Make Your Choice
Then, let's compare the 5 RGB SSDs that have been introduced carefully in the above, and find out which one suits you most. Then, you can purchase one and upgrade to it to start your whole new journey of gaming!
SSD Type
Capacity
Max. Speed
Interface
Dimensions LxWxH
Weight
T-Force Delta RGB SSD (5V)
Read 560Mb/s
SATA 6Gb/s
2.5"

250GB: 2.82 ounces
500GB: 3.52 ounces
1TB: 5.60 ounces

HyperX Fury RGB SSD

Read 550 Mb/s
Write 480 Mb/s

SATA 6Gb/s
2.5"
5.80 ounces
Gigabyte AORUS RGB M.2 NVMe SSD

Read 3480 Mb/s
Write 2000 Mb/s

3.15 x 5.12 x 1.18 inches

256GB: 8.80 ounces
512GB: 4.30 ounces

Gigabyte AORUS RGB AIC NVMe SSD

Read 3480 Mb/s
Write 3080 Mb/s

9.84 x 6.69 x 1.57 inches

512GB: 11.9 ounces
1TB: 28.16 ounces

KLEVV CRAS C700 RGB SSD

Read 1500 Mb/s
Write 1300 Mb/s

3.12 x 0.94 x 0.87 inches
/
Upgrade to the RGB SSD You Like
After learning the 4 brands of RGB SSDs in the above, are you excited about the cool color effects they provide? Then, why not upgrade your current old hard drive to one of them to enjoy an optimized gaming experience as well as the dazzling light?
Yet, how to upgrade from one hard drive to another ensuring data integrity while system bootable? In such a situation, you will need a professional and reliable data and system migration programs like MiniTool Partition Wizard, which can quickly and safely transfer both your digital data and operating system (OS) from the old disk to new RGB SSD.
To make use of this powerful software, you should, first of all, download and install it on your computer. Then, connect your new SSD of RGB style to the machine.
Step 1. Launch Partition Wizard. In its main UI (user interface), select Migrate OS to SSD.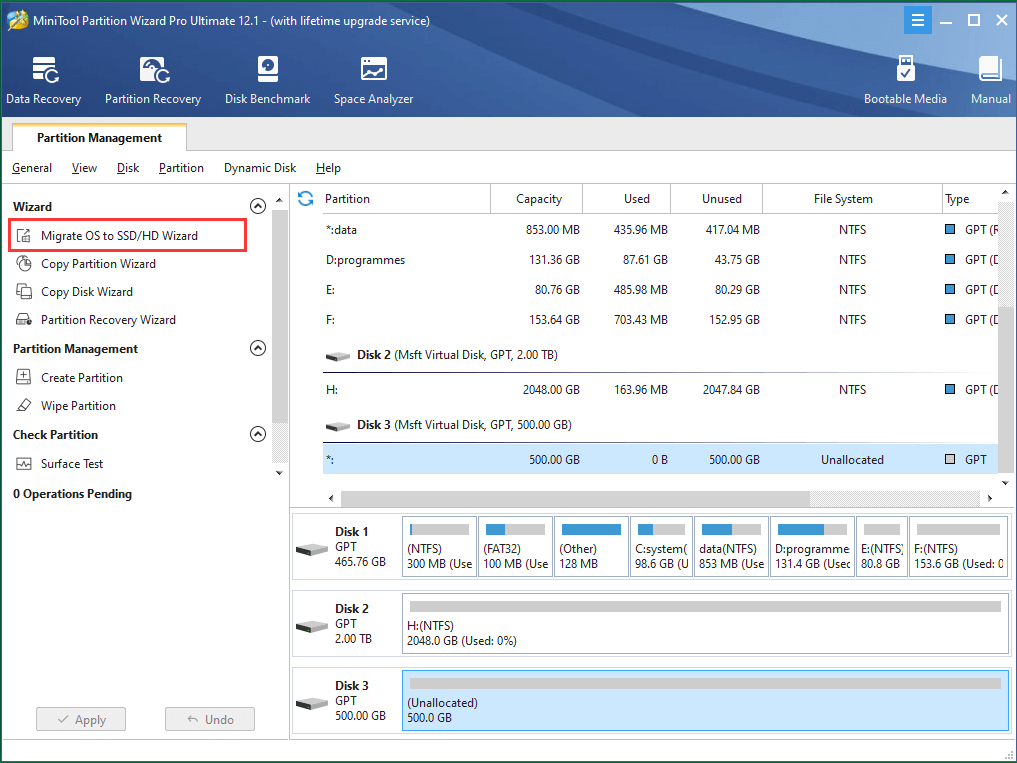 Step 2. In the pop-up window, choose the way to migrate your OS, completely transfer it to your new drive without leaving a copy on the original disk, or make a copy to the new drive while still keep the original system.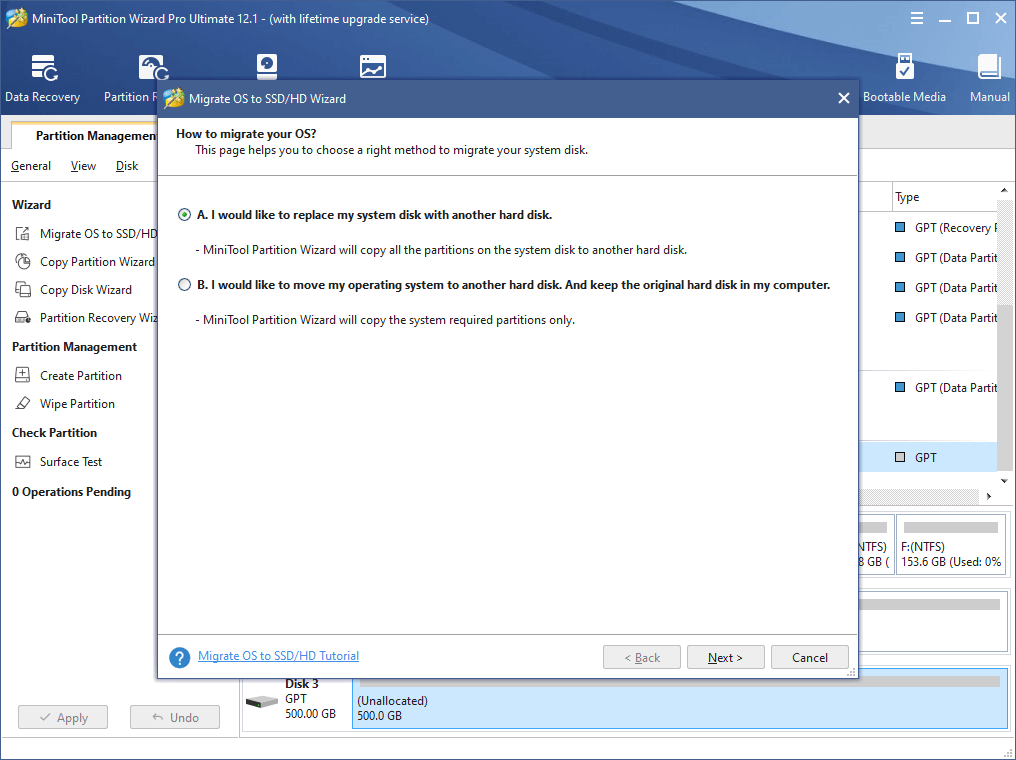 Step 3. Select your new RGB SSD as the destination drive.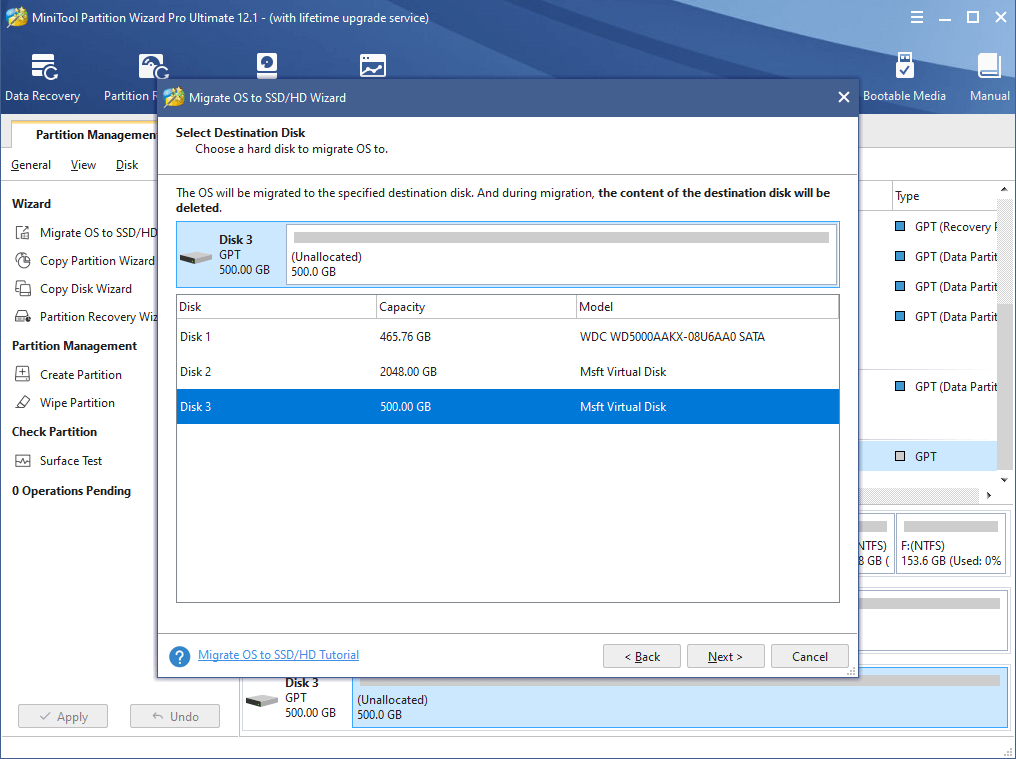 Step 4. Review the changes the system migration will bring to your new target disk. Also, you should choose an option of how to make use of the new disk space if it's larger than your source drive, either "fit partitions to entire disk" to use all its storage, or "copy partitions without resizing" to only use the same capacity of the new disk as the original hard drive.
Step 5. Read the reminding message. Since you are going to boot from the new drive, you have to set the new disk as default boot media in computer BIOS settings.
Step 6. Preview the changes to the destination disk. You can also see the operations the program will carry out in detail under Operations Pending. Finally, confirm them by clicking Apply in the lower left.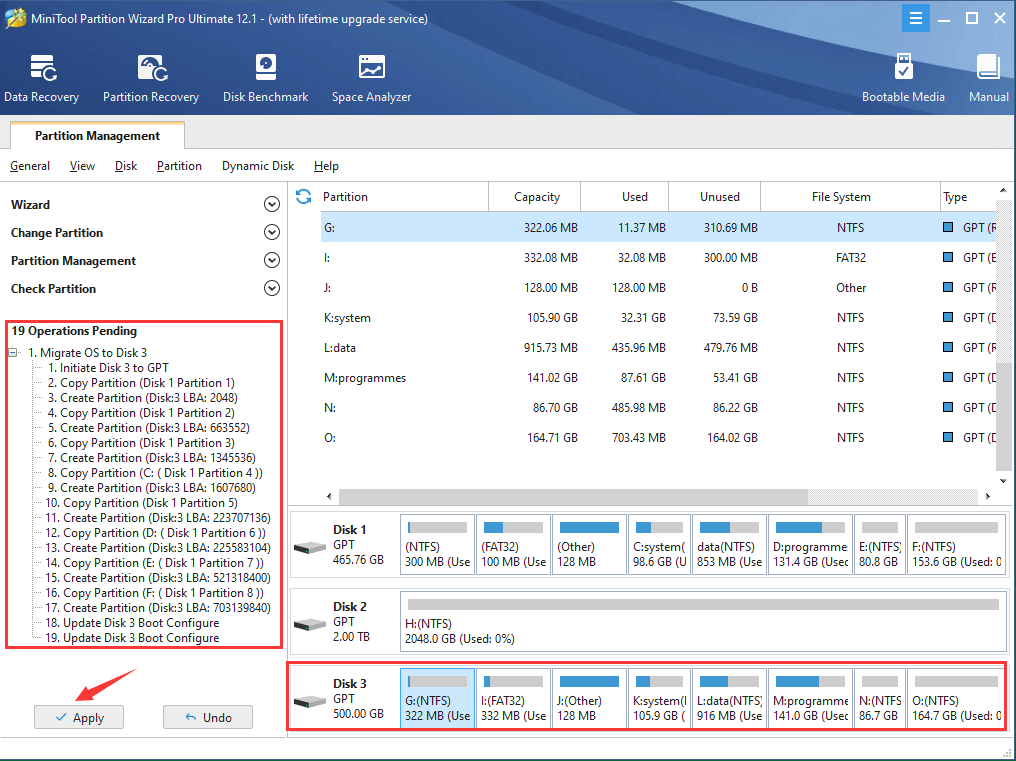 Wait until it finishes. It won't take too long and the time it costs you to complete the task depends on how much data it will migrate. Yet, DO NOT interrupt it during the process. Otherwise, you may cause damage to your system or files.