What is the best free drive copy software? MiniTool Partition Wizard is the best hard drive cloning software which can be used to clone hard drive easily and safely. Download the free cloning software now and have a try!
Why Clone Hard Drive?
Disk cloning is very useful in hard drive management. Simply put, disk cloning copies the complete contents of a hard drive, including the files, the partition tables and the MBR to another location.
It is worth mentioning that when you clone a hard drive, both the source disk and the target disk can be used directly, which is regarded as a simple, direct duplicate (however, cloning is different from copy & paste, check Clone VS. Copy & Paste for the detail).
In the following situations, you may consider hard drive cloning:
To upgrade to larger hard drive when the current hard drive is too small and cannot meet your data storage requirements any longer. For example, you meet the "low disk space" issue but all partitions are almost full.
To upgrade hard drive to more advanced SSD to enjoy smooth computer performance. This is extremely useful for those who want to upgrade system disk, as SSD offers faster read-write speed.
You have a batch of computers (with the same configuration) to be installed. To avoid installing all computers one by one, you can install only one at first and then turn to hard drive cloning software to save effort and time.
To make an exact hard drive backup. Through free disk cloning, you get a copy of disk backup and avoid the trouble of data restoration when the backup copy is needed.
So the conclusion here is that if you are upgrading your hard drive to a larger one, or replacing it due to a physical failure, cloning hard drive is the easiest method to complete that task. Besides, doing hard drive copy reduces the risk of any accidental data loss.
"You may consider hard drive cloning if any of the preconditions are true. And you will find the best cloning software in this post."Click to Tweet
Recommended Hard Drive Copy Utility
Since hard drive copy is significant, you must be wondering: which is the best freeware for drive copy? In my opinion, MiniTool Partition Wizard is the top recommendation. I will give you my explanation.
Developed by MiniTool Software Ltd., MiniTool Partition Wizard is regarded as the best drive copy software for Windows users, including those who are running 32/64 bits Windows 10, Windows 8, and Windows7.
As free drive cloning software, MiniTool Partition Wizard offers two ways to clone hard drives for hard drive upgrade or data backup, including "Copy Disk" and "Migrate OS to SSD/HD" (if you only want to clone the system).
All you have to do is put the new drive in the computer as a slave or secondary drive and use this disk copy software to clone the old drive to the new one. Once the process is complete, switch the new drive to the primary and then you are good to go (for hard drive upgrade).
Just press the button to have this free drive cloning tool downloaded! The free edition is flexible to copy any non-system disk; while to copy your system disk, you will need to upgrade to a more advanced edition. 
MiniTool Partition Wizard FreeClick to Download100%Clean & Safe
Tip:
For Windows Server users, MiniTool Partition Wizard Server Edition is the right choice. Please go to the
Online Store
to get a suitable edition.
Knowing what MiniTool Partition Wizard is, let's have a look on how to clone a hard drive by using MiniTool Partition Wizard. Here we just take clone hard drive Windows 10 for example, and MiniTool Partition Wizard Free Edition should be the right choice.
Note:
To use "Copy Disk Wizard", both the source disk and target disk must be basic disks.
The target disk will be cleaned during the cloning process. Please make sure it can be cleaned; otherwise transfer data out at first.
Step 1. Run MiniTool Partition Wizard to the main interface, then you can see all your hard drives connected to this PC are shown in the middle panel and some operable features are listed in the left panel. Now, select Copy Disk feature to clone hard drive.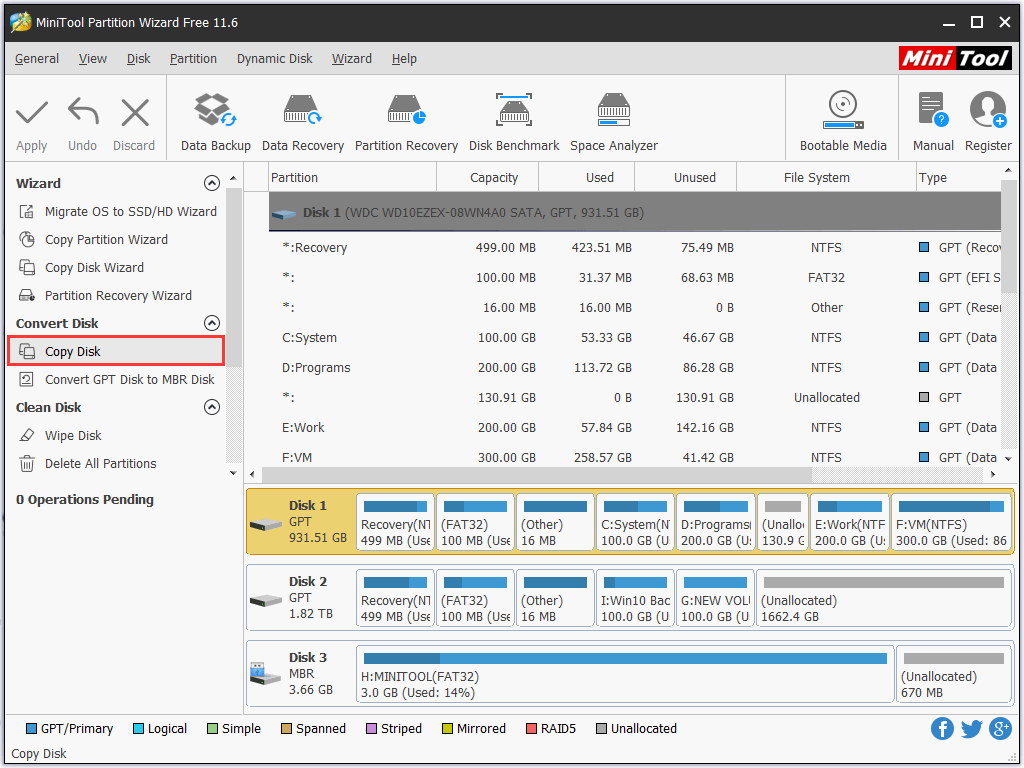 Step 2. Here you need to select the target disk (must be basic disk) and click Next to continue. Make sure you know which drive you are cloning to so you do not overwrite the wrong drive.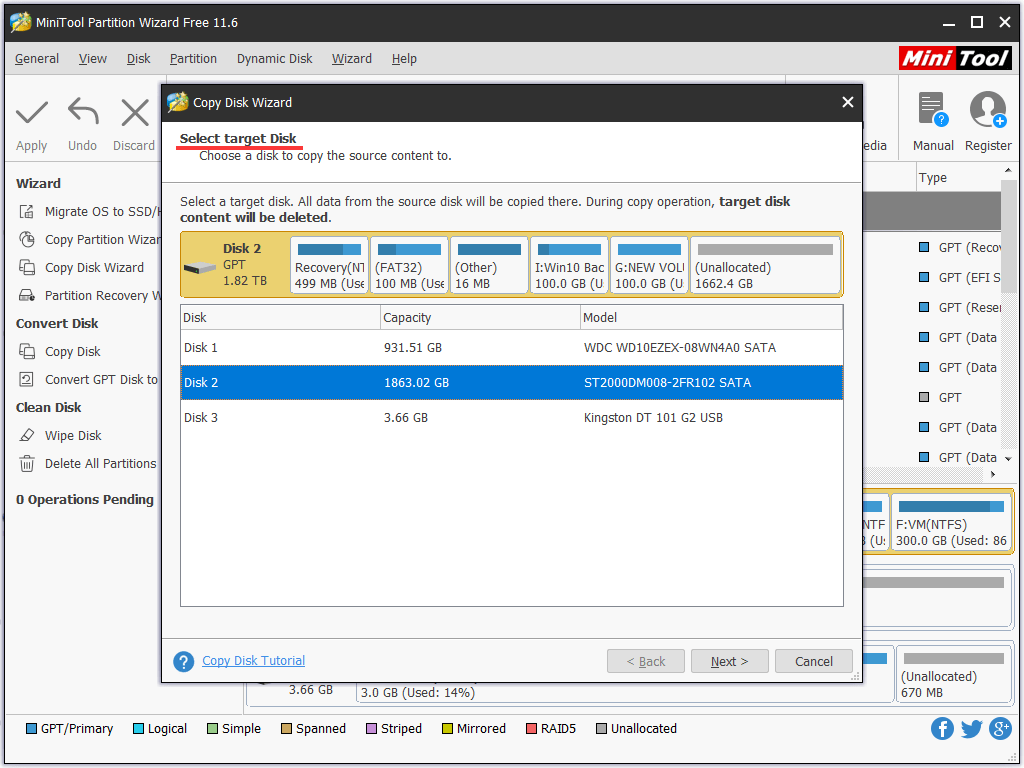 Step 3. Here come the copy options. If you are copying from a GPT disk, you are able to see 2 options. (4 options when you are cloning an MBR disk, see details here.) 
Fit partitions to entire disk: all partitions will be cloned to the target disk and take up its full capacity according to the partition size proportion.
Copy partitions without resize: all partitions will be cloned to the target disk according to the original partition size. This option is available when the target disk is large enough to hold all partitions on the source disk.
After you have made the copy options, you can customize each partition size according to your own preference. Then click Next to go on.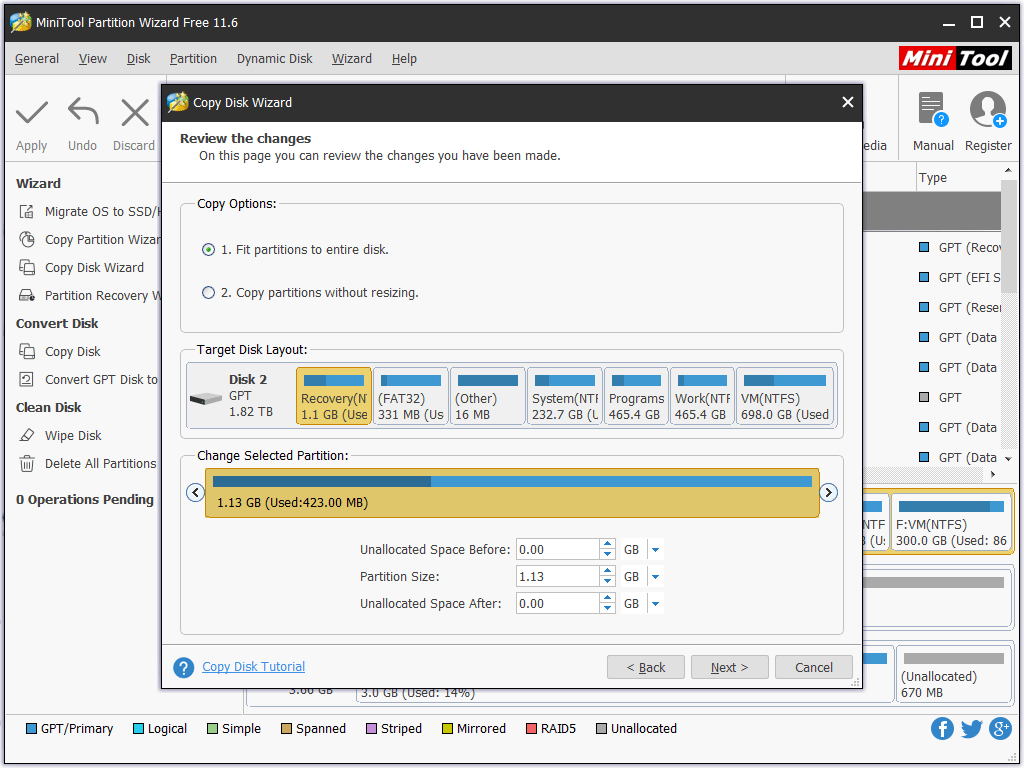 Step 4. Then you can see a note which reads "To boot from the new disk, please configure computer BIOS settings. Make sure the new disk is configured as the default boot disk." Please keep this in mind if you are cloning the system disk before you click Finish.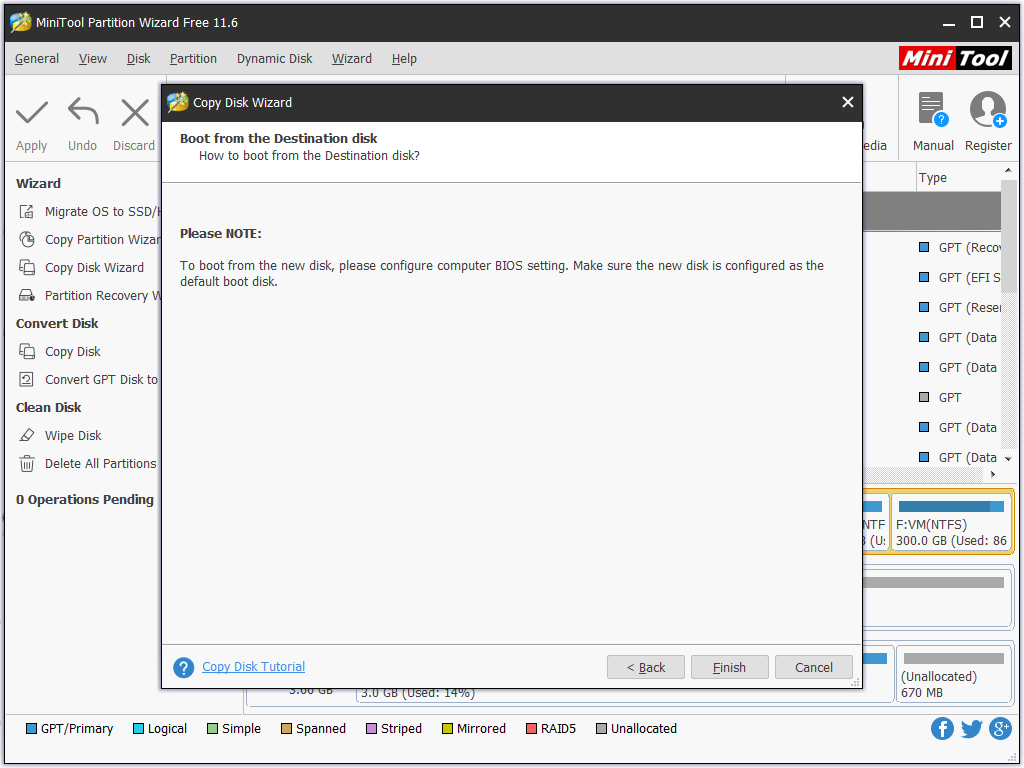 Step 5. Finally, you need to press the Apply button located on the toolbar to start hard drive cloning process. When finished, you will find all your files stay intact on the original drive and the target drive has an exact same copy.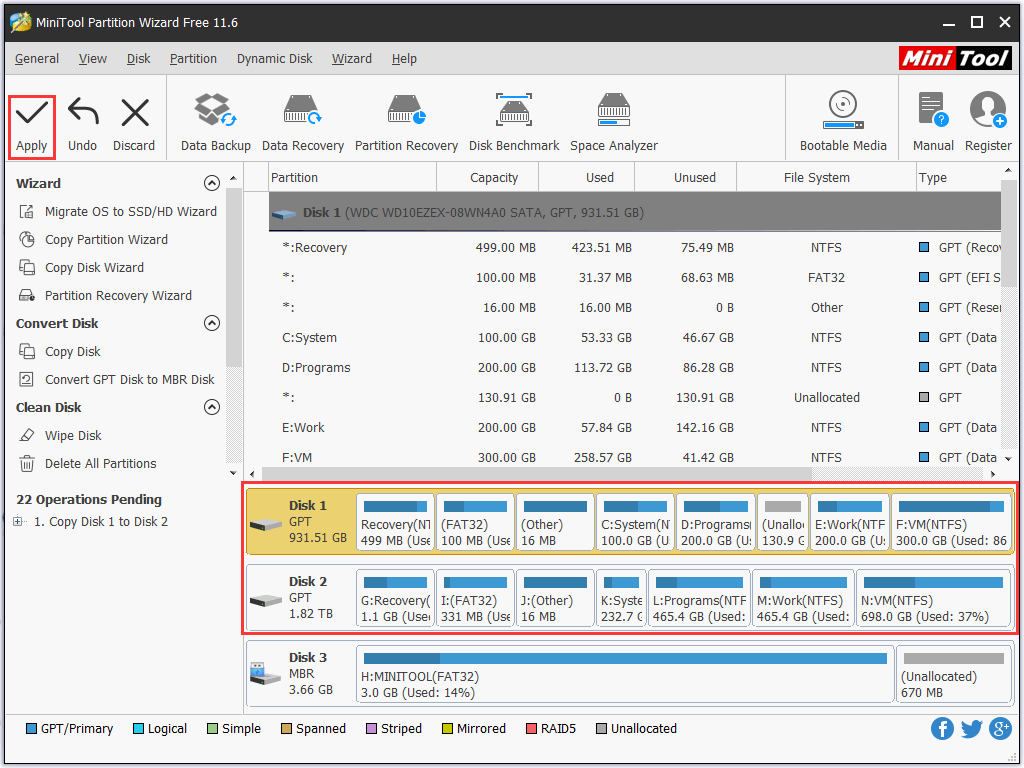 Note: Any operations related to system partition require a reboot, and the time to finish hard drive cloning is closely related to the data amount and your computer configuration. So please be patient and wait until Partition Wizard completes all operations.
For a more intuitive guidance, please watch this video:
Don't hesitate to have a try on this free cloning software now!
MiniTool Partition Wizard FreeClick to Download100%Clean & Safe
RECOMMEND:
Want to know more information about how to successfully boot computer from the new hard drive? Now, you can find answers from our previous post: 2 Ways to Boot from New Hard Drive after Copying Disk or Migrating OS.
"I used MiniTool Partition Wizard Free Edition and successfully cloned my disk to a new SSD. Recommend this tool to all of you."Click to Tweet
In fact, MiniTool also puts forward another free cloning software to clone hard drives which is called MiniTool ShadowMaker. Although it is mainly designed for Windows backup, it also comes with useful Clone Disk feature. To get the details of how to use this disk copy software, you are suggested to read Clone OS from HDD to SSD.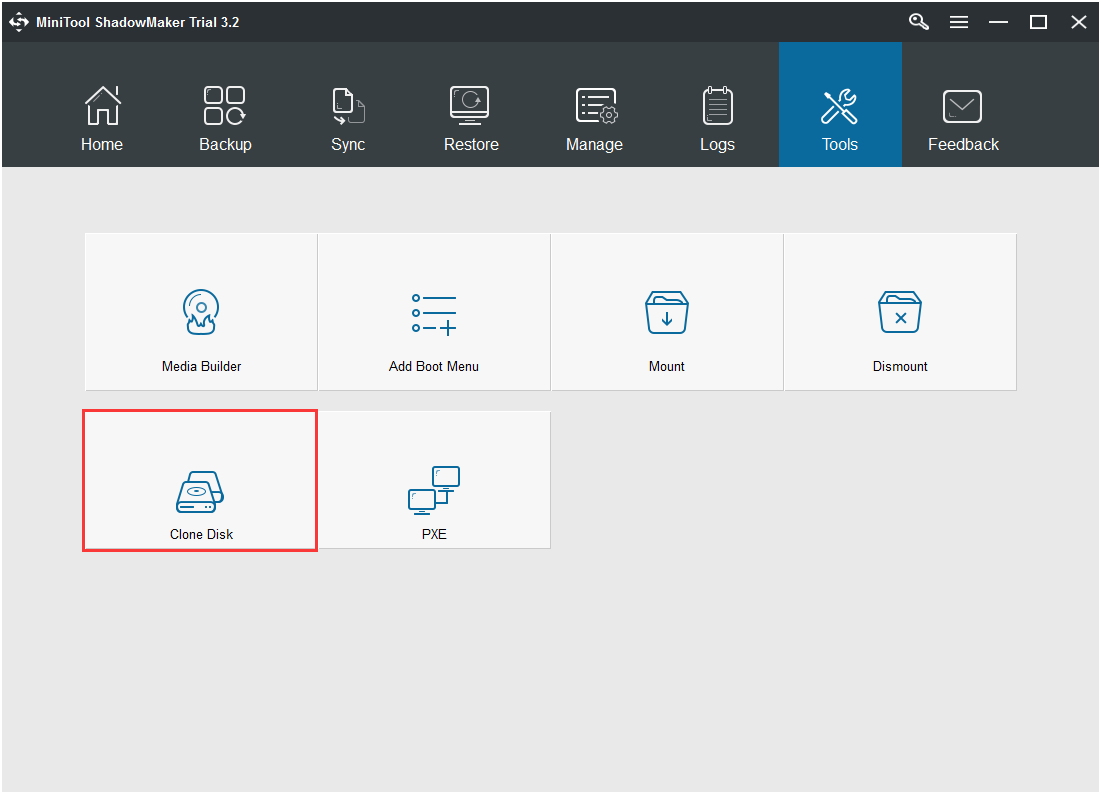 Tips for Cloning Your Hard Drive
Now you know how to clone hard drive by using MiniTool free cloning software. Here I would like to put forward some tips to help you deal with cloning issue better.
Don't just copy & paste files to another location on your hard disk if you are leading the operating system. Use professional disk cloning software like MiniTool Partition Wizard to help you.
Use another hard drive, especially an external hard drive for your backup copies, because there is less chance of losing/damaging computer and external hard drive at the same time.
At least one cloning copy should be kept well. Don't erase the current backup unless you are going to create a new one.
If you use your computer frequently, back up your data often. Having a recent backup is always good for data recovery. Apart from hard drive clone, professional disk imaging software is also recommended to save effort.
Further Reading: Cloning VS. Imaging
When dealing with backup issue, cloning or imaging is always the question asked by many users. Many people choose to make a disk image, while many prefer hard drive cloning. Before I state my opinion, I would like to start with cloning VS. imaging.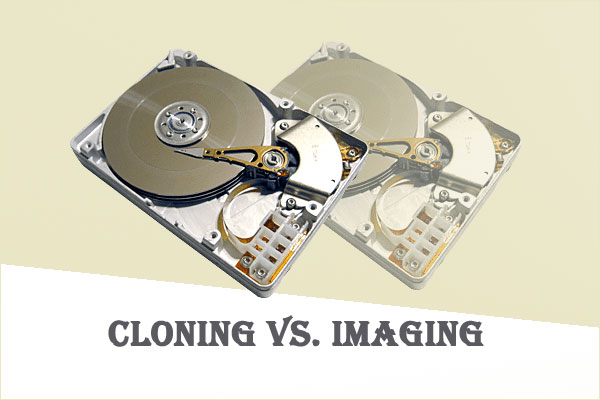 One may ask, "what the heck is the difference between cloning and imaging?"
Imaging is frequently used for preventative backup, which means you never know when you need the backup image for data restoration. Today most disk imaging software offer schedule backup feature, and you can set to back up files daily, weekly, or monthly. Besides, incremental backup and differential backup are provided, making it possible to save hard disk space.
If something bad happens, you can have the original image for restoration purposes without having to reinstall Windows and other applications.
Disk cloning is more significant for hard drive replacement or hard drive upgrading, which means probably you will use the destination disk right away. When you clone a hard drive, actually you are cloning the entire contents of the drive instead of creating an image file.
The only issue you need to concern is that you need to have another physical hard drive that is large enough to contain all data in the original drive. During the cloning process, all files on the target disk will be cleaned so be sure that you are operating the right disk.
The conclusion here is: although cloning and imaging both back up and restore data, whether to choose cloning or imaging all depends on what you want to accomplish. In a word, for frequent backup issue, imaging software is better; for hard drive upgrading issue, free hard drive cloning software should be given the priority.
Summary
In this post, I mainly tell why you need to clone hard drive, which tool is best for hard drive clone, how to use it to clone hard drive, the differences between cloning and imaging, and several tips on hard drive cloning. Hope all these information is helpful in dealing with your hard drive copy issues.
Now it's your turn to have a try. Just download the best free drive copy software and start cloning hard drive. I believe you can do everything smoothly as long as you follow this guide correctly. For any suggestions or questions towards using MiniTool software, please contact [email protected] or leave us comments below. Much appreciated!