Do you want to know how to get Windows 10 for free? If you want to get Windows 10 without buying it in Microsoft store, you can try the following methods. In addition, before you install Windows 10 on your PC, you may need MiniTool Partition Wizard to help you back up data.
If you buy a new desktop or laptop computer, it is almost guaranteed to come with a copy of Windows 10. However, some of you may like to build PC by yourselves. In this situation, you'll have to pay for a copy of Windows 10 yourself.
In addition, if you're upgrading from an older operating system, the issue of whether you have to pay for a newer version of Windows gets confusing.
To ease your financial burden, you can use the following methods to get Windows 10 for free.
Free: Run Windows 10 Without Activating It
You can get Windows 10 for free by installing and running it without activating it. Although you'll be nagged to activate your copy of Windows 10, and you won't be able to personalize your desktop, your system won't shut down after 30 days, nor will Microsoft lock you out of your apps or anything else crazy like that.

Although Microsoft reserves the right to prevent you from getting updates, or lock you out of other parts of your OS, it doesn't do this now and you can still get all of the latest Windows updates these days.
Free: Upgrade from an Older Version of Windows
When Windows 10 first debuted, Microsoft made a big deal about how users of its older operating systems could upgrade to Windows 10 for free. While Microsoft doesn't talk about that expired "promotion" anymore, you can also use this trick to upgrade to Windows 10 if you have ever run Microsoft's activation servers.
To upgrade to Windows 10, you just run Windows Update on your older version of Windows. If you're prompted to update to Windows 10, do that. Of course, you can use Microsoft's Update Assistant or Media Creation Tool to run your update.
Tip: Please make sure that you're updating Windows rather than wiping your drive and clean-installing a brand-new version of Windows 10. That should ensure that Windows 10 correctly gives you a free upgrade. You should also write down your Windows 7/8.1 product key before the upgrade, in case you need that to activate Windows 10.
Free: Be a Student
If you're a student and you can prove it via the OnTheHub service, you might be able to score a free copy of Windows 10's Education edition with no other strings attached. And Windows 10 Education is pretty similar to Windows 10 Enterprise.
In addition, if you are not a student, with an alumni email account, you still have the possibility of scoring some free Windows 10 only if you can sign into the school's web portal.
Discounted: Buy a Cheap OEM Key
The last method is to buy a super-cheap OEM key for Windows 10. You can get such keys all around the web. However, the issues with these keys are numerous.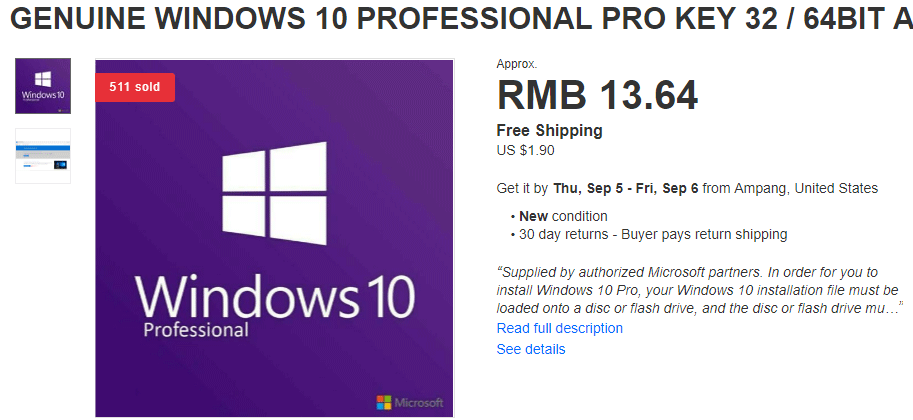 First, you're not technically supposed to be able to purchase these keys. You can get them just because someone is making a buck by selling you these keys that they acquired via some less-savory means.
Therefore, these keys may be unused volume keys, gray-market keys purchased in places where Windows 10 costs a lot less, stolen keys, etc. What's worse, these keys may have already been used or may be common keys found in a popular BitTorrent listing.
Second, your OEM key will lock to a single machine. Your key might no longer work if you do some drastic PC surgery like replacing your motherboard, although you'll still be able to get away with some reasonable upgrades, for example, a new graphics card, a different hard drive, or more memory.
If you do some drastic PC surgery, Windows will think you're trying to use the key on a different machine, and it will frown on that.
Finally, if you purchase a key from a not-so-legit place, it's very possible that your key might work only for a little bit of time because Microsoft could cancel it at any moment. You never know when you might get flagged, even if it's pretty soon after you purchase the key.