Have received the error message "file record segment is unreadable" when using the CHKDSK command line to check your SSD, western digital or another disk? Don't worry! Read this post, and we will show you four methods to save the disk data in case of unreadable file record segment.
CHKDSK Is Verifying Files File Record Segment Is Unreadable
Computer problems can happen occasionally, and some problems are just annoying but some are quite serious. Recently we have received many feedbacks from Windows users like CHKDSK segment unreadable:
"CHKDSK is verifying files <stage 1 of 5>
File record segment 24 is unreadable.
File record segment 25 is unreadable.
…"
Actually, this issue is very common in Windows 10/8/7/XP. It can happen on your SSD, Western Digital disk, etc. Perhaps you have ever encountered it or are still struggling to fix it. If you search the problem on some forums like Reddit and Tom's Hardware, you will find many users discussing this topic.
See an actual case:
"So my laptop stopped working so I put the hard drive in my desktop and upon startup, it asked for me to scan the new drive, so I let it. Now, this scan has been going on for about 14 hours (there are a LOT of unreadable file record segments)."tomshardware
Some of you may think this issue is related to a virus problem. In fact, it is due to a disk problem. The disk check process will test the inside consistency of each file record segment. If the hard disk contains some bad areas, CHKDSK file record segment is unreadable error will occur.
What's more, this error message certainly indicates hard disk is failing. How to fix file record segment is unreadable Windows XP/7/8/10? Here are a few things you should do right away.
Tip: In addition to the CHKDSK unreadable issue, some of you may report "file record segment is an orphan" or "deleting orphan file record segment". If you also encounter one, please search for solutions online.
File Record Segment Is Unreadable Fix Windows 10/8/7/XP
What if you are encountering file unreadable record segment? As a matter of fact, the file record segment unreadable error occurs because of the damaged disk. As is well known, there's no way to fix the physical damage on your hard drive, so you can only back up all important files and replace the problematic drive. In a nutshell, we collect four possible ways for you. Please keep reading and try them based on your needs.
Way 1: Perform CHKDSK to Shield Bad Sectors
When the CHKDSK segment unreadable issue happens to your disk, you can take measure to shield those bad blocks to continue using this hard drive.
Check Drive in Windows
1. Go to Windows Explorer, right click on the drive with unreadable FRS error message, and choose Properties.
2. Navigate to Tools tab and click Check from Error checking section.
3. Then choose Automatically fix system errors and Scan for and attempt recovery of bad sectors in Windows 7. If you are running Windows 8 and 10, these two options won't show up and you need to click Scan drive to continue by following the wizards.
Use CHKDSK CMD in Safe Mode
Tip: In Windows, there is a special part called Safe Mode that can be simply perfect for troubleshooting. When encountering the disk segment unreadable issue, we recommend you to enter the Safe Mode and then perform CHKDSK scan.
As you know, the ways to enter the Safe Mode are different based on different operating systems.
In Windows 7:
1. Press F8 during startup to open the Advanced Boot Options menu.
2. Select Safe Mode with Command Prompt. Later, the Command Prompt window pops out.
In Windows 8/10:
1. Hold the Shift key while clicking the Restart button. (If the PC can't boot, use a bootable disc to boot it and click Repair your computer to the next step.)
2. Go to Choose an option> Troubleshoot> Advanced options > Startup Settings > Restart.
3. After your computer restarts, you will see a list of options. And you need to press the appropriate key to select any version of the Safe Mode.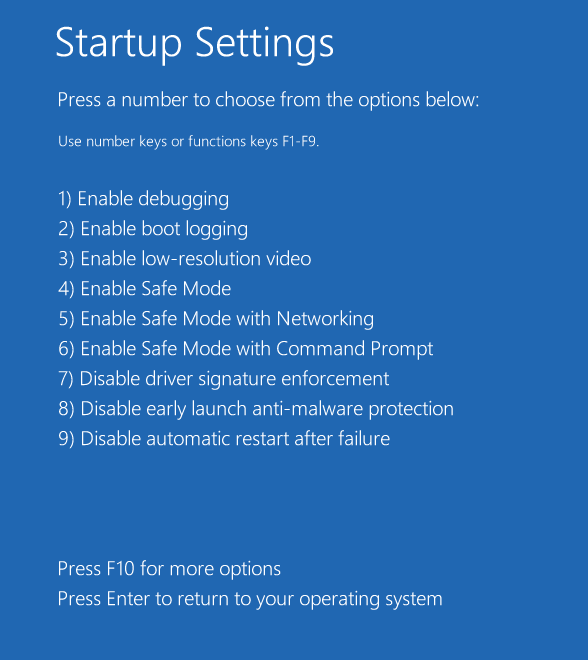 4. Later right click on the Start button to choose Command Prompt (Admin).
Finally, type chkdsk g: /r (g is the drive letter of the partition having unreadable file record segment issue) in the CMD interface on Windows 7/8/10 and hit Enter. Please wait for the process to finish.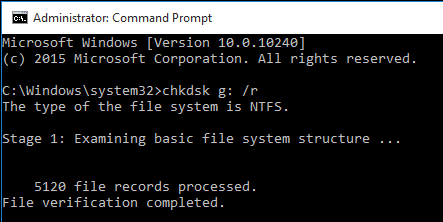 After finishing the scan and repair, the bad sectors have been shielded. Then, you can try the next way.
Way 2: Clone Your Hard Drive to a New One
There can be nothing worse than a failing hard drive since you may meet the risk of losing all crucial files in one go. If the hard disk is corrupted to a certain extent and you have shielded the bad areas, now it is your time to back up all disk data. This is quite important.
Here, it is advised that you should clone the target hard drive for a backup when encountering CHKDSK file record segment is unreadable in Windows 10/8/7/XP. As for disk cloning, it means creating an exact same copy of the source disk. After a clone, the data can be directly viewed.
Usually, a piece of hard drive cloning software would be needed to do this. Here, we highly recommend using MiniTool ShadowMaker.
As professional, reliable and safe disk cloning software, it is specialized in cloning a system disk as well as a data disk to another hard drive. Besides, it also supports migrating Windows to SSD without reinstalling the operating system.
Right now, download MiniTool ShadowMaker Trial Edition on your computer to start the disk cloning to protect the data security or get its Pro Edition for the cloning.
MiniTool ShadowMaker TrialClick to Download100%Clean & Safe
Tip: If your PC is unbootable, we suggest using the Bootable Edition of this software. Just create a bootable disc with Bootable Media to boot the PC and start a clone.
A step-by-step guide is here:
Step 1: Open MiniTool ShadowMaker in Windows 10/8/7/XP to enter the main interface.
Step 2: Under the Tools page, choose Clone Disk utility to continue.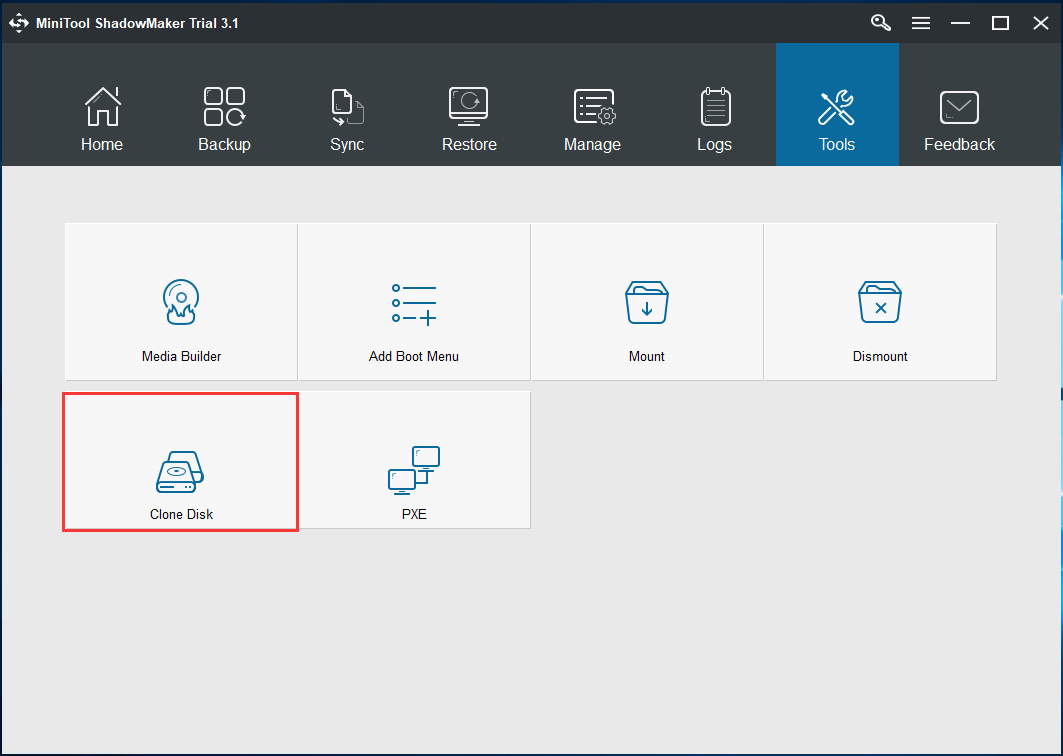 Step 3: In the pop-up window, you need to select the target disk with the issue – CHKDSK file record segment is unreadable, as well as decide which disk you use to store all the contents of the original hard disk.
Tip:
• The target disk should have enough disk space to hold all disk data on the original disk.
• You should make sure no important files are saved on the destination disk, or else, the cloning process will overwrite these files.
• A new disk is more suitable for storing the copy.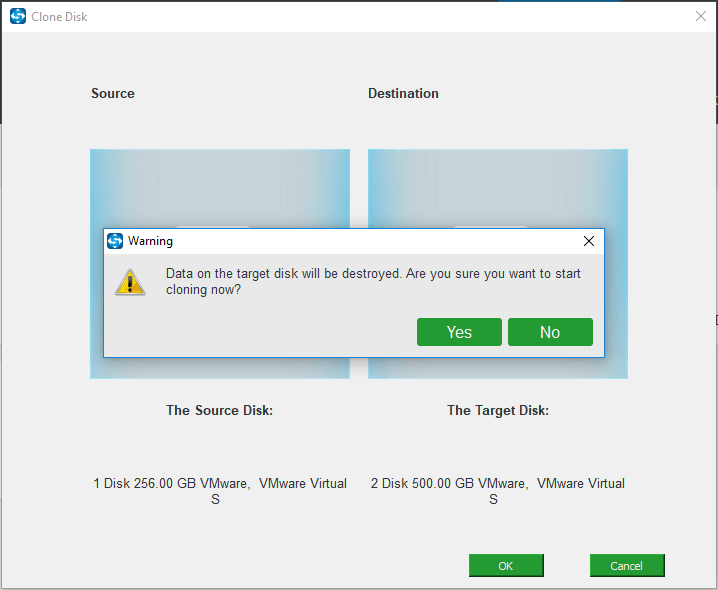 Step 4: Now, this hard drive cloning software is performing the cloning operation. Please wait patiently.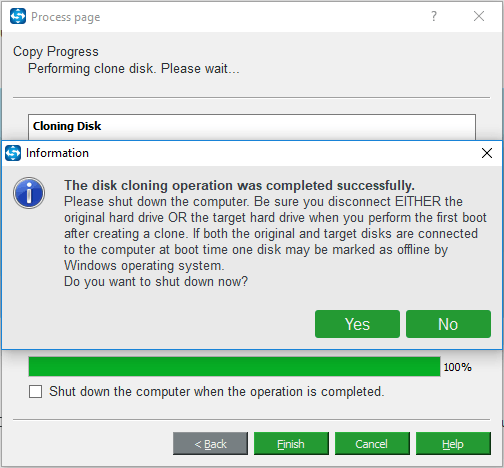 After cloning the problematic disk, you can shut down your computer and replace the original disk having unreadable file record segment error with the new target disk. Then, check if files are available.
Actually, many users have reported all files are available, so be sure to try this way. Now, free download MiniTool ShadowMaker to clone your hard drive to a new one.
MiniTool ShadowMaker TrialClick to Download100%Clean & Safe
"I received the file record segment is unreadable error. To protect data security, I did CHKDSK CMD scan and used MiniTool ShadowMaker to effectively clone disk."Click to Tweet
Tip:
In addition to MiniTool ShadowMaker, there is another disk cloning software called MiniTool Partition Wizard, enabling you to clone disk with simple clicks. This post
How to Clone A Hard Drive to SSD in Windows 10/8/7
shows you much information.
Way 3: Try Data Recovery Software and Reformat Drive
When CHKDSK segment unreadable error message occurs, perhaps some files get lost. Then, you can choose to salvage your files by using a piece of data recovery software. Here, it is worth recommending using MiniTool Power Data Recovery.
And this software provides you with convenience in file recovery, enabling you to effectively retrieve lost files, pictures, videos, audios, documents and so on from a damaged drive, and no damage to the original data.
This software has Trial Edition that only allows you to scan and preview files but not recover data. And you can free download and install it in Windows 10/8/7/XP to check whether files can be scanned. If so, you can get a paid edition (Personal Deluxe) to recover them.
Step 1: Run MiniTool Power Data Recovery. To recover data from the drive with corrupt file record segment issue, This PC feature should be selected. Then, choose the target partition and click Scan to the next step.
Tip: The Settings option is helpful if you only want to scan certain file types as well as file systems.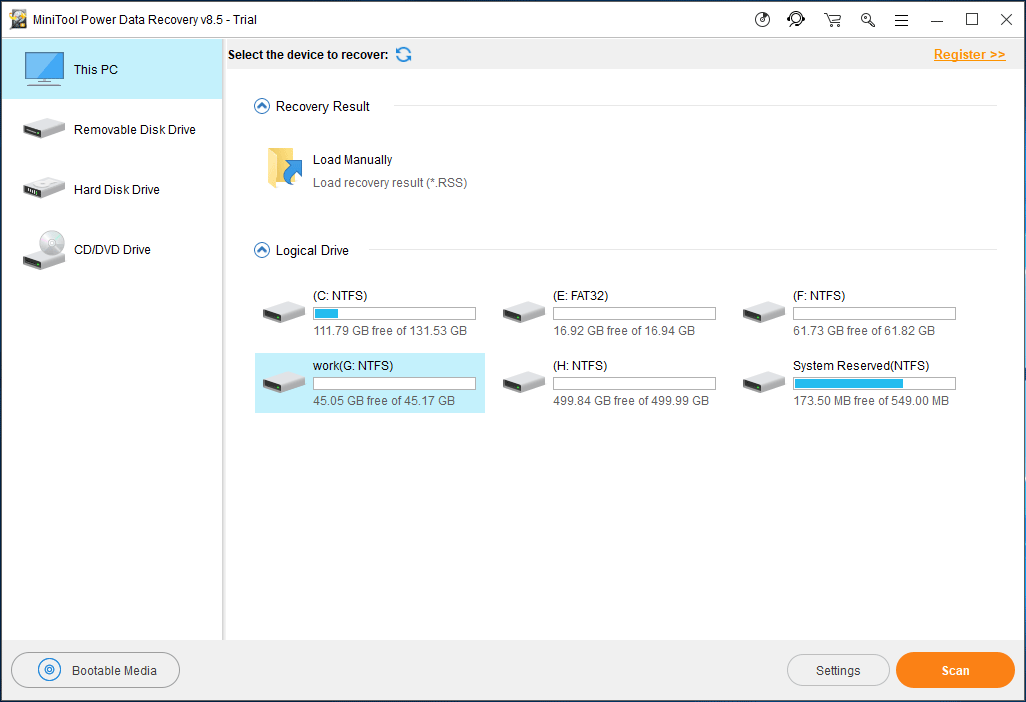 Step 2: This software is scanning the selected partition. And you should wait until the process completes.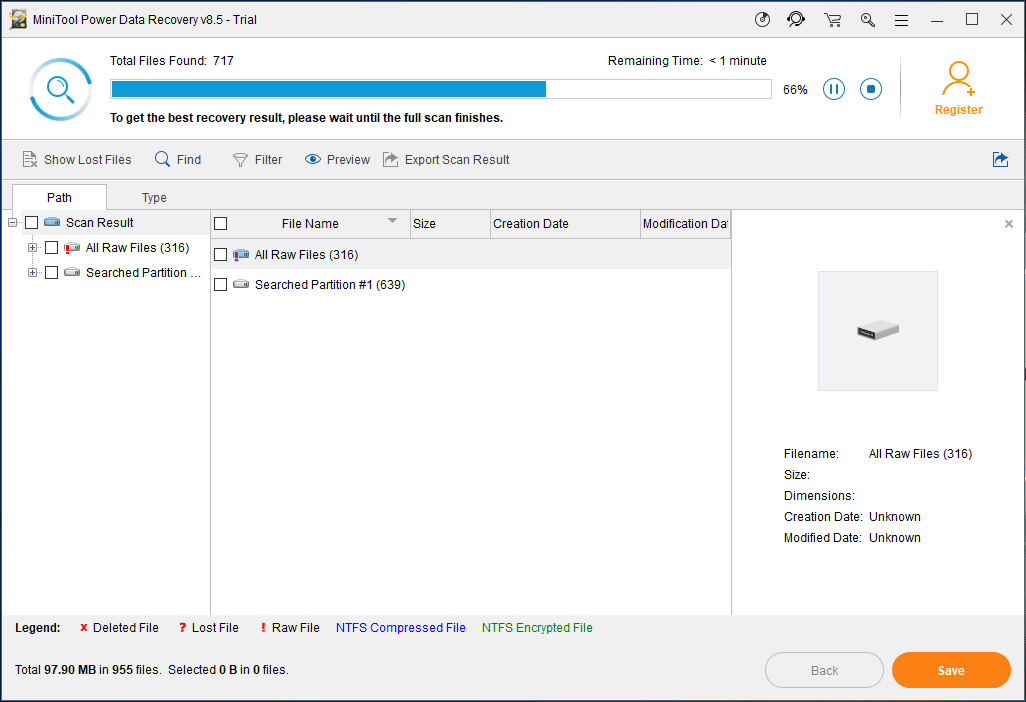 Step 3: Search for lost files in Path section or use Type, Find or Filter option to quickly find needed files. And then, check needed items and save them to a safe location.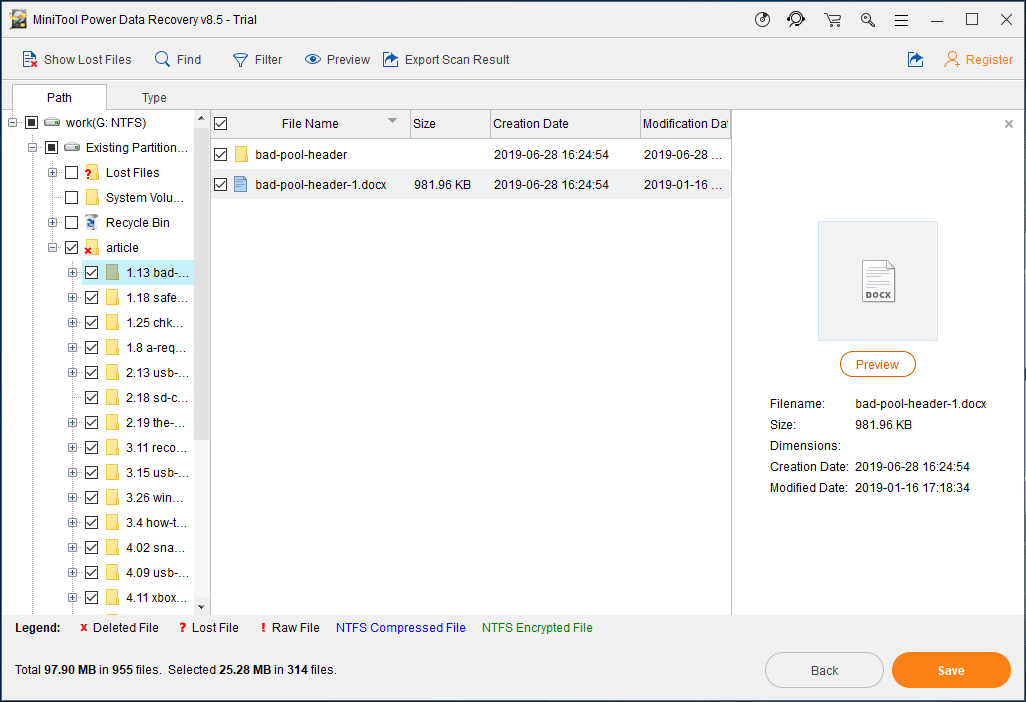 Note: You had better store selected files to another hard drive (maybe the disk containing original data copy after a clone) instead of the original place.
After recovering all lost files due to CHKDSK file record segment unreadable on the hard drive, you can choose to reformat your drive.
Just go to Disk Management, right-click on the drive with the issue of file segment is unreadable to choose Format, configure file system, volume label, and allocation unit size. If your PC fails to boot due to the disk segment unreadable issue, Format Partition feature of MiniTool Partition Wizard Bootable Edition can be helpful.
Way 4: Connect the Hard Drive to a Different PC
In addition to cloning a disk and performing data recovery, there is another way to salvage your files in case of CHKDSK file record segment unreadable.
That is to connect the drive to a different PC by connecting the drive internally or by using a hard drive enclosure. If you are able to access it, copy all your important files as many as possible.
Importance:
Hard drive failure can be devastating and unreadable sections of data will only get worse, hence, recovering as much data as you can is the best way. And then, we strongly advise that you replace the damaged hard drive with a new one after a backup (especially disk cloning) or data recovery.
Conclusion
Do you use chkdsk /f command line to test your drive but receive "chkdsk is verifying files file record segment is unreadable" error message in Windows 10/8/7/XP? Actually, it is due to bad sectors.
However, you cannot fix physically damaged disk but shield these bad blocks and then back up crucial data with three ways: clone a hard drive, recover data or connect the problematic disk to another PC to copy files. Please choose a suitable one based on the actual situations.
If you have some questions when using MiniTool software or any suggestions of this error, don't forget to tell us by leaving a comment below or sending an email to [email protected].
File Record Segment Is Unreadable FAQ
What is a file record segment?
To put it simply, each file on an NTFS volume is represented by a record in the
Master File Table
(MFT). The total number of file record segments (FRS) depends on the number of files saved on the NTFS partition, which in turn determines how many file record segments are in the MFT.
Which is better chkdsk R or F?
chkdsk /r locates bad sectors and recovers readable information while chkdsk /f checks and fixes disk errors, not bad sectors. These two commands focus on different things, so in our opinion, they are not comparable.
How do I open the file or directory is corrupted and unreadable?
What is an orphan file on a computer?
An orphan file is a support file on the hard drive that no longer has a purpose since the parent app that it is related to has been uninstalled or removed. If you make sure the file is not being used by any other program, you can delete it manually.