There are distinctive differences between enterprise SSD and consumer SSD. To help you learn more about these two types of SSDs and choose a suitable one for yourself, MiniTool Partition Wizard makes a brief introduction about enterprise SSD and consumer SSD and lists several reliable enterprise SSDs in this article.
A Brief Introduction to Solid-state Drive (SSD)
Solid-state drive, abbreviated as SSD, is a solid storage device using the integrated circuit assemblies as memory to store data.
Compared with the conventional electromechanical drives like HDDs (hard disk drives) that contain movable read-write heads and spinning disks, SSDs run more silently and are more resistant to physical shock due to lack of moving mechanical components. Besides, SSDs provide much better performance than HDDs. (Click here to learn more about SSD and HDD)
By adding an SSD to the existing system, the system speed will be improved substantially. And this is commonly more effective than upgrading CPU or increasing RAM in terms of performance boost. Although SSDs are more expensive and have less capacity, most users are willing to pay for better PC performance.
Different Grades of SSDs
According to the customers' different needs for SSD, the SSD products on the market can be categorized into several grades. And the performance levels of different SSD grades could vary drastically from each other. In the following contents, you will learn about 4 different grades of SSDs that are often seen on the market.
4 Different Grades of SSD at a Glance
Consumer SSD
Workstation SSD
Enterprise SSD
CDNs SSD
Consumer SSD
Consumer SSDs (or client SSDs in some cases) should be the most common and widely-used SSDs you may purchase on the market due to your personal needs or preferences, but its technical support is limited.
This kind of SSDs are typically used for personal or office use, and they are often equipped in devices that operate eight hours a day, five days a week (8/5), in standard desktop applications, such as desktop PCs, laptops, handheld and mobile devices, cameras or gaming consoles.
The input/output operations per second (IOPS) of consumer SSDs ranges from 20,000-100,000, and even the low-end consumer SSDs can provide better performance than the best HDDs. If you don't pursue high IOPS or better endurance, the relatively cheap consumer-grade SSD should be an ideal choice.
Workstation SSD
As the name of the SSD grade implies, the workstation SSD is mainly used in heavy-duty workstations instead of for personal use. Commonly, workstations deal with much heavier tasks than personal devices, including creating and editing photos and videos, processing big data, and regularly moving loads of data through the system in short periods of time.
Therefore, the workstation-grade SSDs always provide better endurance and even 5-6 times the performance of consumer SSDs. And the IOPS of this grade of SSD can be up to 50,000-250,000.
Enterprise SSD
Compared with last two grades of SSDs, enterprise SSDs offer much better endurance and performance. As enterprise SSDs are usually used for data center, they are also known as data center SSDs or enterprise & data center SSDs.
This kind of SSDs is designed for workstations, servers, and storage devices that operate 24 hours a day and 7 days a week (24/7) which require sustained reads and writes at full speed. The IOPS of enterprise SSDs can be over 250,000. While the heavy loads and 24/7 endurance cannot be handled by a workstation SSD in most cases.
CDNs SSD
CDNs refer to content delivery networks. This is just a special situation that an SSD might be used for. Different from the consumer, workstation, and enterprise SSDs introduced above, CDNs SSDs put less stress on the write performance. Instead, the specialized SSDs are commonly built to deliver the best balance of read performance, high reliability, and low thermal load.
Actually, such SSDs for specific purpose are developed on the basis of their relevant consumer SSD and may bring certain optimization for enterprise applications.
Here are many grades of SSDs including consumer, workstation, enterprise, and SDNs SSDs. Read this article to get further information about them.Click to Tweet
Enterprise SSD vs Consumer SSD
Among the different grades of SSDs in the previous part, the enterprise and consumer SSD should be more popular among users. And some users would ask: should I choose consumer SSD or enterprise SSD for my device?
Don't worry. Here, I will show you the main differences between enterprise SSD and client SSD through which you may figure out the suitable grade of SSD for yourself.
Lifespan
Commonly, one memory cell stores only one bit of data, and this technology is called SLC (Single-Level Cell). To increase the capacities of SSDs (NAND flash) and reduce costs at the same time, some manufacturers choose to increase the number of bits which can be stored in each cell. Then, the SSDs of MLC, TLC, and even QLC come into being.
Recommended article: NAND SSD: What Does NAND Flash Bring to SSD?
It is true that this is an effective way to improve SSD capacity, but it might also shorten the lifespan of SSDs. In order to prevent SSDs from wearing out prematurely, manufacturers set only a portion of the capacity available for use, and leave some as spare cells which can extend the lifespan of SSDs.
Compared with consumer SSDs, enterprise hard drives commonly have more spare blocks even if they are the same architecture like MLC. Therefore, the lifespan of enterprise SSDs is generally longer than consumer SSDs.
Performance
Unlike traditional HDDs, SSDs overwrite data indirectly – they write new data on the unused parts of the drive and then remove "overwritten" data later in the garbage collection process, which improves the lifespan of the drive. But when the SSD is running out of space, it will be unable to accommodate the "overwritten" data and it needs to erase data in real time like an HDD, which decreases the performance of course.
Luckily, SSDs will use some of their spare blocks to help the indirect data overwritten process. As mentioned before, enterprise SSDs provide more reserved capacities than consumer SSDs, so the former can deliver a higher write performance than the latter.
Besides, the consumer SSDs typically involve only a single user or application access, while the enterprise SSDs mainly work for data center which requires uninterrupted operations and highly reliable access to data of multiple demanding applications. Hence, in enterprise systems, the enterprise SSDs cannot be replaced by ordinary consumer SSDs in most cases.
Price
Generally speaking, the enterprise SSDs are more expensive than consumer SSDs due to higher performance and better endurance. According to the research, an enterprise SSD of a half TB is about $ 329, while a consumer SSD with the same capacity is about $126. So, you'd better think twice before buying an enterprise-grade SSD.
Recommended Enterprise SSD
After learning about enterprise SSD vs consumer SSD differences, you might want to choose a reliable enterprise SSD for your enterprise system. Here are an Intel enterprise SSD and a Samsung enterprise SSD highly recommended by some users. You can have a glance at them.
Intel SSD DC S4500 Series 1.92 TB
Interface: SATA
Lithography type: 3D NAND TLC
Sequential read/write speed: 500 MB/s / 490 MB/s
Form factor: 2.5 inches
Additional features: enhanced power loss data protection, temperature monitoring and logging, end-to-end data protection, AES 256-bit encryption,
Price: from $297
Samsung 983 DCT 1.9 TB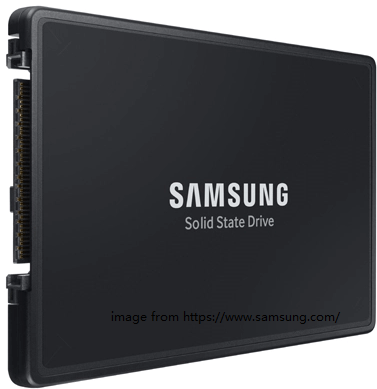 Interface: NVMe
Lithography type: Samsung V-NAND 3-bit MLC
Sequential read/write speed: 3400 MB/s / 2200 MB/s
Form factor: U.2 2.5-inch 7mmT
Additional features: power loss data protection, end-to-end data protection, AES 256-bit encryption, dynamic thermal guard protection,
Price: from $379.99
Apart from the Intel enterprise SSD and Samsung enterprise SSD introduced above, there are also some other reliable ones, such as Western Digital 1.92TB WD Gold SN600 and Seagate Nytro 1.92T XF1230-1A1920 XF1230.
After getting the best enterprise SSD for yourself, you might need to transfer all the data to the new SSD and then remove the old one if there are no more slots. To safely transfer data, you can make use of a professional third-party disk manager, and I recommend MiniTool Partition Wizard for you. Here's how to use this utility.
MiniTool Partition Wizard DemoClick to Download100%Clean & Safe
Step 1: Launch MiniTool Partition Wizard to get the main interface.
Step 2: Right-click the original disk and choose Copy option. You can also choose Copy Disk feature from the left action panel.
Note: If you just want to transfer the operating system to the new disk, you can alternatively use the Option B of the Migrate OS to SSD/HD feature of this program.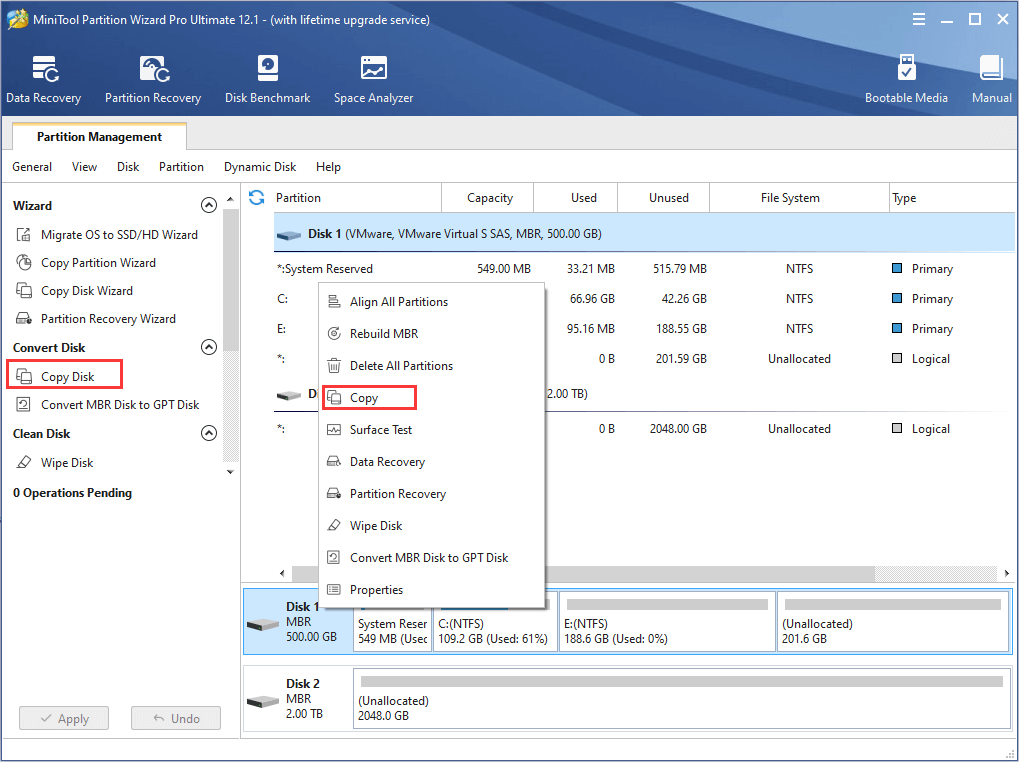 Step 3: Choose the new disk as the destination disk to save the source content and click Next button.
Step 4: Choose the copy options and configure the target disk layout as your own needs and preferences. Click Next button to proceed.
Note: For an SSD, you had better check the Align partitions to 1 MB option to improve disk performance. For a disk larger than 2 TB, you are recommended to Use GUID Partition Table for the target disk.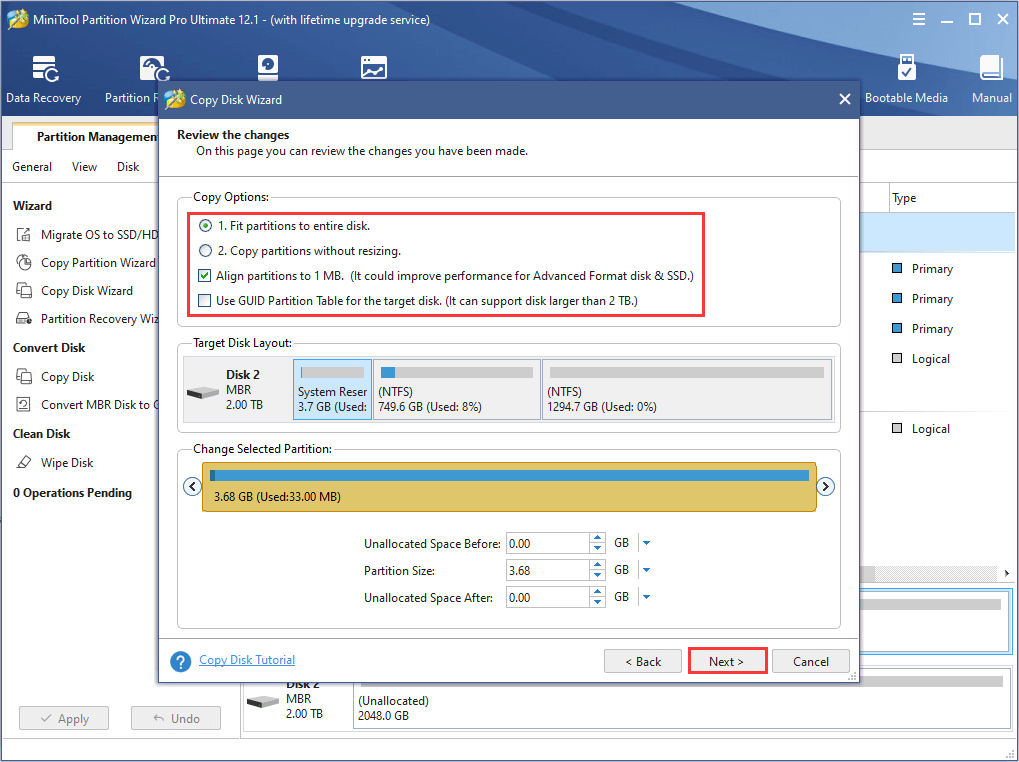 Step 5: After reading the note on how to boot from the new disk, click Finish button to go back to the main interface. Then, click Apply to execute all the pending operations.
How do enterprise SSDs differ from consumer SSDs? Which grade of SSD should you choose? Share this article with you, and you will get the answers here!Click to Tweet
Bottom Line
This article has introduced SSDs of different grades, the differences between consumer SSD and enterprise drive, and some recommended enterprise SSDs. It also displays how to upgrade an SSD to another grade one with MiniTool Partition Wizard.
If you have any questions about today's topic, you can feel free to let us know by leaving your ideas in the following comment zone. As for any problems in using MiniTool software, you are welcome to contact our support team via [email protected].
Enterprise SSD FAQ
Why are enterprise SSDs so expensive?
Because enterprise SSDs are designed to deal with the demanding enterprise systems. You need to pay for extra performance, longer lifespan, better reliability, and higher endurance.
Are enterprise hard drives worth it?
It depends on your needs. If you are seeking for hard drives for your personal devices, consumer-grade hard drives could be enough. But if you are finding a storage solution for more demanding situations like data center, enterprise hard drives are worth it and you shouldn't replace it with a cheaper consumer drive.