Chkdsk is a preferred tool for Windows users to check and repair any drive errors to improve performance. However, it is really a frustrating thing if chkdsk gets stuck during scanning. To fix it, MiniTool software provides several solutions for you.
Chkdsk is a system tool and command to check disk in Windows. It can verify the file system integrity of a volume and fixes logical file system errors. You can run chkdsk command to repair these file system errors caused by malware, not shutting down computer properly and other factors.
Whereas, things may not be as smooth as expected. Some Windows 10 users have reported that certain issue might appear in the process of scanning after perform the command, including chkdsk stuck at 10%, 11%, 100% or other particular percentages.
If you are experiencing this problem as well, just keep reading this post and you can get 5 solutions to fix it with ease.
Fix 1: Just Wait
This is not a joke!
You may ask: how long does chkdsk take? Or how long do I have to wait? You should know that the time chkdsk takes is affected by following factors.
The size of the drive you are scanning. For a 1 TB drive, the scanning is completed in 5 hours normally, and it will require even much more time if you are scanning larger drive.
The amounts of bad sectors on the drive. The more bad sectors on your drive, the longer the scanning will take.
Therefore, wait patiently for hours or even overnight if the drive is too large. If chkdsk stuck still exists after a long wait or this problem occurs when you scan a small partition, then try the following methods.
Fix 2: Perform A Clean Boot
To fix chkdsk gets stuck in Windows 10, just try performing a clean boot. The specific steps with screenshot are offered below.
Step 1: Search System Configuration in your Cortana and click the result to open it.
Step 2: Under Services tab, check Hide all Microsoft services and then click Disable all.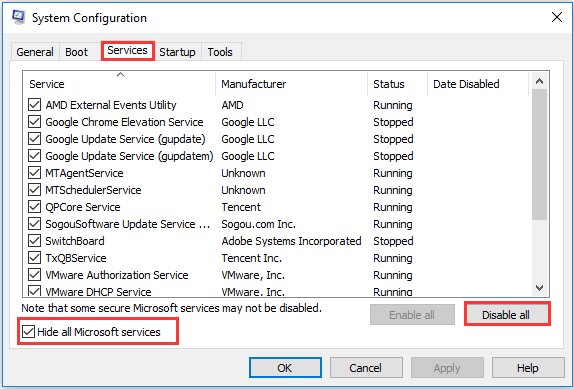 Step 3: Switch to Startup tab and hit Open Task Manager.
Step 4: You will come to Startup tab of Task Manager. Select one of the listed apps or programs and click Disable. Repeat the operation to other listed items to disable all.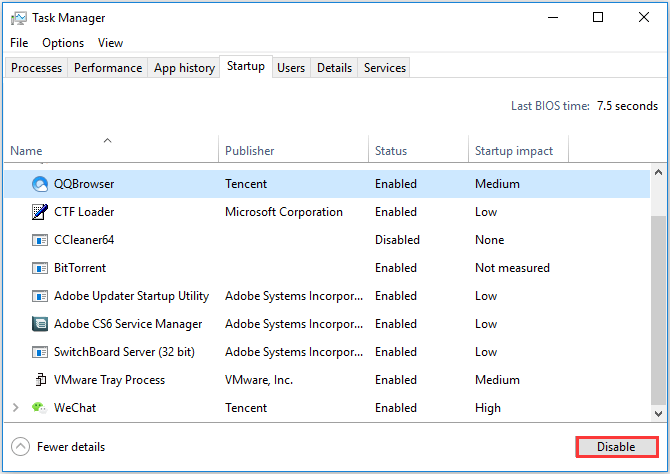 Step 5: Exit Task Manager and click OK in System Configuration window to save the change.
Step 6: Restart your PC to check and the problem should be removed. If it fails to work, you can enable all disabled items and try other solutions below.
Fix 3: Perform Disk Cleanup
The temporary files on your computer might also lead to chkdsk gets stuck. To fix the issue in this case, you need to remove these files and the easiest way is performing Disk Cleanup.
Step 1: Search Disk Cleanup and open it.
Step 2: There will be a pop-up dialog box requiring you to select the drive you want to clean up. Temporary files are stored in System drive and the drive is selected by default, so just click OK to start scanning.
Step 3: Check Temporary Internet Files and Temporary files and click OK. You can also check other items to remove them altogether.
Fix 4: Run SFC Scan
Also, chkdsk gets stuck might be caused by system file corruption. To fix it, you can run SFC scan.
Step 1: Open Command Prompt as administrator.
Step 2: Type command sfc /scannow and press Enter. Wait until the scanning process is completed and check if the issue is removed. If not, turn to step 3.
Step 3: In Command Prompt, input DISM /Online /Cleanup-Image /RestoreHealth and press Enter.
Step 4: After the process is finished, run SFC scan again.
After that, chkdks stuck problem should be fixed.
Fix 5: Use Another Tool
If you just want to check your hard drive, you can turn to another way or a third-party program when chkdsk gets stuck.
You can try MiniTool Partition Wizard, and here if a simple guide for you to use this tool as well as other available ways to check disk.
That's all about the problem. Hope the mentioned solutions can help you fix chkdsk stuck problem and check disk successfully.