The M.2 SSD boasts many advantages such as large capacity, good performance, etc. More and more people tend to upgrade their hard drives to M.2 SSD. What's the best M.2 SSD 2020? Which one should you buy? You can refer to this post of MiniTool.
As you might know, M.2 SSD is a high-performance storage device that can be used in those power-constrained and thin devices like Ultrabook. It is even smaller than mSATA SSDs. There are so many different brands of M.2 SSDs in the market. So, a great many people are confused when choosing an SSD.
The following best M.2 NVMe SSDs come from different brands and have their own distinctive advantages. With the increasing demand for the 1TB SSDs, we mainly focus on the 1TB M.2 NVMe SSDs.
Samsung 970 Evo Plus 1TB
Samsung 907 Evo Plus is a commonly accepted high-performance M.2 SSD. It is one of fastest M.2 SSDs around the SSDs. It's strongly recommended to choose this 1 TB Samsung Evo SSD. This SSD is a perfect choice for those who want to enjoy the experience of high power efficiency, data security, and fast data transferring.

–image from samsung.com
This Samsung SSD boasts 3500MB/s sequential read speed and 3300MB/s sequential write speed. As the best M.2 SSD 2020, this SSD is fairly expensive. You need to pay $184.4 for this 1TB SSD according to Amazon.
Pros:
Fastest sequential read and write speed.
Advanced V-Nand technology provides high power efficiency.
Extremely endurable.
Cons:
Expensive more than other M.2 NVMe SSDs.
WD Black SN750 1TB
The 1TB WD Black SN750 SSD should be an ideal choice for gaming and hardware fans. This is because it's an exclusive WD Black SSD dashboard with gaming mode, which improves the gaming performance.

–image from https://www.newegg.com/
As the best M2 SSD for gaming 2020, it owns an extremely high sequential read speed of 3100MB/s. Besides, it provides you with robust monitoring software. With the price of $168, it is a more affordable M.2 NVMe SSD compared with the Samsung 970 Evo Plus SSD.
Pros:
Optimal levels of performance.
Available heatsink options for intense workloads.
Fairly affordable.
Cons:
The heatsink technology is not mature enough.
Adata XPG SX8200 Pro 1TB
Adata XPG SX800 Pro SSD is known for its budget end of the M.2 NVMe market. This 1TB M.2 SSD remains high data transferring speed. Its sequential read and write speed can be up to 3500MB/s and 3000MB/s.

–image from noteboox
If you want to deal with lots of 3D animation, video, rendering, photo editing, and much other intense application, this 1TB Adata SSD is an ideal choice. And its price is attractive for many people, with lower cost of $123 on Amazon.
Pros:
Extremely effective for the money.
Good overall performance.
Cons:
Not the most noted brand.
Performance varies depending on the hardware setups.
Intel Optane SSD 905P 1TB
When it comes to the best M.2 drives, it is inevitable to introduce this Intel Optane series. Compared with the above M.2 SSDs, Intel Optane is a newer but with extremely high random speed. Its random read speed is up to 575,000 IPOS and random write speed is up to 555,000 IPOS.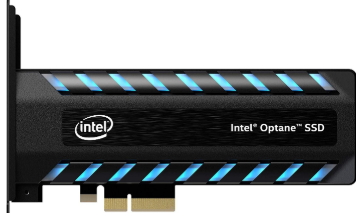 –image from Amazon
With the latest 3D XPoint, its endurance is up to 27.37BPW which is equal to a high-end server workload. Besides, it breaks through many drawbacks of NAND and provides you with the best responsiveness of any storage devices. However, this M.2 SSD is extremely expensive with the cost of $1378 on Amazon.
Pros:
Excellent random performance.
High Endurance.
Provide AES 256bit encryption technology.
LEDs to light up your computer.
Cons:
Extremely expensive.
High power consumption.
Can't work on laptops.
The 4 best M.2 solid state drives have been introduced to you. You can refer to the above information and make a wise choice.