A lot of users receive the "debug malware error 895-system32.exe failure" message when browsing their internet. What does this error mean? How to get rid of it? Now, let's explore the answers together with MiniTool.
According to user reports, the "debug malware error 895-system32.exe" warning mainly occurs when browsing a webpage or opening a new tab on their browser. This annoying error can prevent users from accessing any screens. Here's a true example from the answersmicrosoft.com forum:
Original Title: Windows 10. My husband's PC (Windows 10) won't allow access to anything screen says "Debug malware error 895-system32.exefailure. It says to call MS tech @855-973-9089 DOES NOT SAY MICROSOFT (only MS) was sent from monitor8.XYZ/silver tech Is this a real Microsoft message or are we looking for trouble. HELP!!!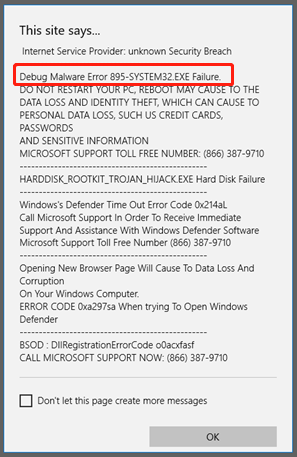 The spyware 895-system 32.exe error usually occurs with users whose computers are infected with adware or potentially unwanted programs. Although adware-supported software may not be malicious, sometimes it can trigger some errors like 895 system 32.exe failure on your computer.
In addition, many users reported that the 895 system 32 exe failure error won't allow them to close the browser. If you are also troubled by this issue, you can close it via Task Manager first. If not, skip the steps below and directly try the fixes we explained in this post.
Step 1. Press Ctrl + Shift + Esc keys to open the Task Manager.
Step 2. In the Process tab, right-click the browser that shows the "spyware 895-system 32.exe" error and select End task.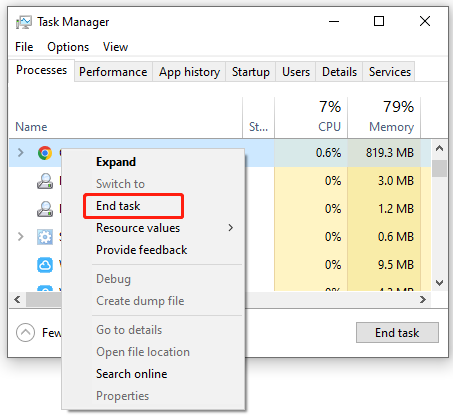 # 1. Remove All Potentially Unwanted Programs
As mentioned above, the 895 system 32.exe failure error is often related to adware software or potentially unwanted programs. So, uninstalling all these suspicious programs should fix the error. Let's have a try.
Step 1. Type control in the search box and select the Control Panel app from the context menu.
Step 2. Change the View by type to Category, and then click on Uninstall a program under the Programs section.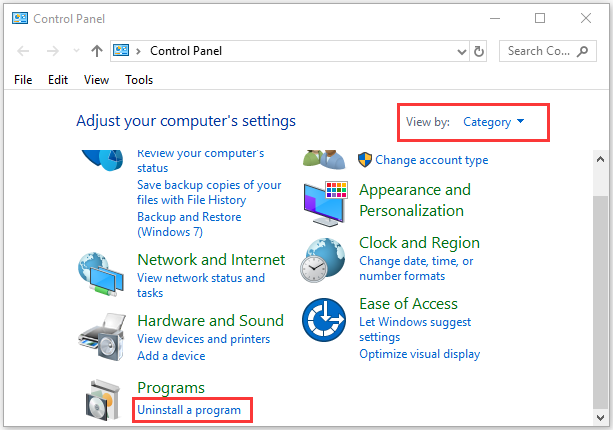 Step 3. Look through the list of installed software and programs. Once you find the adware software or any suspicious program, right-click it and select Uninstall. Click on Yes to confirm and follow the on-screen prompts to finish the uninstallation.
Now, you can relaunch your browser and see if the 895 system32.exe failure error persists.
# 2. Completely Remove the Adware Using Malwarebytes AdwCleaner
Another effective solution to the malware error 895-system32.exe failure is to completely remove the adware using a professional tool. Here Malwarebytes AdwCleaner can help you do that quickly.
Step 1. Click here to download the latest version of Malwarebytes AdwCleaner.
Step 2. Once downloaded, double click the adwcleaner.exe file to run it and click on Yes to continue.
Step 3. In the main dashboard of the AdwCleaner wizard, click on Scan Now and wait for it to analyze your system for any types of adware.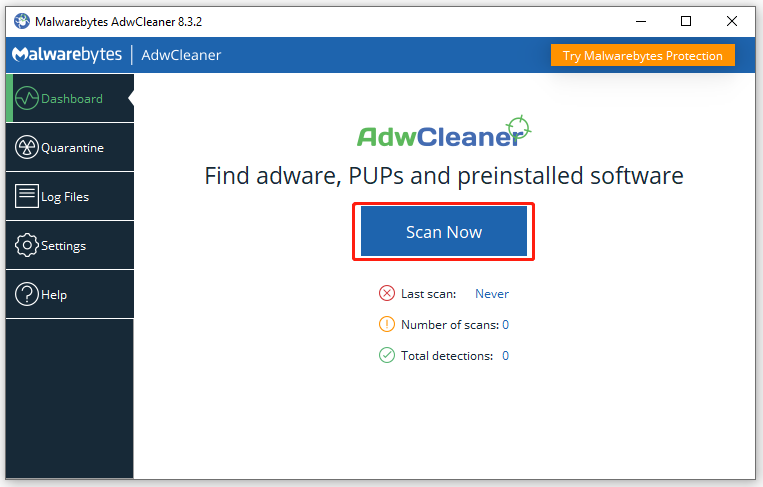 Step 4. Once scanned, it will show you a list of suspicious adware. Tick all the checkboxes next to the adware and click on Quarantine to remove them. Then click on Continue to start cleaning the selected adware.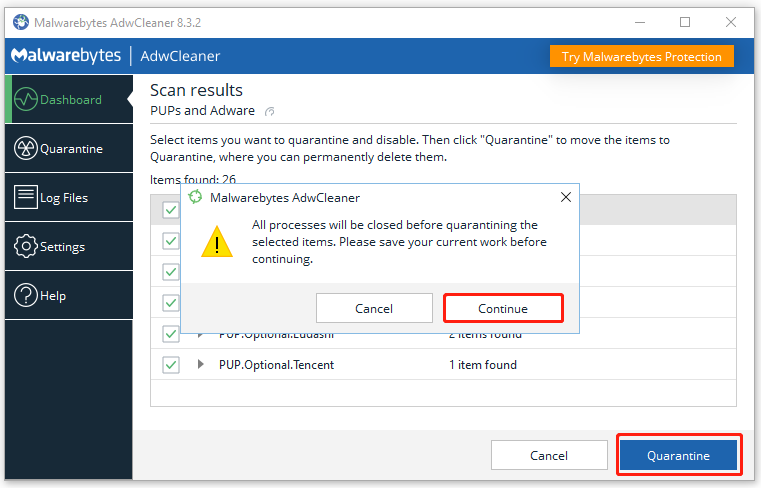 Step 5. You may be asked to restart your computer. After that, you can check if the 895 system32.exe failure error is cleared.
# 3. Reset Your Internet Browser
Some users reported that they managed to fix the 895 system 32.exe failure error by resetting the internet browser to its default settings. If you don't know how to do that, follow the simple guide below:
Reset Google Chrome:
Open your Google Chrome browser, click the Menu icon (three vertical dots at the top-right corner), and select Settings.
Expand the Advanced category and click on Reset and clean up.
Select the Restore settings to their original defaults option and click on Reset settings to confirm it.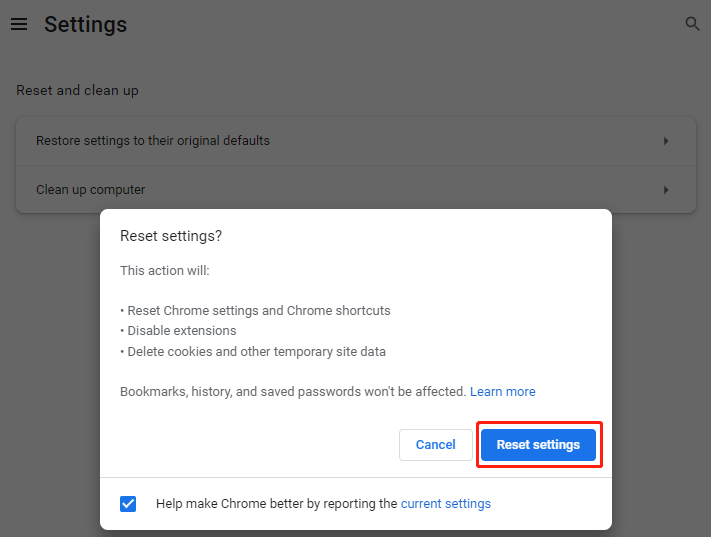 Reset Mozilla Firefox:
Open the Firefox browser, and then click the Menu icon at the upper corner and select Help.
In the pop-up window, select Troubleshooting information and click on Refresh Firefox and confirm it.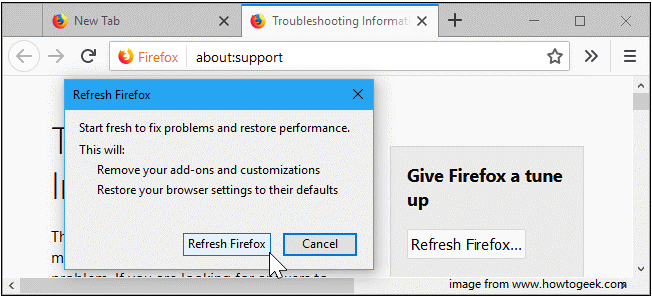 Reset Microsoft Edge:
Open Microsoft Edge and click the three-dot button in the window. Then choose Settings.
Select Privacy & Security from the left panel. Then in the right panel, click Choose what to clear under the Clear browsing data
Check Cookies and saved website data and other options you want to clear. Then click Clear.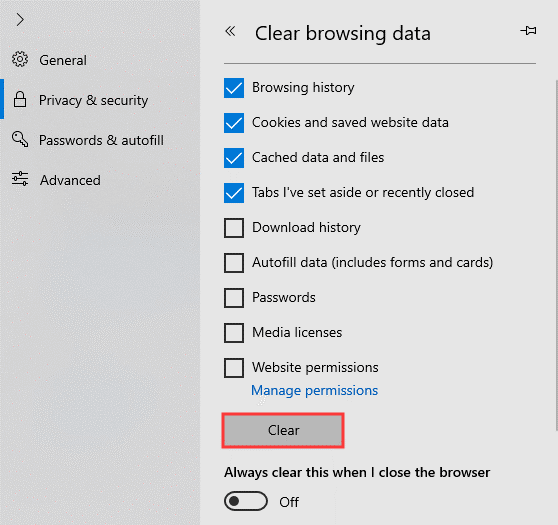 # 4. Remove Suspicious Add-ons from Your Browser
Sometimes the 895 system32.exe failure error can occur due to malicious add-ons from your browsers. If you recently install some unknown or suspicious plugins, you can try removing them and see if the error gets fixed. To know more detailed steps, you can read this post "How to Remove Extensions from Chrome and Other Popular Browsers".
# 5. Unpin and Re-pin the Edge from Your Taskbar
If you set Microsoft Edge as your default internet browser and encounter the "895 system 32 exe failure" error. you can try unpinning it from the taskbar and re-pining it. It may seem strange but has been proven by some people to be useful. Let's try.
Step 1. Right-click the Microsoft Edge icon on your taskbar and select Unpin from taskbar.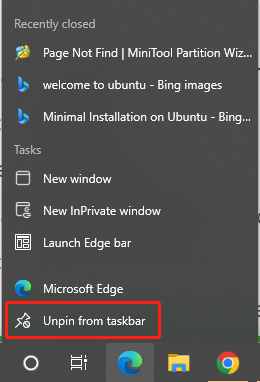 Step 2. Type edge in the Search box, and then right-click Microsoft Edge and select Pin to taskbar.
Now, you can relaunch the browser and see if the malware 895 system32.exe failure error disappears.